Preface
The pattern is being repeated again and again and again. Each and every Faultline of India is being ripped apart. Every incident every conflict every problem is being painted with the agenda brushes. What is even more interesting is the kind of forces that are coming together to target us,
India has got lucky in its enemies.
Manipur crisis was (and unfortunately is) no exception. A tribal conflict which has flared on and off, and was triggered by an essentially secular demand – a fight for state resources – has been painted in gory colours of communal violence. Perpetrators have all instrument of narrative making at their disposal – 'International Media', a volley of colluding/ or gullible Indian media, leverage with social media, and above all powerful connections in the power corridor, which is the most powerful corridor in the world.
The story finds usual suspects – the Pakistan based troll factory/ ISPR mercenaries, the ever eager Turkish and Middle East info-war warriors, the repeatedly exposed Islamist fronts, and the recently exposed Christian activism fronts like FIACONA.
But the story finds a rather troubling trend, a network of people formerly associated with US Govt. It is not possible to determine whether they are operating in their personal capacity or have the silent consent of powers that be, presence of a mysterious character at the centre of all this makes it even more sinister. The person at the centre is John Prabhduoss.
The story is as much about Manipur, as it is about John.
Manipur: an Introduction
Manipur, one of the four northeast Indian states to share borders with Myanmar, has been riled up by unrest over the last three months. What has prominently come to light so far has been the differences between the Meitei and Kuki communities, both of which combined constitute 71 % of Manipur's population according to the Census of India (2011).
The fact that Manipur has been rocked by such violence since May 3 and as reported by media, there have been on-ground protests and clashes between Manipur's two ethnic communities prominently Meitei and Kuki communities.
The conflict between the Meitei and Kuki ethnic groups in Manipur is a complex issue with a long history. The unrest has been so far seen through a communal lens, with the Church groups and international advocacy groups painting the picture of persecution of Kukis (primarily Christians) by the majority of the Meitei community in the region.
So far, social media users have portrayed the whole situation as a communal conflict between Hindus and Christians, but this is a simplistic and inaccurate way to understand the problem.
To have a rational understanding of the conflict, one needs to understand the region's demography. Meitei constitutes the majority ethnic group in Manipur, and are predominantly Hindus. While Kukis who live mainly in the hills are a minority ethnic group and they are mostly Christians.
If one is to look linearly, the violence erupted on May 3 and has continued to perpetuate to date. It would look like the violence had been triggered by the demands of the Meitei community to be included in the Scheduled Tribe (ST) recommended by the Manipur High Court to the Centre in April. However, once examined carefully, one can understand and allude to the trigger point of the violence.
However, what has remained unspoken in plain sight is the fact that the Meitei community which constitutes a larger population of Manipur is predominantly Hindu, followed by Muslims, and Christians. However, the Kuki community which is predominantly Christian has been portrayed as victims by a set of foreign entities aka vulture activism groups, and a section of social media towing that narrative and playing along the narrative spin i.e., atrocities and persecution of Christians in Manipur.
While most of the foreign agents and even the European Parliament speaking on this topic addressed the issue as communal and passed a resolution to protect the minority rights of the Kukis in the region.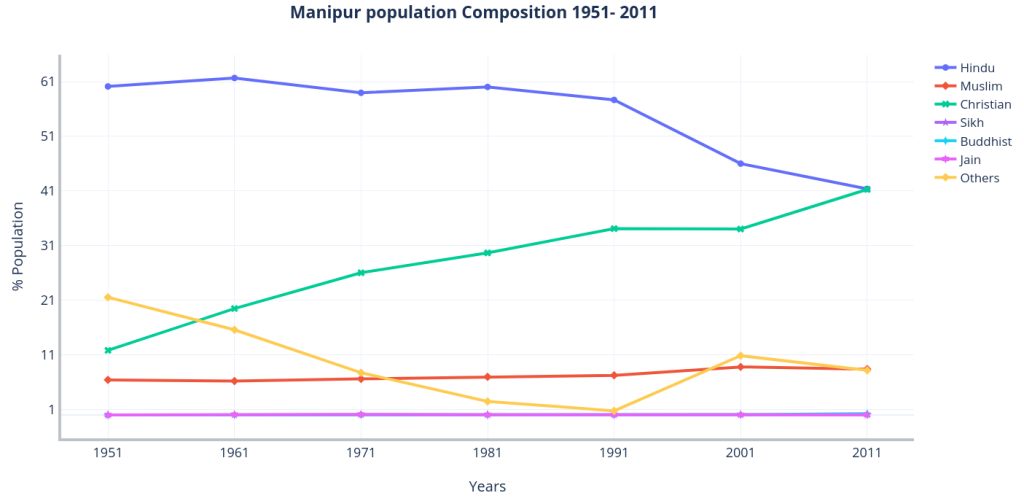 What gets concealed in plain sight is the further concentration of the Meitei community which constitutes 60% of Manipur out of which it has over 83% practicing Hindus, followed by 8.4% Muslims and Christians (above 1%). The rest adhere to Sanamahi, an indigenous faith first mentioned in the Cheitharol Kumbaba, the royal chronicle of Kangleipak — the old name of Manipur — from 33-154 CE.
Despite taking note of these statistics the conflict between two ethnic groups in the region has now been labeled as "Communal" between two communities. A country with over a billion population, 28 states, and 8 UT is not seeing this, as an issue between Meitei and Kuki ethnic group but now it is a Hindu-Christian conflict Frontier.
It is important to note that the conflict is not simply a religious one. There are many Hindus and Christians, and even Muslims who have been caught up in the violence, and the vast majority of people on all sides want peace.
Chapter 1: Manipur and 'Ethnic Violence'
The state of Manipur has a long history of ethnic and tribal tensions. These tensions have often erupted into violence, most recently in 2023. The 2023 clashes were sparked by a single incident, but they quickly spread and took on a communal dimension. This is not the first time that Manipur has experienced such violence. In 1997-98, the Kuki-Paite conflict that left hundreds of people dead. This clash was rooted in ethnic tensions, armed terrorism, and political rivalry.
The 2023 clashes and the 1997-98 Kuki-Paite clash are just two examples of the many ethnic and tribal conflicts that have plagued Manipur for decades. Manipur is demographically a complex state in the northeast of India and has a history of unrest and conflicts.
These conflicts are a complex web of factors, including historical animosities, economic inequality, and political disenfranchisement. They are a reminder of the fragility of peace in this troubled region. On that note, we take a look at some of the key factors that have caused unrest in the region in the past.
a. Insurgency and Armed Terrorism
After India's independence in 1947, the northeastern region of the country was reorganized. Several smaller states were carved out of the monolithic province of Assam, including Nagaland, Meghalaya, and Mizoram. Two princely states, Manipur and Tripura, were also merged into India and granted statehood. Manipur unified with India on October 15, 1949, after the then-Maharaja of Manipur Bodh Chandra Singh ceded the agreement to transfer the administration of the State to the Dominion Government.
Seven years later, Manipur was declared a Union Territory in 1956 until it became a full-fledged part of India in 1972 as part of the North-Eastern Areas (Reorganization) Act, of 1971.
However, the merger was not taken well by several groups in Manipur. Several insurgency groups had already begun forming and seeking independence from India. Insurgency groups including the United National Liberation Front (UNLF) (1964), the People's Revolutionary Party of Kangleipak (PREPAK) (1977), and the People's Liberation Army (PLA) were formed with support from diverse ethnic groups. These groups were at the peak of committing crimes and violence and were one of the main reasons for insurgency in Manipur and the northeast.
On September 8, 1980, Manipur was declared as a disturbed area, and subsequently, the Armed Force (Special Powers) Act, 1958 was imposed by the Government of India in the region. AFSPA gives the power to the Armed Forces and Central Armed Police Force (CAPF) deployed in disturbed areas to kill or arrest groups or individuals engaged in insurgency activities against national interests.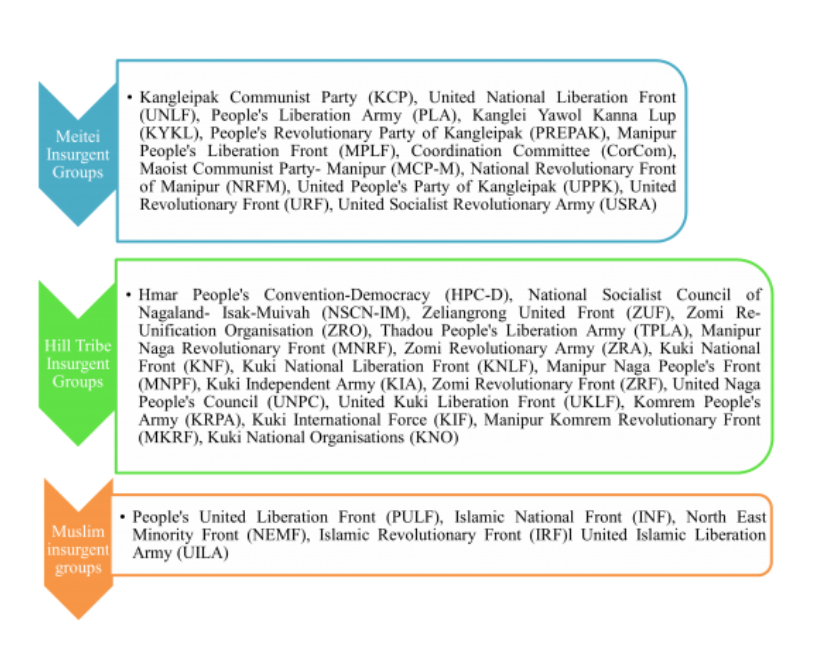 In March 2023, India's Ministry of Home Affairs (MHA) lifted AFSPA from one district of Assam, and within the limits of four police stations (Wangoi, Leimakhong, Nambol, and Moirang) in Manipur. MHA also confirmed that there was a reduction of 76% dip in extremist incidents in the year 2022 as compared to 2014. However, the insurgency still lurks in the hills of Manipur especially where poppy cultivation still takes place.
b. Illegal immigrants
The problem of illegal immigrants in Manipur is a complex one that has been a source of tension and conflict for many years. There are a number of factors that have contributed to unrest in Manipur. One of the most important factors remains the porous border between Manipur and Myanmar. The border between Manipur and Myanmar is long and porous, making it difficult to control illegal immigration.
On July 25, 2023, the Manipur government said that over 700 illegal immigrants entered Manipur from Myanmar in just a few days in July alone. The Home Department in its statement also confirmed that 718 illegal immigrants entered Manipur's Chandel district on July 22 and 23.
In June 2023, it was reported that according to a report prepared by the Intelligence, Narcotics, and Affairs Border (IGP) stated that 2480 illegal immigrants had come to Manipur, and were detected in various districts. The Manipur government further blamed the influx of illegal immigrants as the cause of the civil war-like violence in Manipur.
On May 2, 2023, Manipur Chief Minister N Biren Singh confirmed that the Manipur state has been witnessing a large number of infiltrators from Myanmar. His statement came a day ahead when the buzz of violence in Manipur began on social media.
c. Poppy cultivation and Drug Cartel
The ethnic violence in Manipur has been mostly seen through a communal lens. However, one of the key driving factors behind the unrest, which mostly went unnoticed throughout the timeline of the events is the large-scale illegal poppy cultivation in the hill districts of the state and the infamous drug cartel of the region.
Drug trafficking and poppy cultivation are not new problems in the northeast, but an unprecedented spike has been a problem in the North East regions of the country close to the Myanmar border. It is to be noted that cultivating poppy is prohibited under Section 8 of the NDPS Act, 1985, except under a license issued by the Central Bureau of Narcotics (NCB).
Consequently, the rise of drug mafias and poppy cultivation has caused upheaval in addiction problems in the northeast region of India. As per the investigations by various prominent news agencies, a major chunk of the poppy cultivation happens in regions close to the Myanmar border including in nine hill districts of Manipur- Churachandpur, Pherzawl, Noney, Tamenglong, Senapati, Kangpokpi, Ukhrul, Kamjong, Tengnoupal, and Chandel. These regions, prominently the Saikul town, are lush with poppy cultivation. Incidentally, these areas are also dominated by Kuki tribes.
As part of the operations to dismantle this drug cartel, the Narcotic Control Bureau (NCB) and other security agencies destroyed a total of 18,664.6 acres of Opium poppy plantation between 2017-23.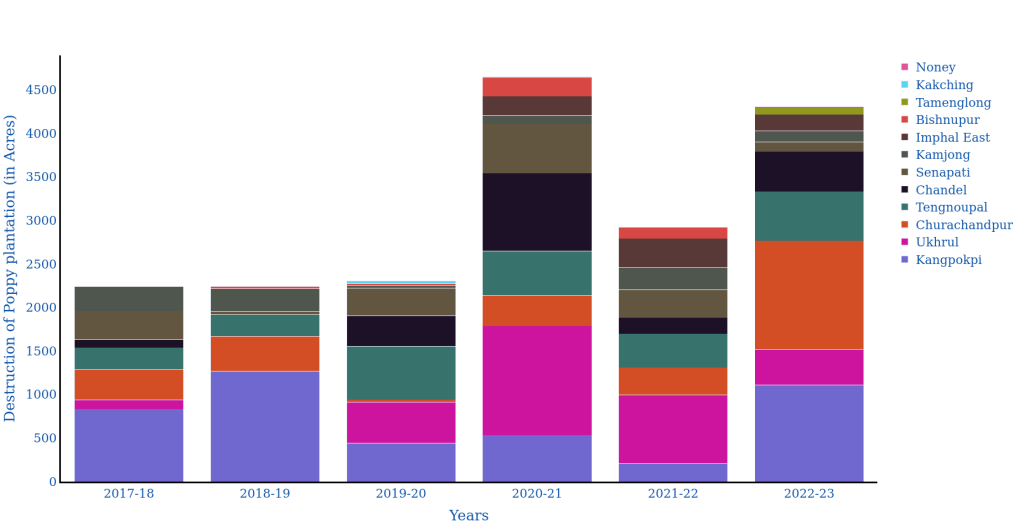 Between 2017-2019 the Manipur Police destroyed 2,858 acres of poppy cultivation. The joint team destroyed approximately 6,000 kg of opium, with a net worth of over Rs 45 crore.
The economic incentive of poppy cultivation is clear and the ones profiting from it more are the insurgent groups operating in the region and the stakeholders of the international "Golden Triangle"- the hotbed of illicit opium production.
Note: The 'Golden Triangle' is a region in Southeast Asia where the borders of Myanmar, Laos, and Thailand meet. It is a major center for the production and trafficking of opium and heroin and the leading inflow point of the economy of the narcotics world and narco-politics. The region is named after the triangular shape formed by the three countries.)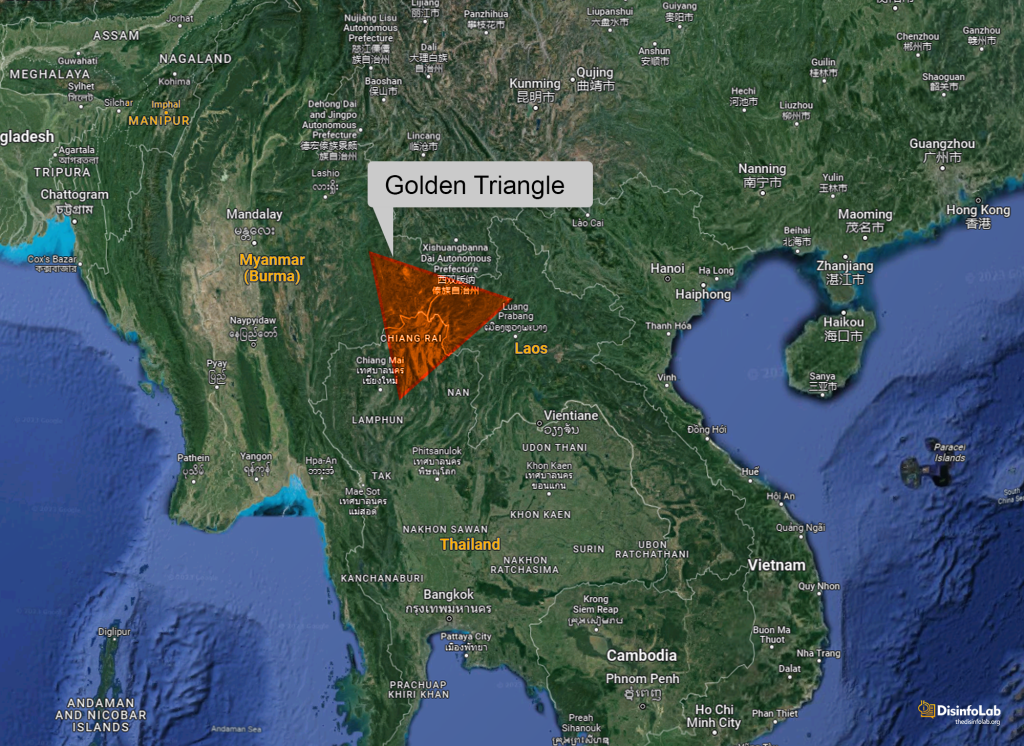 In recent years, Manipur has become a major hub for smuggling crude poppy products to the Golden Triangle. This is due to its long border with Myanmar, where poppy cultivation is also rampant. Several parts of Manipur, including the Koubru hill range in Sadar Hills, Senapati, parts of Tamenglong, Saikul town, and Senapati, have been illegally cultivating poppy plants with the help of Myanmar. For example, the New Samtal Village in the Dingpi region began cultivating poppies in 1996-97. The seeds for this cultivation were brought from Ukhrul areas and Myanmar by traders who were already involved in the illegal poppy cultivation business.
Community wise area (Acre) of poppy cultivation in Manipur: 2017-2023
Community
2017-18
2018-19
2019-20
2020-21
2021-22
2022-23
Total (Acre)
Kuki-Chin
2001
2174
1670.5
3871
2,600.80
804
13121.8
Nagas
229
67
626
763
305
350
2340
Others
0
0
10
0
25
0
35
Total
2230
2241
2306.5
4634
2930.8
1154
15496.8
Source: NAB Data
War on Drugs Campaign to Uproot Drug Problem
The drug problem in Manipur is a serious issue that has been growing in recent years. In 2022, the Manipur government launched a "War on Drugs" campaign in an attempt to address the problem. N Biren Singh chaired a high-level meeting with the Assam Riffles, NIA, NCB, NAB, the Police, and Home Department to discuss the strategies to tackle the growing menace of drugs in the region. The meeting chaired coincided with the time when the security forces foiled cross-border smuggling of narcotic items and seized WY tablets worth Rs. 12.60 crores. However, the campaign has had limited success, and the drug trade continues to thrive in the state.
In 2022-23, there have been several instances of clampdowns on illicit drug and poppy cultivation in Manipur. In February, over 1950 acres of land for poppy cultivation were destroyed. In March, the Loktak battalion of the Assam Rifles (AR) in a joint operation with Manipur Police apprehended a drug peddler with 1.195 Kg of heroin worth a crore.
War on Drugs 2.0
In December 2022, Kamjong Police successfully cracked down on the illegal cultivation of poppies on 239.8 acres. In January this year, as part of the "War on Drugs 2.0" campaign, a joint team in Manipur along with Centre security forces and the forest department destroyed 15 acres of poppy cultivation.
Success Story Of KAMJONG POLICE: War On Drugs 2.0
S. No.
Location
Area (Acre) under poppy Cultivation
2021-2022
2022-2023
1
Mollen Hill Range
65 Acres
NIL
2
Bohoram Hill Range
13 Acres
NIL
3
T. Natyang Hill Range
30 Acres
NIL
4
Maokot Village
69.3 Acres
NIL
5
Langcha Village
22.5 Acres
NIL
6
Khoikai Village
40 Acres
NIL
Total
239.8 Acres
NIL
In March this year, security agencies confiscated 34 kg of brown sugar and 4.4 kg of World is Yours (WY) tablets from three individuals. The overall seizure was worth Rs. 55 crores.
In 2022, several reports emerged about the crackdown on illicit drugs worth crores of rupees. A total of 44.5 Kg of WY tablets worth Rs 9 crores and another few Kg of WY tablets worth Rs 5 crores in May and August 2022, respectively in the Tengnoupal district of Manipur.
In August 2022, Manipur state security forces busted a drug manufacturing united also confiscated 54.68 Kg of brown sugar in the Lilong area of Thoubal district which is estimated to be approximately Rs. 82 crores in the international market.
Between February 2022 till March 2023, total illegal drugs and illicit substance seized in Manipur has been worth Rs. 332.91 crores which are believed to be a portion of a larger cartel that is run operating at a huge scale. In December 2021 alone, the Assam Rifles seized drugs worth over Rs 500 crore from a house in Moreh town in the Tengnoupal district close to the Myanmar border.
The drug problem in Manipur is not just limited to the state itself. The neighbouring state of Mizoram has also become a hotbed for drug trafficking in recent years. There have been reports that there has been a spike in demand and trafficking of drugs in Mizoram due to unrest in Manipur.
It is imperative to look at things more critically instead of painting the whole incident with the communal brush. The problem of poppy cultivation and drug trafficking is vast and in all likelihood the root cause of the ongoing unrest in Manipur.
The Trigger: Scheduled Tribes reservation for Meiteis
While there are several factors as discussed earlier have led to unrest in Manipur, this time the trigger for the ethnic violence had been whole another reason.
On April 19, 2023, a single-judge Bench of the Manipur High Court, comprising Acting Chief Justice M.V. Muralidaran, directed the State government to consider the request of the Meitei community for inclusion in the Scheduled Tribes (ST) in response to a petition filed by members of the Meetei (Meitei) Tribe Union.
The Kuki community, which is a major tribal group in Manipur, opposed the Meitei community's inclusion in the Scheduled Tribes list, arguing that it would unfairly benefit the Meitei and disadvantage the Kuki. The Kuki community also contended that the Manipur High Court did not have the authority to make such a decision.
The Manipur High Court's decision was met with widespread protests and violence from the Kuki community. The protests quickly turned violent, and there were reports of arson, looting, and clashes between the Meitei and Kuki communities. On April 27, the day before Chief Minister Biren Singh's visit to Churachandpur, the open gym the chief minister was scheduled to inaugurate was set on fire. Protests turned violent as people started vandalizing public properties and Police came to action. Subsequently, the very next day, Section 144 was imposed along with a five-day suspension of internet services. Protesters and security forces clashed, with police using tear gas shells to disperse the mob.
The violence between these two communities has rocked the region which has also been given communal color to further flare the unrest in the region.
Chronology of Major Events: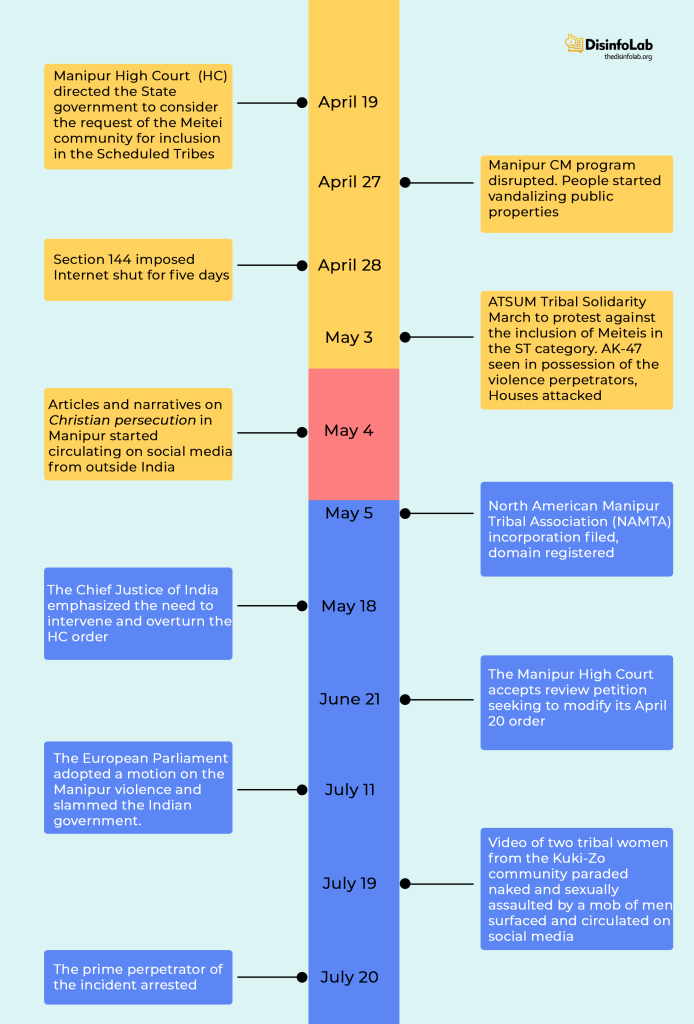 Chapter 2: First Fishing – from Neighbourhood with Love
The Indian social media was replete with buzz in Manipur and the videos were widely shared across social media platforms. Surprisingly, despite the fact that the internet was banned in Manipur, several 'local' handles suddenly mushroomed, a pattern we have observed in almost all cases where foreign entities exploit a conflict in India. Hence, it piqued our interest considering that the internet had been banned in the region for five days since April 28.
On May 3 & 4, social media was filled with posts on Manipur ethnic violence. On Twitter (X), the tweets were in large numbers; with users even the anonymous ones with no display picture and many newly-created accounts sharing unverified videos and pictures that could potentially escalate the ongoing violence.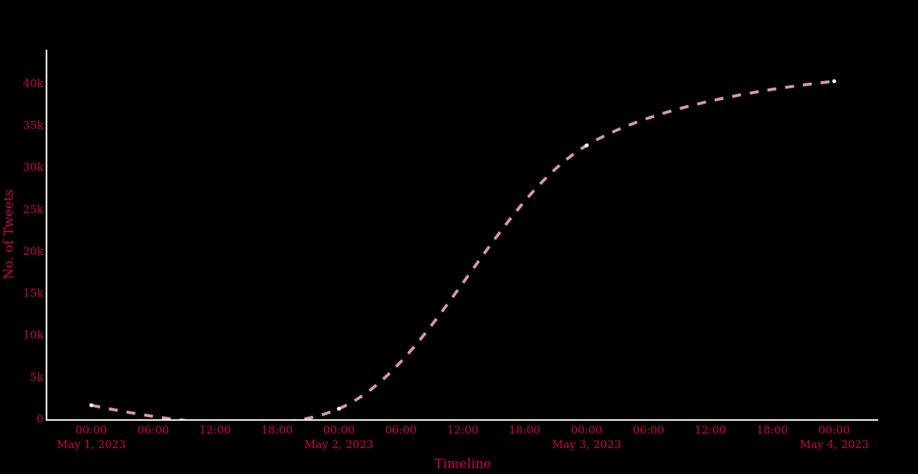 To understand where such a large number of tweets were coming from, we extracted data on the keyword 'Manipur' between May 1-4 and we observed that the buildup of tweets on #Manipur on May 3 and peaked on May 4.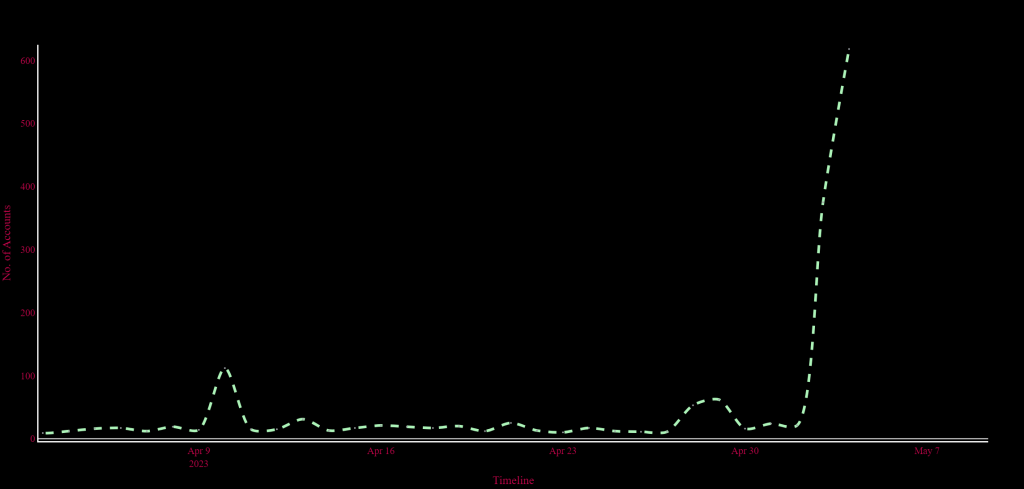 It was observed that around 19% of the accounts tweeting/posting on this issue was made on 10, 28, and 29th April, and approximately 80% of the account was made on May 3 & 4 and the rest ~1% were old accounts. This can be accurately observed by the highest peak as depicted in the above graph i.e., between May 3 & 4. This shows that the buzz of Manipur on social media was created by newly-created accounts.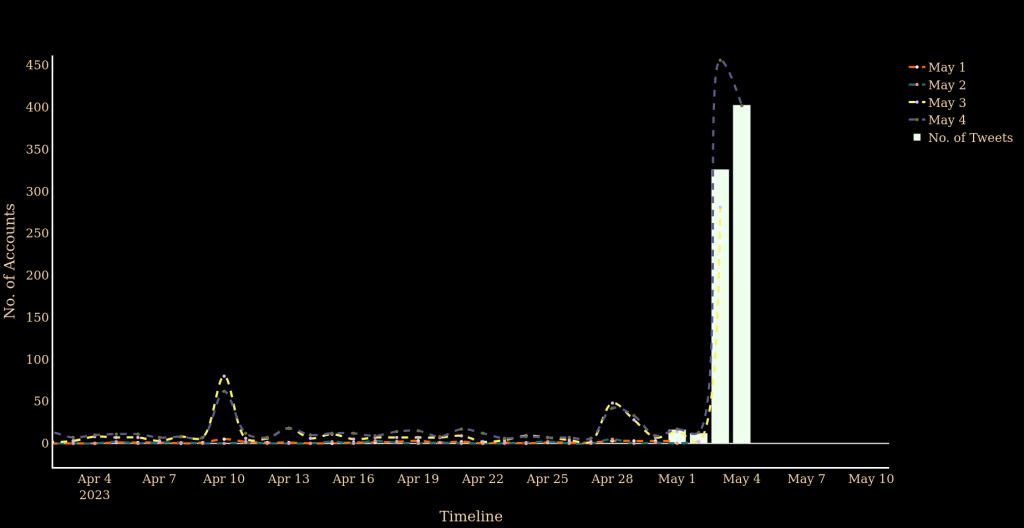 The bars in grey colors show the number of tweets on respective days (May 1-4). The Line Charts show the accounts creation timeline. We observe that the highest number of tweets were done on the 3rd and 4th of May, consequently, we see that the accounts active on the 3rd and 4th of May were the ones that were newly created.
Out of the newly-created 112 accounts on April 10, 62 accounts were actively posting on Manipur on May 4.
Out of the newly created 115 accounts created on April 28-29 respectively, 93 accounts were found to be actively posting on the Manipur crisis on May 4.
We observed that May 3 and 4 had the maximum number of new accounts created. On May 3, 315 accounts out of the newly-created 375 accounts had indulged in posting about Manipur.
Lastly, on May 4, a total of 618 accounts were created, out of which the most, 402 accounts were found tweeting on the day the news of violence broke on social media i.e., May 4.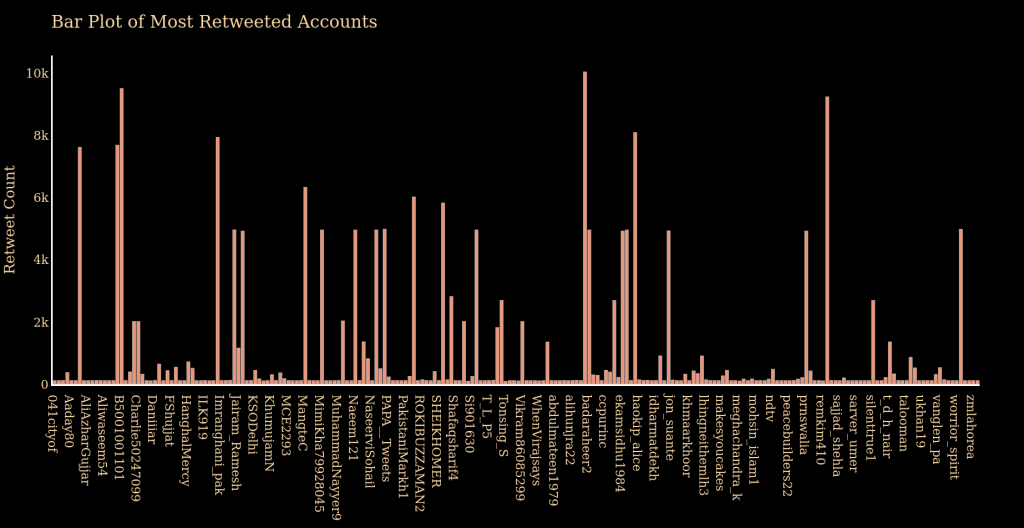 From the Twitter data, we filtered the most retweeted accounts. We found very few genuine accounts, most of these accounts were Pakistani, some even Khalistani accounts. Most of these accounts are now either withheld in India or suspended for violating X (Twitter) policies.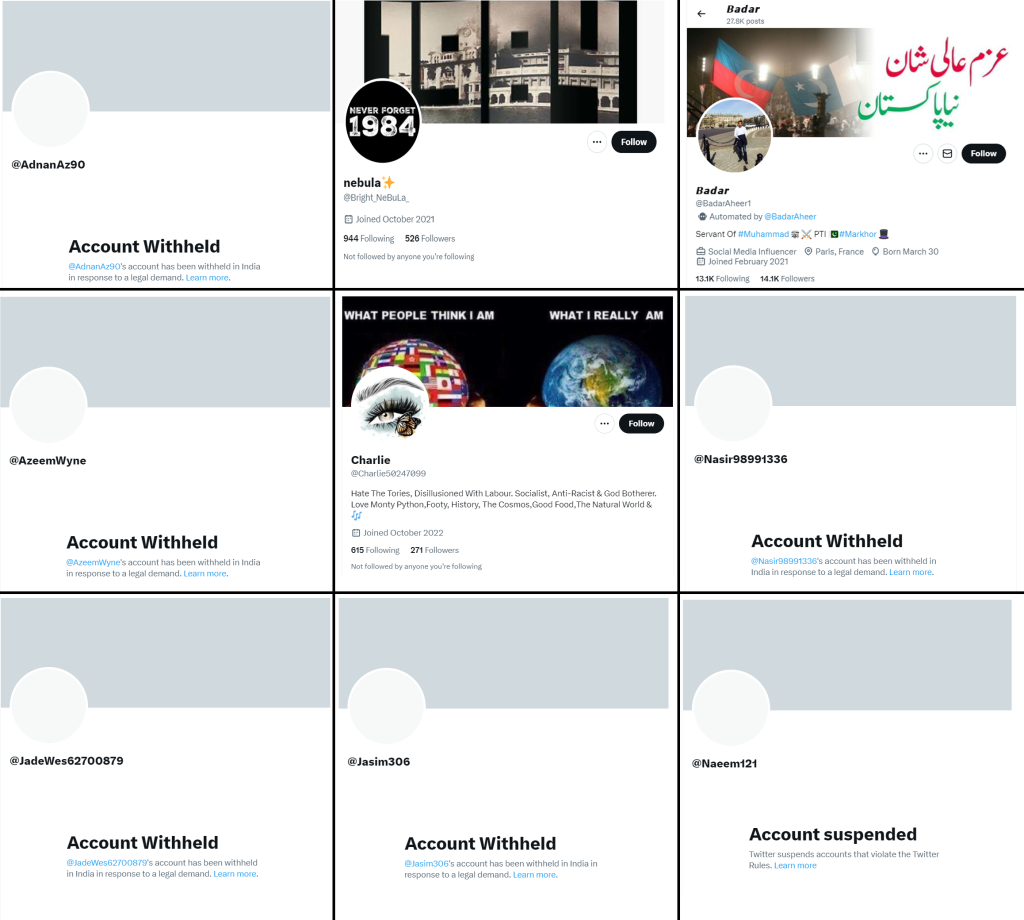 Here is a brief list of these accounts.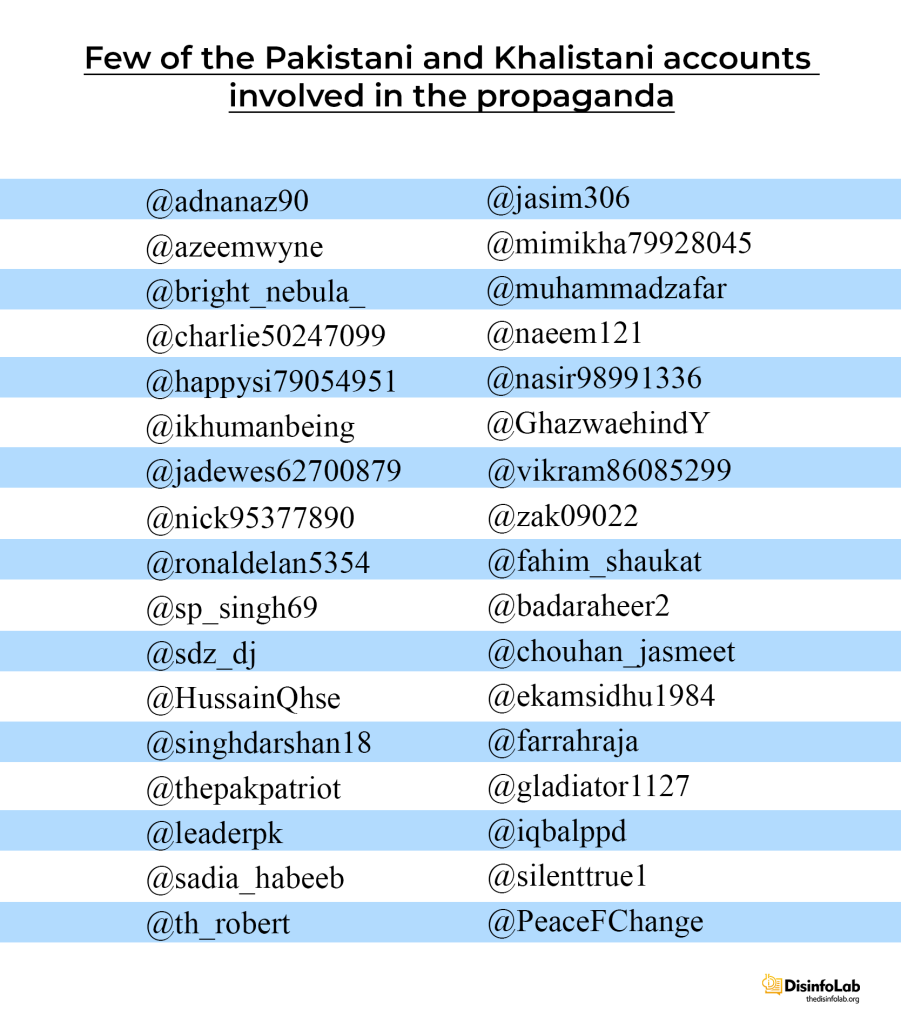 Furthermore, we looked deep into the accounts and extracted a list of accounts that were proliferating the tweets on Manipur between May 3 & 4, 2023. The following bar plot shows accounts that were mostly active in reposting. Such a high frequency of retweets by a few accounts is also one indicator that the discussion on Manipur was being hyped up artificially.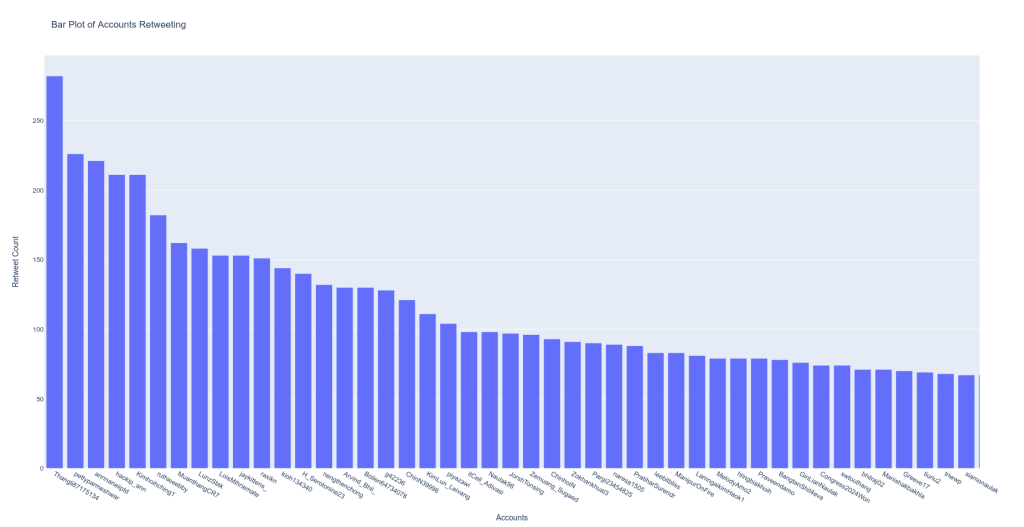 Fake And Misleading News
While there is no denying that there were actual cases of violence going on in Manipur during the tribal conflict, cyberspace is also replete with fake news and misinformation amid the unrest. In the absence of reliable information, people are quick to believe the worst, and this has led to a climate of fear and suspicion, which has in turn played a role in worsening the crisis.
The spread of fake news, propaganda, and misinformation is a serious problem that is exacerbating the tensions between the ethnic groups in Manipur. This problem needs to be addressed if there is any hope of resolving the conflict and bringing peace to the state.
Here are instances of fake news spread during the tribal conflict and unrest in Manipur:
The May 4 incident in Kangpokpi district, where two women were paraded naked and assaulted by several people, was one of a series of sexual attacks that occurred after a false claim that the victim of murder had been killed by tribals in Churachandpur was circulated in the Imphal valley.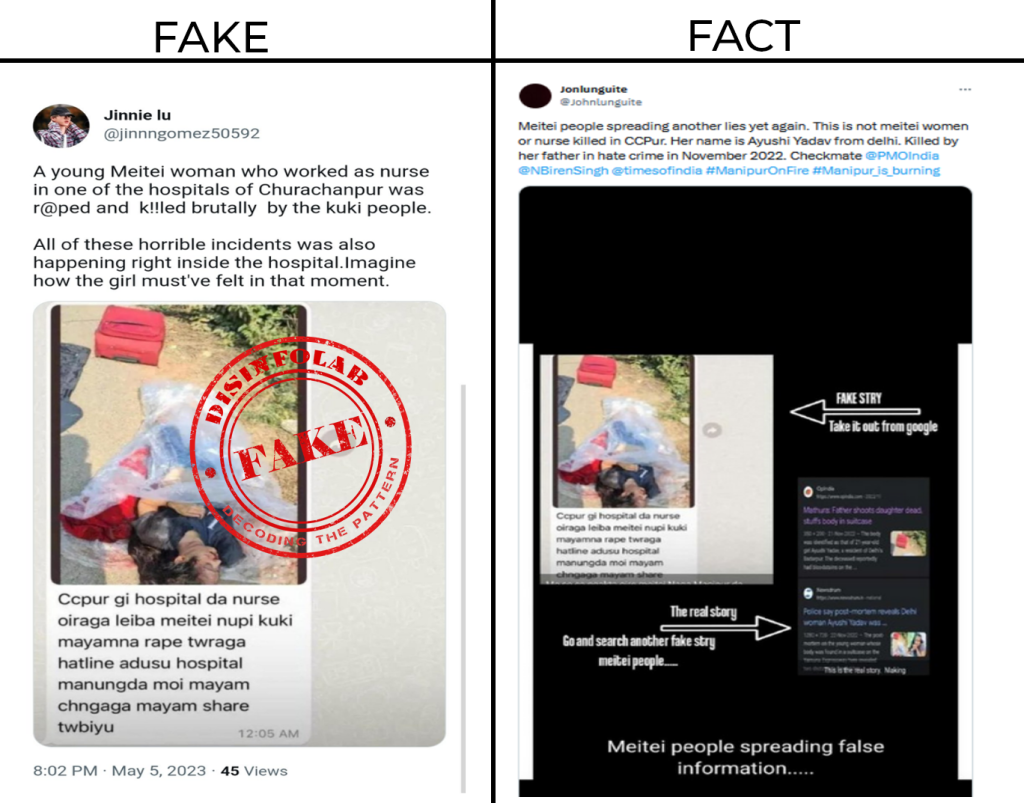 A photo of two men in RSS clothing was circulated on Twitter with the claim that they were the perpetrators of the Manipur incident. However, this photo was later revealed to be fake. The photo shows the son of BJP leader Chidananda Singh. Singh has filed a criminal defamation suit against those who spread the fake news.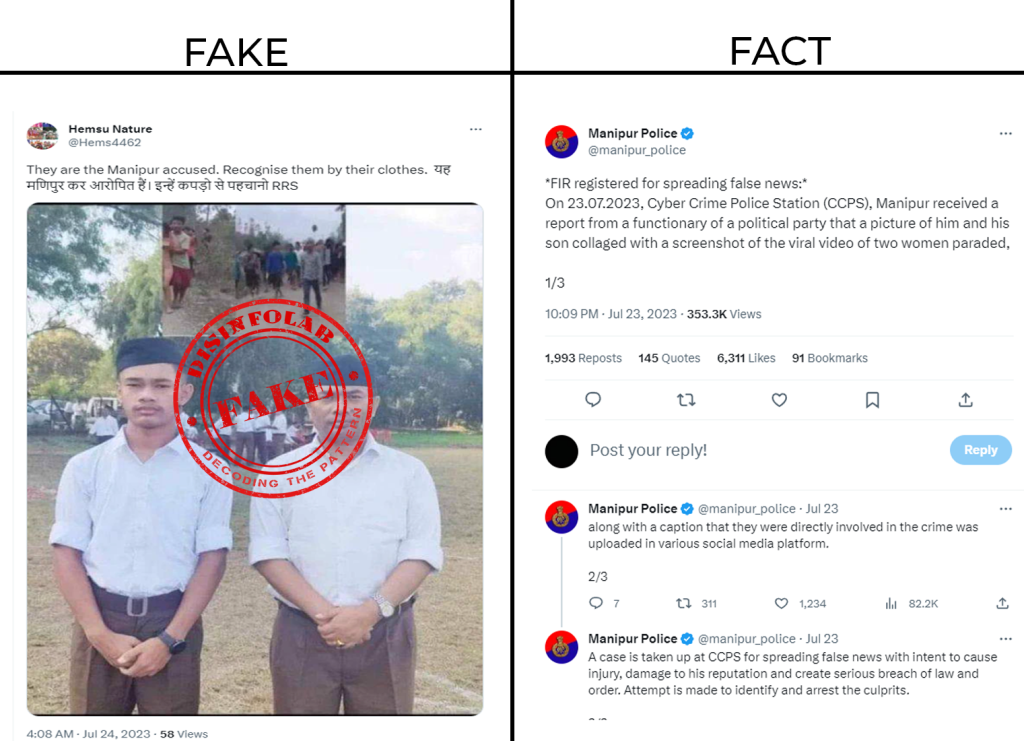 A video of a 300-year-old Church being burned down is being shared on social media with the claim that it happened in Manipur.
Fact: The video was shot in France during the unrest there.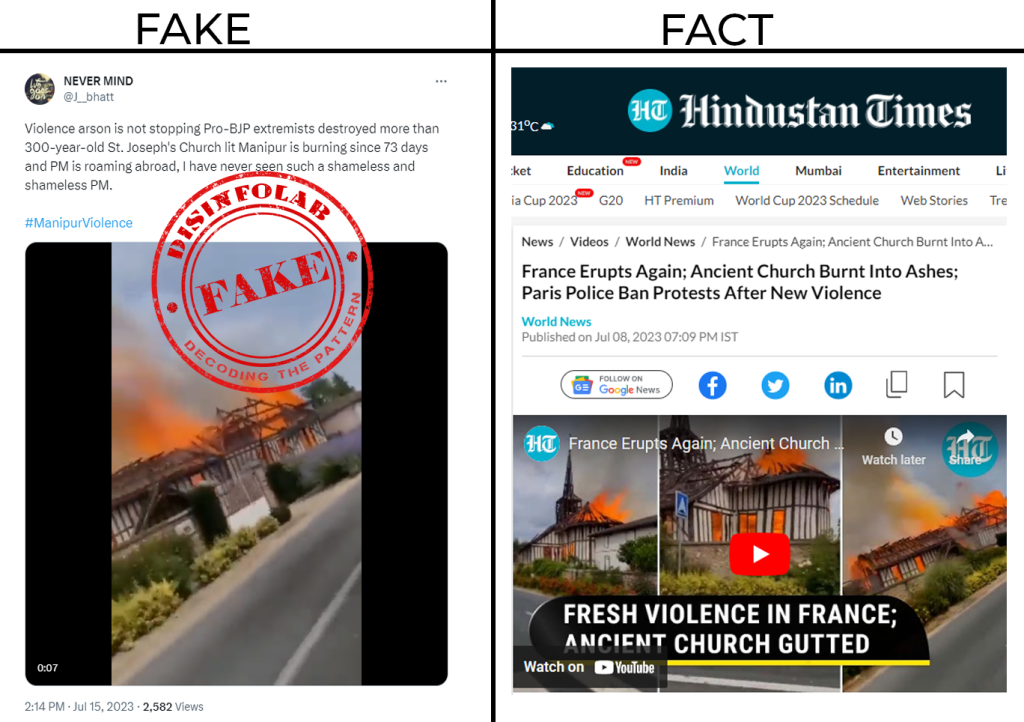 Chapter 3: 'Ethnic Conflict' to 'Communcal Conflict'
When the news of the conflict in Manipur broke, there was a flurry of activity on social media. A number of social media accounts were tweeting about the unrest in Manipur using multiple relevant keywords and hashtags to draw the attention of the world to the ethnic conflict happening in the state. However, it was a worth-noting how the narrative took a shift and was turned into a well-coordinated propaganda which was further relayed by a set of Indian social media accounts that in turn helped in solidifying the global narrative that was seeded from outside India.
From April 27 till the early hours of May 4, we analyzed the tweets done in Manipur during this time frame and the hashtags used in the tweets. The following word cloud shows all the hashtags that were running till May 4.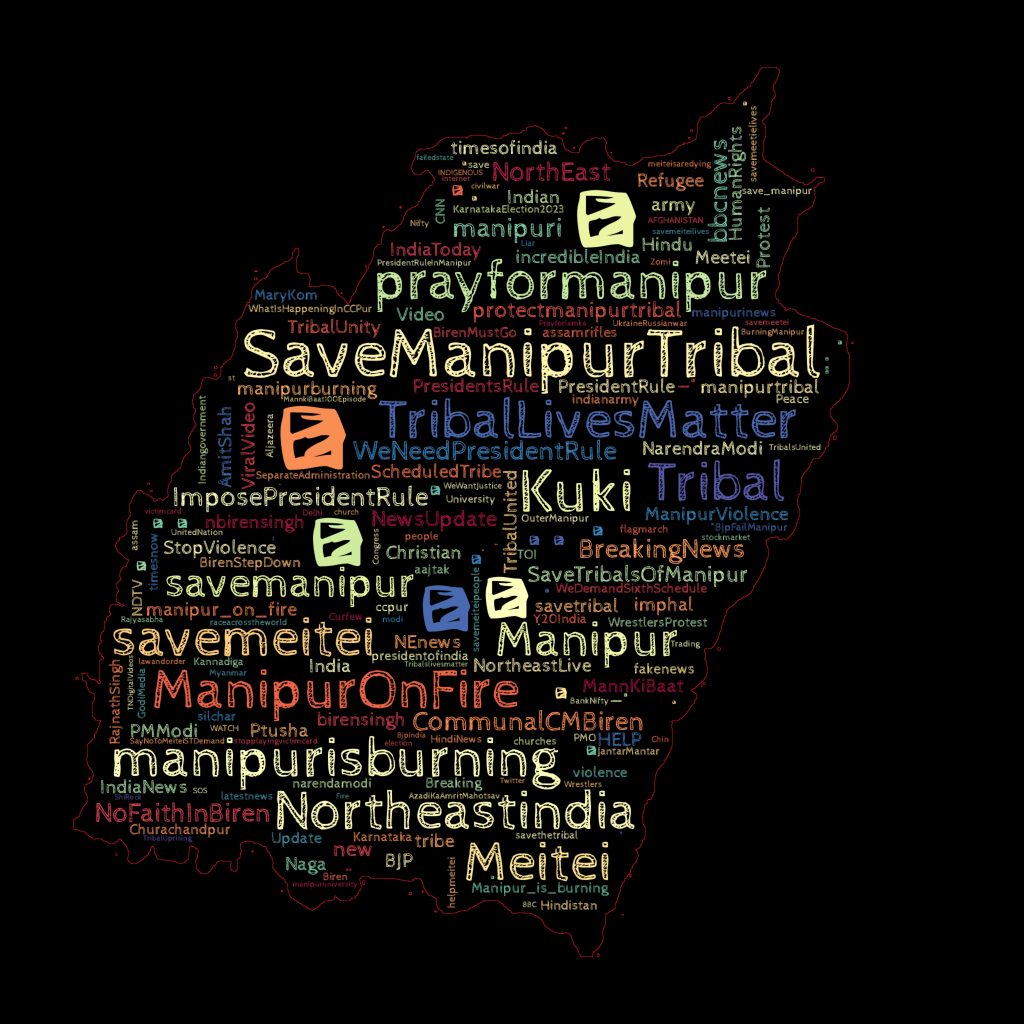 From the word cloud, we can observe that 'Tribal' is the most used keyword among all hashtags. Nowhere did we see any mention of either Hindus or Christians in the word cloud. We highlighted the top 20 words based on the narratives that were going around in the context of Manipur unrest. All the keywords that were extracted are #SaveManipurTribal, #TribalLivesMatter, and #SaveTribalsofManipur. Implying that the narrative was around the lives of tribes amid ethnic violence.
As noted in the previous chapter, we observed how tweets on 'Manipur' peaked on May 4, we also observed a coordinated pattern of tweets being done on the same lines and accounts from outside India. From the early hours of May 4 onwards, several accounts claiming to be from Turkey, Greece, Armenia, and even some news portals had started tweeting about the Manipur violence using a common language and in a coordinated manner. The following collage illustrates the tweets used by the accounts based outside India resorting to a similar language including sharing the same video.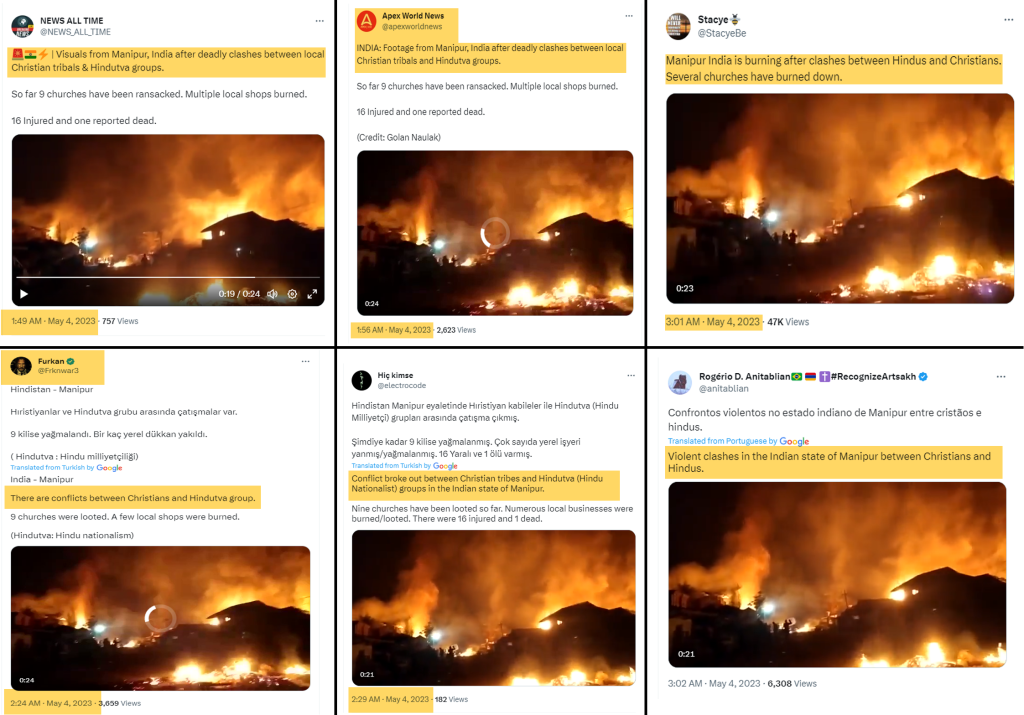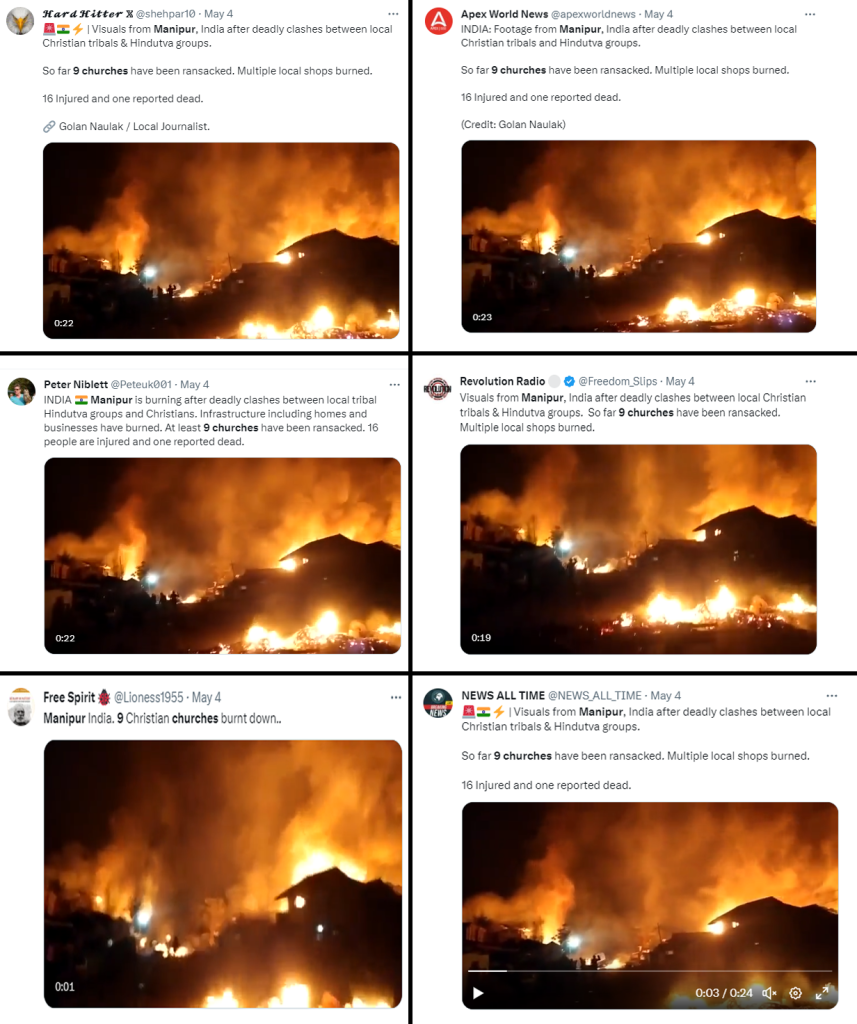 From the above tweets, we also see how these accounts played a key role in seeding the communal angle to the ethnic violence happening in Manipur. These tweets giving communal flavor to the violence was augmenting enough that it would spread like wildfire on social media. And as one would expect, this global communal propaganda seeding was very well picked by a section of Indian social media i.e., the Right-Wing accounts.
The Indian Extreme Right Wing (ERW)
The Indian Right-Wing 'keyword warriors' were among the early accounts to pick the global propaganda on the ongoing Manipur conflict on May 4. Various prominent ERW influencer accounts picked this communal propaganda, responding to them with a communal rebuttal. Now, these right accounts have huge followers with as much traction and engagement on seemingly all their posts. Manipur, being the hot topic during that time, some of the prominent right-wing accounts such as Ritu Rathaur (@RituRathaur), Amitabh Choudhry (@Mithilawaala), and Anshul (@anshul_aliganj) started repeating the same Hindu vs Christian narrative, thereby helping build the seeded narrative. Other key accounts that were sharing tweets and videos about the Manipur violence with communal flavour are @WldHinduCouncil, @indianclasses4, @Hinduwa57409984,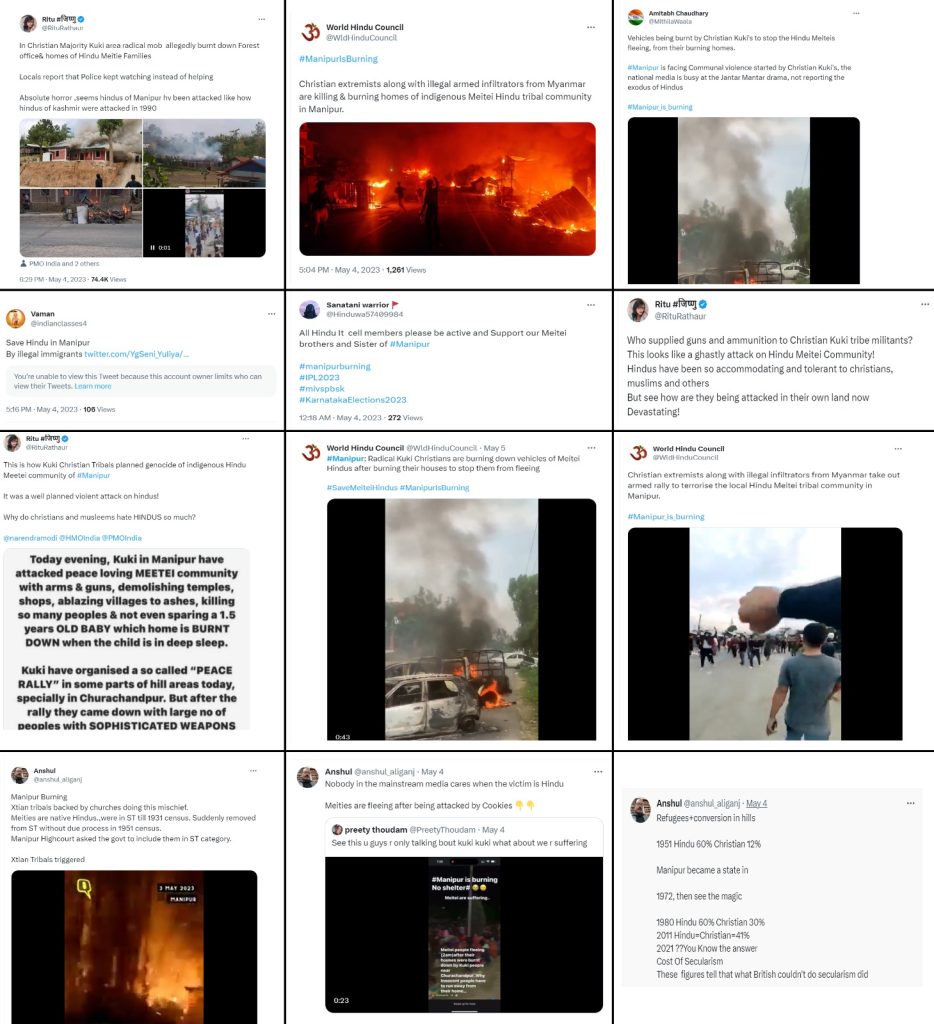 The user @RituRathaur, which to date has been tweeting in Manipur on communal lines has over 135K followers on Twitter and her posts have a reach ranging from 20K to even 350K views. Some of her videos about the Manipur and Hindu vs Christian discourse even have views over 325K. While Amitabh Chaudhary (@Mithilawaala) with over 6.5K followers also had views thousands whenever he shared any video or picture in the context of Manipur.
Amitabh Chaudhary (@Mithilawaala) also has a main account @Main_Amitabh and as per its bio, he is the founding member and spokesperson of @HinduUrjaa. This account is suspended for violating Twitter rules and regulations.

To understand the impact created by the right-wing accounts in fomenting the communal narrative, we plotted the network of the right-wing accounts. We found that two of such accounts i.e., @RituRathaur & @Mithilawaala were major contributors in building upon the communal narrative originally seeded by foreign accounts. The following network plot shows the retweeting network of the two RW accounts @RituRathaur & @Mithilawaala.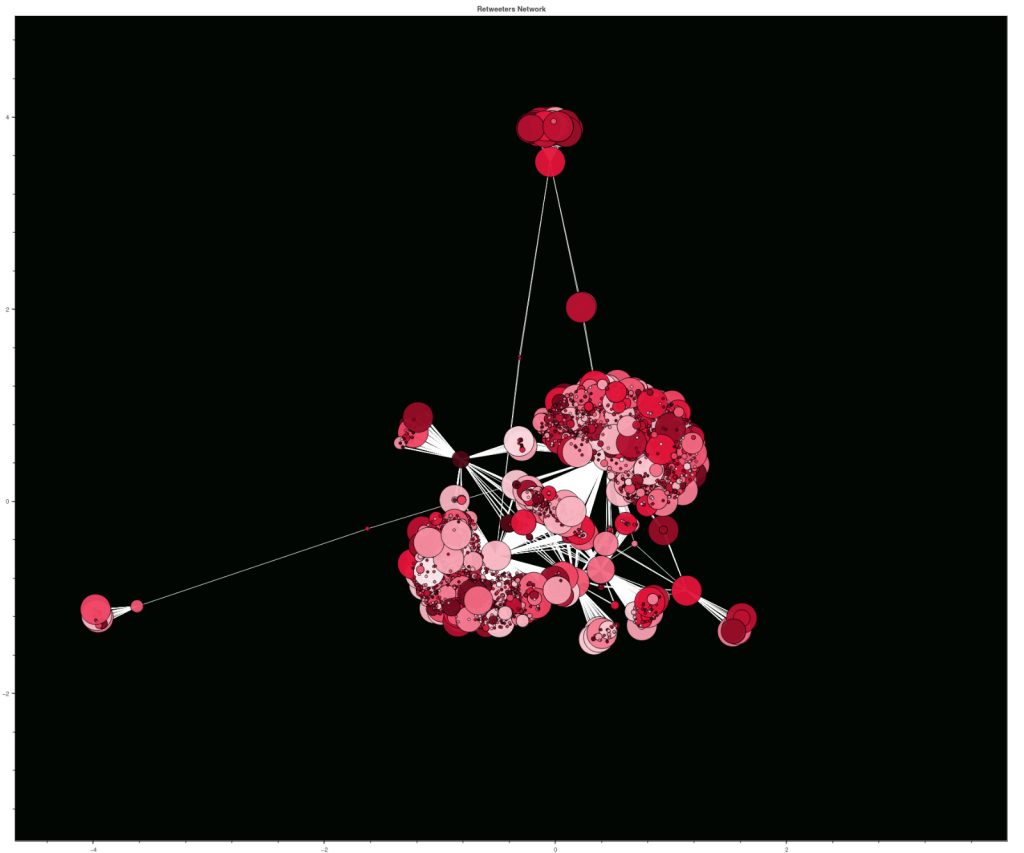 As depicted in the graph, both these accounts had the most retweets, and notably, a major section of them were common retweeters of both. The faction ended up solidifying the communal narrative pertaining to the Manipur unrest. The cluster depicted at the center of this network plot shows the common retweeters of @RituRathaur and @Mithilawaala and it was found that both these accounts had 1025 retweeters in common.
To understand if the retweeters network of these major right-wing accounts shared any similarity, we evaluated when these accounts were created. And we found that the majority of accounts were created in 2023 as illustrated by the peak in the following plot.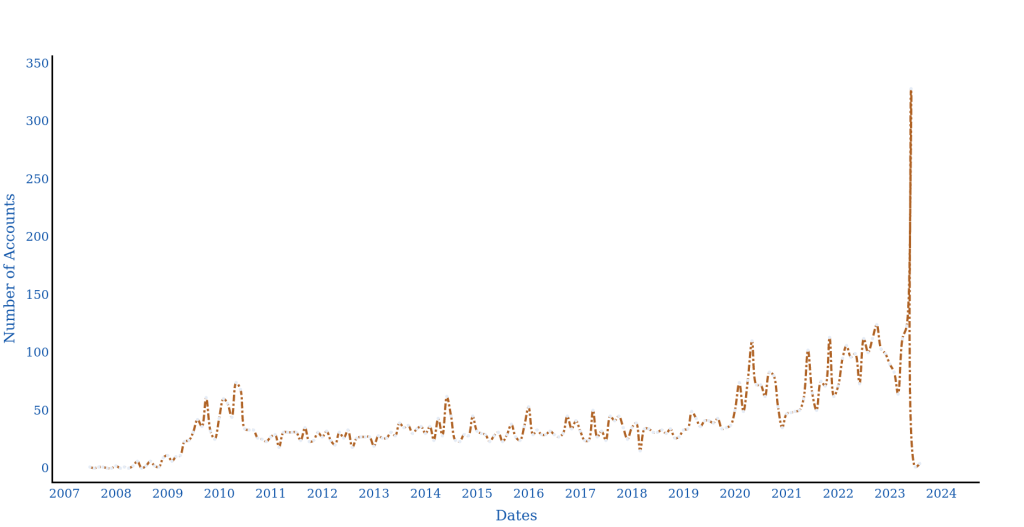 We found that 325 accounts were created in May 2023. The following plot shows the month-wise creation of accounts of the common retweeters. There is a spike in May 2023, depicting the creation of those 325 accounts.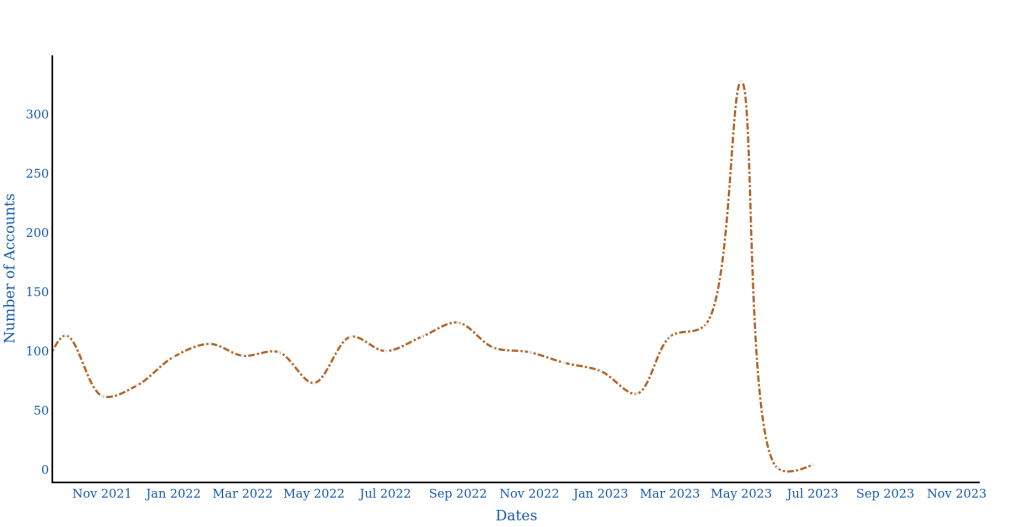 More specifically, out of the 325 accounts, 142 accounts were created alone on May 4. Incidentally, the day when the Indian RW accounts picked the communal propaganda seeded by foreign accounts. The following plot illustrates the creation of those 142 accounts which were created on May 4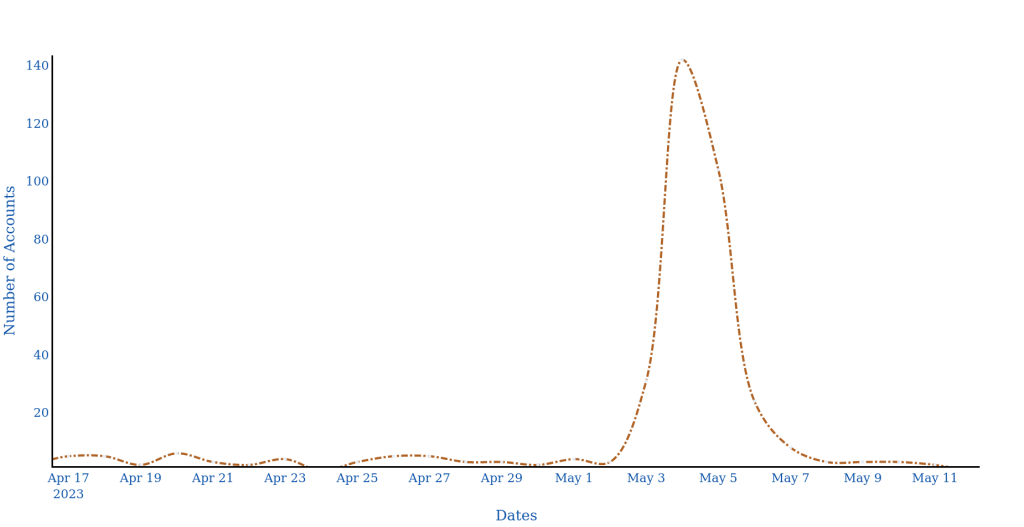 With communal agenda seeded and further propelled by the Indian RW network, there was a clear shift in the narrative on social media i.e., from 'Tribal conflict' to 'Communal conflict'. The following word cloud of the tweets depicts the narrative shift based on data extracted between May 5-15, 2023 i.e., the next day after the RW picked up propelled the communal agenda. The data extracted were based on three primary keywords pertaining to the conflict i.e., 'Manipur', 'Kuki', and 'Meitei'.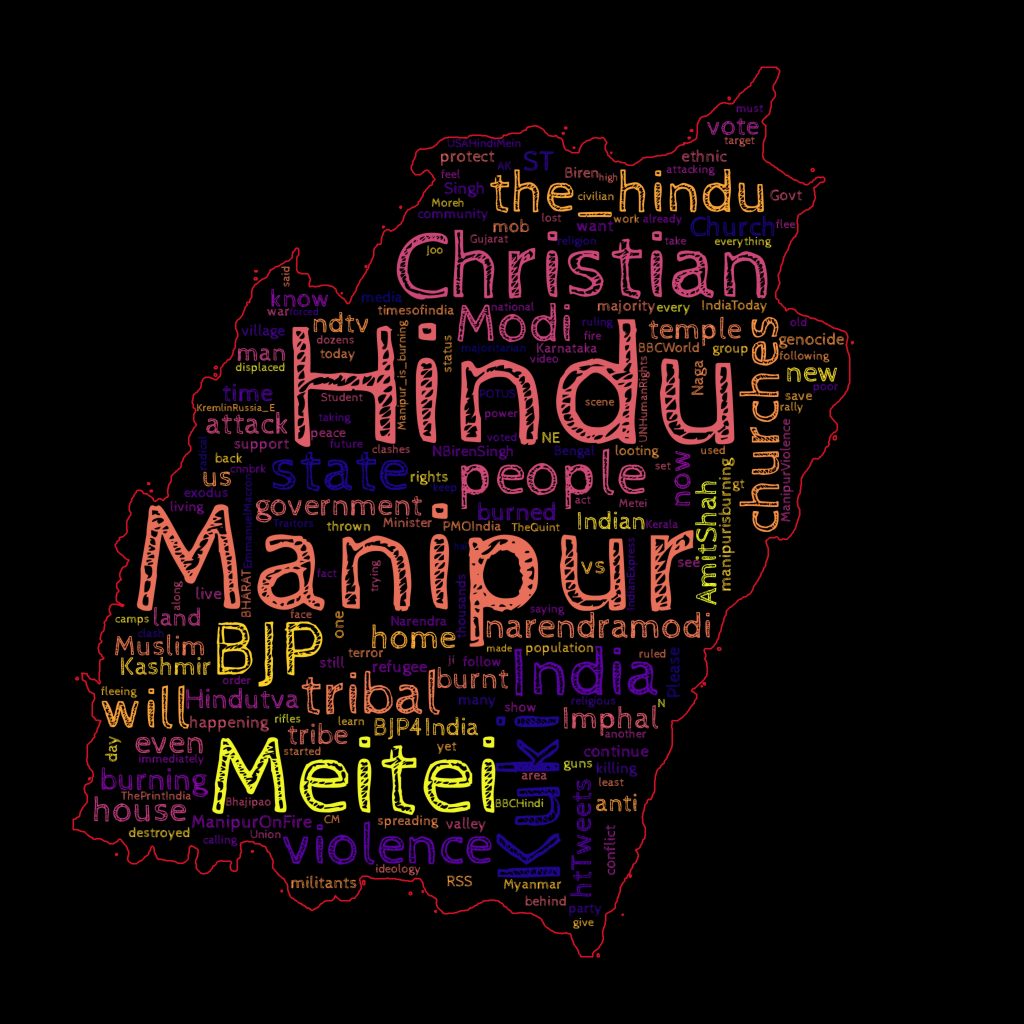 We observed that this time a very important keyword i.e., 'Tribals' was much less significant in the word cloud for tweets between May 5-15. And two new words 'Hindu' and 'Christian' became more prominent in the next 10 days. A global seeding of communal conflict had successfully seeped into Indian cyberspace which further gave impetus to a larger narrative shifting that was later picked up by a segment of global media portals to plaster the communal angle to the conflict.
Chapter 4: The Global Propaganda
With the considerable amount of noise and space created on social media, it was now time for a set of global media portals to nurture the communal narrative on Manipur globally. And while a section of social media accounts was blaming the Indian media for overlooking the Manipur conflict, it also served as a platter of opportunity for several global media outlets to go on a rampage for peddling propaganda and misinformation that took birth on social media, as elaborated in Chapter 3.
The first of many such news portals that gave the Manipur ethnic violence the communal touch was a UK-based Apex News World. On May 4, 2023, at 1:56 IST, Apex News World posted a video tweet inferring the violence was a conflict between Christian tribals and Hindutva groups.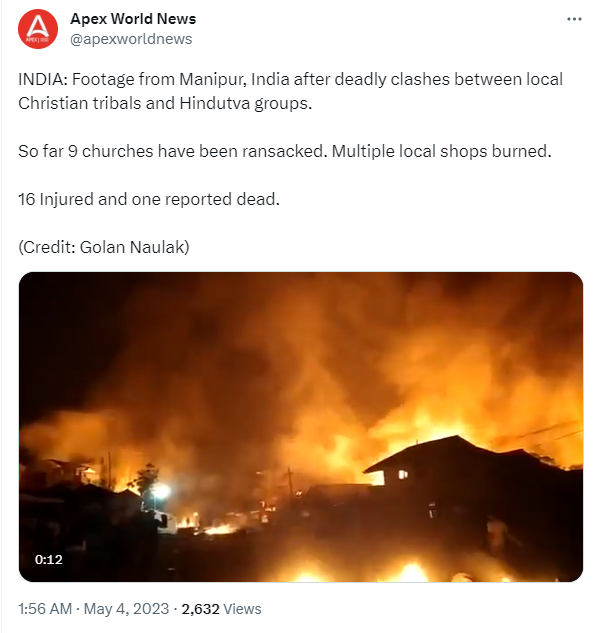 Apex News World is a UK-based news portal formed in May 2020 created by a Zimbabwe-British Pastor, Uebert Snr. Angel. Born in 1972 in Harare, Zimbabwe, Uebert Angel is a televangelist, businessman, and author. He is the founder and leader of Spirit Embassy International (Goodnews church), a Pentecostal megachurch within the United Kingdom and branches in several countries around the world. Angel is a self-styled prophet known for his controversial statements.
Angel has been involved in several controversies over the years and exposed multiple times including cases about the acquisition of fake degrees, fake identities, money laundering, and sexual misconduct. In 2021, when he was appointed Presidential Envoy and Ambassador-at-Large by President Emmerson Mnangagwa, he was exposed for donning double identities. And in 2023, he was arrested on charges of money laundering. He was accused of abusing his diplomatic privileges to launder money through his church. Angel was released on bail, but he is still facing trial.
Pakistani Media Propaganda
As noted earlier, in the wake of the recent violence in Manipur, a global narrative of the Hindu vs. Christian conflict has been peddled by prominent handles and media portals. Expectedly, a large faction of these portals and handles are from Pakistan and even Gulf countries, who are using the violence in Manipur as an opportunity to sow discord and hatred between Hindus and Christians,
One of the first prominent Pakistani media portals to present the Manipur tribal conflict with a communal spin was Concept TV News. On May 4, when the violence in the state had just started peaking up, Concept TV News posted the news of the unrest on social media, accusing the Indian government of initiating the mass violence.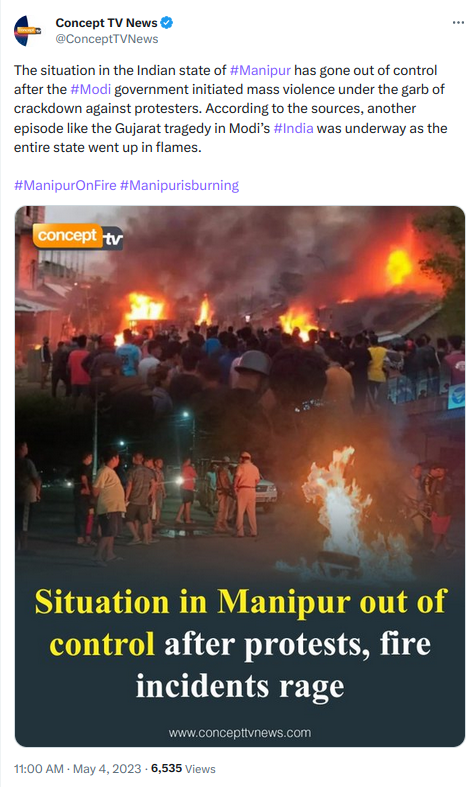 Following this, several Pakistani accounts (as elaborated in Chapter 2), as well as prominent Pakistani media portals including Dawn, Bol News, ARY News, and AAJ TV News, too facilitated and propelled the propaganda by the Turkish, Middle-East, and Pakistani cyberspace.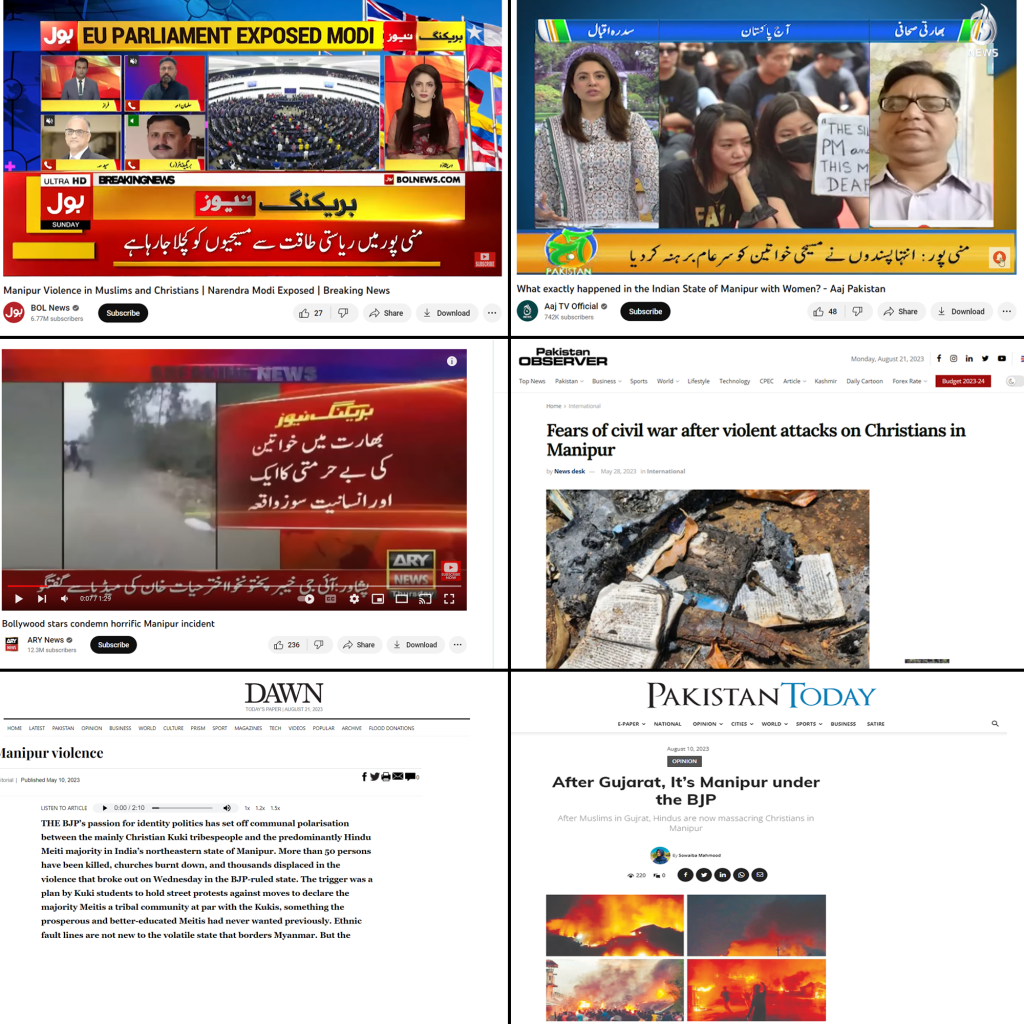 These media portals played a significant role in flaring up the Hindu vs Christian narrative stating that the Hindus are inflicting atrocities on the Christian community. The narrative which was so far covered by Pakistani and Apex News World was readily picked up by several media portals which further pushed it through their articles.
Turkish media outlet Al-Estiklal newspaper also joined in to do inflammatory reporting of the violence and used the opportunity to draw parallels between Muslims and Christians, stating how the two minority communities have been oppressed and victimized by the Hindu community. It is to be noted that Al-Estiklal was one of the prominent media portals that pushed this global propaganda of the Hindu vs Christian narrative in Manipur. Al Estiklal as per its Facebook page is operated from Turkey, followed by Iraq. And as per its Twitter bio, it is a 'biased newspaper to what some expect or are accustomed to from newspapers.'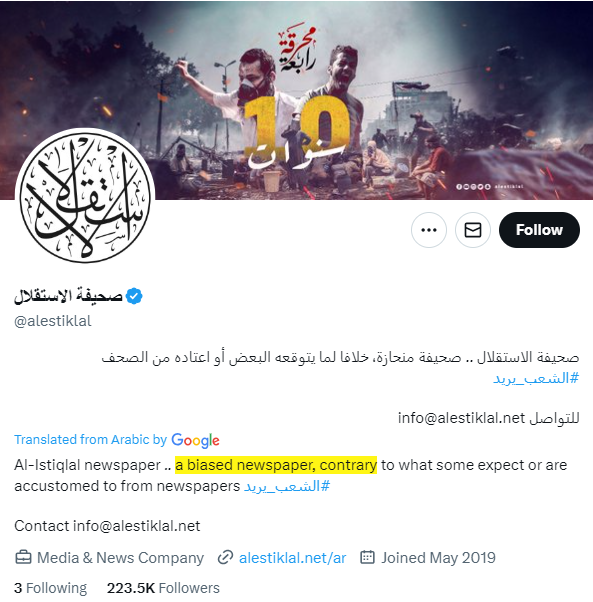 Please note that Al Estiklal was also one of the prominent media outlets involved in pushing the Muslim Brotherhood's campaign to launch #Boycott_Indian_Products in 2021. The campaign was launched by the Muslim Brotherhood and further aided and pushed by the Qatar-Turkey-Pakistan nexus to run a global boycott campaign against India.
(Read more in the Disinfolab report "Muslim Brotherhood Arrives in India".)
To get the perspective, it is imperative to understand the chronology of how things unfolded. Firstly, obscure global media outlets such as Apex News World and Al Estiklal seed the communal narrative. It was then picked up and furthered by the Pakistani propaganda machinery, which then succeeds in plastering the communal label to the ethnic conflict in Manipur. This ended up giving impetus to a flurry of global Christian media portals that further lap up and shape this communal narrative.
Christian Media Portals
Apart from Pakistani and Turkish media, the narrative of the Hindu vs. Christian conflict is prominent in global Christian media outlets. Some Christian media platforms have utilized the opportunity to reinforce the narrative of fascism in India and portray Christians as the sole victims of the violence. The platforms including UCA News, Christianity Today, Open Doors, and Christians Headlines among others have been sharing misleading and inflammatory content that seeks to portray Hindus as perpetrators of violence against Christians, using headlines highlighting the numbers of Christian civilians killed and churches destroyed by mobs.
Christianity Today was the very first portal to cover Manipur news with a communal lens. Several global media portals, also joined the wagon starting May 5, that the Christians were being persecuted in Manipur by Hindu Meiteis and Churches were being destroyed. On May 4, 2023, at 1:50 PM, Christianity Today published a news titled "Mobs Kill 6, Burn Down 25 Churches in Northeastern India". The article was shared on X (Twitter) by usual suspects.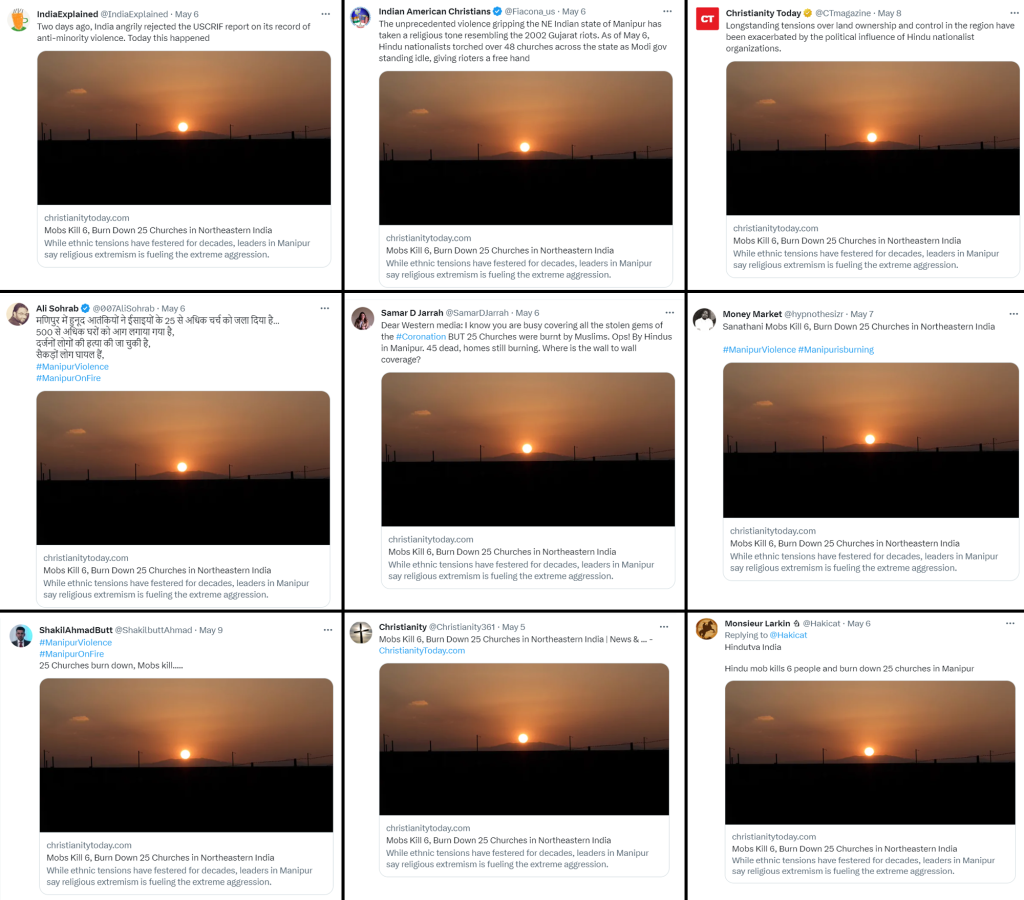 Another portal Premier Christian News also published the story on similar lines with the headline "Dozens of churches in India's Manipur state destroyed in communal violence" alluded that the violence was communal violence. Thereafter, other global Christian news portals followed the same suit and do similar reporting on Manipur. Among these, the Union of Catholic Asian News, or UCA News has been the leading portal for publishing reports on Manipur violence from a religious angle. To date, UCA News has published over 70 articles on the Manipur violence.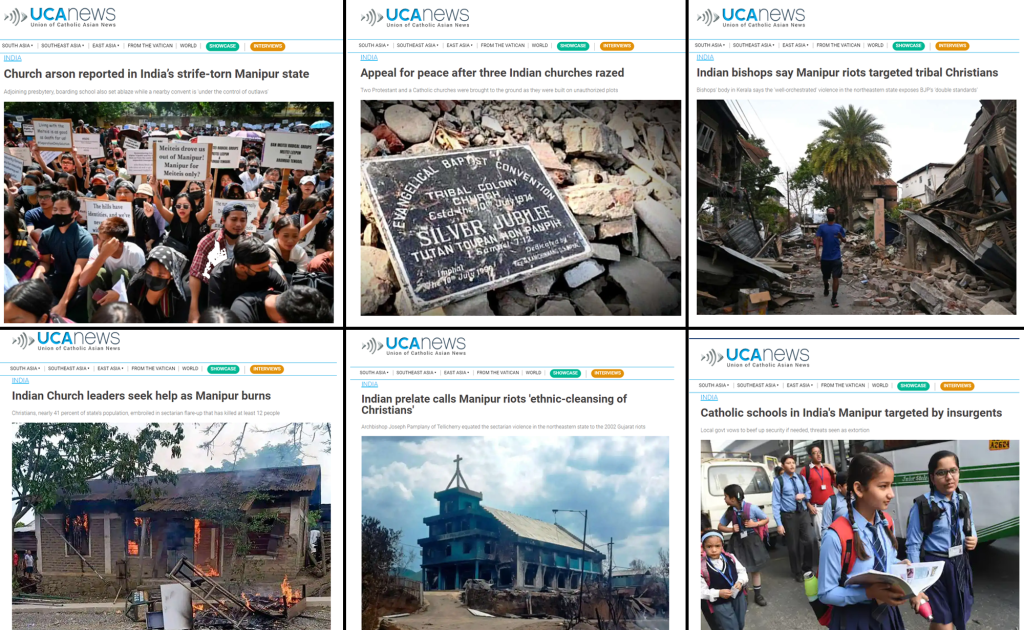 UCA News, which majorly publishes pro-Christian stories was launched in Hong Kong in 1979. It was founded by Maryknoll's Father Robert Astorino. Astorino, who served as its Executive Director for 30 years before passing away at the age of 77 in June 2020. He was succeeded by Jesuit Father Michael Kelly.
Another prominent agency that has been actively reporting on the Manipur violence as a conflict between the Hindu Meiteis and Christians Kukis is Open Doors. As per its website, Open Doors claims that it "empowers persecuted Christians by supplying Bibles and Christian literature, training Christian leaders, facilitating social/economic projects and uniting believers in the West in prayer for Christians, who are the most persecuted religious group in the world and are oppressed in at least 70 countries." Open Doors also documents cases of atrocities on Christians and their persecution worldwide and ranks countries accordingly. But using a methodology full of discrepancies. Open Doors has been found to have a negative standpoint of India and has been ranking India among the top countries with extreme levels of Christian persecution. Notably, Open Doors uses the same distorted map of India as used by successionists and has also been found to collaborate with the Pakistan-backed Jamaat-e-Islami front including Justice for All to discuss the plight of minorities in India.
To Read more about Open Doors, Please Read the Disinfolab report: Documenting Christian Atrocities in India.
These portals, whose stories have been widely on social media and other media portals. have been painting the entire conflict with religious colour. They have been reporting stories of 'Christian victimhood' without a care about the fact that such reporting has the potential to incite further violence and hatred between the two communities, and has even done so. These global Christian news portals played an important role in disseminating the communal angle of Manipur's ethnic conflict. And it very well managed to reach where it was supposed to be. A Washington DC-based entity lapped up the Christian Persecution narrative for its interests and agenda which will be discussed in Chapter 5. One can expect that the likes of FIACONA, and Open Doors will curate annual reports on Manipur to show the plight of Christians in India which will later be used/referred by the USCIRF or the US State Department to show declining religious freedom In India.
Chapter 5: Another anti-India 'Indian American' Organization
The narrative of Christian persecution showing the Kuki community as oppressed was by a Washington DC-based advocacy front Federation Of Indian American Christian Organization of North America (FIACONA). On May 6, 2023, FIACONA shared an article by Christianity Today that was the first-ever portal to give the Manipur violence a communal spin and further stir tensions on religious lines.
The first of FIACONA's many tweets on Manipur dated May 6, 2023, gave a clear angle of the Hindu vs Christian narrative, thereby sowing the seed for a larger agenda that has so far been used as a paraphernalia to rehammer the Faultline of India's north-east with a communal twist.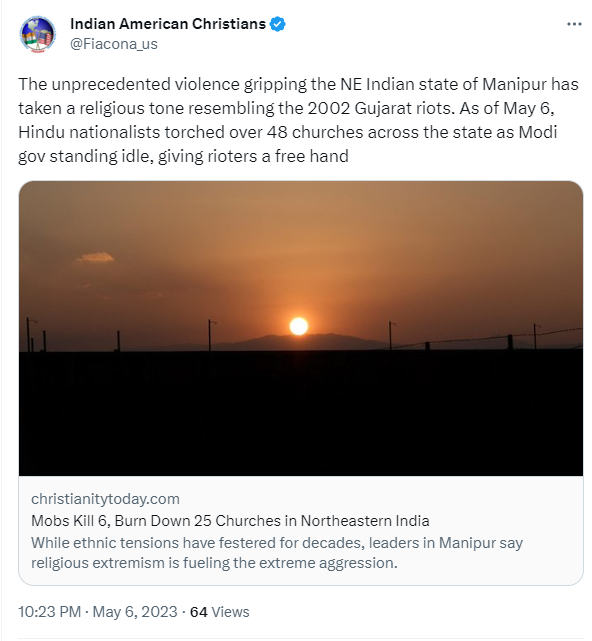 FIACONA describes itself as the Washington DC-based voluntary, charitable organization advocating on behalf of one million strong Indian American Christians from all 50 states and Canada. It also calls itself a coalition of Protestant, Catholic, Orthodox, Evangelical, Pentecostal, and independent church and civic organizations primarily of Indian Americans. FIACONA is a bridge builder for ecumenical advocacy focused on finding ways to reduce violence against Christians in India. Although FIACONA claims to have come into existence in 2000, it was first registered in 2002 and since then it has become a leading front to perpetuate the Christian cause of India from the US.
FIACONA takes credit and purported cognizance of the human rights of Christians in India and releases annual reports every year highlighting Atrocities against Christians in India. Disinfolab has dissected and deconstructed the fakery, fallacies, and fabrication of the FIACONA reports which can be accessed at Documenting Christian Atrocities In India- An Evangelists-Islamists Enterprise in Fiction & Fabrication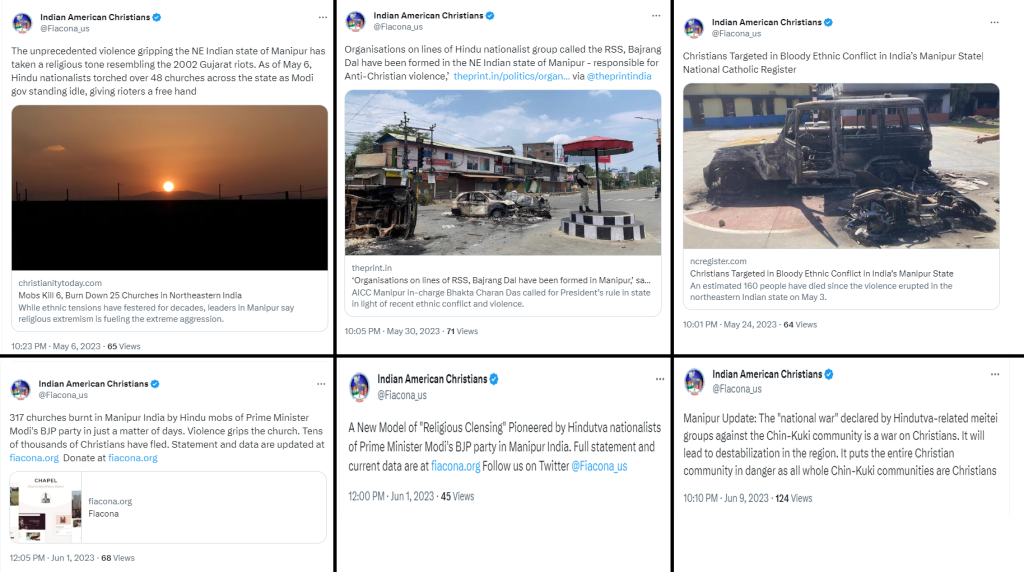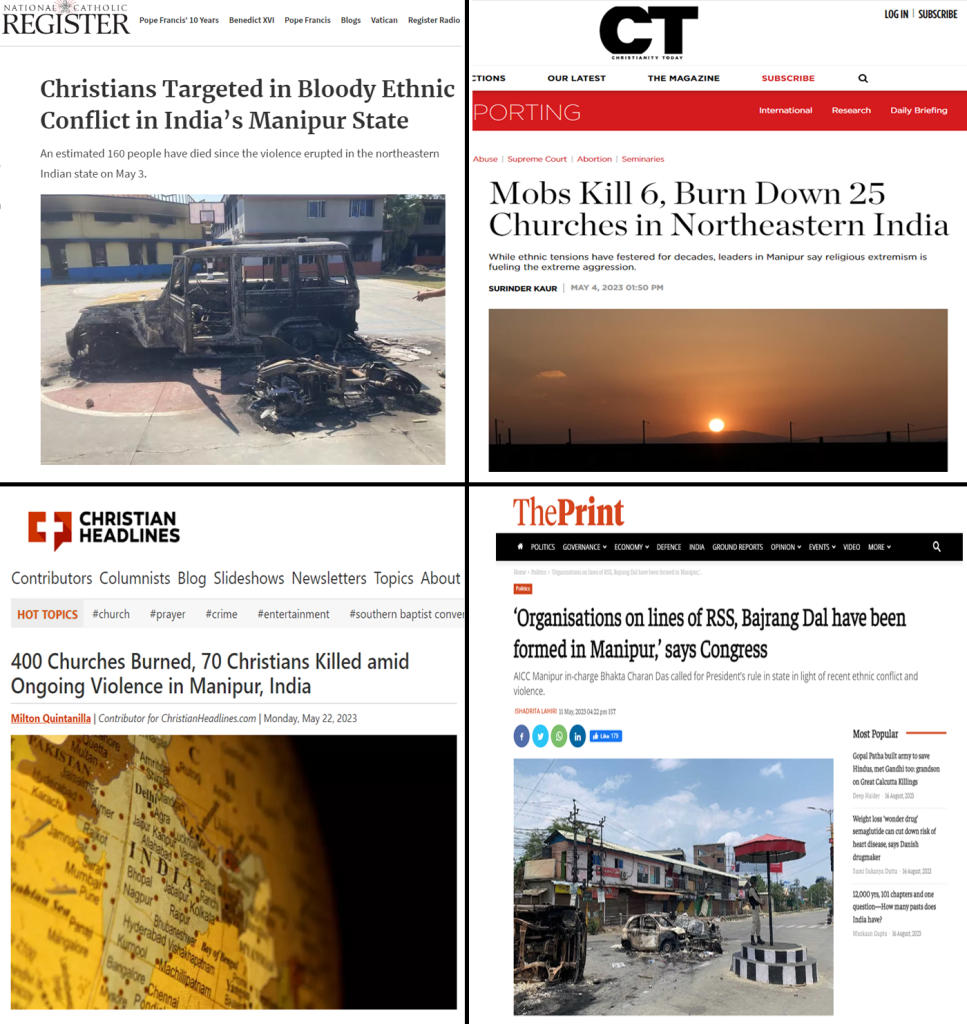 The following Word cloud is the depiction of tweets and keywords used mostly by FIACONA while tweeting in the context of Manipur violence. From the beginning itself, FIACONA has painted the ethnic conflict as a religious conflict. The most used word is 'Christian', followed by 'Hindu Nationalist', among other words as depicted in the word cloud which would communalize the conflict.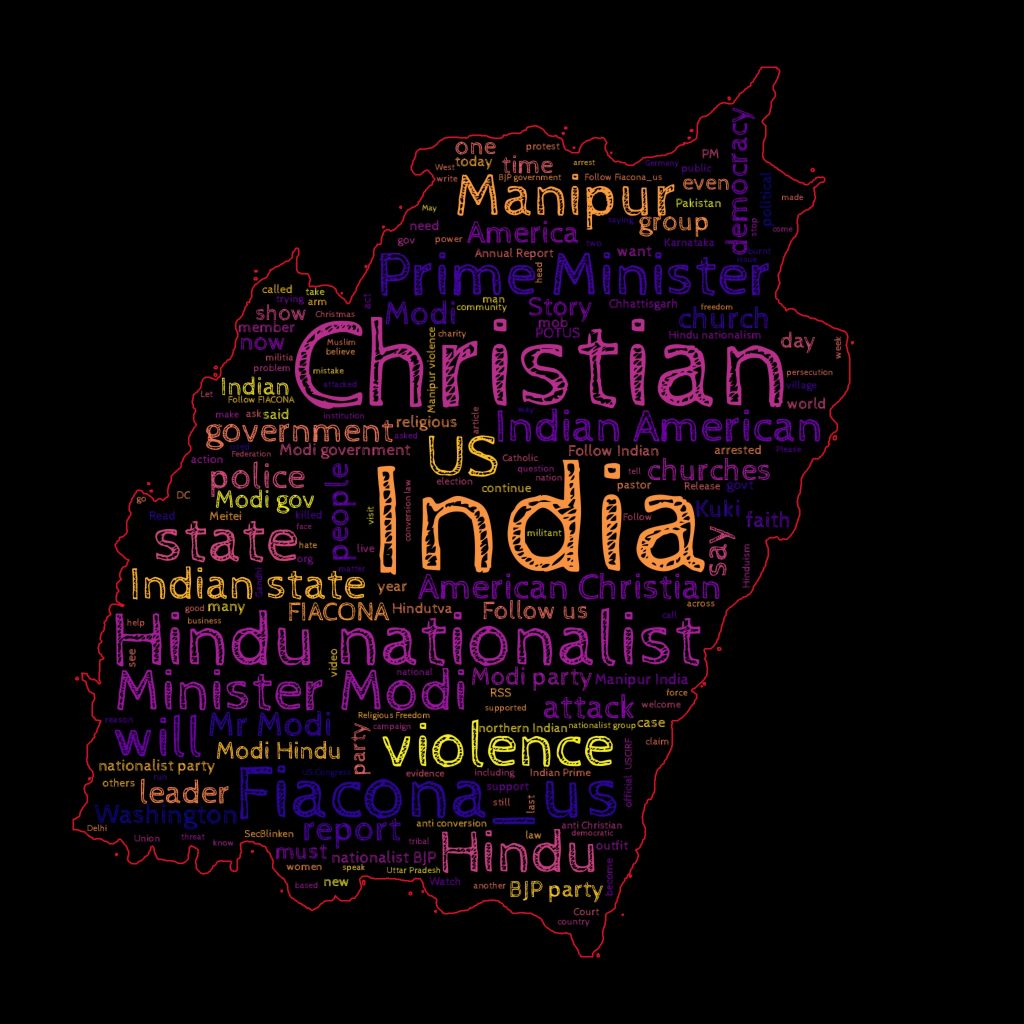 FIACONA Members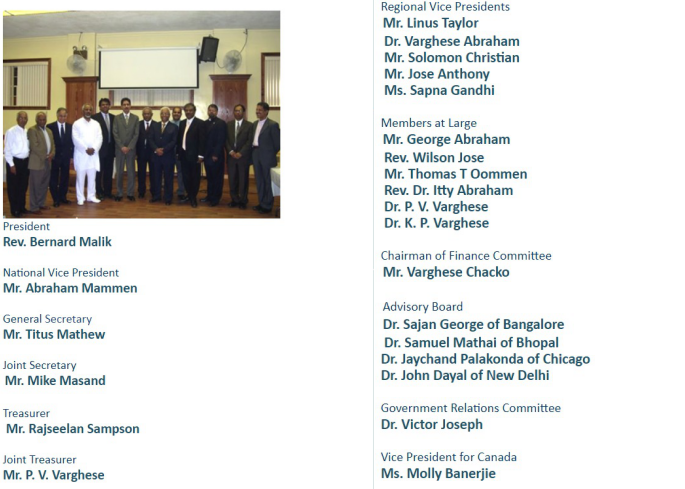 One of the most prominent board members of FIACONA is the New Delhi-based Christian activist, journalist, and author John Dayal. John Dayal served as the advisory board member of FIACONA in the early 2000s. He is the Editor and CEO of the afternoon newspaper Delhi Mid-Day and has been the Treasurer of the Editor's Guild of India. He is also the national convener of UCF.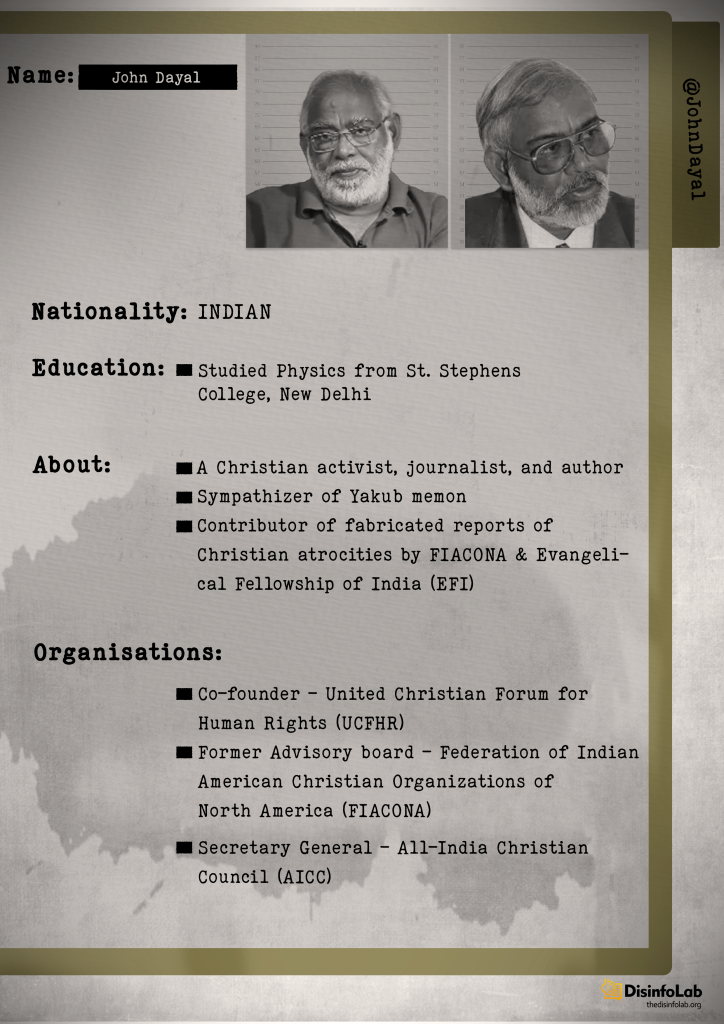 As noted by Disinfolab in its report published in May this year, John Dayal has been one of the key faces abetting the global narrative of Christian persecution in India by manufacturing/ manipulating fabricated incidents in reports published by the Evangelical Fellowship of India (EFI) and FIACONA annual reports.
These reports are then picked and further used as cross-referencing by global Christian organizations such as Open Doors and International Christian Concern (ICC) and later pressurize the US State Department to get India sanctioned over the pretext of stringent human rights of Christians and religious minorities in India.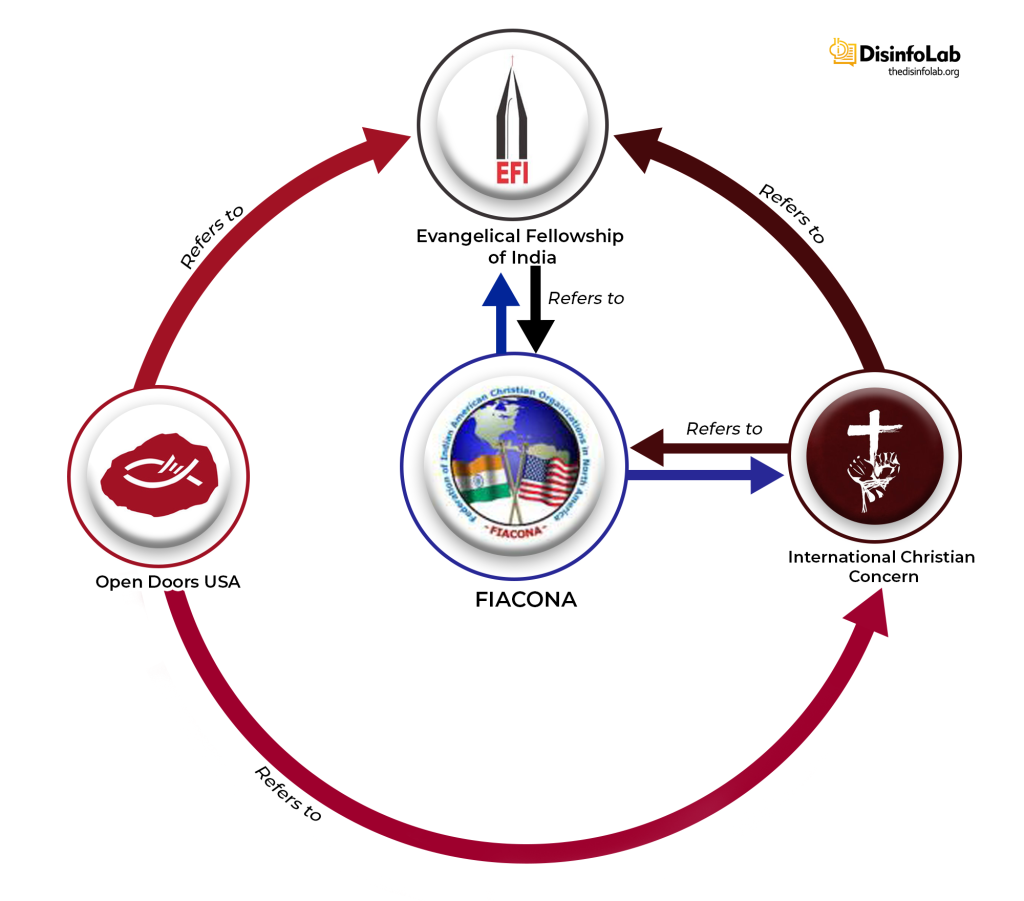 Two key members of FIACONA including its President Koshy George, and advisory board member Rev. Sherwin Doss are also associated with a Christian organization in India- the Church of South India (CSI).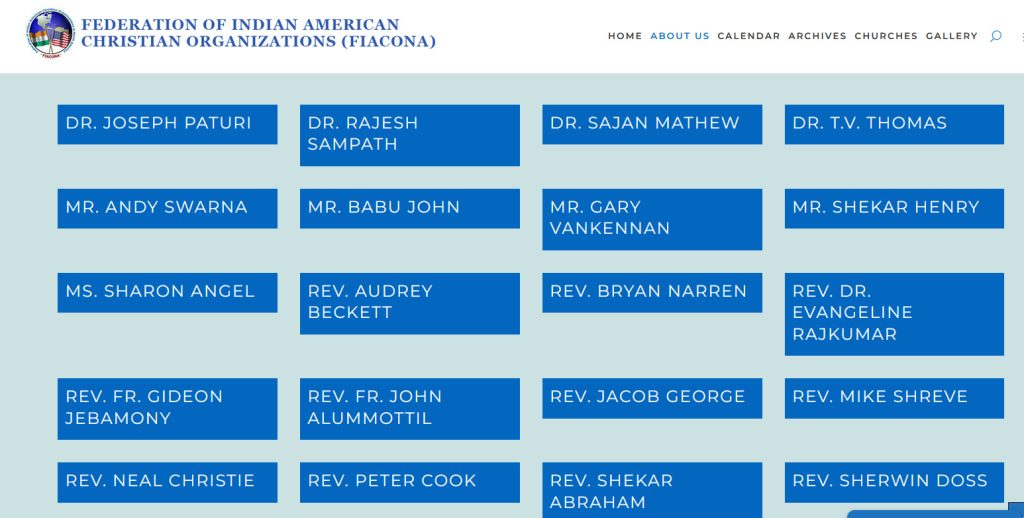 As per its website, CSI, formed in 1947, is "the result of the union of churches of varying traditions Anglican, Methodist, Congregational, Presbyterian, and Reformed" and claims to be the second-largest church in India in terms of the number of members.

Koshy George and Sherwin Doss hold important positions in the organization Church of South India (CSI). CSI is associated with several national and international Christian organizations, one of which includes the World Council of Churches (WCC). Switzerland-based WCC is a fellowship of churches pursuing the goal of "Christian Unity".
WCC is a collective of "347 churches, denominations, and church fellowships in more than 110 countries and territories."
But under the facade of a peaceful religious entity, WCC has been involved in several terror funding cases and even defended the terror group Hezbollah. In 2006, WCC released a statement expressing concern over violence in the Middle East, attacking Israel for the "illegal occupation" of Palestine. The then general secretary of WCC, Samuel Kobia also defended the Lebanese militant outfit Hezbollah. Apart from this WCC has been linked to several terrorist organizations involved in antisemitic and BDS Movements, providing them with monetary support. WCC has been linked to funding terrorism in South Africa and Sweden during the 1970s. WCC members have also a record of promoting antisemitism views. In 2012, WCC's General Secretary of WCC, Rev. Pillay was a signatory of a statement that commended campaigns targeting Israeli Jews with economic warfare and isolation.
These were some of the key members of FIACONA and their linkages. But the mastermind of the organization, who has been described as a mysterious man in the past has been the fulcrum of the larger agenda and leads the campaigns to manufacture and fabricate narratives of Christian Persecution in India.
Chapter 6: Ringmaster: John Prabhudoss
The ringmaster of this entire operation is a self-claimed Tamil Nadu-born and Virginia-based Christian activist, John Prabhudoss alias JP Doss alias PD John. Nothing much substantial is available about him prior to the 2000s, except some claims of his background posted on a website in his name i.e., www.Johnprabhudoss.com. It is hard to find any evidence/ trace of any claims. Claims made on that website about his life are full of rhetoric, that cannot be verified anywhere except on the website itself, a very unusual pattern that we have seen only in some US based 'activists'.
As per that website, Prabhudoss was born in 1965 in a small town in the southern Indian state of Tamil Nadu, to socially active service-minded parents. At the age of 5, he was enrolled in a Gandhian School, despite the fact that his father himself was running a school. How many instances one can find where a father would send his 5 yo to another school, when he has a school of his own. Anyways, his father was born to a Hindu family and converted to Christianity at a young age. While his mother was a Christian and hailed from Kerala. His father accepted Christianity at the age of 16. After his family was outraged because of his conversion, he left the family and shifted to Kerala.
Although his father was running a school of his own, Prabhudoss had the vision to expand that as an international centre for education which was marred by his father. Surprising Doss doesn't provide any answers as to why. Then he left Tamil Nadu and 'sailed' to Andaman Nicobar Islands where he lived with tribes who continue to live in isolation. The website doesn't mention which tribe Prabhudoss got into contact with.
Note: Andaman Nicobar Islands is home to six 'Negrito' tribes: Great Andamanese, Onge, Jarawa, Sentinelese, Shompen, and Nicobarese. It is to be noted that it is difficult to make contact with indigenous tribes of the Andaman Nicobar Islands as per The Andaman and Nicobar Islands Protection of Aboriginal Tribes Act of 1956 which prohibits travel to the island in order to protect remaining tribal communities.

Jarawa and Sentinelese are also considered to be the most isolated tribes in the world. Presently, these tribes are also listed in the protected category of tribes. The government of India also prohibits even filming of these tribes let alone making contact.
The website further claims that upon his return from the Andaman Nicobar Islands, Doss saw an upsurge in Hindu Nationalism in India. And that is why he left India and settled in the US believing that the US would be an effective place from where he could speak out and reinforce the liberal democratic ideals. However, his journey from India to the US has no timeline, nor it has any substantial evidence as to when he moved to the US, and how. The date or year finds no mention in his story either nor any details.
As per claims on the website, after going to the US, he joined a public policy advocacy group Apostolic Coalition in 1991, headed by Rev. Jeff Snyder. Prabhudoss worked there for six years. However, no evidence is available to support this claim either.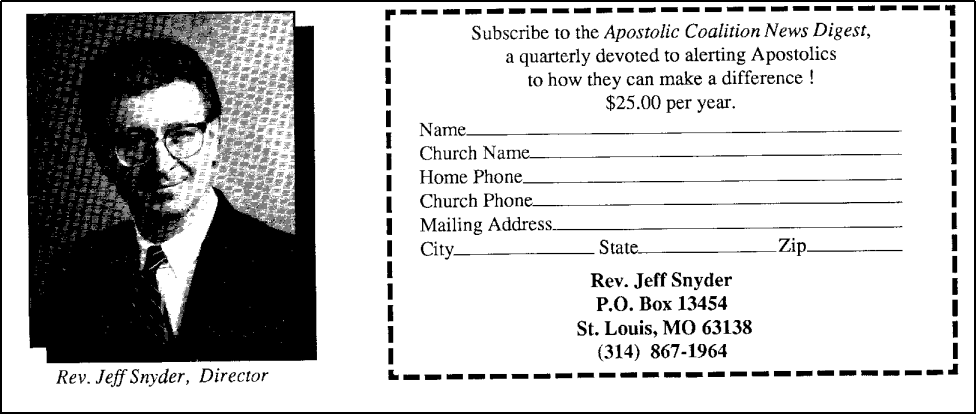 The website that had these details about Prabhudoss doesn't exist today. As noted, all the details made on that website neither have evidence to substantiate those claims nor can they be cross-verified online.
Short on details, but heavy on narrative, Doss 'background' checks all useful things that could establish him as an 'activist':
Gandhian school
Father converted to Christianity from Hinduism
Worked with 'Tribals'
Witnessed rising Hindu nationalism as cause to move to US
Alas, it seems nether Doss nor the architects of his profile bothered to do some hard work, and prepared a humbug story that has many flaws. There are so many discrepancies about the story, contradicting each other, not to mention lack of any details. Some of the problems in his story are:
Father moved to Kerala after converting, but Doss went to school in TN
Going to another school when father running a school.
'Sailed' to Andaman to 'work with tribals' in a place where tribes are reclusive and one doesn't just walk in for 'tribal tourism' the way Doss paints.
And yet, despite having worked at such an important environment, Doss didn't publish any report/ article.
He left India in late 80s at most. Where did he see 'rising Hindu nationalism'
How did he move to US, how did he land first job at a Christian missionary.
No details of what happened to his father and mother.
Above all, having no academic background, no governance background, he was chosen by no less than Pentagon to go to Iraq to teach 'governance' immediately after US had invaded Iraq.
It is most surprising how an Indian, who had no formal education, no experience other than working with a Christian Missionary was chosen by US Defence Ministry to go to Iraq to preach governance. Doss must be a charismatic person, though you may not be convinced watching his talk at an IAMC platforming YouTube.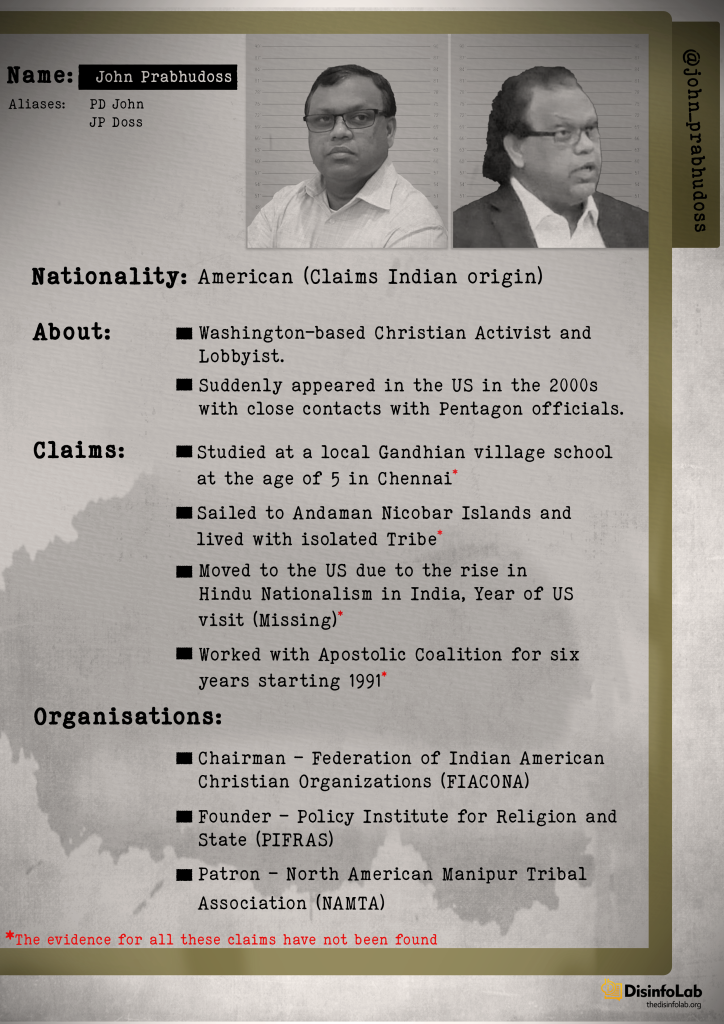 The only thing verifiable is how Prabhudoss suddenly appeared in the 2000s for the first time in the US and registered two organizations including FIACONA and a religious policy institute 'Policy Institute for Religion and State' (PIFRAS), founded in 2001. Over the years he has established himself as a Christian activist and a lobbyist. As per his LinkedIn bio, he works on issues that affect American interests and security stemming from South Asia.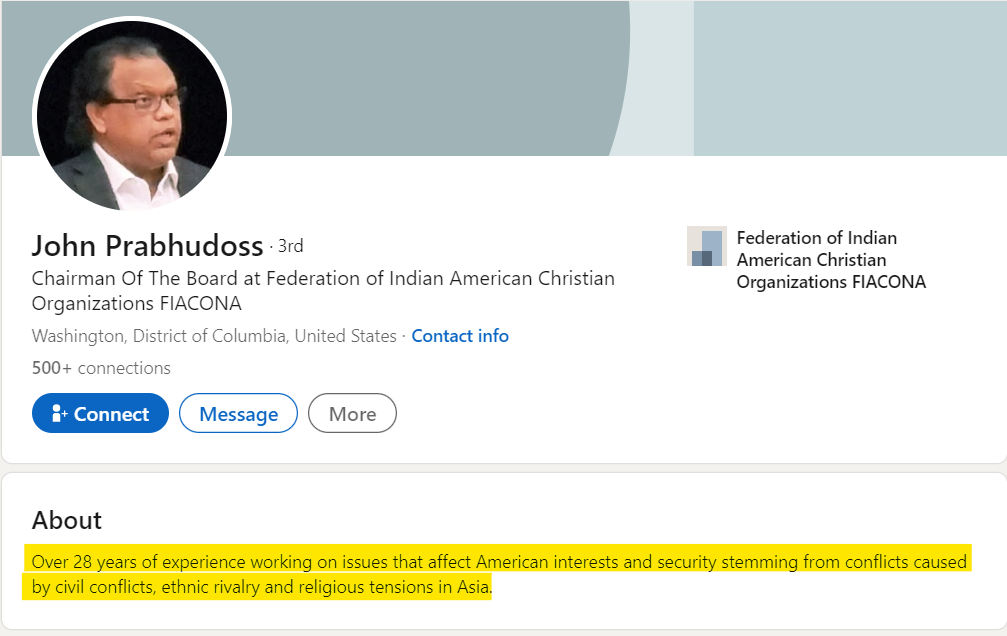 "Over 28 years of experience working on issues that affect American interests and security stemming from conflicts caused by civil conflicts, ethnic rivalry, and religious tensions in Asia"
Policy Institute for Religion and State (PIFRAS)
On November 1, 2001, Prabhudoss registered a non-profit policy research institute named Policy Institute for Religion and State (PIFRAS). According to its website, PIFRAS as an institute studied the relationship between religious communities and their government in respective countries. The organization also studied how the religious faith of the majority population, or the absence of it, affects the government policies and how the government laws and policies affect the practice and faith of different religious communities in their respective nations. Some of the advisory board members of the PIFRAS included Nirmala Deshpande, Ronnie Shows (Former member of Congress), Bruce Robertson (Chair of South Asia Studies, UC Berkeley), Professor Akbar Ahmed (Former Pakistani Diplomat, and currently Ibn Khaldun Chair of Islamic Studies at American University) among others.
Note:
Akbar Salahuddin Ahmed is a former Pakistani High Commissioner to the UK and Chair of the Ibn Khaldun Islamic Studies at American University, Washington. During the 1971 Indio-Pak, Bangladesh independence war, Akbar Ahmed was placed in Dhaka as a Deputy Secretary in the Pakistani Mission. Notably, Akbar Ahmed is the mentor of Dr. Harrisson Akins, the former South Asia Analyst at the USCIRF who had come to India, learned Urdu in Lucknow, and went back to write a scathing report on India as part of the anti-India lobbying by the US-based Jamaat fronts such as Burma Task Force (BTF) and IAMC.

To know more about Harrisson Akins and anti-India lobbying of the USCIRF by the US-based Jamaat fronts, read the Disinfolab report: USCIRF- an Organization of Particular Concern.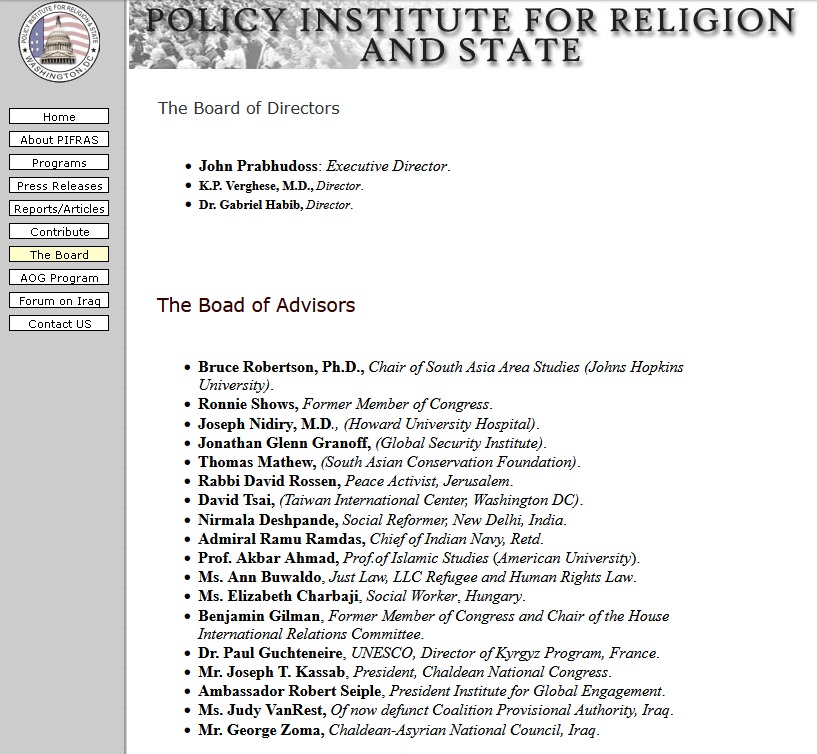 Barely months after its formation, PIFRAS had been engaging with US congressmen and senators and was projected as a leading front to promote religious understanding, tolerance, democracy, and pluralism in different countries.
PIFRAS and South Asia Symposium
Within a few months of its formation, PIFRAS began organizing events and conferences on issues about South Asia. On July 18, 2002, organized Symposium on South Asia which took place at the Cannon Caucus Room,345 Cannon House Office Building, (Washington DC).
Major subjects at the Symposium were nuclear threat, US-South Asia trade relations, and socio-economic development in South Asia. Several guests attended the symposium including: Dr. Ashutosh Varshney (Dept of South Asia Studies, University of Michigan, USA), Dr. Bruce Robertson (Author, State Department USA), Mr. John Dayal (Chairman All India Christian Council and FIACONA Ex-Advisor), Dr. KP Singh (Dalit Activist, University of Washington), and Brig. Feroz Hassan Khan (Deputy Director, Strategic Plans Division, Pakistan Army and Brookings Institute) among others.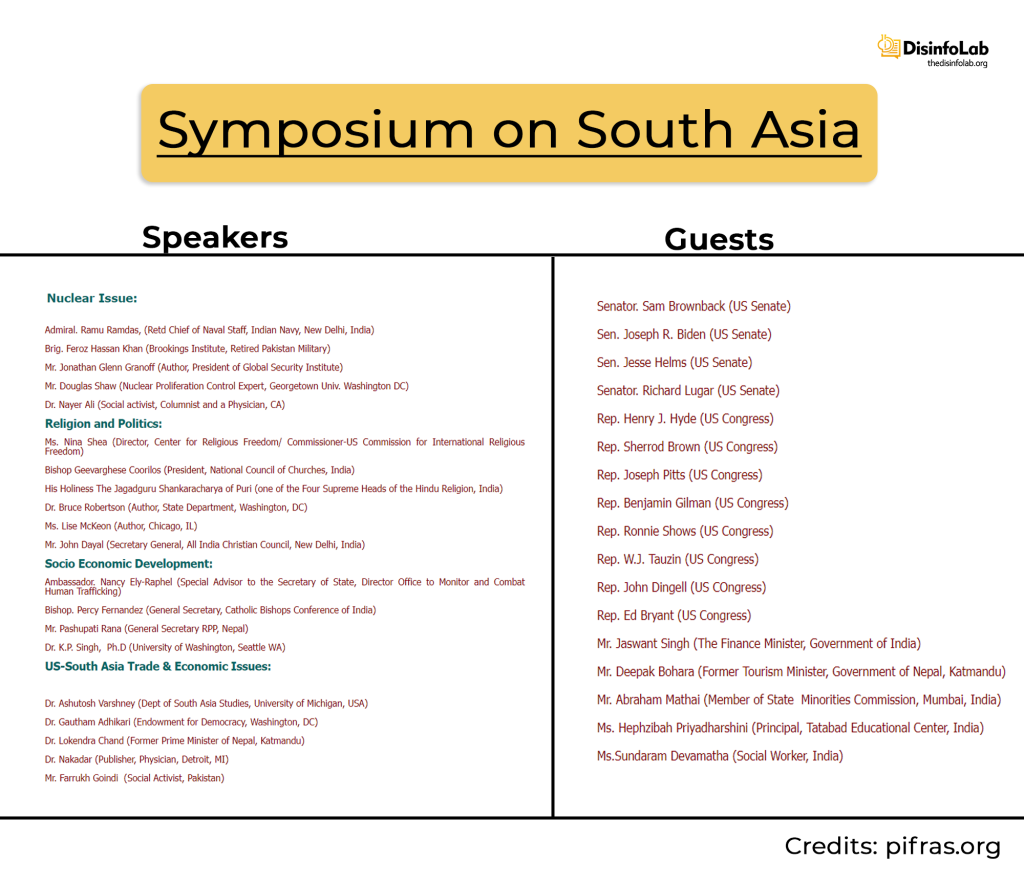 The South Asia Symposium was co-sponsored by several organizations including the United Methodist Board of Church and Society, the National Council of Churches of Christ in the USA, and Indian diaspora groups such as the Association of Indian Muslims of America, American Federation of Muslims of India (AFMI). Other cosponsors included think tanks such as the Ethics and Public Policy Center, the Center for Religious Freedom, Freedom House, the Institute for Religion in Public Policy, the Apostolic Commission for Ethics and Policy, and the Council of Pakistan American Affairs among others.
Prabhudoss and Iraq Visit
It had been known that PIFRAS members during the early years of its formation had been close to then-US Vice President Dick Cheney and the Pentagon. It was through PIFRAS, John Prabhudoss first visited Iraq in 2003 when the US invaded the country.
Prabhudoss headed a team of four officials that visited Baghdad during the USA's invasion of Iraq (between 2003-11) where he went by name John Prabhudoss. PIFRAS was even allowed to set up an office in Baghdad inside the US-military-protected green zone. There, PIFRAS and Prabhudoss developed the "Art of Governance" to educate Iraqis to have a successful transition to a liberal democratic state and promote democracy in the region.
PIFRAS was closed in 2012 after the 2011 Iraq invasion by the US ended and that is when FIACONA began to be mainstreamed by Doss as the leading Christian advocacy front. At present, FIACONA publishes annual reports every year highlighting atrocities on Christians in India. The 2022 annual report of FIACONA was deconstructed by Disinfolab for its load full of fallacies, and imaginary and inflated numbers to picture the lives of Christians in danger intended to influence the USCIRF and US State Department of International Religious Freedom to consider blacklisting India on the pretext of Persecution of Christians and minorities in the country.
Personal Life
Prabhudoss is married to one Suneetha Sagar Othugadi. John Prabhudoss is Suneetha's second husband. Suneetha was already married to one Venkata P Podala, whom she married on April 5, 1999.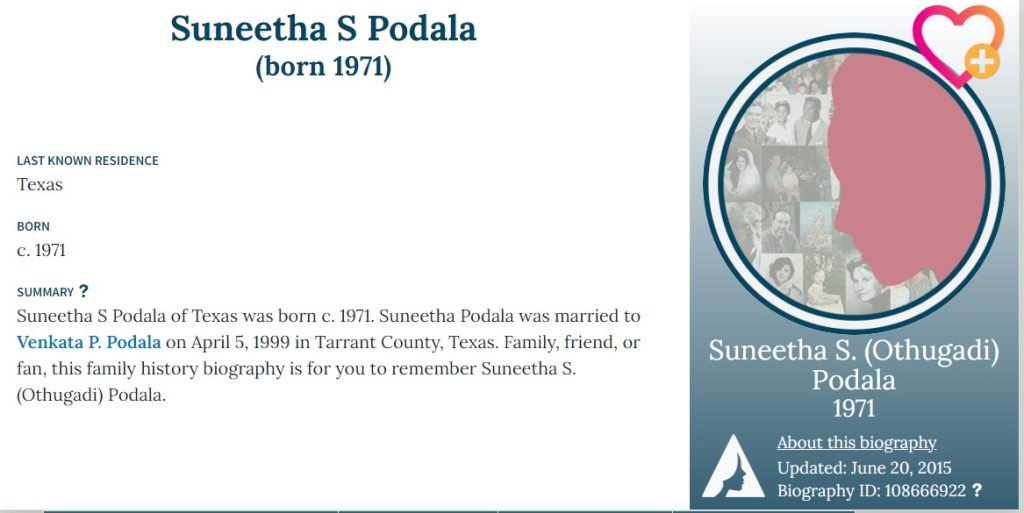 Suneetha has completed her schooling at Singareni Collieries High School, Telangana, India, and is currently working as Sr PeopleSoft SRM as SRM, SCM & FIN Product Lead Consultant (since 1998). As a Senior PeopleSoft consultant, she has worked for several companies including Atlantic Duncans International, Qualcomm, Sayers, Cyberguard Inc, WPS Energy Services, Manpower Inc., Papa Johns, Lowe's, Neustar, and finally setting up her own company JAK Enterprises Inc., (Present). It is not known when did John and Suneetha get married, but they most likely got married after the 2000s with John having moved to the US and donning the 'activist' hat.
Suneetha get married, but they most likely got married after the 2000s with John having moved to the US and donning the 'activist' hat.
Prabhudoss and Suneetha together have owned a plethora of companies over the years, though most of them are no more active. On December 29, 1997, Suneetha and Doss co-founded a company "JAK Enterprises, Inc" in the District of Columbia, though the nature of their company is not known. The organization's status was revoked in November 2014.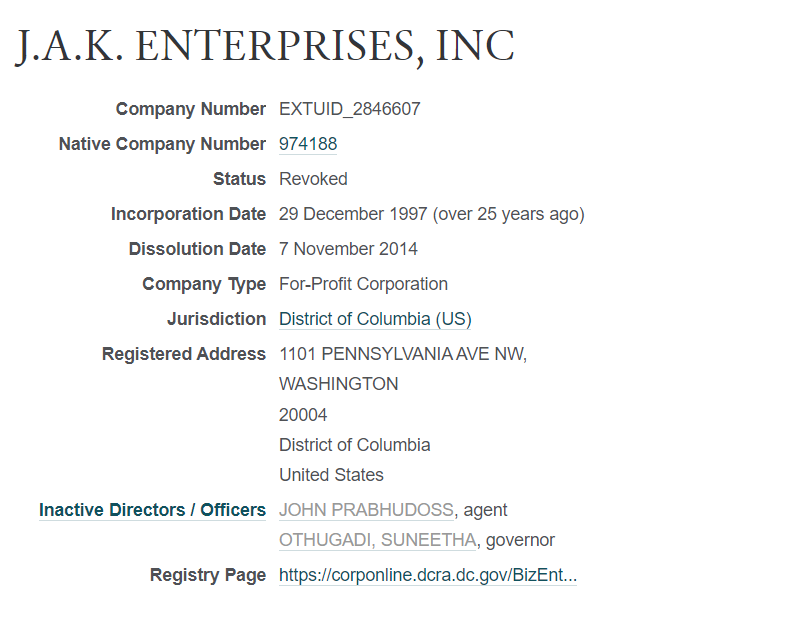 On October 6, 2017, Suneetha registered a new company by the name of JVP Enterprises as a successor to her previous company. This time Suneetha was the only board member of the company which was engaged in providing full-tech services to companies. However, the company had been in existence since 2015, and as per its website it took over the JAKTech, a technology company since its incorporation.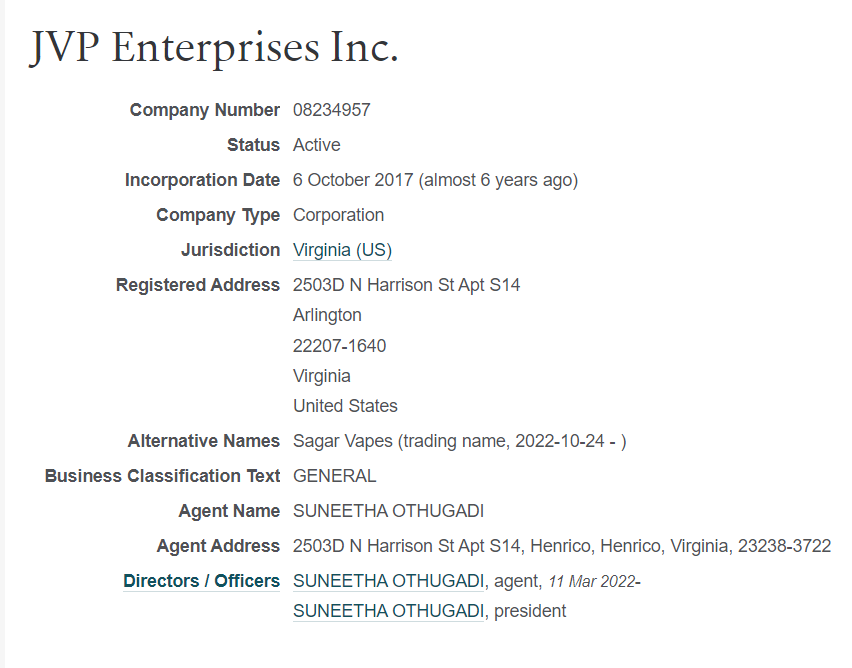 Going back, Suneetha owned three more companies between 2005-10. On July 22, 2005, Suneetha registered Me Global Oil LLC which was dissolved next year on November 13, 2006. On August 31, 2007, Suneetha registered another company Alpha LLC but the company was dissolved on November 10, 2008, for reasons best known to her. Likewise, on April 7, 2007, Suneetha also registered one company Stone Ark LLC under the District of Columbia jurisdiction. The company was engaged in importing polished granite tiles from India and selling them in the US. More importantly, in 2008, John Prabhudoss was listed as an employee of Stone Ark LLC when he was funding US politician John Herbert Adler.
Before that, Prabhudoss had also been funding the Republican Joseph Pitts and Democrat member John James Conyers (in 2005). Doss paid USD 1000 to both Conyers and Pitts respectively.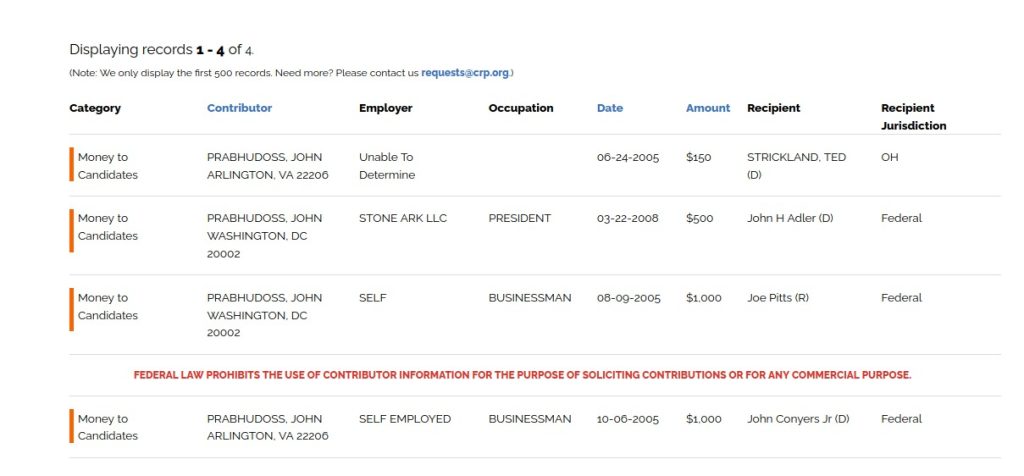 It was at the same time Coalition Against Genocide (CAG), co-founded by the IAMC mastermind Shaik Ubaid and Angana Chatterji (a close aide of ISI agent Ghulam Nabi Fai). CAG is a coalition of over 50 organizations and individuals from across the US and Canada created in 2002. Joe Pitts was also engaged by CAG and its member organizations and individuals including John Dayal and Cedric Prakash to get then Gujarat CM Narendra Modi's US visa revoked.
Joe Pitts is also known to be a pro-Pak voice on Capitol Hill and has been instrumental in calling for a resolution on Kashmir on behalf of Pakistan. In September 2004, Pitts received contributions from two ISI agents for his election campaign for the fifth term in the House. According to the Federal Election Commission, Friends of Joe Pitts received funds from the convicted ISI mole Ghulam Nabi Fai and his straw donor Zaheer Ahmad. Next month in October 2004, Pitts introduced a resolution calling for a peaceful resolution to the Kashmir conflict that further sought the US government's involvement in the matter.
Cut from the Same Cloth
Founded by one man, both PIFRAS and FIACONA have a lot in common. Both were set up by John Prabhudoss and both these groups are the constituent members of the Coalition Against Genocide (CAG). Both these groups continue to be part of CAG to date. Secondly, both PIFRAS and FIACONA are located in the same building which happens to be located at one of the most important streets in the US i.e., Maryland Avenue which houses the offices of many important US politicians and senators. While both these organizations are located in the same building, their offices are based in different chambers as shown below.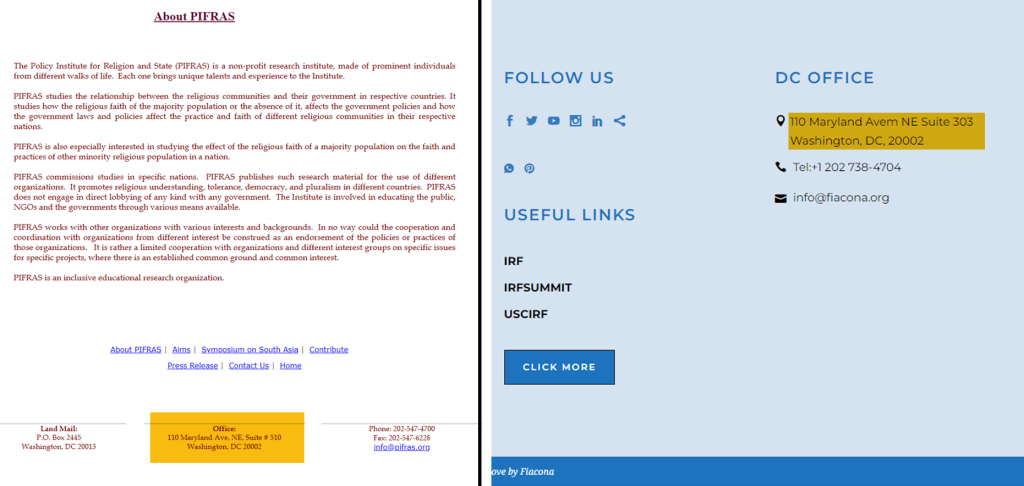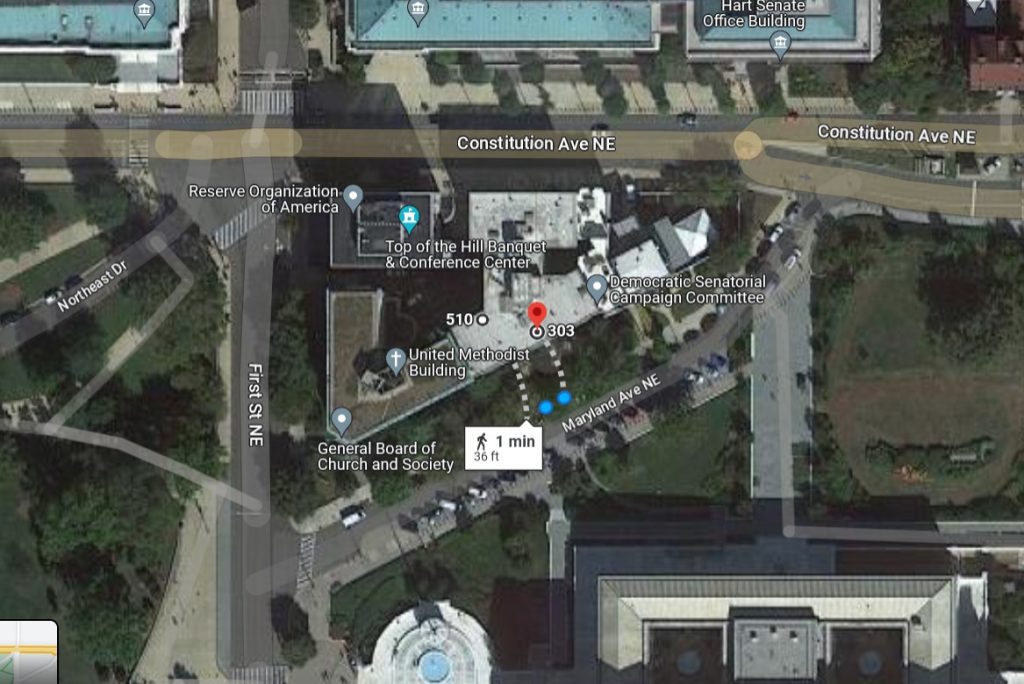 The location of PIFRAS and now FIACONA's office is such that it is a close proximity to Capitol Hill, just a four-minute walking distance.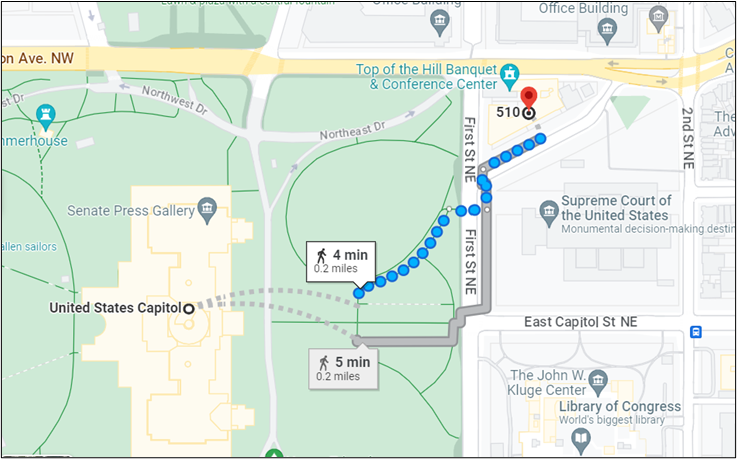 IRF Roundtable
Hindus for Human Rights (HfHR), Indian American Muslim Council (IAMC), and FIACONA members comprise the India Working Group (IWG), which is one of the 12 constituents of the IRF Roundtable. IRF Roundtable is an independent, non-governmental organization where NGOs, individuals, and government officials from all faiths work together to influence the US State Department ahead of its annual reports. As of 2021, the India Working Group of IRF Roundtable was chaired by Ajit Sahi (IAMC), Raju Rajagopal (HfHR), and John Prabhudoss (FIACONA & PIFRAS). IRF Roundtable has many working groups including the Middle East, Justice & Accountability Working Group, Iran Working Group, China Coalition, Africa Working Group, Central Asia Working Group, etc.,
Currently, the India Working Group of IRF Roundtable is co-chaired is chaired by the IAMC Advocacy Director, Ajit Sahi, John Prabhudoss (Indian American Christian Organization), and Nikhil Mandalaparthy, Deputy Executive Director of Hindus for Human Rights (HfHR).

The influence of these groups is such that they can be found in almost every place that has a role in USCIRF's annual reports as well as the US State Department's annual religious rights reports every year.
For complete detail, read: Documenting Christian Atrocities In India– An Evangelists-Islamists Enterprise in Fiction and Fabrication by Disinfolab.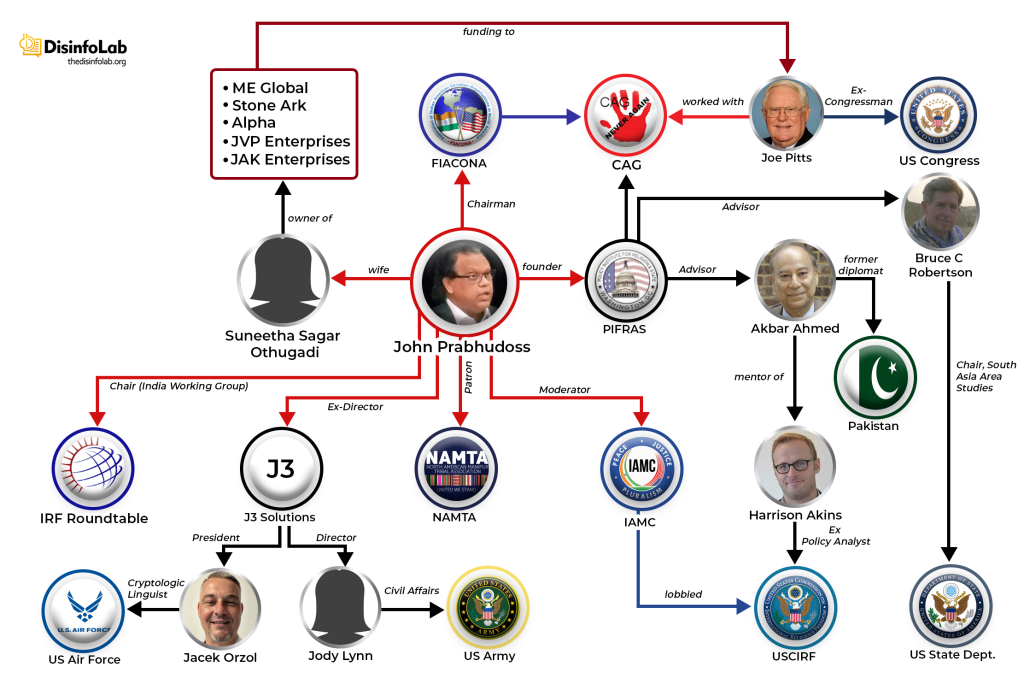 Chapter 7: John and Invisible Hands
In nutshell, John is connected to all the known anti-India platforms – ranging from Jamaat fronts to Muslim Brotherhood to the USCIRF. He has also been engaging the same very US politicians that Pakistan engages to target India on Kashmir. His own role, as fulcrum of anti-India Christian missionaries is completing the other half of the story. While it is not difficult to understand the motive of other actors involved, from Islamist Missionaries to Christian Missionaries, there are a set of actors behind John, the real movers and shakes, whose motives is hard to fathom. These actors connect to the core of the US power base – Pentagon.
A gander at the list of the board of advisors of PIFRAS directed us to one key individual i.e., Bruce Carlisle Robertson who on the advisors' page was described as the Chair of South Asia Area Studies at Johns Hopkins. Bruce Robertson was also working at the US Department of State. We further corroborated details from his LinkedIn and scanned several articles to only confirm that it was the same person who worked at Johns Hopkins as well as the US Department of State.
As per his LinkedIn profile, Bruce is an author, filmmaker, and diplomat. Per his education details, he studied the history of religions at Princeton Theological Seminary. Between 1970-73, he completed his Post Graduate research and field study in India and modern Indian intellectual history from Mansfield College, Oxford, England. He then went to the University of Pennsylvania to further pursue his Ph.D., in South Asian Languages, history, anthropology, and literature (1984-90).
Since 1996 he has been working as a lecturer in the Master of Liberal Arts (MLA) program at Johns Hopkins University (1996). He has also served as the Chair of Advanced South Asia Area Studies at the Foreign Service Institute at the US Department of State from Sept 1996 until January 2014 in the Arlington area in Virginia. Incidentally, Prabhudoss has also been based in Arlington currently.
It is not uncommon that Johns Hopkins University collaborates with the U.S. State Department on various occasions and in different capacities. The collaborations include research partnerships, policy discussions, educational initiatives, and other forms of engagement. Universities like Johns Hopkins often work with government agencies, including the State Department, to address global challenges, conduct research, and promote international cooperation. Likewise, we see how a US Department of State employee (also a diplomat) chairs the South Asia Area Studies department at Johns Hopkins and become an advisor in an organization founded by a mysterious man (JP Doss alias PD John alias John Prabhudoss) which would then organize events like Symposium on South Asia. As for Doss, this was just the first time he has had such an affair with the personnel of the US Department of State. The next part gives further insight into John Prabhudoss' companies which he ran together with the personnel of the US Department of State and even the US Army.
J3 Solutions Corp
In 2010 an organization with the name J3 Solutions Corp gets registered in Alexandria, Virginia by three individuals- Jacek Orzol, James Johnson, and James Oleen. The organization's line of business was listed as tech services solutions i.e., developing or modifying computer software and packaging. J3 Solutions Corp was incorporated on November 9, 2010.
Company's CEO Jacek Orzol is a former US Army Civil Affairs specialist who served in Iraq between February 2003 and April 2004. Orzol previously worked as Cryptologic Linguist at the US Air Force for four years between February 1995-March 1999. When the Iraq war began, Orzol, 28, served on the ground and worked closely with Iraqis during the invasion. Orzol left the US Army a year and three months later and shifted his career to the private sector especially the airlines and linguistic industry. Up until 2013 Jacek Orzol, James Johson, and James Oleen were running the company all by themselves. However, as per the 2014 annual reports of J3 Solutions Corps, one of the two new faces was added as Director of the company. While James Johnson and James Oleen parted ways with the company.
The name added to the board was Jody Lynn Lautenschlager. Jody is an ex-US Army who worked as part of the Civil Affairs of the US Army in Iraq, Jordan, and the US between 1998-2007. Between 2005-14 she worked as a State Department consultant in Political-Military affairs. As per one of the filings of J3 Solutions Corp in 2015, its address was shifted from Alexandria to 2055 26th St S Apt 406 in Arlington, which happens to be the residential address of John Prabhudoss where he resided until April 2022. J3 Solutions Corp was dissolved on November 15, 2022, for reasons not known. However, with the kind of individuals Prabhudoss has engaged with, it justifies his LinkedIn bio which states his motto of working on issues that affect the American interest and security.
The Agent of Chaos
While his machinations in the US and Iraq are his own business, John for some reasons have casted his benevolent eyes on India. Apart from publishing a fake list of 'Christian atrocity', he has been active in the Manipur ethnic unrest which he has painted with the communal angle, claiming that lives of Christian minorities in Manipur are on the brink of persecution. The same narrative his organization FIACONA has been peddling for years, publishing flawed reports and lobbying the US federal commissions such as USCIRF against India.
Interestingly, on July 29, 2023, Prabhudoss appeared on a New Jersey-based news portal Tamil America TV as a guest to speak on the crisis in Manipur in Tamil language. In one part of the interview with Tamil America TV, Prabhudoss stated that the violence in Manipur is not a war between Hindus and Christians. However, it is to be noted that Prabhudoss's organization FIACONA had been peddling the Hindu vs Christian narrative right from the start of the ethnic violence in Manipur as elaborated in Chapter 5.
(Note: Indian would do well to be aware of one more '… – American' thing in the form of Tamil American TV, and if it is any indication, the 'Dravid Nadu' narrative would be next on the laundry list.)
Chapter 8: North America Manipur Tribal Association
Just when the news of the violence in Manipur broke out on social media, within days, a new organization came into existence- the North America Manipur Tribal Association (NAMTA). NAMTA is a newly formed organization representing the Kuki community, which was formed on May 5, 2023, just two days after violence erupted in Manipur. NAMTA has been formed by Manipuri origin Kukis and some 'white' churchgoers. Upon its establishment, NAMTA has been operating with not just one but two chapters: NAMTA USA and NAMTA Canada.
Since its inception, NAMTA has been very active to talk about the lives of the Kuki tribe entangled in the Manipur riots.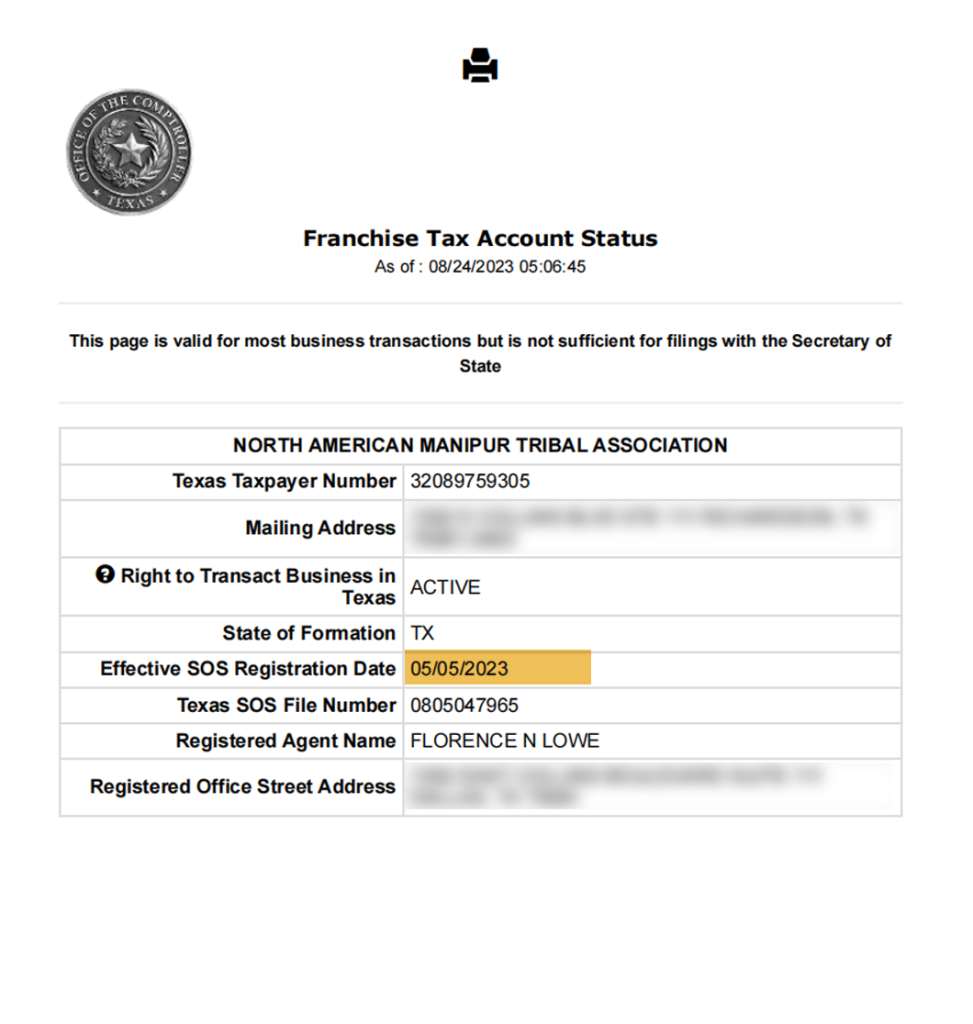 Key partners of NAMTA include:
KUKI INPI USA
United Zo Organization
Central Mizo Society of America
Zomi Reunification International Organization
National Association of Asian Indian Christians
The Founder: Florence Lowe
NAMTA is co-founded by a Manipur-born and US-based Florence Lowe, who serves as the President of the organization. She did her graduation from Delhi University (1990-1993) and post-graduation from Jawaharlal Nehru University (1993-1996). Eventually, she flew to the US to pursue MBA from The University of Chicago (2000-2002) and has been residing there since then.
In the US, she has been working in the corporate sector and is currently working as the CEO of Alpha Genesis Labs, a company she founded herself. More importantly, she is a member of the Board of Directors of Refugee Services of Texas (RST), an NGO headquartered in Dallas and which was established in 1978. Interestingly, one of the partners of Refugee Services of Texas is Jamaat-e-Islami's US wing, the Islamic Circle of North America (ICNA).
Furthermore, RST is an affiliate of Church World Services (CWS), a faith-based organization operating since 1946 and which claims to "transform communities around the globe through just and sustainable responses to hunger, poverty, displacement, and disaster." Between 2017-2021, CWS had been a regular recipient of funds from businessman-philanthropist George Soros' Open Society Foundations (OSF), primarily for its various refugee settlement programs. In 2022, CWS partnered up with Islamic Relief USA (IRUSA), a faith-based non-profit organization based in Alexandria, Virginia.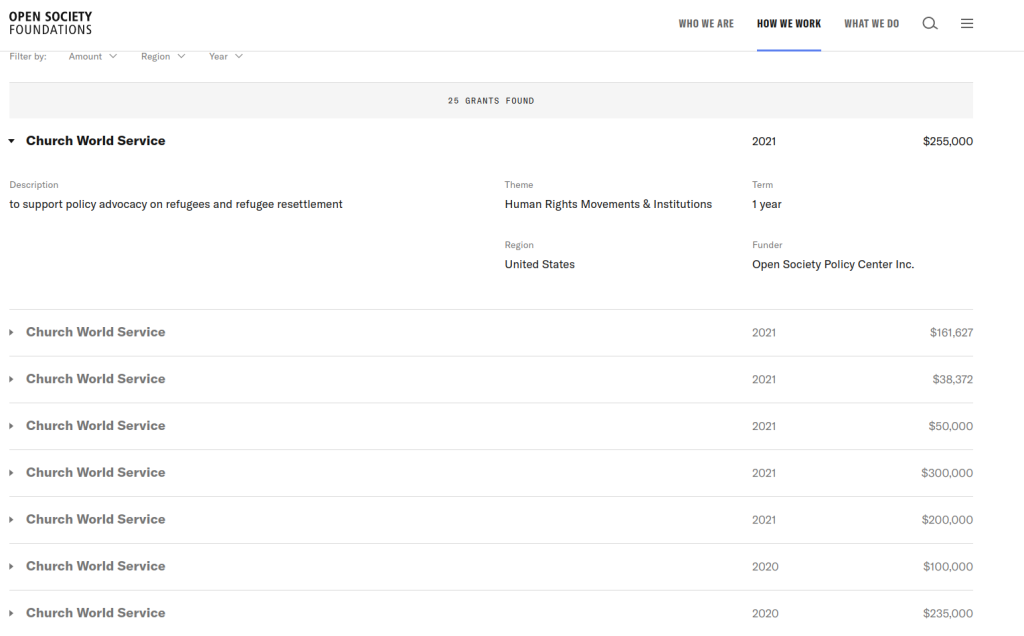 IRUSA is a member of a designated terrorist organization in the UAE, Islamic Relief Worldwide (IRW), which was reportedly formed by members of the Muslim Brotherhood. IRW leadership has been linked to the Palestinian militant front Hamas for glorifying the outfit and also providing it with monetary support. Moreover, some members of IRUSA are directly associated with the Muslim Brotherhood themselves. IRUSA's Vice Chairman Dr Hamdy A. Radwan is also the president of the Raleigh chapter of the Muslim American Society (MAS), associated with the Muslim Brotherhood. MAS was also among the 80 organizations, which also included outfits like al-Qaida, Islamic State, and Boko Haram, designated as terrorist organizations by the UAE in 2014.
Notably, RST announced in May that it would be closing its offices because of a severe budget shortfall. The organization has been struggling financially for several years, and the recent federal audit found that it misspent and mismanaged $525,334 in federal grants. This audit, as well as other financial problems, led to a loss of confidence in the organization and a decline in donations
As per reports, after the organization's announcement to close its offices, a federal audit found that RST spent $24,969 in unauthorized ways and another $275,365 without proper documentation. The audit also found that RST's progress reports and financial reports were inaccurate and that the organization did not comply with all of the terms of its grant agreements.
The Office of Inspector General made 10 recommendations to the Office of Justice Programs, which is the office that awarded RST the grants. RST responded to the audit in a letter, saying that it would make improvements to its policies and procedures. The organization also disputed some of the audit's findings but said that it would provide additional documentation. However, RST didn't comply with the same. Consequently, their Dallas and Amarillo clients were taken over by CWS.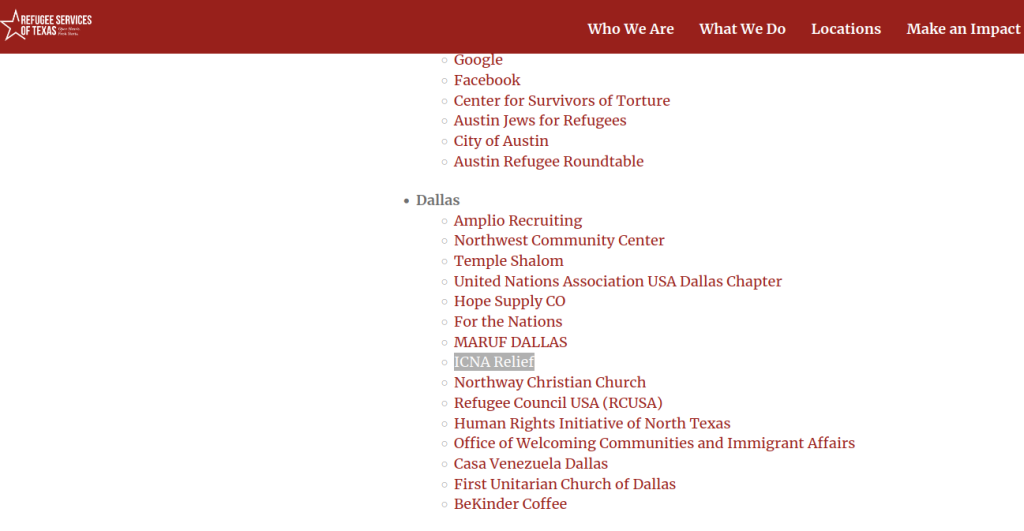 In one of her interviews, Lowe claimed that she is the daughter of an IPS officer who served in the Uttar Pradesh Cadre, Thangzamang Gwite, and that her brother, Paukhanmung Gwite, serves in the Manipur Police Services. Lowe also claimed that her family house in Manipur was one of the places attacked by rioters when violence broke out in the state on May 3.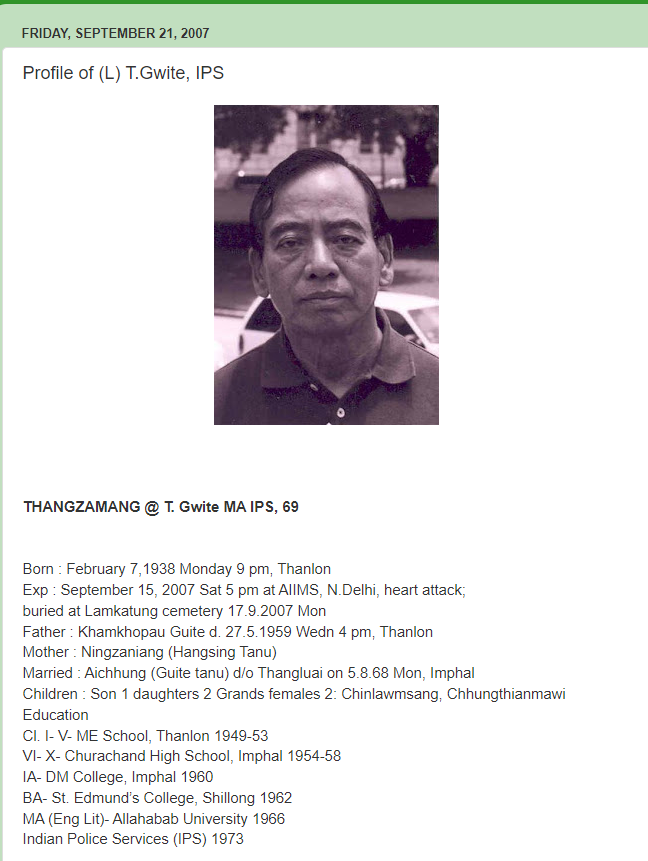 While the reason for Lowe creating and leading NAMTA is understood given her family was one of those who suffered the brunt of the unrest, it is still unfathomable to understand how was she able to muster an entire executive committee and form an organization just within two days when the violence peaked in Manipur.
The Pudaite Family
The Pudaite family, descendants from Manipur, is one of the major stakeholders in NAMTA. NAMTA's Communication Strategist is Lawm Pudaite, and her husband John Pudaite is a Standing Committee Board member of the organization. The Pudaites also head an Evangelist organization 'Bibles for the World' co-founded by John's mother Mawii Pudaite.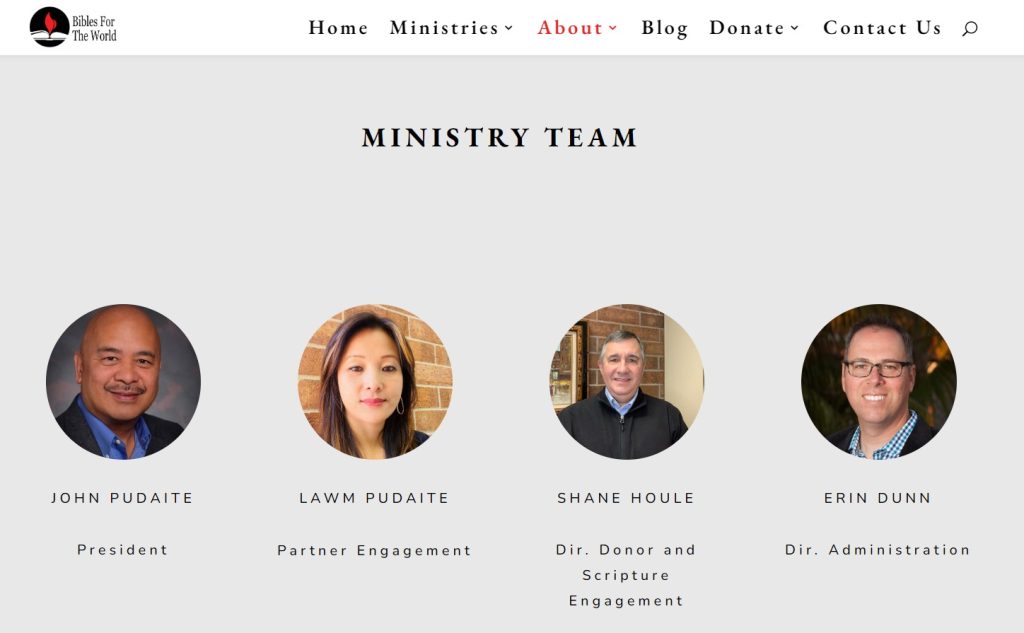 This Pudaite family runs an extensive network of churches in North East India and is actively involved in Evangelism. Mawii Pudaite also co-founded the Evangelical Free Church of India, the subsidiary organization of Bibles for the World, which was led by her husband Rochunga Pudaite during the 1950s and 60s.

Evangelical Free Church of India runs over 300 churches in the entire North East region of India, which is, in turn, run with the support of funding channeled via Bibles for the World. Between 2018-20 alone, Bibles for the World sent Rs 14,72,60,739 to Partnership Mission, the arm of the Church in India.

Notably, Mawii Pudaite's husband Rochunga Pudaite played the role of an interlocutor, attempting to mediate peace talks between the Mizoram government and the Hmar People's Convention-Democracy (HPC-D), a militant group demanding the formation of a separate Hmar Territorial Council in Mizoram. However, the government refused to resume talks, which were supposed to be initiated in January 2011 because they considered Pudaite, a US citizen, to be a foreigner involved in the negotiations.
NAMTA Phase I
While NAMTA was registered on May 5, it became active on social media on May 9. NAMTA started out by sharing images from a crisis-ravaged state of Manipur and putting forth the demands of the tribal. From May 12 onwards, NAMTA started seeking donations. Notably, NAMTA was approved for the status of a non-profit organization on May 23.
All this time, NAMTA had been looking into the ongoing unrest with a lens of tribal conflict and did not picture the tribal conflict with religious identity (contrary to the seeders of the communal narrative as covered in the previous sections) in the first month of its formation. The following word cloud depicts the keywords used by NAMTA between May till mid-June. We can see that NAMTA has used keywords such as 'Kuki Zomi', ManipurBurning, 'Manipur', 'India', and 'Tribal' among others. None of these indicate NAMTA's narrative towards religious differences.
This clearly indicates that NAMTA's only objective was to advocate for the Kukis living under duress in Manipur. That is until mid-June.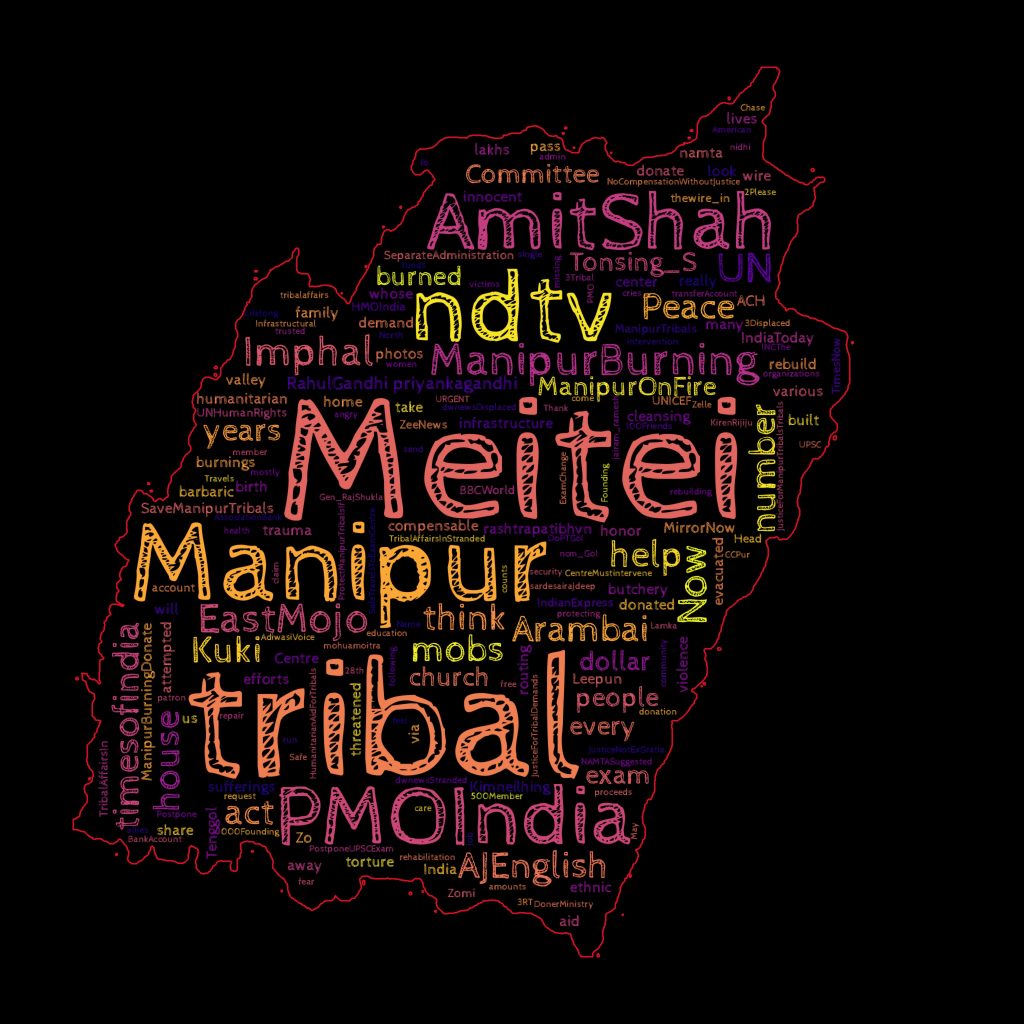 During this time, NAMTA also began promoting the posts and data (provided by ITLF of the victims of the Manipur violence) of the Indigenous Tribals Leaders Forum (ITLF). ITLF is an organization that has been leading the campaign for a #SeparateAdministration, a demand which NAMTA has also been making itself.
Indigenous Tribals Leaders Forum (ITLF)
The Indigenous Tribal Leaders' Forum (ITLF), formed on June 9, 2022, in Manipur, presents itself as an association of the recognized tribes in the Churachandpur region of Manipur. It has demanded that the Kuki-Chin-Zomi-Mizo group's indigenous tribes completely segregate the hill regions from the rest of the state.
According to ITLF's website (which was up on May 12, 2023), ITLF became active on the Manipur issue on May 3 in the aftermath of the 'Tribal Solidarity March' organized by ATSUM on the same day and formed ITLF Media Cell. Eventually, ITLF became active on social media and joined Twitter/X on May 8 followed by Facebook on May 13.
The organization has been instigating disharmony between the Meiteis and Kuki-Zomi tribes. In regards to the same, an FIR was lodged against ITLF spokesperson Ginza Vualzong following which the Twitter handle of ITLFMedia Cell was also withheld. Despite this, NAMTA has defended the organization and ITLF's logo has also been seen on posters of NAMTA members carried out during protests.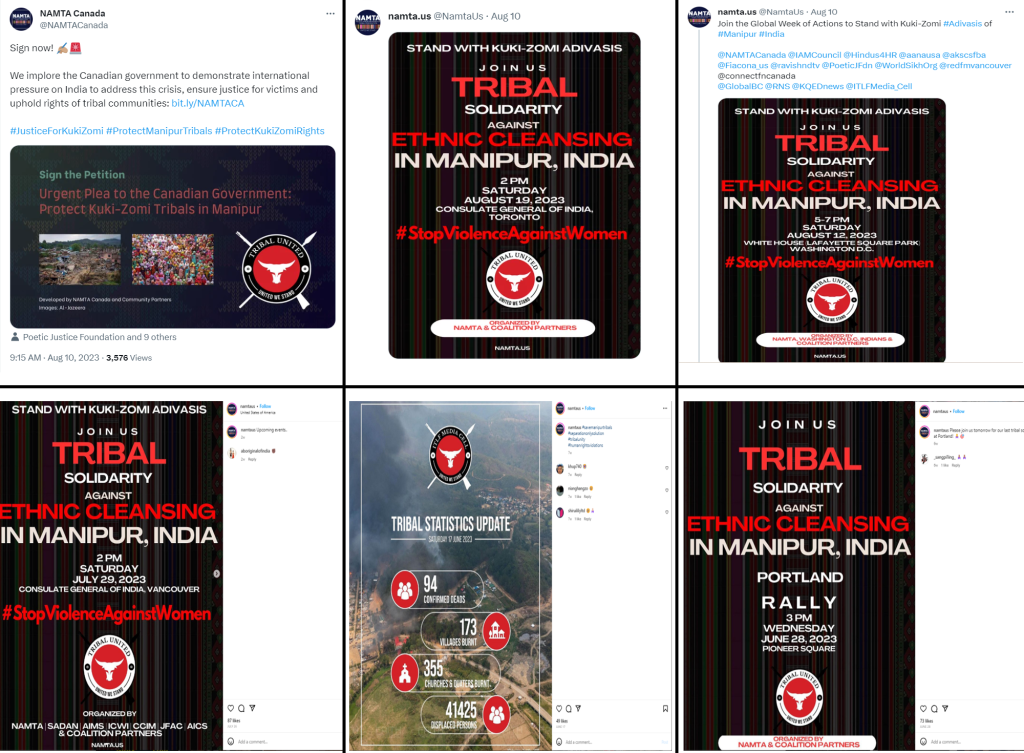 ITLF has been questioned by many tribal organizations for its credibility. Among these was the Naga community which has stated that ITLF does not represent all the tribes. In February 2023, the Government of Manipur issued a notification asking holders of arms licenses to submit their licenses and arms to the police by March 1, 2023. ITLF opposed this notification, alleging that it was an attempt to disarm the tribal people. The forum also held a mass rally on March 10 to oppose Section 144, which turned violent.
But whether due to being a new entity or due to lack of handholding (or both), NAMTA failed to make much impact in its first phase of creation. But that was about to change.
It is worth noting that during this period, NAMTA's activities were just limited to cyberspace. NAMTA had not carried out any campaigns or protests on the ground. The organization did garner the attention it sought and was quite ineffective. But this was to change soon.
Chapter 9: NAMTA- The Relaunch
As noted in the previous chapter in its initial days, NAMTA was not making any significant impacts and its activities were also limited to online platforms. From registering a new front within just two days of news of violence emerging on social media to not being able to render enough impact for its Kuki cause. It was apparent that it was not an easy task to go mainstream for the people of NAMTA.
But the tides turned for the organization when they brought on board a patron in their organization i.e., John Prabhudoss. It is known as to when specifically, Prabhudoss was inducted as a patron of NAMTA, but as per details on its website illustrated below, Prabhudoss joined NAMTA in June 2023. Upon receiving his patronage, NAMTA graduated from online platforms to offline events.
As per NAMTA's co-founder Florence Nianghoihlun Lowe's (née Gwite) interview on The Quint (on July 25, 2023), NAMTA was formed on May 4 and was incorporated on May 5, 2023. After its formation, several organizations such as the Federation of Indian American Christians of North America (FIACoNA), Indian American Muslim Council (IAMC), Hindus for Human Rights (HfHR), The Dalit and Adivasi organization, The Kerala and Telugu Christians reached out to NAMTA.
Reclaim India Democracy
The first major event of NAMTA was held on June 21 when NAMTA participated in an event co-organized by several interfaith organizations and a relatively newly-formed coalition Reclaiming Democracy in India. The luminaries of the event comprised former USCIRF Chair Nadine Maenza, Hindutva Watch founder Raqib Hameed Naik, Arjun Sethi (Open Society Foundation fellow & active in Kashmir), Dr. Angana Chatterji (ISI agent Ghulam Nabi Fai's aide), journalist Nilanjan Takle, Gregory Stanton (Cofounder of Genocide Watch), Aakashi Bhatt, Malini Ranganathan, Zaki Barzinji (Americans for Kashmir), and NAMTA's senior leader Lien Gangte. Until this point, NAMTA had been working independently, well at least according to their activities as seen on both social media and on the ground. However, the Reclaiming Democracy of India event was when NAMTA was picked up by this nexus and started receiving their handholding. It proved to be a turning point in the journey of NAMTA from becoming a nobody to gaining prominence as the voice of the tribals.
Note:
The coalition Reclaiming Democracy in India was co-created by the Indian American Muslim Council (IAMC) and Hindus for Human Rights (HfHR) in June 2023. Its website (www.reclaimingindia.org) was registered on June 10, 2023, and it was made active on June 15. The coalition and its website were created in the name of 'reclaiming democracy in India' to protest the Indian PM's visit to the US in June 2023.
Since then, NAMTA also became active on the ground, and from June 22, NAMTA started organizing protests and participated in rallies across various cities in the US and Canada.
It gradually started collaborating with other US-based organizations including anti-India lobbying Islamist groups like IAMC and HfHR. It was during this timeline when NAMTA started getting picked up by prominent media portals and its mainstreaming began.
As NAMTA's collaboration with these organizations began, so did changes in its narrative. It is worthwhile to note that whenever NAMTA organized a protest in its own capacity, the group was picked to advocate for the plight of Kuki tribes as a part of the ethnic violence in Manipur. NAMTA has organized charity concerts and events to bind the Kuki diaspora living in the US.
But on the other hand, whenever, the group has participated in protests alongside other US-based advocacy groups which have been exposed in Disinfolab reports earlier, NAMTA has towed the same narrative as those exposed entities do while running campaigns against India.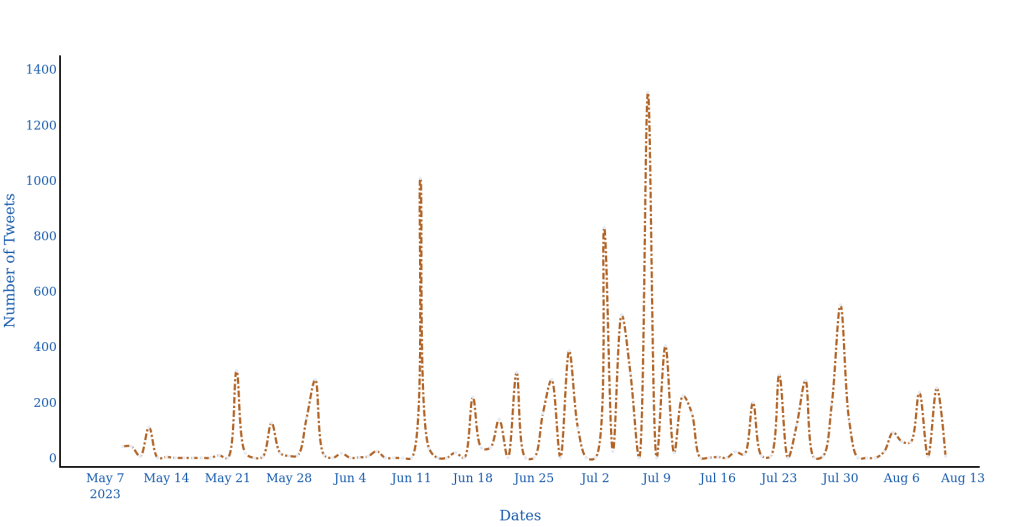 NAMTA's social media presence and reach have also seen a significant impact after it started collaborating with IAMC and the company. We can corroborate from the data that NAMTA started getting a boost in engagement and coverage post-June 24, which is when it started co-organizing protests and rallies with IAMC and its related players. As per the observations from the data:
From May 9 to June 18, the average retweet count of NAMTA's posts was 60.
From June 19 to August 11, the average retweet count of NAMTA's posts doubled and reached over 145.
These changes in retweet counts show the impact of NAMTA's association with these individuals and how these influential figures played their role in NAMTA's morphosis.
Media Coverage of NAMTA
The June 21 event of Reclaiming India Democracy did wonders for NAMTA's popularity. Soon after that event, NAMTA started getting coverage from mainstream media portals listed as follows:
India Today NE (June 21): Covered press release and announcement of vigil and rally held on June 22 & 24.
CounterView (June 22): Coverage of NAMTA's event with Reclaiming Democracy in India coalition (on June 21).
The Wire (June 22): Covered NAMTA's protest held on June 22, 2023.
The Sentinel Assam (June 21): Covered news of the rally and vigil to be held by NAMTA on June 22 and June 24.
The Mooknayak (July 25): Coverage of NAMTA's protest in California.
Newslaundry (July 20): Reported about NAMTA's claim of notifying the NCW about the molestation and assault of the two Kuki women paraded naked by the mob on May 4.
The Hindu (July 21): Also reported about NAMTA's claim of notifying the NCW about the molestation and assault of the two Kuki women paraded naked by the mob on May 4.
The Quint (July 25): Interviewed head of NAMTA, Florence Nianghoihlun Lowe (née Gwite), on July 25, 2023.
India Times (July 26): Covered protests held by NAMTA on June 22 & 24.
Press Trust of India: Quoted Florence Lowe.
Indica.com (July 27): Reported about NAMTA's letter to the World Bank to stop the funding of an infotech development project.
The Dallas Morning News (July 29): Covered the protest held on July 29th in Irving.
The NewsMinute (July 31): Reported about the protest held in Vancouver.
Ravish Kumar (July 31): The protest in Dallas held by NAMTA and the statement of NAMTA leader Florence Lowe were quoted by journalist Ravish Kumar in one of his videos on the Manipur unrest.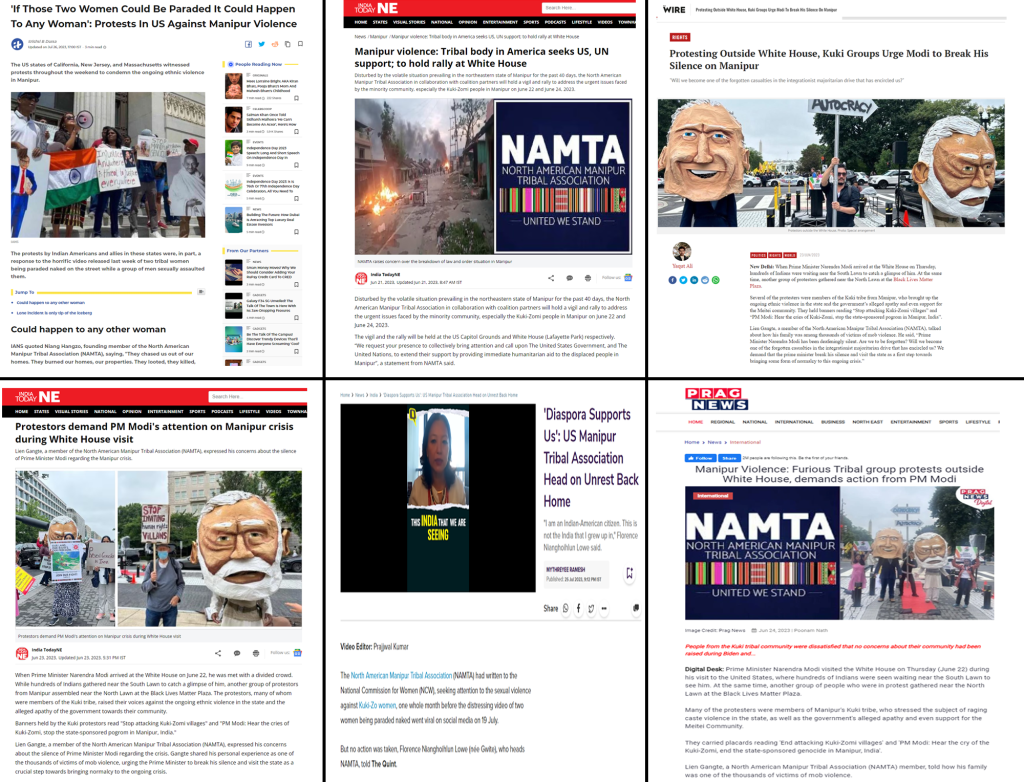 Other media portals that have also covered NAMTA's protests are AmericanKahaani, Pragnews, Internationalnewsandviews, Kqed, Maktoob Media, Countercurrents, ReligionNews, Dalitdastak, Kashmir Media Service (KMS), Deccan Herald, and AmericanBazaaronline.com.
The following word cloud is of the X (Twitter) timeline of NAMTA after it started collaborating with the US-based anti-India advocacy groups (in June) who were already giving communal colour to the Manipur conflict. The word cloud also shows the organizations NAMTA came in contact with including IAMC, FIACONA, Hindus for Human Rights (HfHR), and the Ambedkar Association of North America (AANA).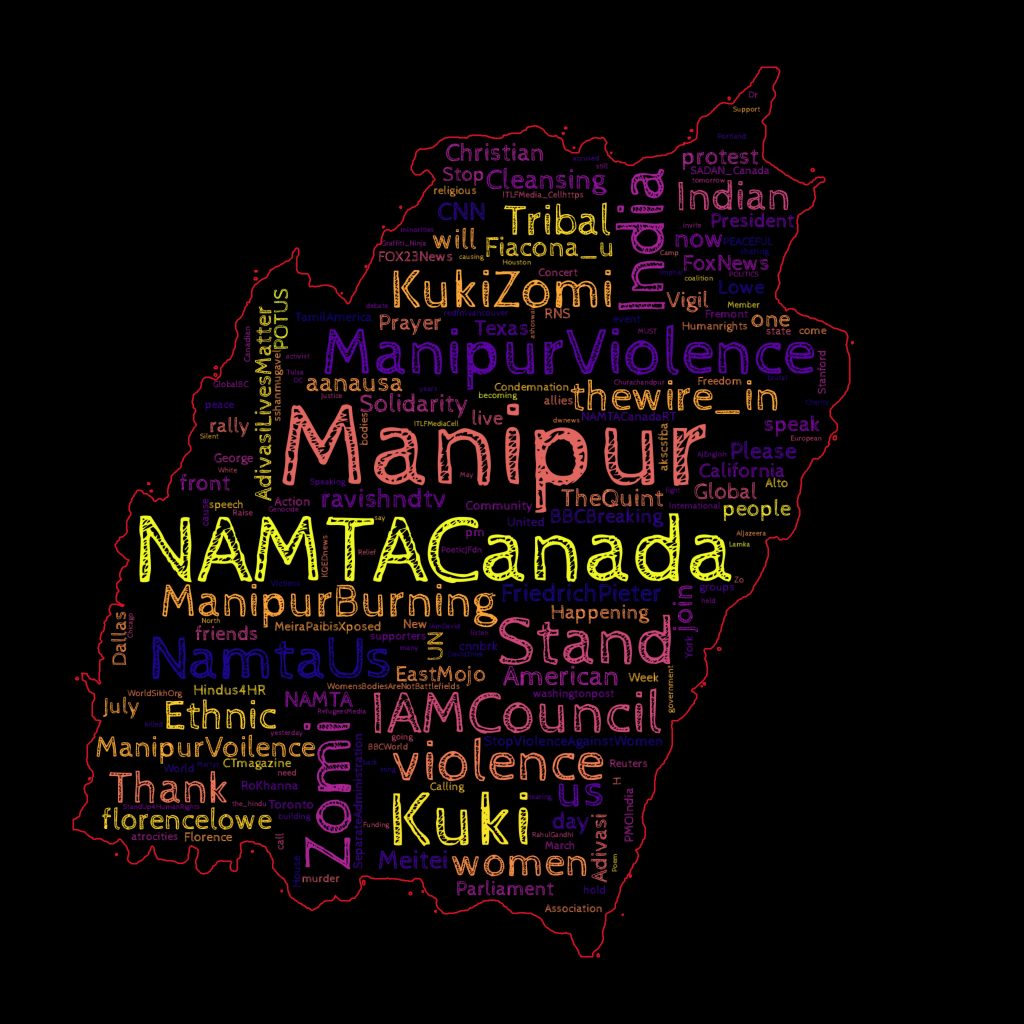 Chapter 10: NAMTA's Database
Parallelly, NAMTA has also been 'documenting' the number of victims of the unrest. They have placed a database on their website under the following categories: Lives Lost, Churches burned, and Houses burned. NAMTA has been providing specific numbers under all these categories, giving the impression of providing accurate statistics. It has also been providing accurate numbers for the lives lost, adding the number needs to be validated and updated.
But how reliable is this 'data' provided by NAMTA? Let's consider the data on churches burned. NAMTA has provided a list of 306 churches that have been destroyed during the Manipur violence. While all details about the name of the church, their address, damage done to them and even the date of attack have been mentioned for most of these attacked churches, there are several churches mentioned that lack these details. Hence, there is no way to authenticate whether the information provided is true or not.
For example, there is an entry of a "Baptist Church" in this list. There is no address or date of the attack on it mentioned in the list or its status. So, if there is nothing known about the church, what is its purpose in the list and how is one to ascertain whether they were actually vandalized/ destroyed?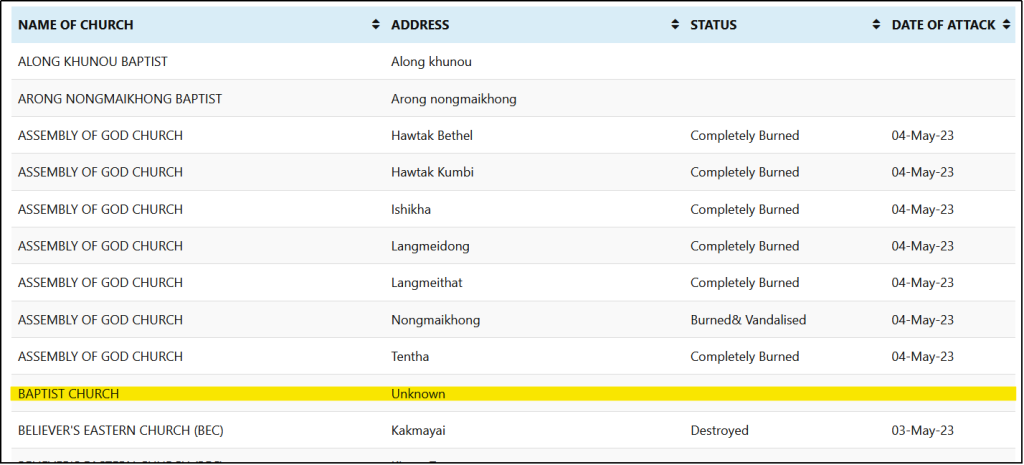 Out of 306 churches, total 76 Churches lack details to justify their presence in the list. Whether the presence of the names of these churches substantiates their status as per NAMTA's record or not, the purpose they do serve is to add to the number in the table and increase their numerical value of the data.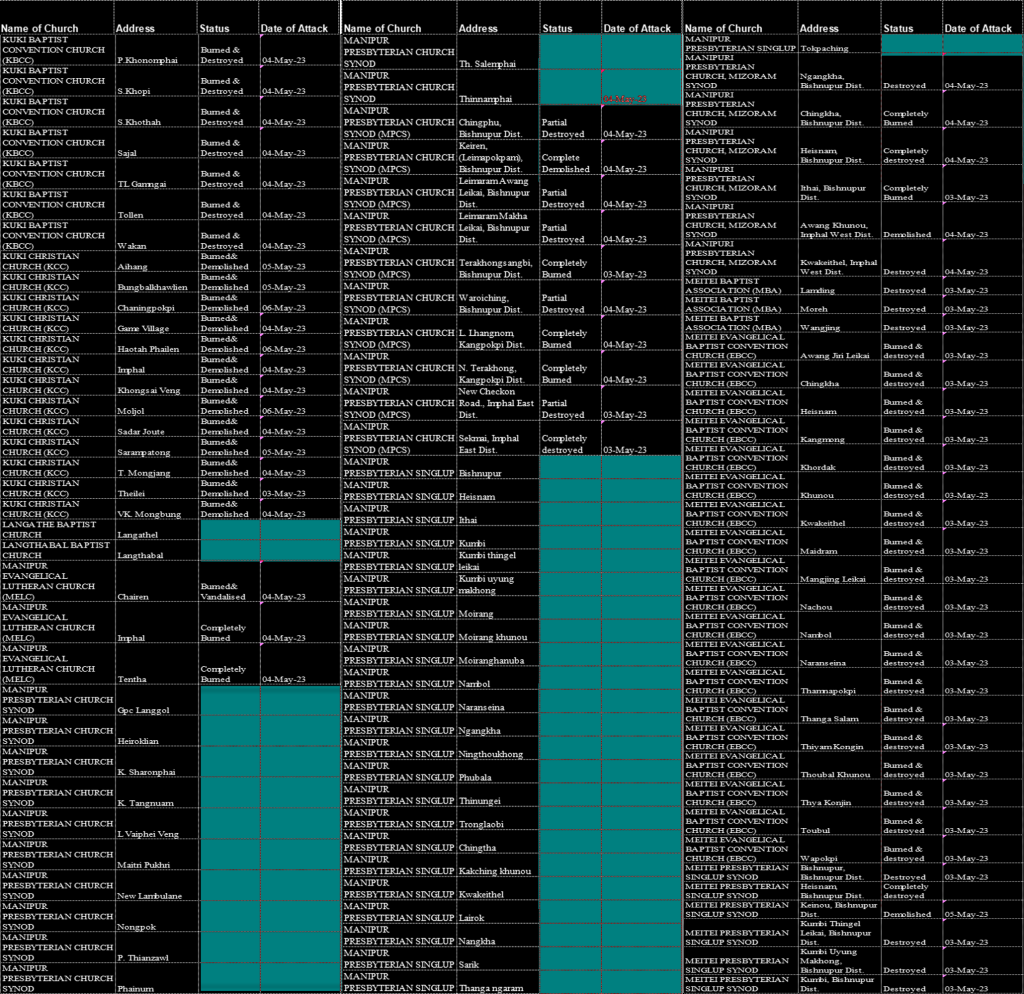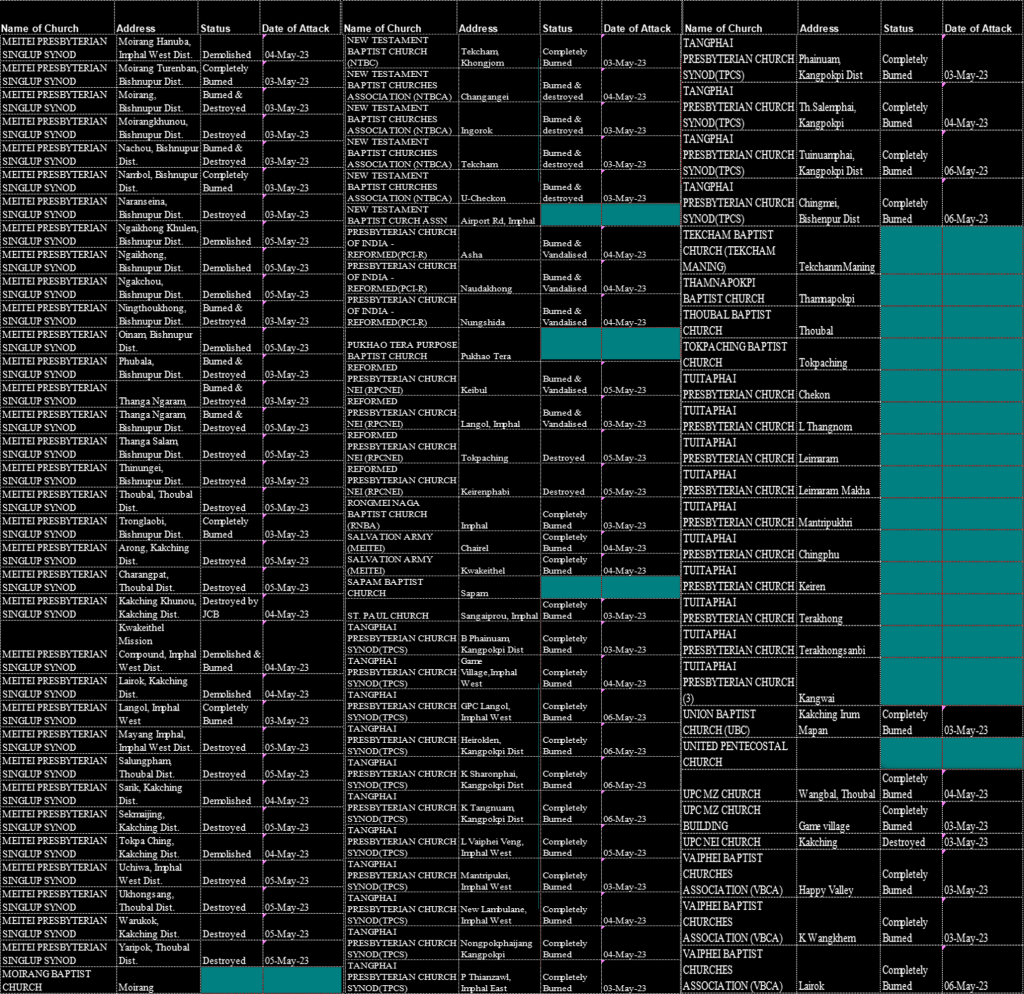 But NAMTA has categorically stated that there may be 'inevitable mistakes' in this data. How convenient!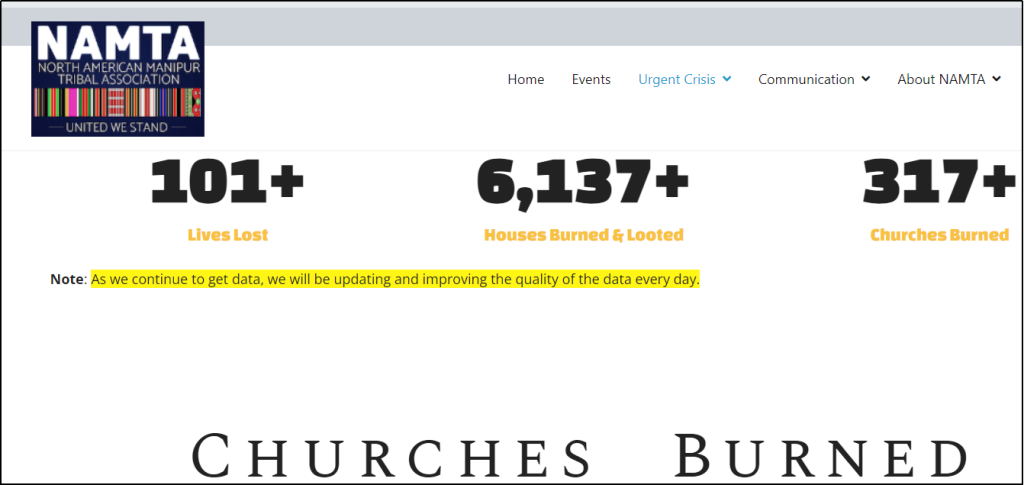 Another aspect that makes it rather tricky to trust their data is that even intangible elements have also been quantified. NAMTA has even added associations among churches that have been destroyed. Yes, associations were added to the list of churches that have a physical presence, and that too multiple times. Shall this be considered an 'inevitable mistake' or an attempt to inflate numbers?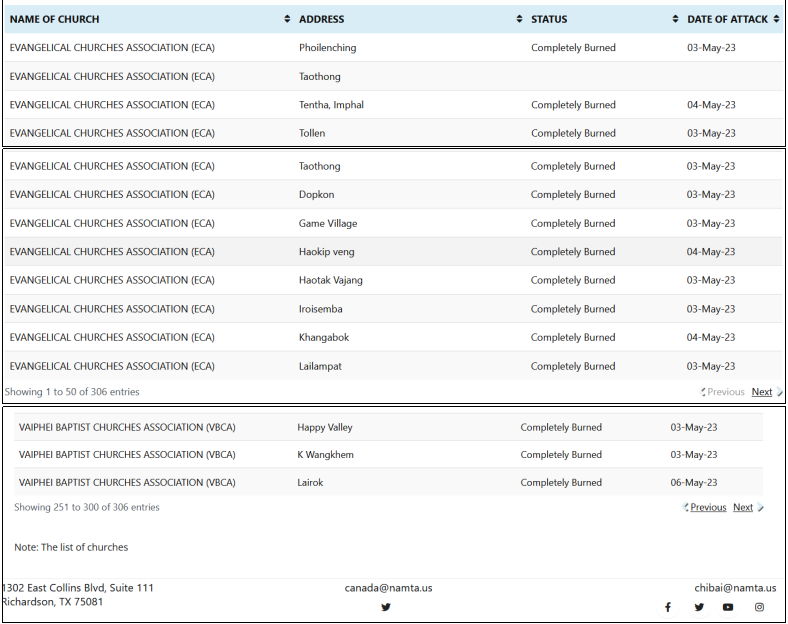 Statistics are never for naught. They hold gravity and their impacts are considerable depending on where they are used and, in this case, it was an international one.
Despite providing such specific data, NAMTA claims that there might be 'inevitable mistakes' in the data provided for the number of churches burned. But a point worth noting is that this exact data that NAMTA is providing accurate numbers for, while also claiming they might not be entirely correct, is the same data that was used by former BBC journalist David Campanale, a 58-year-old Anglican, who prepared an investigative report dated June 21, 2023, using the same data as provided by NAMTA, which has been present on their website from at least May 16, to document the Manipur crisis.
Reportedly, this investigative report was circulated to the 170 MPs in Westminster by the U.K Prime Minister's Special Envoy for Freedom of Religion and Belief, Fiona Bruce MP, who raised concerns over the attack on churches amid the Manipur violence in the main chamber of the House of Commons on July 21.
A significant population among Meiteis is also Christian, and while FIACONA is at its communal advocacy campaign, it is important to note that in July (2023), the Meitei Christian Churches Council Manipur (MCCCM), a prominent Meitei group in Manipur (in July) asserted that the violence was not the attack on Christian minorities, rather, it had nothing to do with religion but a conflict between "Manipuris and illegal immigrants". Earlier, in June (2023), the Meitei Christian Churches Council Manipur (MCCCM) had also appealed to the Manipur Tribal Forum Delhi (MTFD) to remove names of Meitei Churches from the latter's list of writ petition no.540/ 2023 to the Supreme Court of India. The group further asserted that Meitei Christians seek to uphold peace, unity, and harmony among all communities and tribes.
European Union's Resolution on Manipur
Amid this, on July 11, 2023, the European Parliament passed a resolution, condemning and schooling the Indian Government on human rights and its treatment of minorities. EU MEPs took the opportunity to intensify the communal angle of the unrest, using the rhetoric of 'Hindu majoritarianism', a rhetoric which has been constantly peddled by groups operating against India's interests.
MEP Ladislav Ilčić and MEP Bert-Jan Ruissen highlighted the attacks on the Christian community, with Bert-Jan Ruissan specifically mentioning the nature of the conflict as communal, labeling Hindus as perpetrators of the violence with Christians being the sole victims of 'Hindu extremism'. Using the resolution, the EU MEPs went on to 'warn' India that their EU trade would be in jeopardy if India doesn't comply. EU called on Special Envoy for Freedom of Religion's visit to India with regards to the same.
An international resolution with such strong statements can have major implications, the most important being the damage to India's reputation internationally, and could make it more difficult for India to secure cooperation from other countries on issues of mutual interest. The resolution also holds the potential to embolden separatist groups in Manipur and other parts of India and could lead to an increase in violence.
Despite that, NAMTA has been using the same data in the letters addressed to the government of Canada and the US to take action in the wake of the Manipur crisis.
Chapter 11: The Larger Nexus
Since then, all these groups began to be seen together in almost all the protests organized by NAMTA to date. And that is how NAMTA was also mainstreamed by some of the media portals as stated in Chapter 9.
This was not an unusual sight for us because, in the last two years, these organizations have found mentions in Disinfolab reports for their anti-India tirade in the name of human rights advocacy. The likes of IAMC and Justice For All (JFA) which lead this pack, seem to have become omnipresent.
This becomes more concerning considering the faces and organizations furthering Pakistan's Jamaat-e-Islami's agenda in a more sophisticated manner, have now found a new means under the garb of voicing the Kuki cause. More like hijacking the real cause with its vicious intentions.
In the US, NAMTA was being assisted by IAMC, FIACONA, and Nexus, while in Canada, NAMTA was getting support from the Jamaat front and the Canada branch of Justice For All (JFA).
On that note, here are several such instances when NAMTA has worked in tandem with these groups ever since NAMTA was formed:
Protest titled "Violence and atrocities against Kuki-Zomi Tribes in Manipur: Genocide in Manipur" co-organized by NAMTA, Ambedkar Association of North America, Indian American Muslim Council (IAMC), India Catholic Association (ICA) of South East Michigan, and CAPI USA held on July 30, 2023, in various parts of the US including Fremont (CA) and Detroit.
Protest titled "Stop Ethnic Cleansing & Sexual Violence on Kuki-Zomi Adivasis in Manipur" co-organized by NAMTA, South Asian Dalit Adivasi Network (Canada), AIM Canada, India Civil Watch International, India Civil Watch Organization, Justice for All Canada, Canadian Council of Indian Muslims (CCIM), Ambedkarite International Co-ordination Society, and Socialist.ca International Socialist held on July 29, 2023, at Consulate General of India, Toronto.
Protest co-organized with IAMC, FIACONA, and Periyar Ambedkar Study Circle at the Gandhi Memorial Park in Dallas on July 29th, 2023.
Protest was organized by South Asian Dalit Adivasi Network, Canada (SADAN), North America Manipur Tribal Association (NAMTA), Dr. Ambedkar International Mission, Toronto, Canadian Council of Indian Muslims (CCIM), Justice for All Canada, India Civil Watch International (ICWI), International Socialist Canada, Ambedkar International Coordination Society (AICS), and Poetic Justice Foundation (PJF) at Vancouver on July 29, 2023. An invitation to Canada's New Democratic Party leader Jagmeet Singh was also sent.
Protest held on July 24, 2023, in Oakland, California to "Stop Violence against Kuki-Zo and Women"
Rally on Tribal Solidarity Against Ethnic Cleansing in Manipur by NAMTA & Coalition partners (Tribal United) on June 28, 2023, at Pioneer Square in Washington.
Rally on Tribal Solidarity Against Ethnic Cleansing in Manipur by NAMTA & Coalition partners (Tribal United) on June 24, 2023, outside the White House. NAMTA patron and FIACONA founder John Prabhudoss also joined the protest of NAMTA.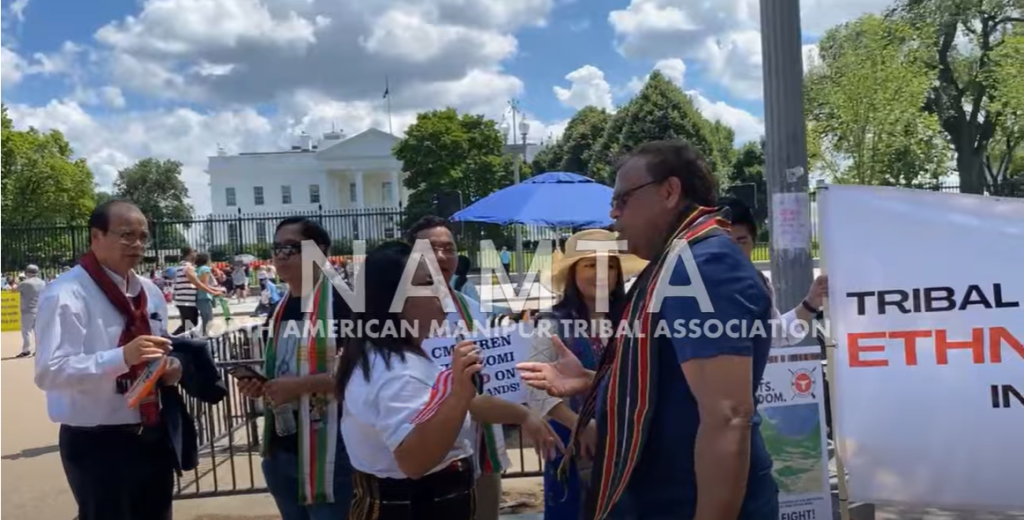 Divestment campaign against India's Interest
Apart from appearing in demonstrations and protests alongside IAMC and its ally organizations, NAMTA steadily became part of the plans of the anti-India lobbying groups (as exposed by Disinfolab) and a larger motive i.e., the Boycott, Divestment, & Sanctions Movement (BDSM) against India. The pronounced effects of this transition have been prominently seen on several occasions wherein NAMTA made divestment calls against Indian companies and even sought divestment from the World Bank for an info-tech development project in Manipur.
NAMTA has been protesting a World Bank-funded project to be developed in Manipur. NAMTA wrote a letter to the World Bank on July 9, urging the organization to stop funding a developmental project being established in Manipur- the "Manipur Infotech Enabled Development Project". NAMTA is opposing the project stating the ethnic cleansing happening in Manipur doesn't qualify it to house any development project in the ongoing scenario.
On July 19, the day when social media witnessed one of the most distressing videos of two women paraded naked by a group of fringe elements was posted by an anonymous account @ B5001001101 at 4:49 PM (IST). The video first seeded on social media was picked by several media portals on July 19 & 20 respectively.
It was quite invoking to see that the video of the incident was posted for the first time two months after the incident took place i.e., on May 4. It is to be noted that during mid-July, the government of Manipur had begun peace outreach to various groups and sections of people in a bid to restore peace via talks.
As noted earlier, despite the internet ban for five days (April 28-May 3), several 'local' accounts had mushroomed to tweet on the Manipur conflict. Even days after the internet was restored, the video did not surface on the internet until July 19 when it was posted by one anonymous handle which was further picked and relayed by mainstream media portals.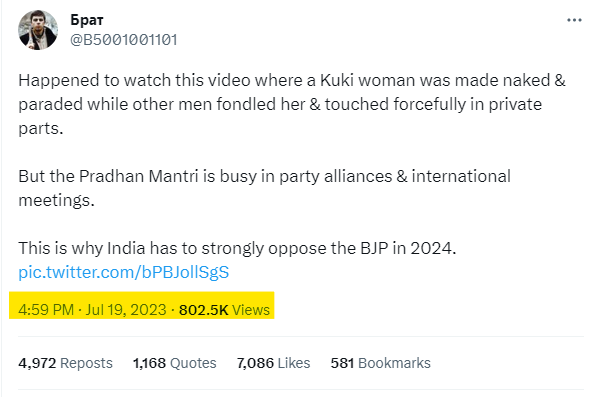 A few hours after the video by @B5001001101 went viral, NAMTA also picked the incident and wrote a follow-up letter to the World Bank reiterating that World Bank would reconsider investing in the "Manipur Infotech Enabled Development Project"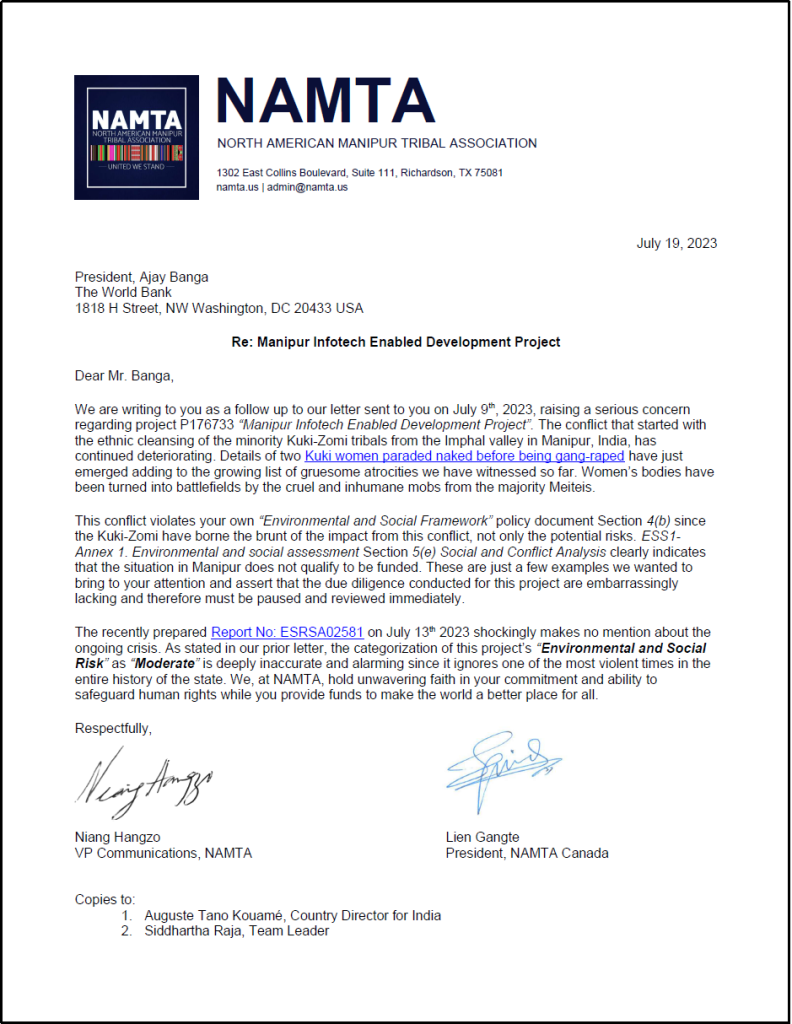 The proposed Manipur Infotech eNabled Development (MIND) Project is a project envisioned by the Government of Manipur and conceptualized by the Department of Economic Affairs to encourage the IT/ITeS industry in the state. The project was conceptualized in 2022 for USD 57.5 million (out of which USD 46 million is to be borne by the World Bank and the rest by the Manipur government). The implementation of the project is to be done by Cyber Corporation of Manipur Ltd. It is vital for this project as it aims to provide generate 11,000 direct and 33,000 indirect jobs and add an estimated Rs. 4600 crores to Manipur's GDP.
On the other instance, on August 4, 2023, NAMTA joined 34 organizations proclaiming to be civil rights advocacy groups, which included the Muslim Brotherhood and Jamaat-e-Islami affiliated organizations including the IAMC, Justice for All, and Foundation the London Story among others, to urge Thomson Reuters to divest from the Indian News Agency, the Asian News International (ANI).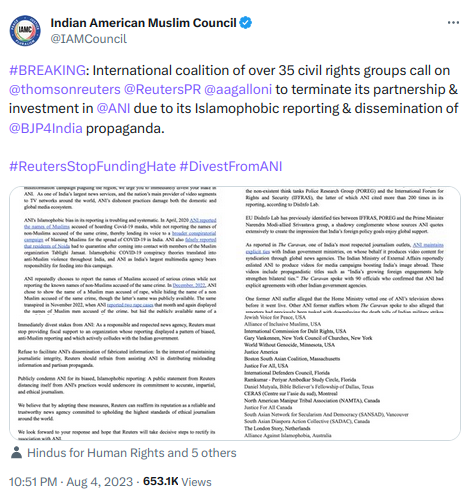 Foreign Interference & Sanctions Against India
Members of NAMTA have openly called for boycott campaigns against India. During a protest organized by NAMTA on July 29th in Irving, NAMTA's President Florence Lowe urged the US Government to impose sanctions on the Indian Government while also encouraging American Business owners to boycott India.
Likewise, NAMTA's Canada chapter on August 10, 2023, implored the Canadian Government to intervene in Manipur and pressurize India. Some of the organizations in this campaign included the pro-Khalistani Poetic Justice Foundation which was infamously exposed for designing the toolkit during farmers' protests in India. The toolkit mentioned engaging global celebrities to tweet on the farmers' protest and malign the "Disrupt the "Yoga & Chai image of India in general".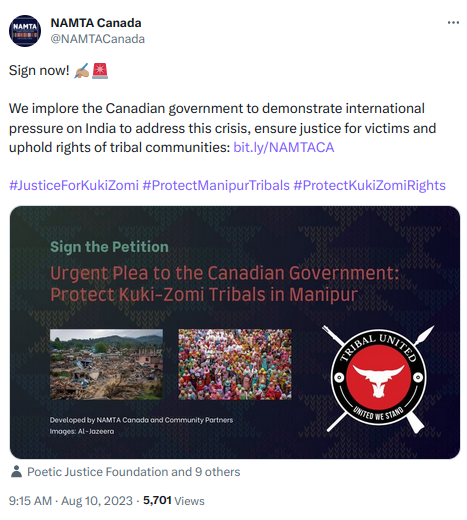 The timeline:
NAMTA was formed on May 4 (as claimed by Florence Lowe) just the next day when the violent news of Manipur erupted on social media.
NAMTA was running standalone campaigns for its Kuki cause till May but didn't render much impact.
As per Florence Lowe, the group was approached by FIACONA, IAMC, HfHR, and other interfaith groups.
On June 21, 2023, NAMTA participates in an event co-organized by a coalition of organizations previously exposed for their anti-India lobbying.
After that event, NAMTA's both US and Canada branches start getting coverage by several mainstream media portals. NAMTA Canada
NAMTA begins its independent campaigns to pressurize World Bank for revoking its investment in Manipur (India).