Did you,
See a video of "Gorkha soldiers being mistreated" by the Indian Army at the peak of India-Nepal border conflict?
Witness reports of Gulf countries condemning "Islamophobia in India"?
Spot videos and images of "Indian soldiers killed by the Chinese at the border during India-China border tensions"?
If yes, then you are the victim of fake news being spread in South Asia. If you believed any of these, then the fake news virus has effectively infected.
Where and how did these fake news originate?
This report is an effort to decode this willfully planted network.
Executive Summary
Fake news has always remained a preferred tool for state craft, and has become even more lethal in the age of social media. One such nation in South Asia is using it to cause differences between other South Asian nations.
Spreading disinformation has become an easy task due to Twitter's facility / loophole which allows the users to change their profile (name and username).
This tool has been deployed by various Pakistani social media accounts in propagating Anti-India fake narrative. Easter bombings of Sri Lanka, Islamophobia in India, Galwan valley clash, Farmers' Protest of India are few of the many incidents where Pakistan has falsely accused India as the architect of these incidents.
By July 2020, the Pakistani establishment decided to create a full-scale fake news industry by way of SAUSMF. SAUSMF website was hosted by Pak Cabinet Minister and close aid of PM Imran Khan – Jahangir Tareen on his server.
The main members of this nexus included Aftab Afridi, Awas Javed Satti, Asim Khan who share direct links with Pak army, team Imran Khan and Pak businessman Jahangir Khan Tareen, the man who ensured Imran Khan's electoral victory.
Other than the Pakistani members, all other so-called members from South Asian countries are fake profiles, run by Pakistani members, most of which are associated with Pak PM Imran Khan's party PTI. Among the entities amplifying SAUSMF propaganda is also the state broadcaster Radio Pakistan.
Introduction
A study done at the Massachusetts Institute of Technology (MIT) has revealed that fake news travels six times faster than the real news on social media. The report had claimed that false stories "diffused significantly farther, faster, deeper, and more broadly than the truth in all categories of information."
The information being circulated on these platforms eventually influences the political and Geo-strategic outcomes as well, and hence makes them a lucrative tool for info-war.
While it is hard to trace the first such instance, one of the earliest examples of this coordinated warfare in South Asia was seen in Sri Lanka in 2019. Immediately after Easter bombings, a series of fake news was planted, targeted at Sri Lankan audience as part of a well-orchestrated dis-info network, being run from a friendly neighborhood.
As we set foot to decode the pattern of this network, we unearthed a massive social media design being run in the region with the aim to create conflict among the neighboring countries in South Asia or aggravate existing conflicts with misinformation.
One of the key tools of this dis-info is a Twitter loophole. The tool is found to be so useful that a whole fake organization has been created to take advantage of this loophole, the organization came to be- South Asian United Social Media Front (SAUSMF).
Chapter ITwitter's Facility or Twitter's Loophole?
On 21st April, 2019, about 300 innocent people lost their lives and more than 500 people were injured in the one of the biggest terror attacks in Sri Lanka. And while the rest of world was in shock, and the name of radicals Islamist groups had already surfaced, a 'friendly neighbor' of Sri Lanka smelled an opportunity to use this tragedy to score 'psy-war points' against India. They started pushing the narrative that it was India who was behind the bombings by targeting Tamil minorities in Sri Lanka. They caught hold of their old accounts and solely dedicated themselves in commenting upon the tweets of the reports regarding the Sri Lankan blasts. They flooded the comments by proliferating the narrative that it was India who was involved in the bombings.
It's anyone's guess who this 'friendly neighbor' is in South Asia?
Gradually, a number of Pakistani social media 'experts' jumped in with their bogus narrative that – it was India's RAW and Sri Lankan Tamils' handiwork.

Eventually it was revealed that names of radical Islamists group ISIS & National thowheeth Jama'ath were involved behind the attack.
Once the news became mainstream, the Pakistani handles became even more aggressive to deflect the blame. They decided to push this fake story through a 'Sri Lankan' id – by exploiting what Twitter calls 'name change facility.
Several Pakistani handles changed their Twitter name, bio and Twitter ids and became 'Sri Lankans' overnight. One such viral tweet was from a handle @cmd_artillery claiming to be a Commander of Sri Lankan Army Artillery – Brigadier NLK Samrasinghe.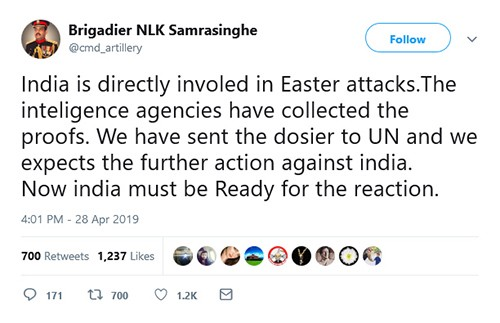 There were several red-flags about the handle that could have raised suspicion, but in a chaotic situation, it was hard to scrutinize and the citizens were quick enough to respond to their so-called 'Brigadier'
A Sri Lankan fact check site exposed this handle with some very interesting facts:
The account was created in February 2019 but made its first tweet in April 2019, only after the bombings.
This account was earlier being run in the name of Hubaib (@Lewany_yam), Twitter ID 1101055967872069633
A "Sri Lankan Brigadier" had almost all followers from Pakistan and none from Sri Lanka.
The first audiences of the Tweet were also Pakistani – which is unlikely if it was a Sri Lankan handle.
The story was later reported by media outlets like JVP News, Economic Times and Indian Defense News, but by then it had caused sufficient damage.
The original Pakistani id (@Lewany_yam which changed into @cmd_artillery) was run along with another Pakistani Id as 'Tribal with Pak Army' which share close ties with Pakistan army.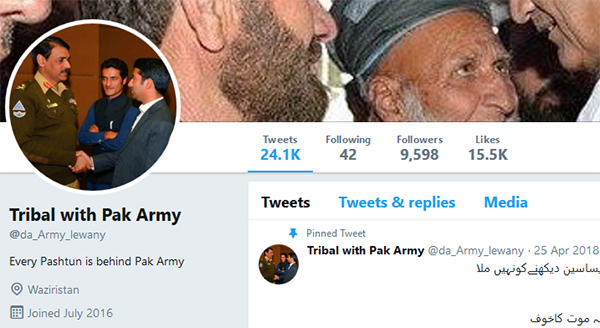 The handle changed its identity frequently like @da_watan_lewany, @da_Army_lewany, @cmnd_BT, @cmd_CTT, and the last username which was traced before being suspended was @cmd__BT.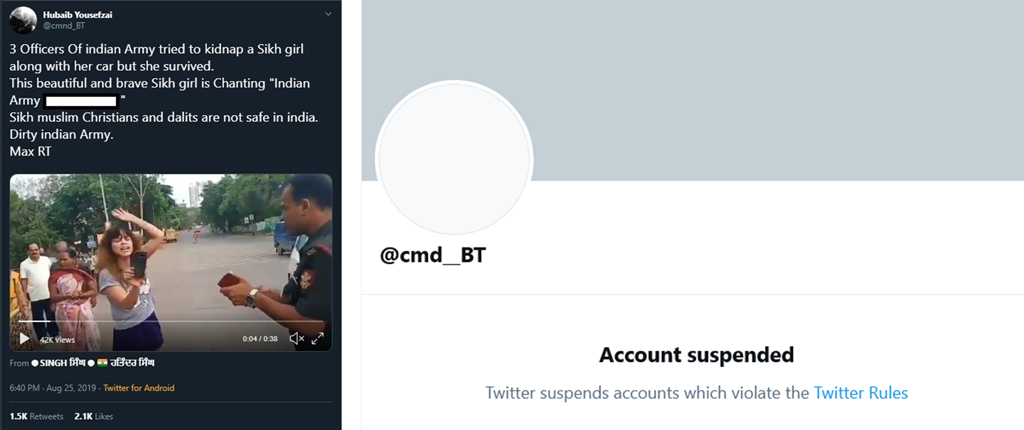 Before suspension the handle had spread multiple fake news, few of them were countered by prominent websites like The Quint, The Print, Alt News and SMhoaxSlayer.
---
Islamophobia in India?
In 2020, during the Covid lockdown, a series of prominent Middle East influencers begun expressing concerns about rising Islamophobia in India. The campaign went so viral that it was trending in India for a while, and the Indian PM had to respond with a tweet.
What triggered this sudden concern in Middle East?
It turned out that these were all fake handles being run by Pakistani establishment to push the false narrative of Islamophobia in India. They were exploiting the same twitter facility to change their names and misuse Middle Eastern identities. They not only stole identities, but used the identity and the pictures of some prominent women from Middle Eastern royal families with impunity.
A Pakistani Twitter user changed into @SayyidaMona, Omani Princess Mona bint Fahd Al Saeed. The situation grew so grave that later the Omani Princess had to clarify that it wasn't her who had tweeted but a fake account with her name and profile picture had impersonated her.

Interesting fact was that several social media influencers and even prominent news portal could not escape the scam, and provided space to this fake narrative without cross-checking the authenticity of these handles. By the time, fact-checkers had exposed these miscreants, the narrative of 'Islamophobia in India' had seeped into the news discourse. [4] [5]

Chapter II
How Identity Theft Works
Twitter allows changing both username and display name without going through any verification process. This has often resulted in identity theft; one such example has been Elon Musk. After reports of fake twitter account impersonating Musk, Twitter introduced the verification process. It also barred any other account by the name of Elon Musk, not even a parody account.
However, that was a customized facility for the richest man in the USA, not applicable in a poor third world country like India, irrespective of the amount they are victim of dis-info war.
There is a pattern where accounts from Pakistan change their identity to other nationality whenever there is any political development in any of the South Asian countries.
Decoding the Pattern
Create an account with Pakistan identity, preferably 'patriotic'/ 'pro Pak Army' to gain easy followers.
Gather Pakistani followers with help of existing troll industries/ networks such as Team IK, PTI, PakDefence etc. The higher the number of followers more the sense of credibility; as no one generally checks who the followers are.
Once there is a political development in any South Asian country (e.g., terror attack in Sri Lanka) Change name, bio, location and Twitter id; delete all previous posts as well. Use pics of respective country national, preferably girls for generic ids.
Starts tweeting posts related to the particular event, laced with Pakistani agenda. This makes it look like the post is coming from the country itself.
If a post or the account is reported, quickly change name, delete previous posts and morph into another identity ready to spread disinformation in another country.
If there is some break, change back to Pakistani id (Team PTI/ Team IK/ Team ISPR) and indulge in domestic politics, targeting opposition and gaining followers.

The GIF above speaks volumes about how instantly an account changes its identity to suit its political agenda and thereafter goes with the flow of upheaval to create anti-India chronicle, on vast scale. Regardless, of the changed name and username, their Unique Identification Number remains the same.
Tell-Tale signs of Fake Pak Ids
One thing worth-noting about these accounts is their names. The names are mostly combination of two different names from the region, indicating the lack of cultural understanding.
Another feature is grammatically-incorrect English. Most of these handle posts are grammatically incorrect, in addition to being fake.
Despite pretending to be local handles (i.e., Nepalese / Sri Lankan) they rarely use local language. Most of the posts are in English, even if broken English.
The Twitter bio at times use local language, copied from some handle and a basic search could reveal the truth.
The DP's are also mostly captured/stolen of some local girl/model/ actress.
Pro Tip: How to Find Handles Changing Name?
Every twitter account has a unique ID number, which can be found using any of the free portals such as TweetBeaver (www.tweetbeaver.com). It allows you to download data of any public account using the Twitter handle or unique ID number. The tools also provide the facility to check if one ID has used different usernames or display names.
(Note: At Disinfo Lab, we maintain a log of all the fake accounts spreading fake news. The constant tracking of these accounts helped identify their motives and patterns.)
Chapter IIICase Studies of Identity Theft
1. The Curious Case of 'Harith Bilani'
The motive of Pakistan's keyboard army has been to discredit India's image and to create disharmony among neighbors in South Asia. The Pakistani info-war machinery has mastered this Twitter tool is evident from a particular case, where the identity is changed not once or twice but multiple times.
They have been constantly changing their username, display picture, bio, date of birth and deleting their old tweets – to avoid identification as Pakistani handles. However, the unique identification number, allocated for each handle remains the same regardless of the name-changing game, which is how they get exposed.
An account named Harith Bilani (faking to be Sri Lankan) surfaced in October 2019, comprising of anti-India posts, targeted directly at India-Sri Lanka ties. The account had decent following and reach which is why its fake posts managed to engage audience of around 10k. At the same time, another fake, originally a Pakistani account looked out for an opportunity out of this and misused his identity along with the profile picture, turning it into a futile sham and the vicious game of Harith Bilani begun.
Here is a brief Chronology of how this handle worked:
1st Avatar: The Pakistani handle first renamed itself as @SirisnaJayasena with the profile picture of former Sri Lankan president Ranil Wickremesinghe and a bio in Sinhalese. The posts, as expected were targeted at India and promoting Pakistan. Shockingly, even man of substance like Jan Achakzai, who is a Geo-political analyst and an ex-advisor GOP has retweeted several of its tweets, emphasizing the lack of political awareness and social responsibility.
2nd Avatar: Once the @SirisnaJayasena started getting exposed, the account changed its name to @SanithPradeep and shared fake news of 'Indian spy' being caught. The image (taken from gettyimages) was actually of Sri Lankan police escorting the security guard of their petroleum minister Arjuna Ranatunga in Colombo on October 29, 2018. Either as a means to add credibility, or probably paying off the Chinese favor, the handle boasted about the role of 'Chinese Intelligence'.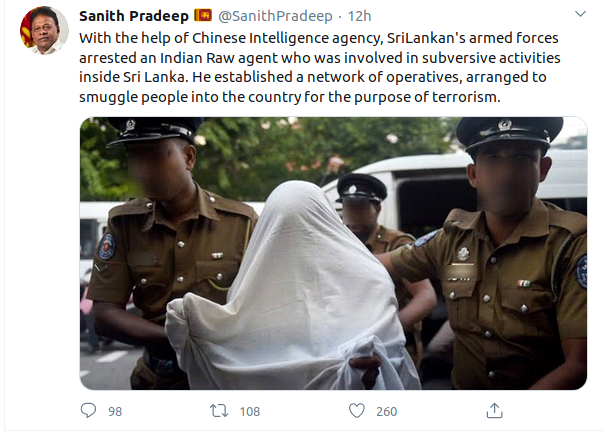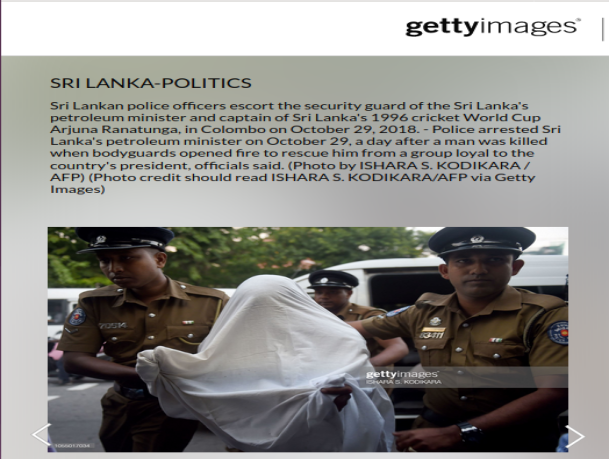 3rd Avatar: After getting exposed, the handle yet again changed its identity to @HarithBelani in November 2020, and continued to tweet on Kashmir and other topics like Liberation Tigers of Tamil Eelam (LTTE), which is a known sensitive topic between Indian and Sri Lanka. The posts boasted of Pakistan's support to Sri Lanka in "defeating Tamil Tigers".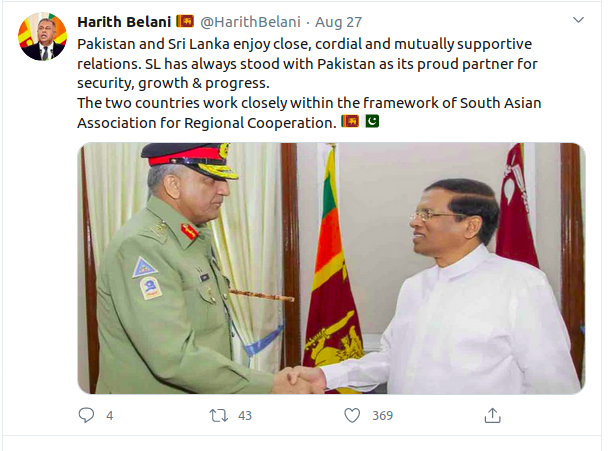 4th Avatar: As farmers' agitation grew stronger in India in late 2020, the handle re-invented itself as @ManandepSingh, claiming to be a former Western Army Commander and pro Khalistani, and as expected, posting against India and supporting Pakistan.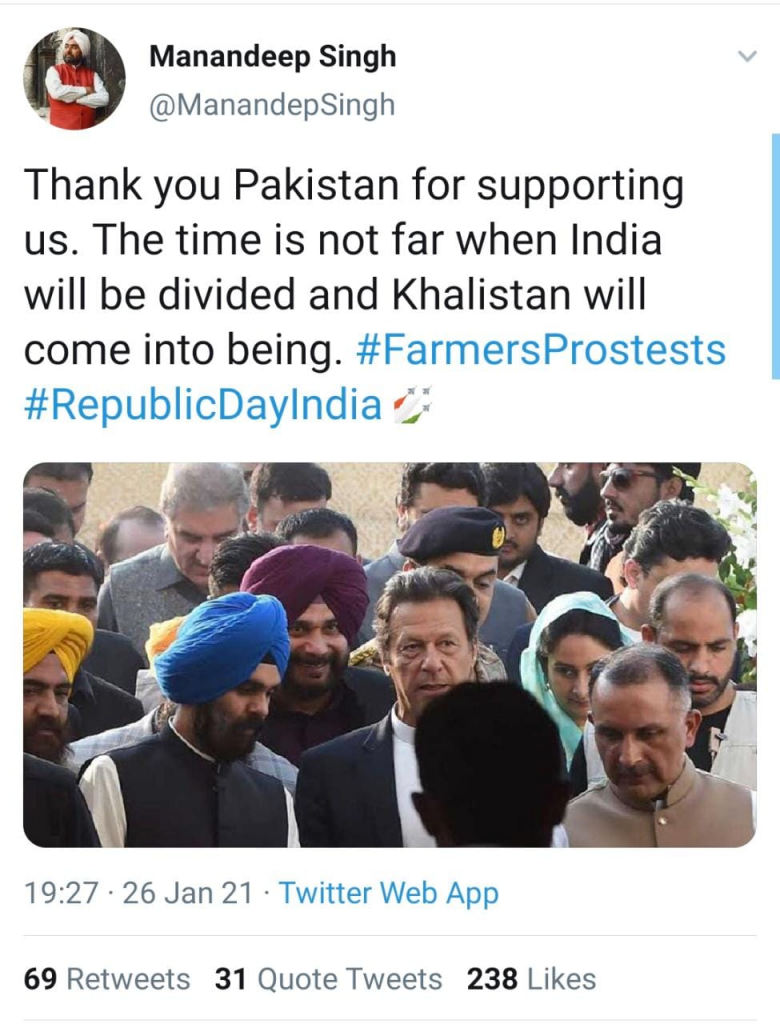 5th Avatar: After the handle started getting exposed one more time, it again changed to @diyaanhhh and yet removed all its previous posts. This time it chose an acronym which could be used in any context, but finally Twitter seems to have caught up with it and suspended the account.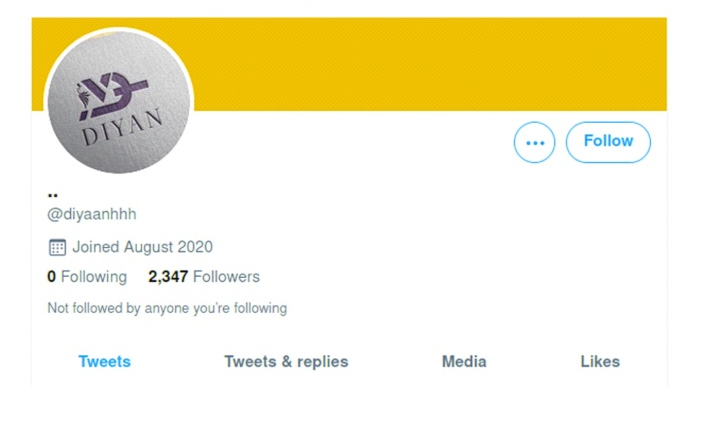 Here is the followed pattern of the account: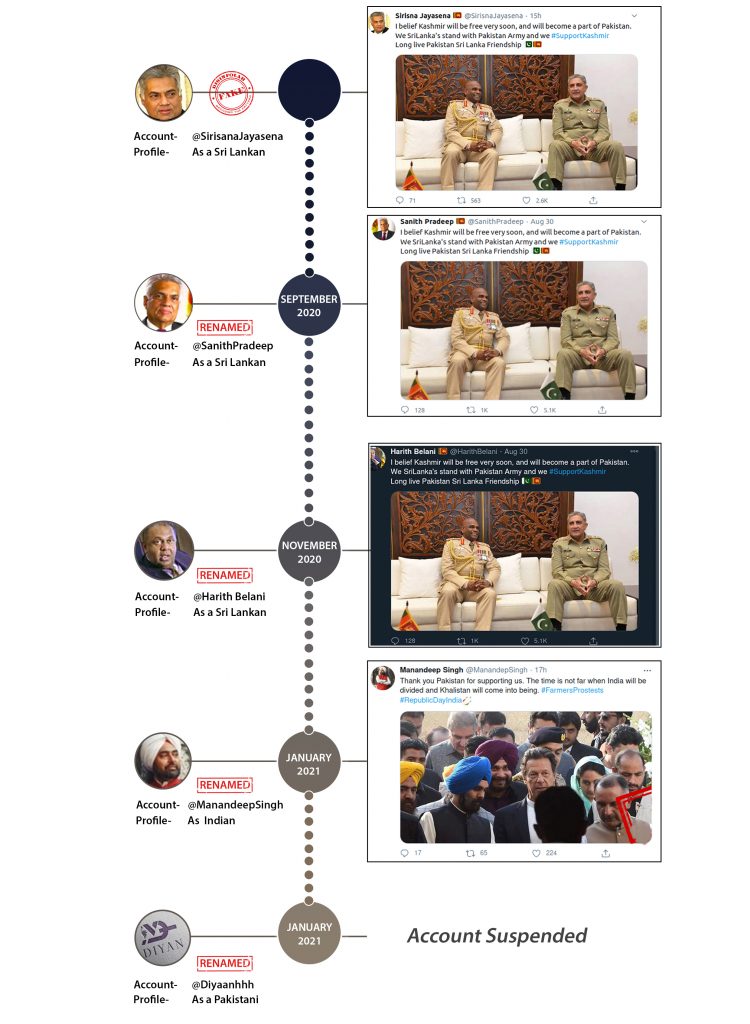 ---
2. Amanda Chathu: Sister of Harith Bilani?
Another account which is busy in spreading misinformation is Sri Lankan 'activist' Amanda Chathu @IAmandachathu, which uses the picture of a Sri Lankan model Puimi Hansamali.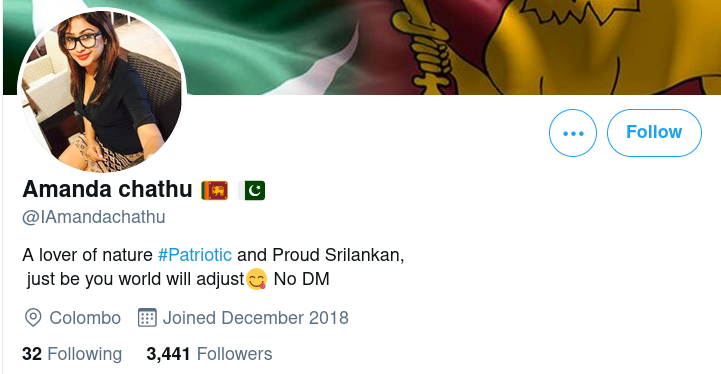 'She' (most likely a 'he' from Pindi) doesn't only uses the picture of Sri Lankan model for DP, but even tweets other pictures of the model to add credibility (and some sunshine) to the account.

And despite being a Sri Lankan model, the followers are mostly from Pakistan!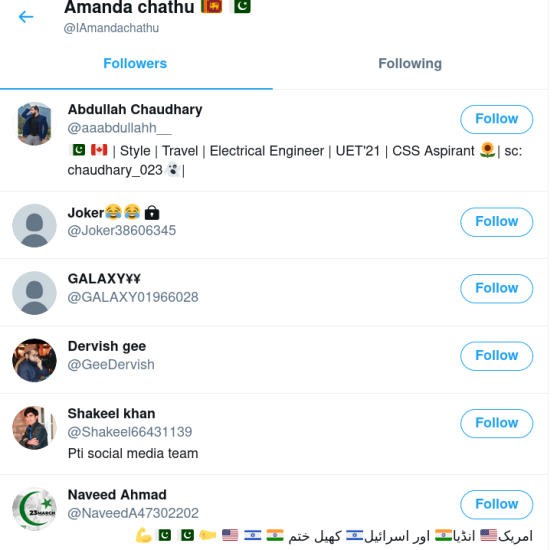 And if one was wondering about the agenda: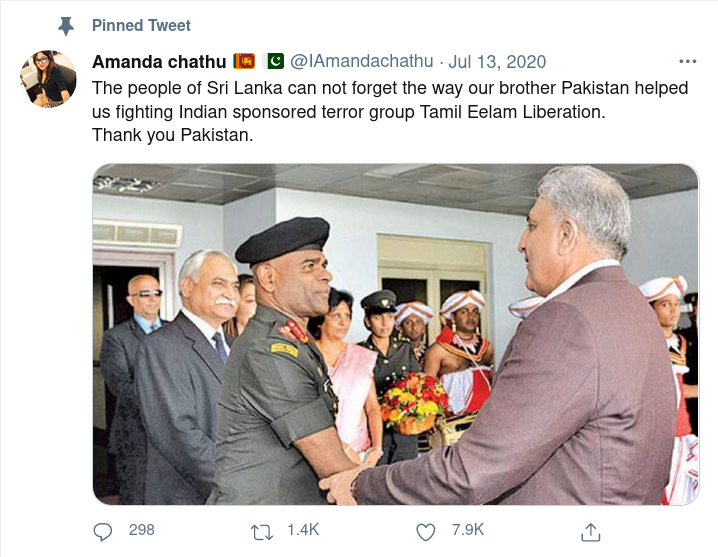 ---
3. Pakistani-Chini Bhai-Bhai?
In May 2020 China and India had a face-off, and gradually the tension between the nations rose. And so, did fake Pakistani handles made-up as Chinese. Impersonating a Chinese, @CNPakWW is fake account sharing fake/ misleading videos and posts. Earlier the account was named as @IamPakWW; but immediately after the Galwan valley clash, it smelled opportunity and became Chinese.
The Twitter handle in the past had been posting in Urdu, and has been an ardent PTI supporter.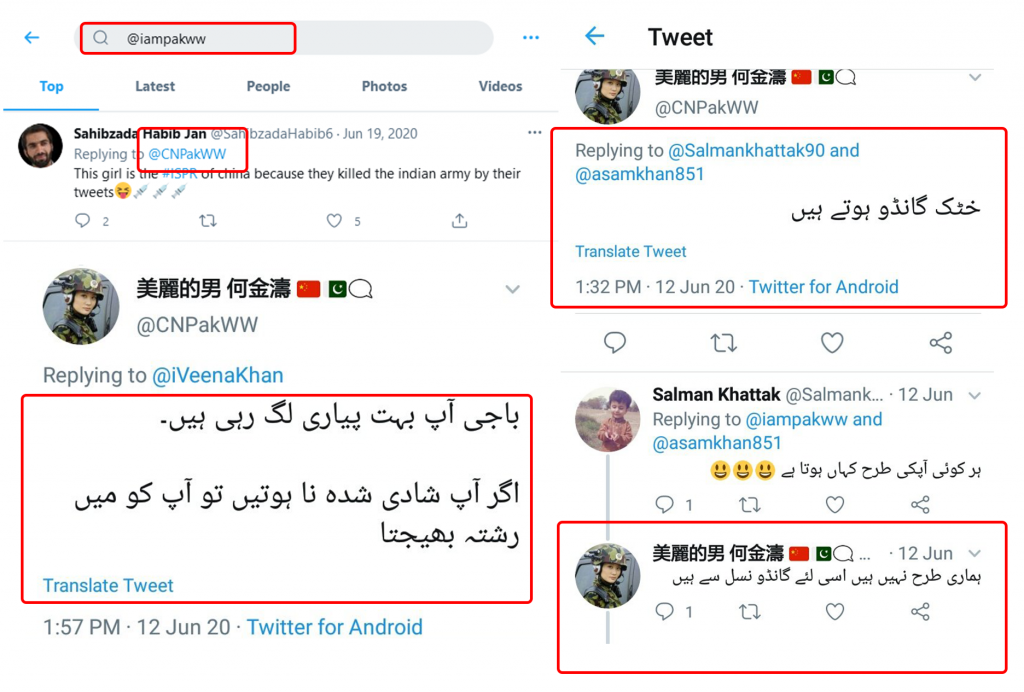 A quick transition of username from @IamPakWW to @CNPakWW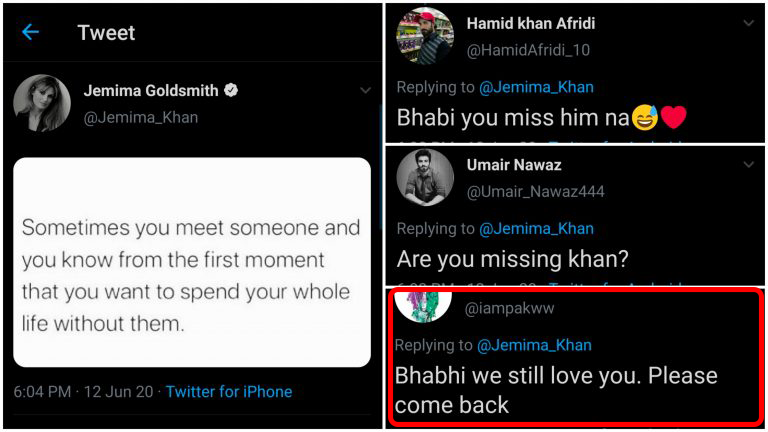 There are hundreds, if not thousands such handles which keep changing identities to suit the occasion. But throughout the change two things remain same – their Unique Twitter ID Number and their agenda.
Chapter IV
The Birth of a Fake News Industry in Pakistan to target South Asia
After these Pakistani fake handle realized that name-changing facility on Twitter was a useful tool to sow seeds of disinformation and create problems between South Asian countries and neighbors, Pakistani establishment decided to build it at industrial scale, and thus SAUSMF was formed.
What is SAUSMF?
A self-proclaimed front for South Asian unity – South Asian United Social Media Front – which emerged as a Twitter handle on July 17th 2020, and later established a website to provide a cover. The platform based in Pakistan is as bogus as its 'members from South Asian countries', as well as the information it shares.

This Front claim to be 'collaboration' between people from Pakistan, China, Afghanistan, Bangladesh, Nepal and Sri Lanka. It later added some 'Russian' and other fake White handles to add some more credibility, knowing well the obsession with the White 'experts' in South Asia.
Chapter VWho are the 'South Asian Members' of SAUSMF?
A simple answer – They are all Pakistani – in real or fake identities.
In other words, the so-called South Asia front is a Pakistani front where the Pakistani members are essentially PTI trolls (ruling party of Pakistan) and the other handles which claim to be from Sri Lanka, Nepal, Bangladesh, and Maldives – are fake profiles run by Pakistanis.
Here is a sample collage of the 'Core Members' of SAUSMF: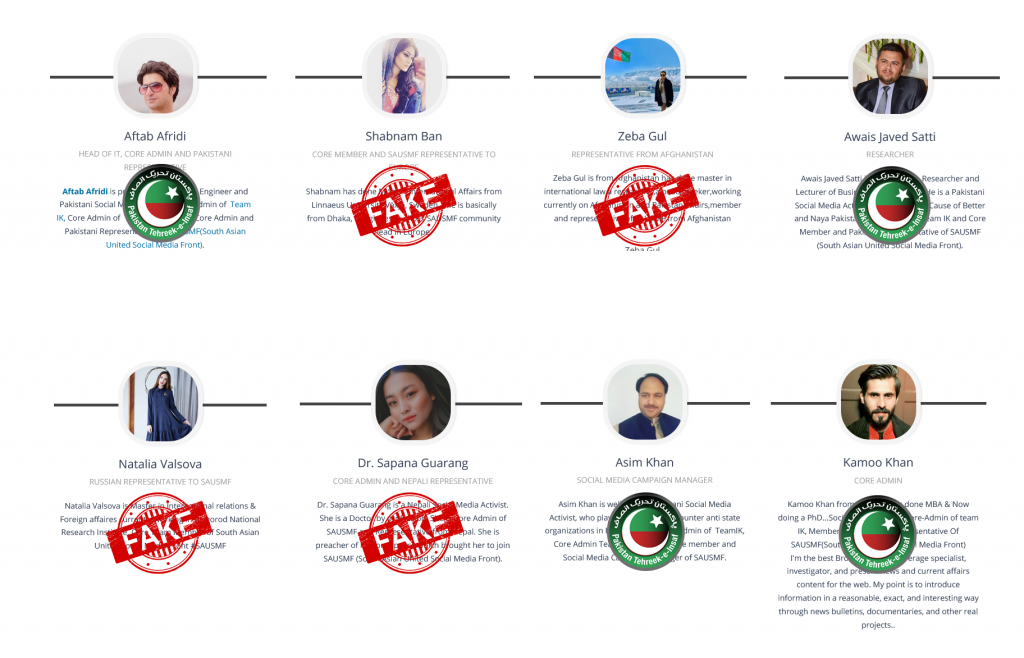 Please note, the only 'real' member of this so-called organization are Pakistani fake news industry stalwarts- such as Aftab Afridi. Afridi, a PTI member who is known for getting artificial trends on Twitter.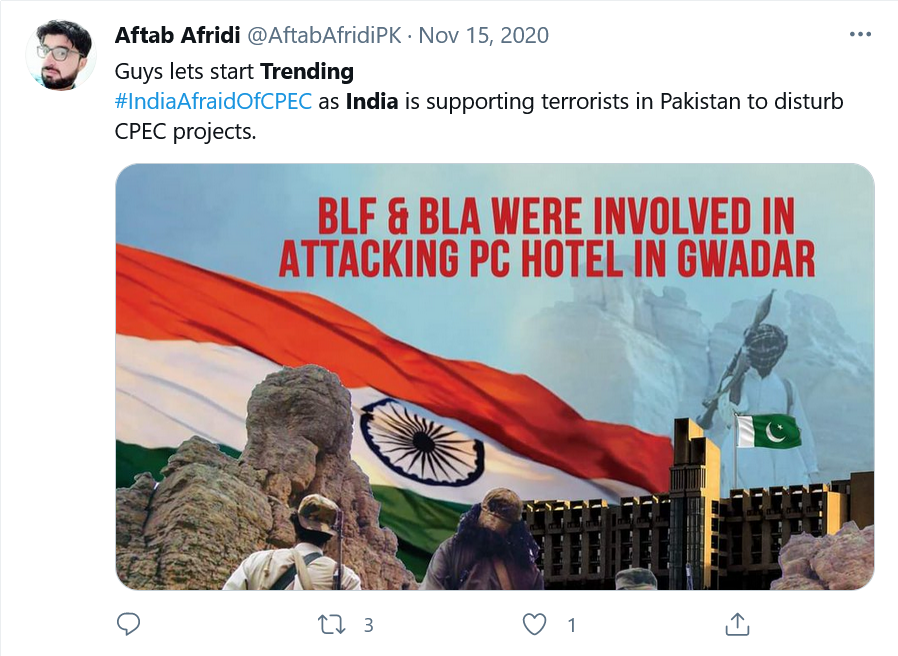 Apart from Aftab Afridi, another key member of SAUSMF is Awais Javed Satti, who works hand in glove with "Team IK", Pak ruling party troll factory. Other Pak members on board – Asim Khan and Kamoo khan are likewise PTI Troll factory products.
The rest of the members, pretending to be from other South Asian countries are all fake identities.
The two display pictures which the account has put to use belongs to two different girls which thereby implies its fictitious nature.

The image attached above highlights the massive copy-paste campaign which the account has indulged in. The content of the tweets have been exactly copied from a verified account due to lack of basic knowledge of Russian language.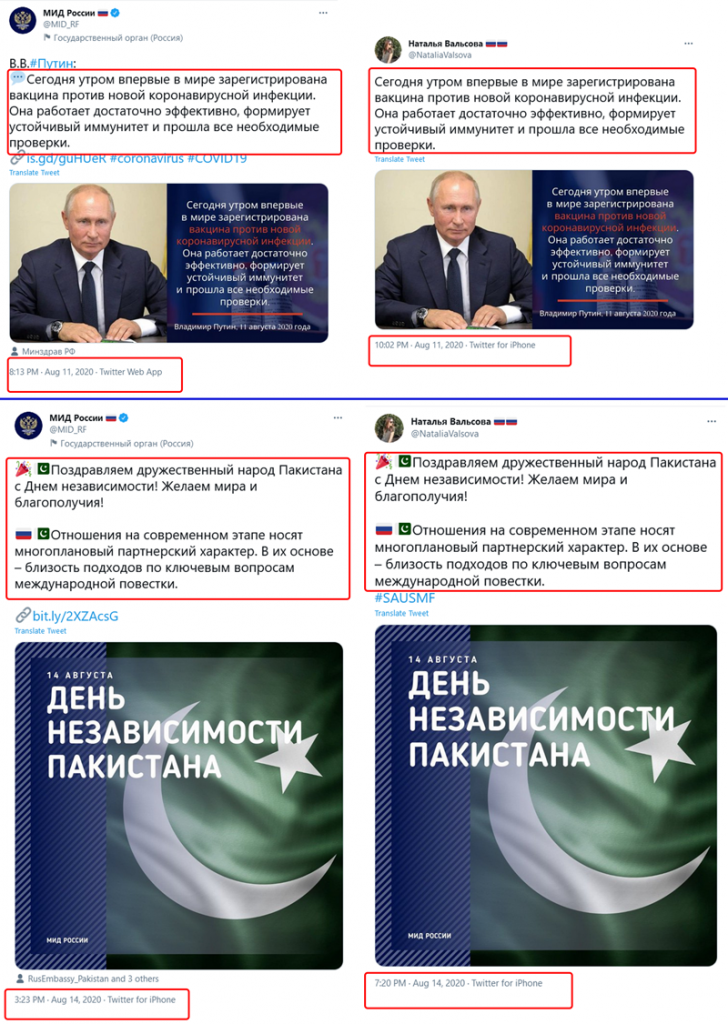 Likewise, the account of Zeba Gul, the 'Afghan representative' of SAUSMF is another fake account. She has used a picture taken from News18's report on Afghan women army cadets' training in Chennai in 2018. It seems that the other social media images have been taken from web specially from a Facebook page Afghani Clip.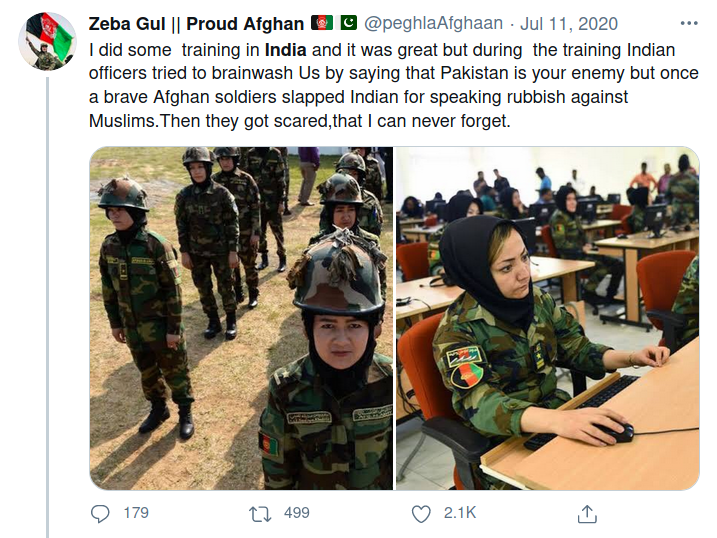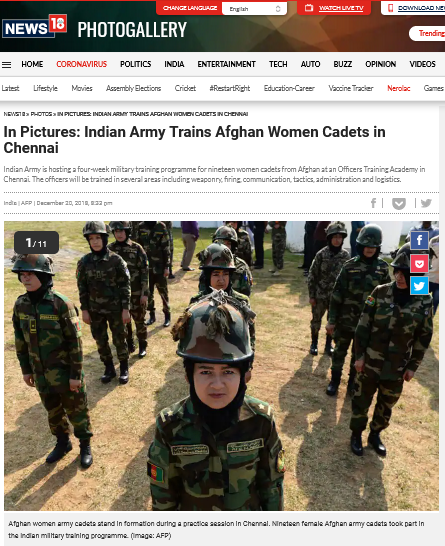 Another account who claimed to be the member of SAUSMF was Katherine George. We found out that it was a bogus account who systematically steals pictures, identity and tweets of other prominent accounts.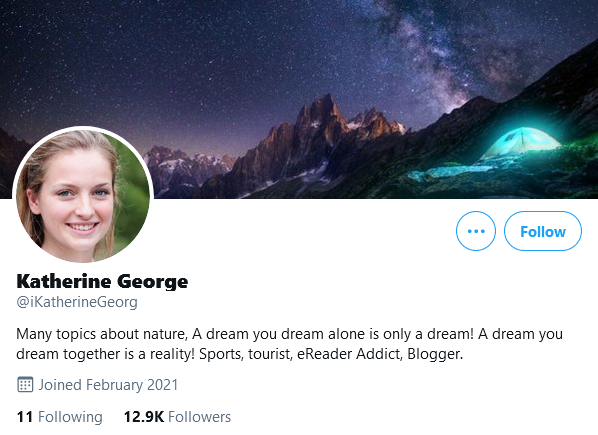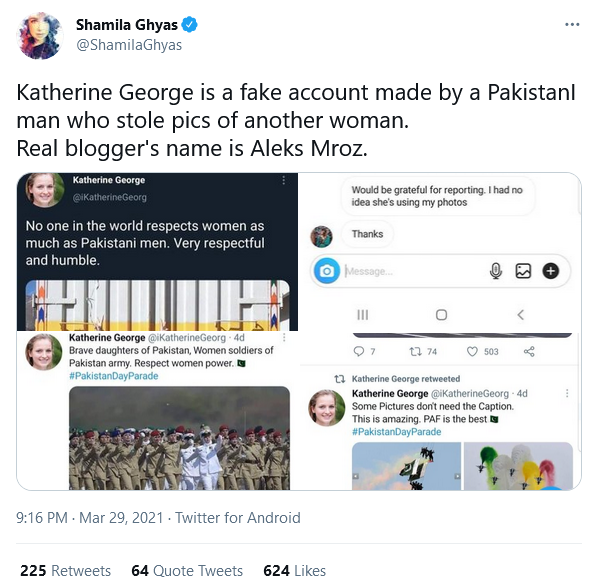 Later, Siasat.pk, dawn.com and ibtimes.co.in busted Katherine and her fake agenda:
The image below shows the fake accounts who claim themselves to be the members of the forged organization but in fact, do not even exist in physical world.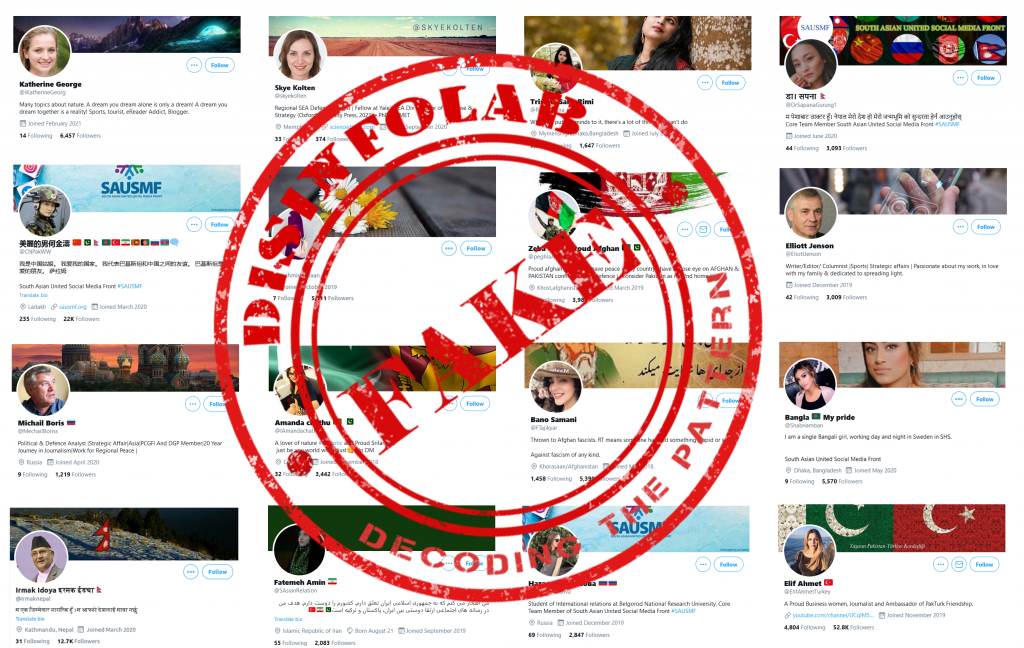 Chapter VIThe Masters and the Puppets
Who is behind this fake industry?
All of Pakistani establishment, plus some.
1. PTI member and billionaire businessman Jahangir Tareen hosts SAUSMF website on his server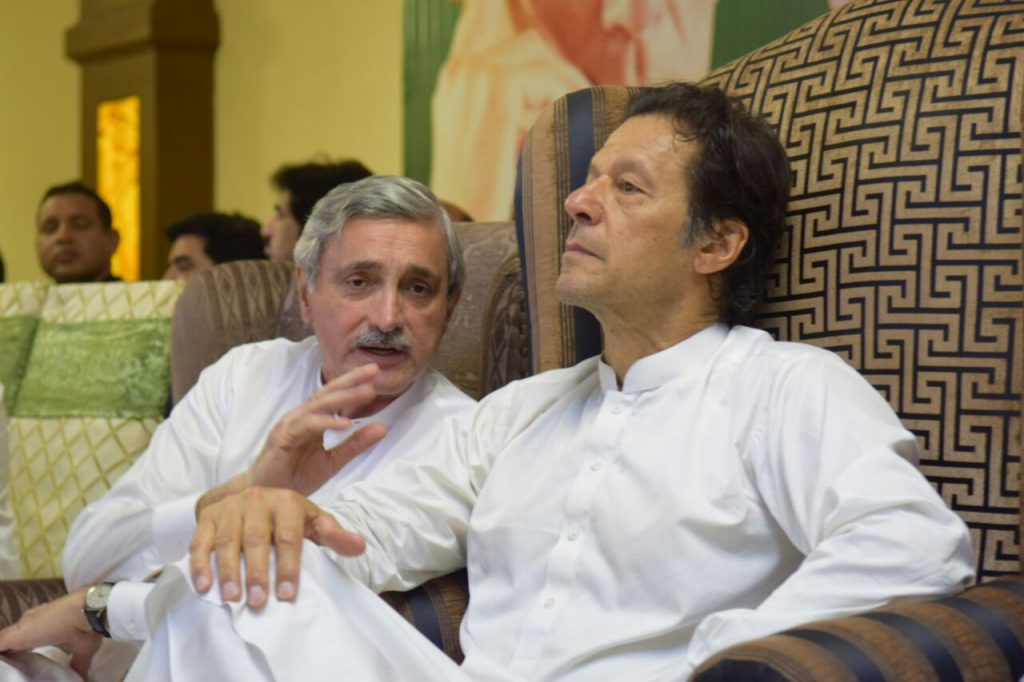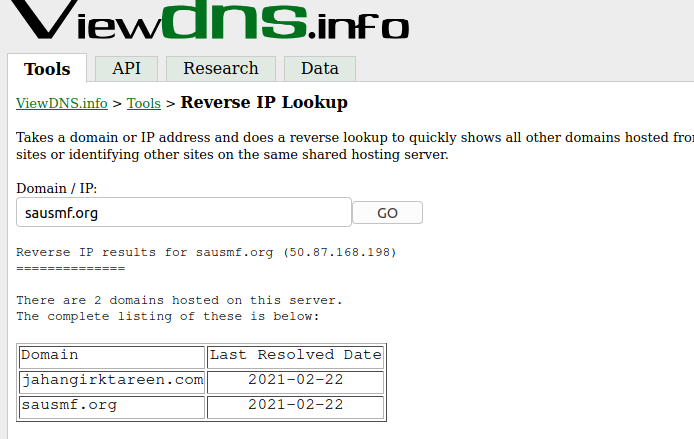 Source: ViewDns and Archive link https://archive.is/V7gqf
SAUSMF website is hosted on the server taken by Jahangir Tareen, where the only other site is that of Tareen's himself. Tareen is a business tycoon and minister in PTI Cabinet led by Imran Khan. Jahangir Khan Tareen stint with disinfo business is not new, as he is also credited with helping in ensuring Imran Khan's electoral victory in past. Tareen has also been known for cultivating famous Pak fake news peddler and turned setter Farhan Virk.
2. The key person who is managing this fake news industry, on a day to day basis, called SAUSMF is Aftab Afridi. He is no ordinary person. Afridi sets the social media trends by making calls to trend certain hashtags. (He has surpassed the earlier fake industry king – Farhan Virk). Afridi is also seen with who's' who of Pak elites – a close ally of Pakistan Army, Pakistan ruling Party PTI; and Pakistan business tycoons. His pictures with Lieutenant General in Pakistan Army Asif Ghafoor and business tycoon Jahangir Tareen speak volumes of their solidarity and rapport.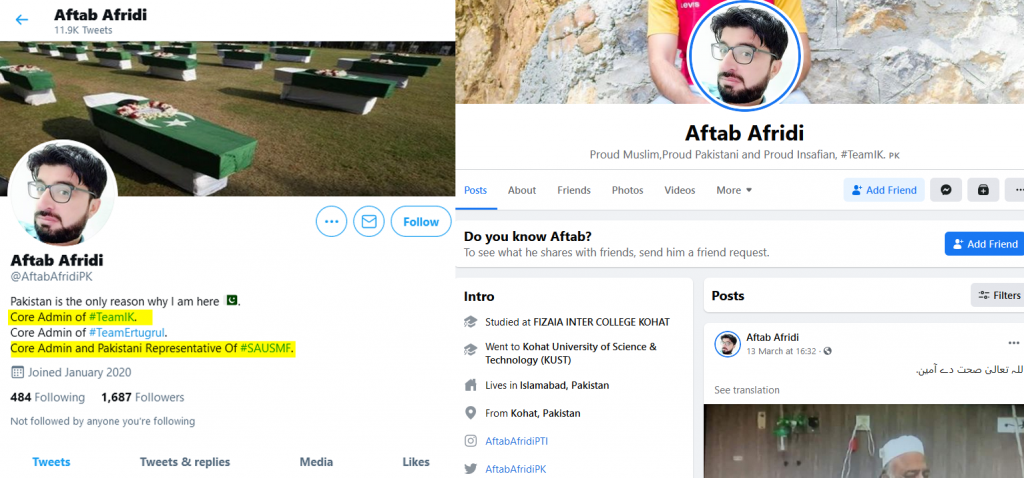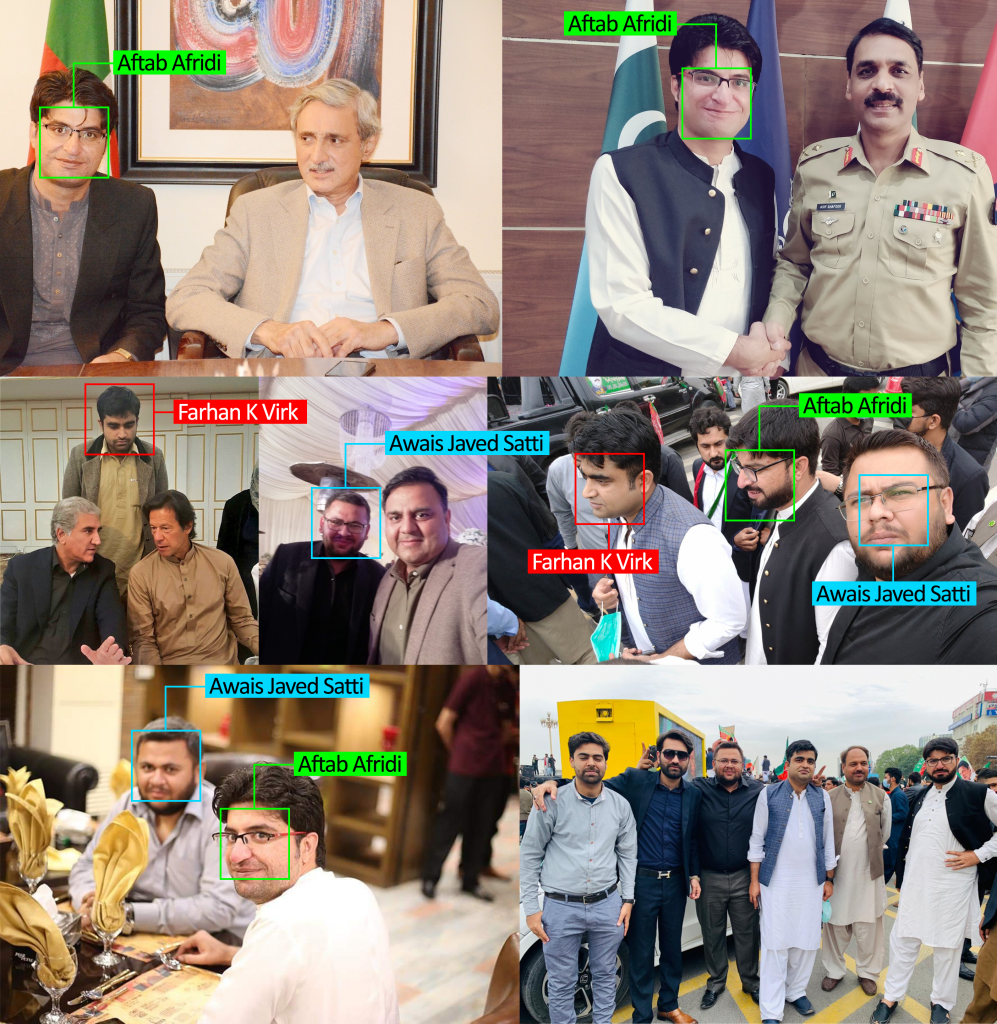 Team SAUSMF members with Jahangir Tareen, Asif Ghafoor, Imran Khan, Shah Mehmood Qureshi and Fawad Ahmed Chaudhry
State Broadcasters Amplifying SAUSMF Fake News:
Following is a table of Twitter Handles with highest engagement for #SAUSMF:
It is evident from the list below that the handle is promoted actively by same Pakistani fake news peddler who also operate PTI/ISPR/ Defense PK agenda and target their democratic opponents/opposition political parties when they are not busy sowing disinfo in South Asia.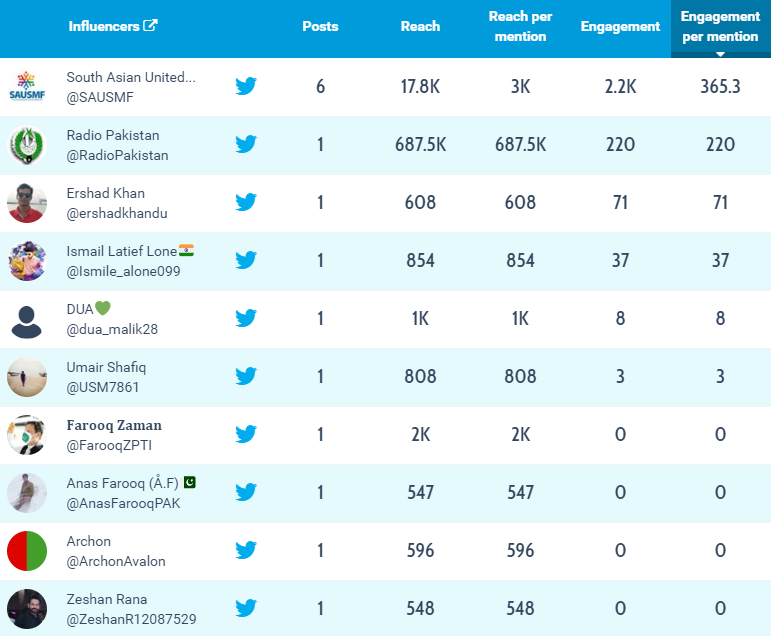 It is evident that apart from SAUSMF itself, the Radio Pakistan is the biggest amplifier of the fake news spread by this handle, stating clearly the full-fledged support of Pakistan to this fraudulent organization.
---
Chapter VIIAgenda
Spreading anti-India fake news with the objective to create conflict between India and its neighbors.
Pakistani State's Involvement in anti-India disinformation campaign is nothing new. Another surge in the spread of fake news was witnessed following the abrogation of Article 370, when Jammu and Kashmir was stripped of its temporary special status. But the peddlers of fake news were not just some volunteers with smart phones, but from the ministers in the government to state-owned media in Pakistan, everyone was part of the fake news campaign.
In September 2019, a former high commissioner of Pakistan to India Abdul Basit had shared a photo of porn star Jonny Sins while claiming that Sins was a Kashmiri pellet-gun victim.
A video of an old fire mishap in Kashmir was widely shared in August 2019 as Army atrocity in the Valley.
Pakistani journalist and anchor Ameer Abbas had rehashed two pictures – one of an injured girl and the other of a woman with a kid. Neither of the two pictures were from Kashmir.
Pakistan Minister Ali Haider Zaidi had tweeted the old video of the funeral of terrorist BurhanWani as Kashmiris protesting against Article 370.
In a well-planned disinformation campaign like this, from social media users, to media and the government, every pillar in hierarchy has one agenda – to push disinformation.
However, the big Pakistani names getting caught spreading fake news was not a good sight, and hence it was better to use fake ids, to add cacophony and to create a platform that may 'sound' like a pan-South Asia organization. They also changed tacks, and instead of only spreading fake news about India, they started targeting India by spreading fake news through handles that 'looked like' other South Asian countries. A sample of the fake posts by the handles gives a good insight into their agenda.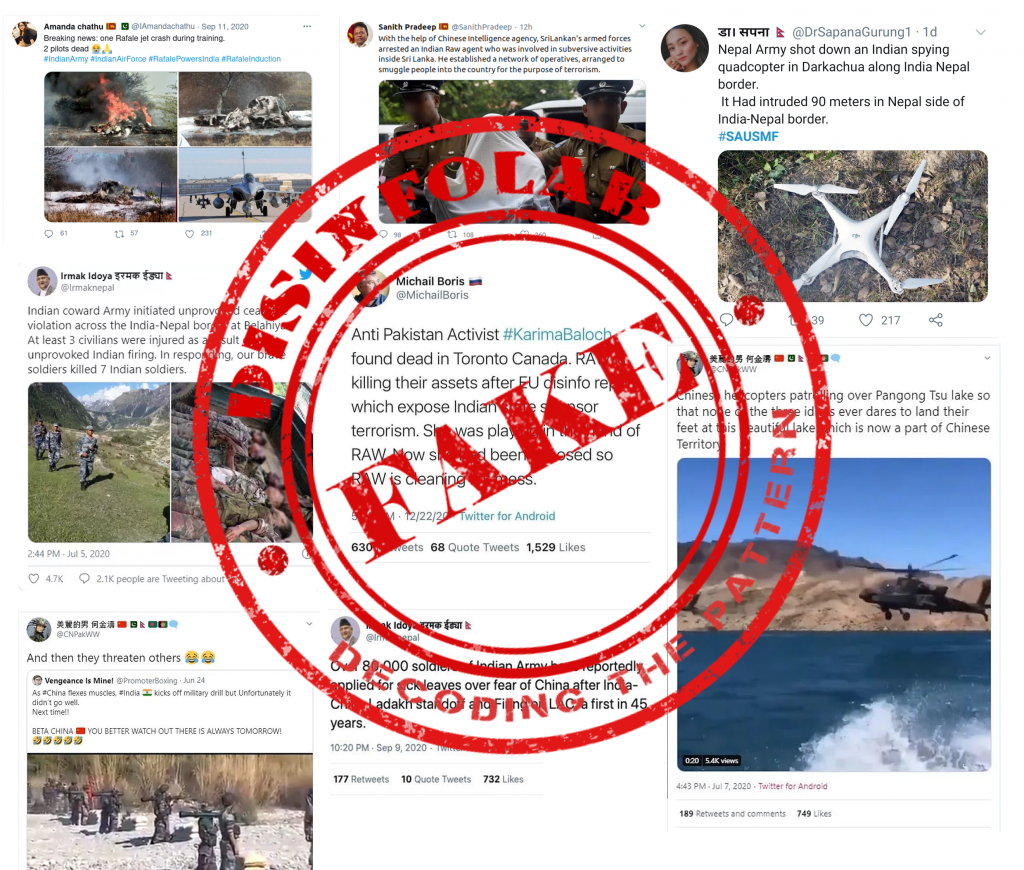 A common theme about all these posts is that they all are spreading fake news that is anti-India which looks like the single-most collaborative effort and has been designed to create differences between India and its neighbors. An analysis of #SAUSMF posts revealed the most commonly used words in posts with this hashtag. Following is a word-cloud of Hashtags used along with #SAUSMF in tweets. Larger the font-size of word, more it is used along with #SAUSMF.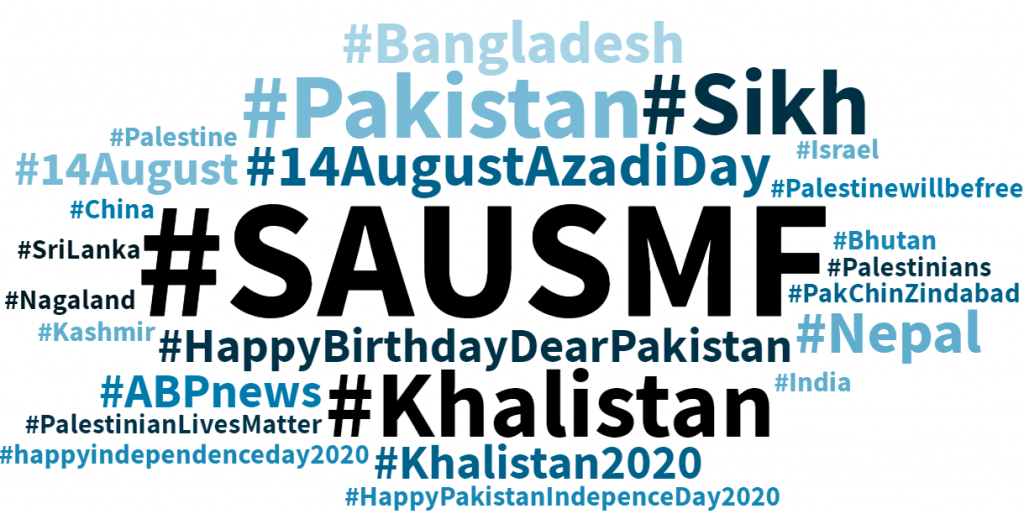 ---
The Network of fake nexus
To create a simplified version of how Pakistan was fostering and nurturing the whole agenda by taking a back seat could be explained from the following Network graph. We took the imminent names who have been at the fore-front of the whole gamut and analyzed their list of followers. Upon researching deeper, we found out the common thread which was binding them all. The followers of these accounts share relation among each other and even handles with vast following are a apart of this nexus. Larger the circle, bigger the following of the account. The graph below shows the connection which the followers of these accounts share in common.
Epilogue
What is being witnessed now is an effort to expand institutionalization of this dis-info campaign to maximize their reach and impact. The SAUSMF is one of the pillars, but not the only one.
What is the way to fight this organized industrial scale dis-info?
The best antidote against disinformation is awareness. Once the truth of a handle/a platform is exposed, it renders as ineffective. It is therefore important to highlight all possible anti-India and other activities targeted at other South Asian countries. But most important measure is to exercise caution while reacting or even giving credence to social media posts from accounts which maybe fake.