Executive Summary
South Asia is not the most hospitable place for women, and South Asian social media space is no exception. Not only common women, but even the most powerful and well-known women are not spared.
The abuse however is targeted mostly to women in the field of politics, activism and media in the same order – followed by women in entertainment and sports sector. The abuse a women faces is directly proportional to how strong views she expresses online.
The unfortunate title of most abused women is held by Priyanka Gandhi, Mariyam Nawaz, Eva Abdulla, Jackline Fernandes, Tasleema Nasreen and Bidya Devi Bhandari.
It is often said that Indian and Pakistanis are like brothers. Seems true as together they carry the dubious title of biggest abusers, with Indian social media space being the most abusive and Pakistani users taking lead in terms of per capita abuser.
Nepal has come across as the cleanest social media space, followed by Sri Lanka, Bangladesh and Maldives.
While the word cloud for each country varied with language and culture, some key themes remain same – the language of love and abuse seems universal. However, within the word collection, again Nepalese people seems to show maximum restraint.
Indian social media users continue to be toxic, targeting women along the religious and cast lines in addition to the abuses that they bestow upon for the virtue of being women. The media sector seems to provide maximum fuel.
Women activist are another major target for Indian male. An interesting feature was that by raising most difficult questions about their society they are 'seen' to be hurting the nation's image – both in India and Pakistan.
A special case study documents the abuse hurled towards Aurat March – a movement rather than an individual. The purpose was to study whether the abuse is personal. Turns out, it's not. The abuse is essentially determined by the perceived threat to 'society, culture or nation', as the case may be.
Another case study we have carried out is on Disha Ravi's case, examining different standards of users for treating male and female in similar circumstances. Disha was a much softer and much attractive target for online abusers.
Preface
Sheer threat to women's identity in the hyperreal realm and a whole bunch of keyboard warriors ready to splash the mud stains is what prompted us to publish the report 'Toxic Masculinity of Indian Cyber Space- How Women in India are the worst victim of online abuse' [https://thedisinfolab.org/toxic-masculinity-of-indian-cyberspace/] in January, early this year. This is the second edition coming to our bi-annual series highlighting the gravest issue of all times. Not surprisingly, the condition hasn't improved even slightly from the last report, nor showing any hopes.
Introduction
Chinese leader Mao is credited to have said that "Women hold up half the sky". But when it comes to spread their wings, the male-dominated universe is united in pulling them down. As are norms in the real life, the woman on social media gets abused in proportion to the power and influence she seems to carry. Mankind is generally forgiving to the women who 'fit' in the 'defined spaces'; defined so by men.
Women, who contribute to 50% of the world's population and are often referred to as "the better half" are idolised only when they are painted on canvas or cast in stone or plaster of Paris as religious or secular idols. But women made of flesh and blood are often even denied basic human rights.
And while one may debate the nuances of effects of the anonymous online abusers in contrast with real-life bullies, the fact that Social Media has become a ubiquitous platform for popular validation, means we no longer can 'mute' the online abuse from our discourse.
The online harassment and torture of women, sometimes called Cyber-sexism or cyber-misogyny, is specifically gendered abuse targeted at women and girls online. It incorporates sexism, racism, religious prejudice, homophobia and transphobia. The purpose of harassment varies with every online attack, but usually includes wanting to embarrass, humiliate, defame, scare, threaten, demean, silence, extort or, in some instances, encourages mob attacks or malevolent engagements. The anonymity of the internet usually lets us do stuff for which we might often lack courage in person, it empowers us enormously and entitles us to form an opinion.
Methodology
Amnesty International in collaboration with Element AI, a global artificial intelligence had carried a survey to assess online harassment of women. They carried out a study of millions of tweets received by 778 journalists and politicians from the UK and US throughout 2017, representing a variety of political views across ideological spectrum. Using data science and machine learning, they were able to provide a quantitative analysis of scale of online abuse against women. 7.1% of tweets sent to the women in the study were found "problematic" or "abusive". This amounts to 1.1 million tweets mentioning 778 women across the year, or one every 30 seconds.
We adopted a similar model for our research. We collected and analysed thousands of social media posts, primarily from twitter but also from Facebook and Instagram in the last 2 months that South-Asia's prominent women have received, from across the sectors. We have also assembled a data set of different abuses belonging to different languages for the analysis of the tweets but due to social, moral and virtual restrictions could not be uploaded as it would be offensive to religious groups and ethnic communities. While the Amnesty study was broad based in terms of 'problematic tweets', we decided to look right at the bottom and see how much dirt is there – by using the most unacceptable words as our selection criteria. Also, this time we expanded our area of study to include all of South Asia.
Caveat: We have excluded those women from our list who have themselves used one or more of the abuse words.
What we found makes for a sobering reading for all, and what could have been a better day than the 'International Women's Day' to meet face-to-face with the bitter truth and crude reality of South Asian online landscape.
Part-I: The South Asia Theater
South Asia faces one of the largest gender gapes online; and online safety is one of the significant barriers to gender-equitable Internet access according to a report by Global System for Mobile Communications, 2015. Women in South Asia are 26% less likely than South Asian men to own a phone and 70% less likely to connect to the Internet via mobile device. One of the largest barriers to gender-equitable participation in the region is online safety driven in part by fear of contending with harassment and risks to one's reputation. The South-Asian subcontinent despite bestowing upon us the first women Prime Minister of the world, Sirimavo Bandaranaike and despite having the highest number of woman leadership in command (Indira Gandhi, Benazir Bhutto, Sheikh Hasina, Khleda Zia, Pratibha Patil & Bidya Devi Bhandari to name a few), the subcontinent has been subject to umpteen number of online abusers who are taking a toll through troll upon women – their only fault being speaking out their mind or taking a stance. Keeping that in mind, we have categorised the prominent women from the South Asian subcontinent into different fields varying from politics to sports and how women of passion are on the hit-list of social vultures.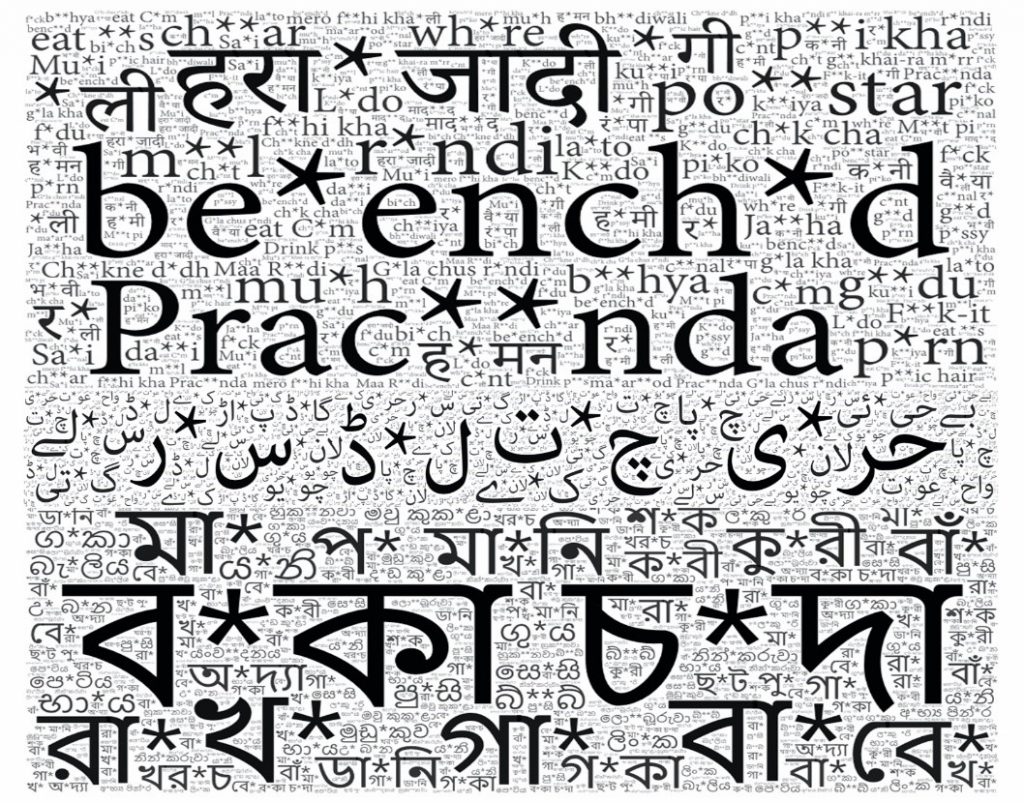 1.The Power Play Of Politics
Women in general are targeted but it is the women in power who have it worse. Women politicians across the world face a barrage of humiliating and derogatory posts and targeted harassment. Any woman who is seen in the public light, or speaks up against popular sentiments, or is seen even remotely feminist becomes a natural target of for online trolls.
While the South Asia in general has been a bad place, the two most populous countries – India and Pakistan have been the worst offenders, with Priyanka Gandhi topping the charts in most abused women politician followed by Mariyam Nawaz on our Abuse-o-Meter. It is interesting to note that they are abused not only for their views and acts, but also in the names of their relations – be it the father in case of Mariyam or the brother, mother, or husband in case of Priyanka Gandhi. Khalida Zia and Shekh Hasina from Bangladesh have numerous feathers in their cap where Khalida Zia was the first women Prime Minister of Bangladesh and Hasina been continuously topping the charts now for almost 5 years of Forbes 100 most powerful women in the world. Yet this glory has not been able to shield them from the inflated ego of the anonymous male users online. Women's positioning in our patriarchal system has always been culturally sanctioned and even today the phrase 'go back to the kitchen' was found to be the most common in the tweet threads, highlighting how deeply ingrained is misogyny in the psyche of South Asian males.
A collage of abusive tweets has been attached below which features the intensity of the abuses levied upon the women in power.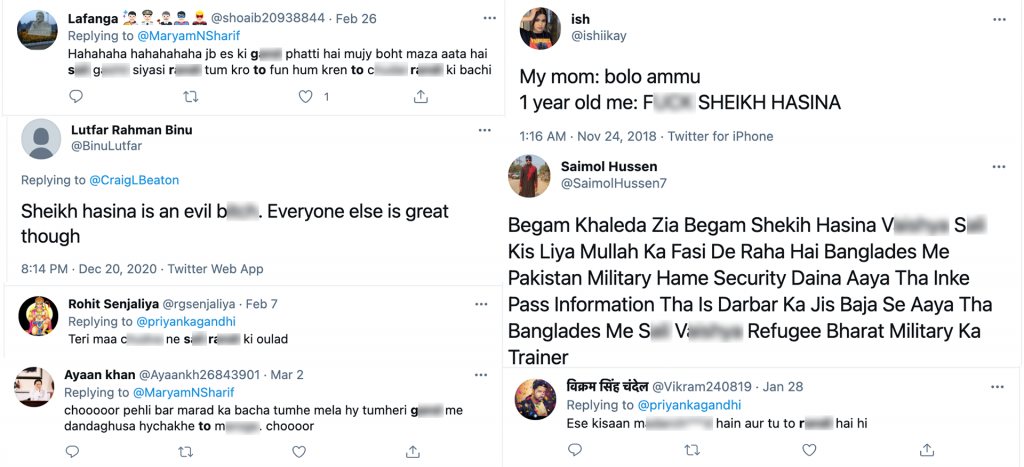 A silver lining – women politicians in Nepal, Sri Lanka, and Maldives tend to get less abuses comparatively, with Nepalese women politicians find the social media safest space so far.
2.Aggravating Activism
Simone de Beauvoir, a feminist philosopher said that "Never forget that it will be enough for a political, economic or religious crisis for the rights of women to be called into question". It is highly surprising that even today men have found a considerable threat in women who are vocal about the issues that matters the most. Deepika S Rajawat, a Human Rights activist from J&K, India and a lawyer by profession, who represented the Kathua rape victim, is found to be the most abused woman HR activist in the entire South-Asian continent. She has been abused more than 2000 times in 2 months.
One of the accounts named Sejal (@voiceforu_21) has abused her the maximum number of times (6) and the same account has also been found abusing other activists. Pakistani Activist Malala Yousafzai, who is a prominent advocate of girls' education, is routinely torn down on the toxic Twitter. On an average, she receives 10 abuses per day. Both Deepika and Malala have been also accused of 'tarnishing the image of their nation' and even being traitors – their crime being taking up women's rights. Bangladeshi writer-activist Taslima Nasreen has been getting abused consistently probably for the longest time for her views against the religious conservatism and patriarchy. While the women leaders from other countries in South Asia- Hisila Yami and Bhavani Fonseka from Nepal and Sri Lanka respectively are far behind in our Abuse-o-Meter in terms of absolute numbers, adjusted for per user abuse, even they are not spared. Likewise, Mariya Didi, the first female Minister of Defence of Maldives who was earlier a Human Rights activist has been abused for speaking her mind.
A Sample Tweets from Maldives, which is still on the cleaner side, is an example of how women of comparatively smaller nations could be entrusted with stark outrage from men.

3. Telling Truth to Power
Journalism can never be silent: that is its greatest virtue and its greatest fault. It must speak the echoes of wonder, the claims of triumph and the signs of horror – and it also pays dear price for this openness. And yet women journalists in particular have to face way more criticism for bringing out the truth in public. As in case with other categories, the Indian and Pakistani media women journalists have been abused most, with Rubika Liyaqat from India and Gul Bukhari from Pakistan being the most abused women. (Case of Indian women has been analysed in detail separately). The level of depravity is such that Gul Bukhari has been abused for even the most innocuous posts – on the grounds of sharing content pertaining to British media. Time and again, she has been labelled a 'prostitute' and other such synonyms. She has been receiving threats mostly from religious conservatives as well as from trolls claiming to be from ruling PTI. The attached screenshot of tweets below highlights the narrow-mindedness of South Asian men.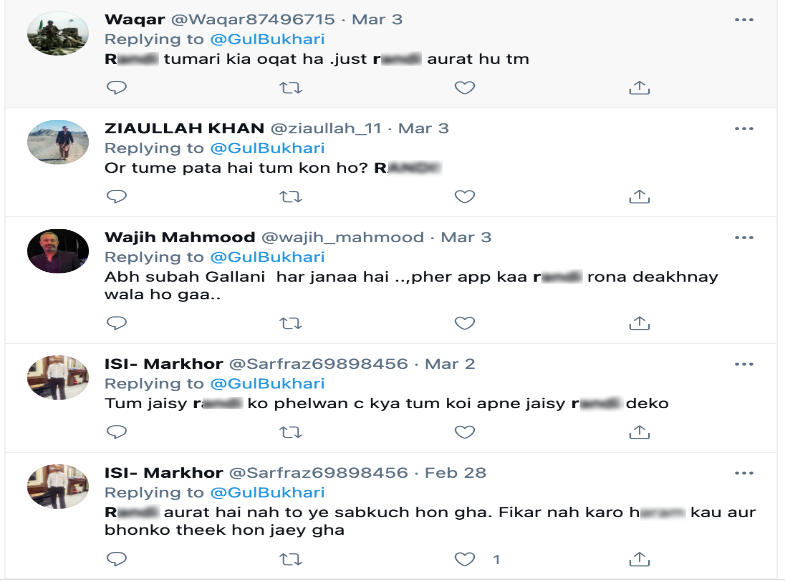 While in general Sri Lankan social media space is cleaner, the women journalist in Sri Lanka seems to be getting some abuses. Sri Lankan journalist Munja Mushtaq has been at the receiving end along with Dharisha Bastians. However, Mushtaq has been abused far more than Bastian. Nepalese Journalist Bidya Chapagain has also been abused, though rarely. Marianne David from Sri Lanka who is the Deputy Editor of Financial Times has been on the target of excessive body-shaming whenever her detractors find her reporting uncomfortable.
The female journalists have been majorly abused on the axis of political ideology they abide by and the masked transgressor have made it a point to put them into a water tight compartment of either belonging to Left or Right, Conservative or Liberal. Polarised, Partisans and Prejudiced are some of the adjectives which have always gone along with journalists.
The Abusive Discourse: Divided by Borders United by Abuse
While the South Asia per se is inhospitable, nonetheless, the Indian women take the crown – as most abused in South Asia. Extremists have time and again shown that a woman with a voice frightens them most. A detailed analysis about their abuse has been carried out in the Indian section. (Part II)
An interesting case has been that of Jacqueline Fernandez, Sri Lankan actor, who is most abused women from Sri Lanka. However, even for this the credit goes to Indian male users, who have been critical of her due to her political opinion. The case of Pakistani abusers is slightly different than the rest of South Asia, as they have been more intensely abusive 'qualitatively' in addition to quantitative.
While other nationals have used abuse words as 'rage', Pakistani users have devoted quite imagination to the process. The following collage will help us comprehend the level to which the abusers have stooped to. They did not even spare the 'Aurat March' despite being a symbolism of Women Empowerment.
A case study regarding 'Aurat March' has been attached below the report. The attached screenshot of replies to the tweets of Pakistani women depicts the degrading level of shallowness to which the abusers have stooped to.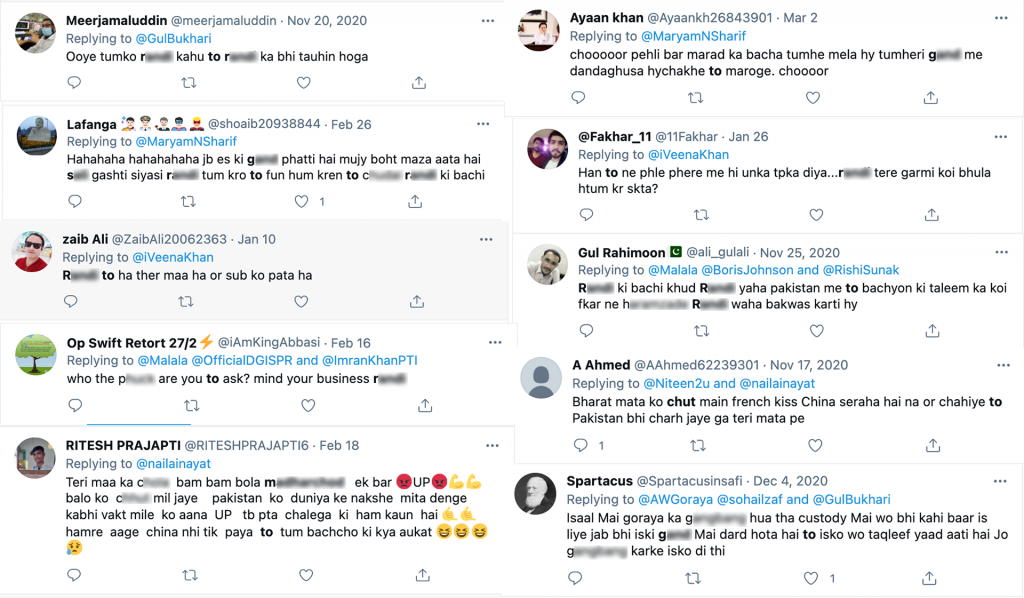 Abusers Network
Detailed network diagrams attached below depicts how abusive South Asian countries have grown out to be. The comparative study comprising of the South-Asian countries highlights that:
1. Each woman (hovering around the cloud) regardless of the domain has her own cluster of abusers. The purple clutters show the number of abuses heaved upon women.
2.The yellow bubbles depict the size of the accounts. Larger the bubble, greater the account of the abuser.
3. An interesting thing to note over here is the connection between the abusers. Besides the abusers who are dedicatedly abusing, there are some accounts who are found common in abusing i.e., the one who is abusing Priyanka Gandhi is also found to be abusing Priyanka S. Rajawat.
4. As the data indicates, India has the largest number of abusers and Nepal has the least.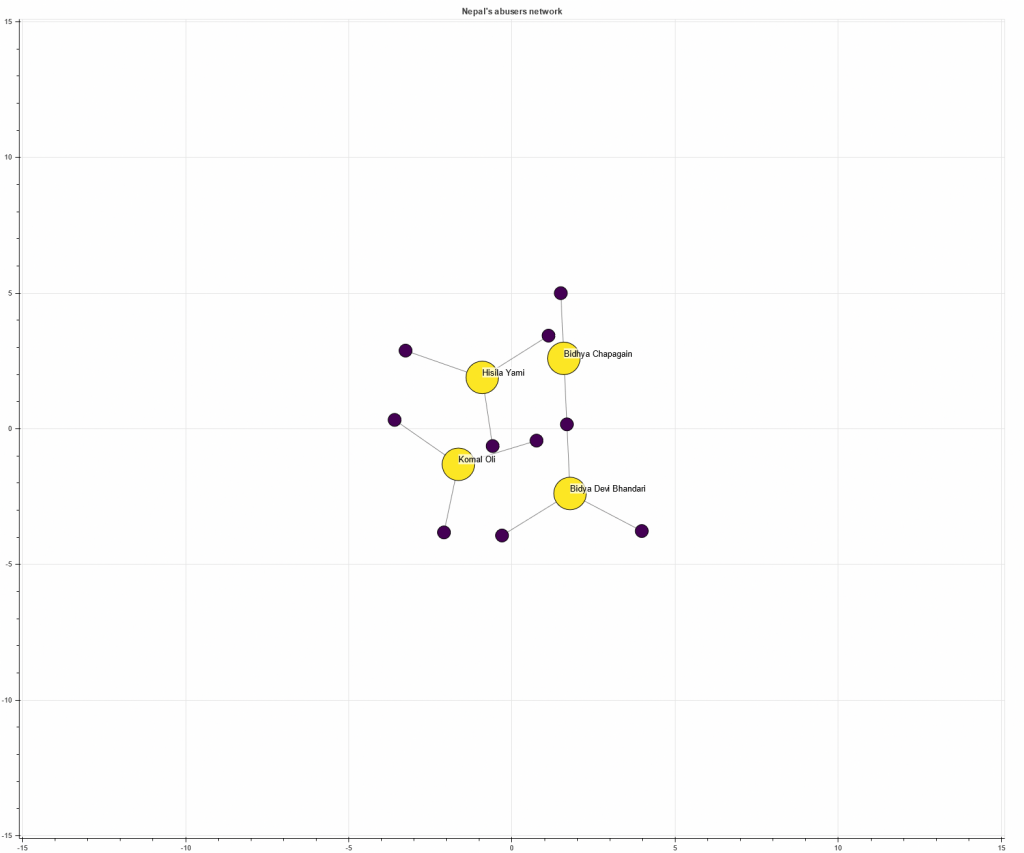 Link https://disinfolab.github.io/Nepali_women_network.html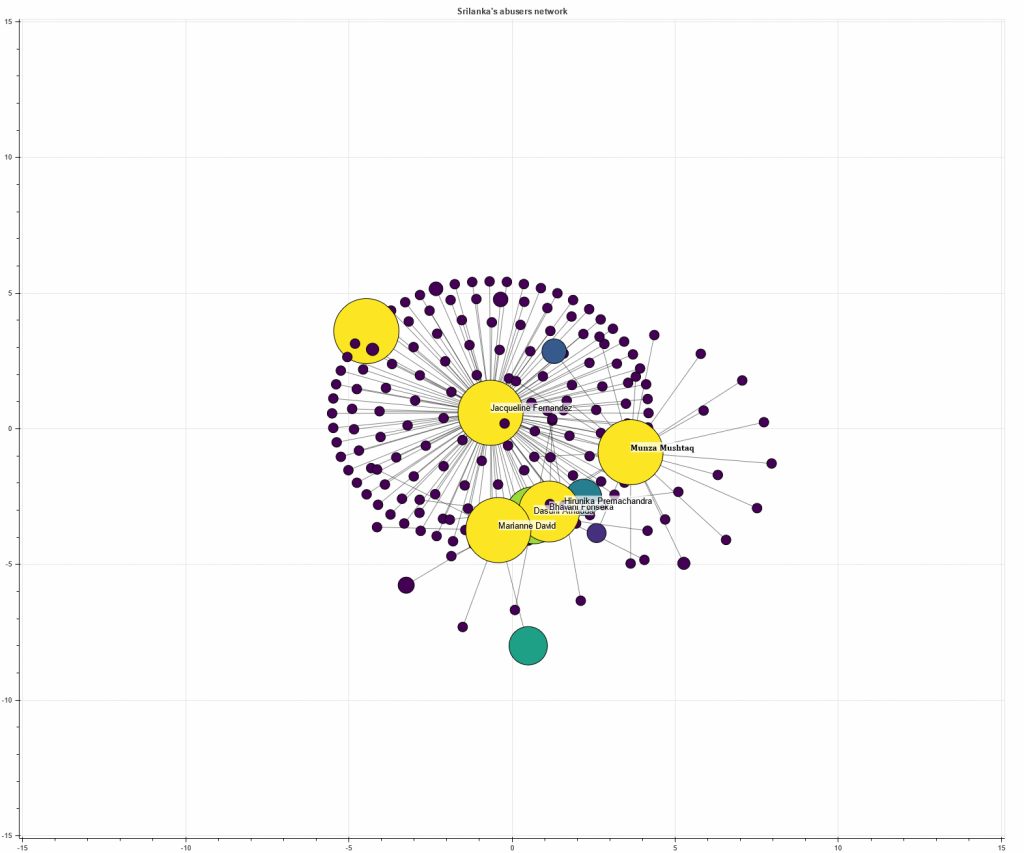 Link https://disinfolab.github.io/Srilanka_women_network.html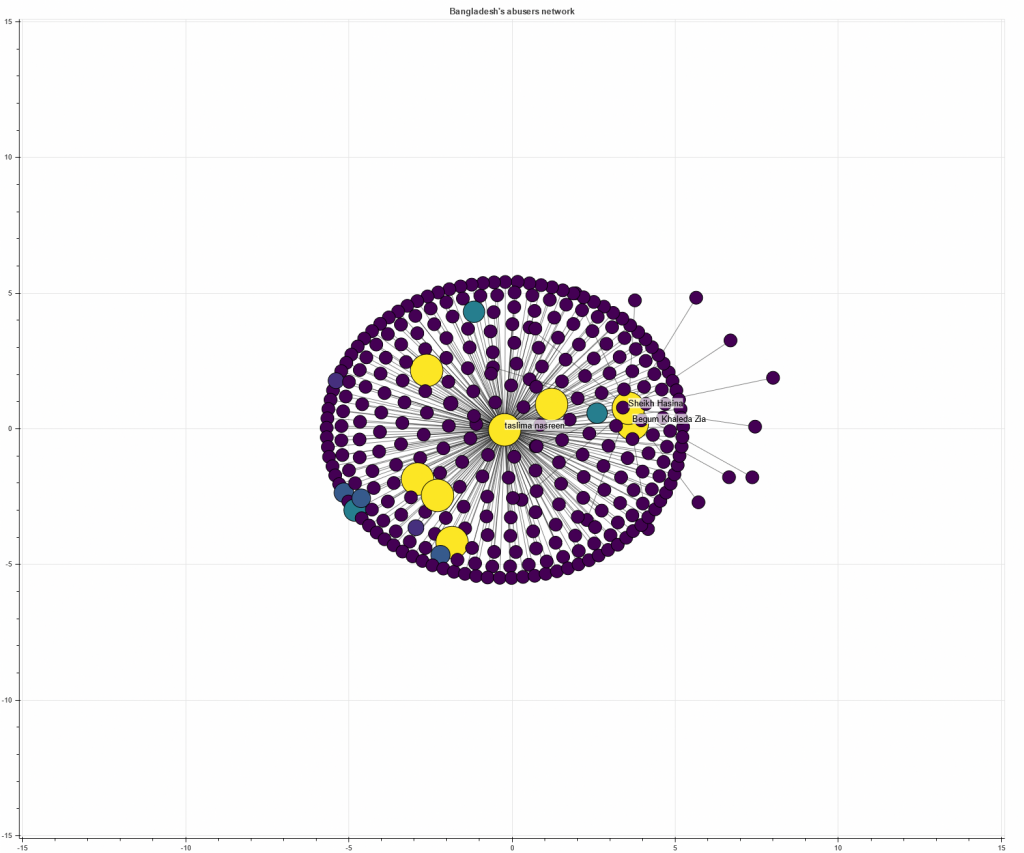 Link https://disinfolab.github.io/Bangladeshi_women_network.html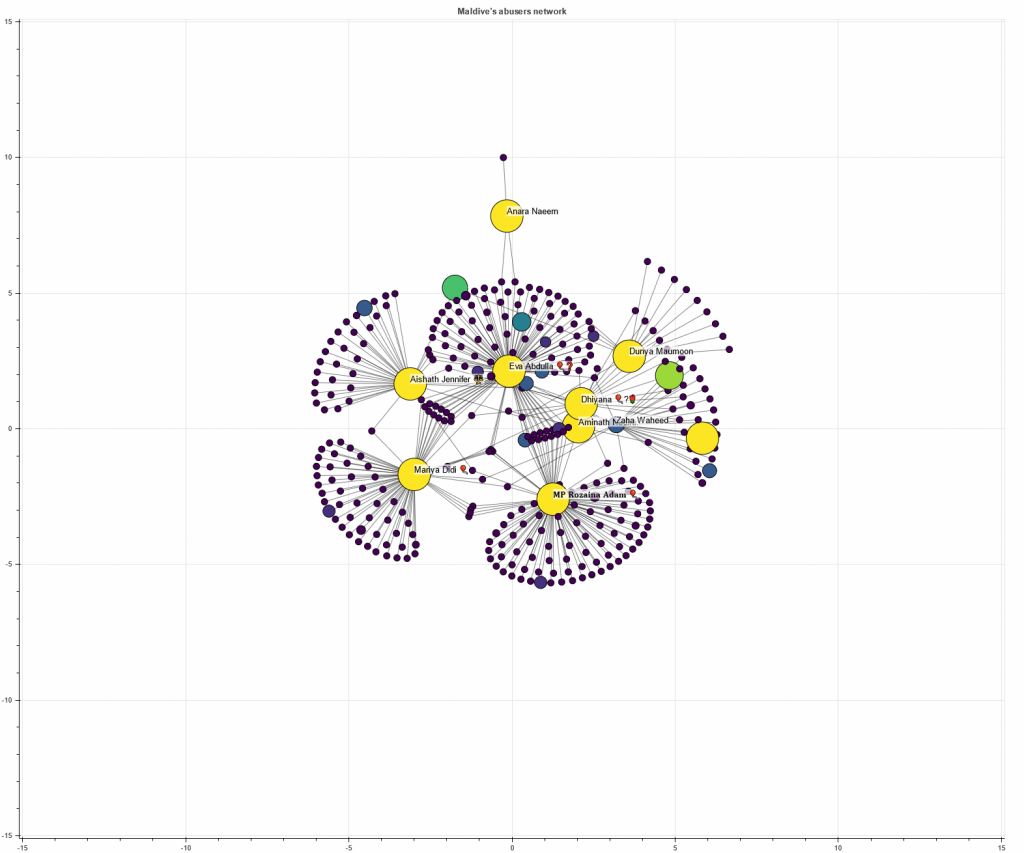 Link https://disinfolab.github.io/Maldives_women_network.html
Link https://disinfolab.github.io/Pakistani_women_network.html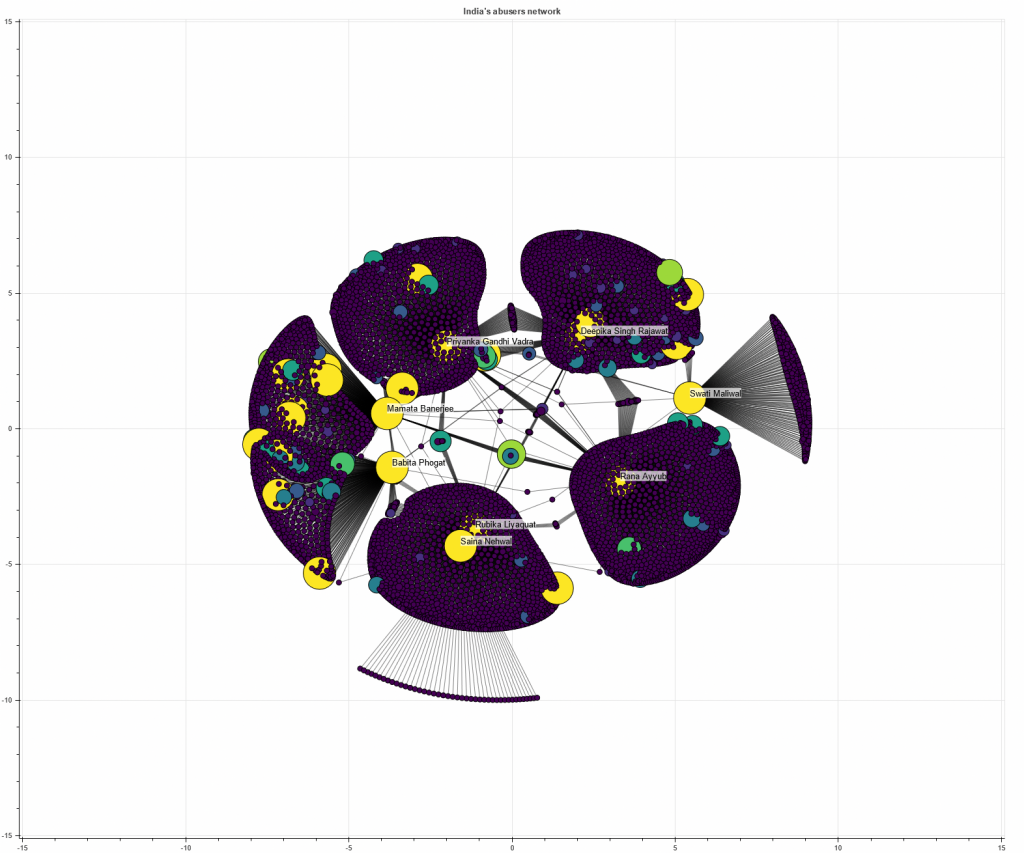 Link https://disinfolab.github.io/Indian_women_network.html
A comparative study of the South Asian countries could also be seen from the bubble plots attached in the Annexure. It highlights the stark difference between the abusers from the various countries where in Pakistan purple bubbles shows the number of minor accounts with negligible following and the pink bubbles depicts the profiles of major accounts which are only a handful in number. Interestingly, most of the accounts were anonymous. (Annexure -1.)
South Asia in a Gist
1. Women in politics at the position of power tends to get most abused following by the women who hold strong independent views. Comparatively, women in sports and entertainment sector are not abused as much – again as long as they don't express their views.
2. Women belonging to religious minority community have been high on the hit list of the hecklers.
3. Women who are closely associated with prominent male counter-parts have been subject to humiliation and have faced abuse even on behalf of their kith and kin.
The following Abuse-O-Meter highlights the top countries of South-Asia with women who have been severely abused.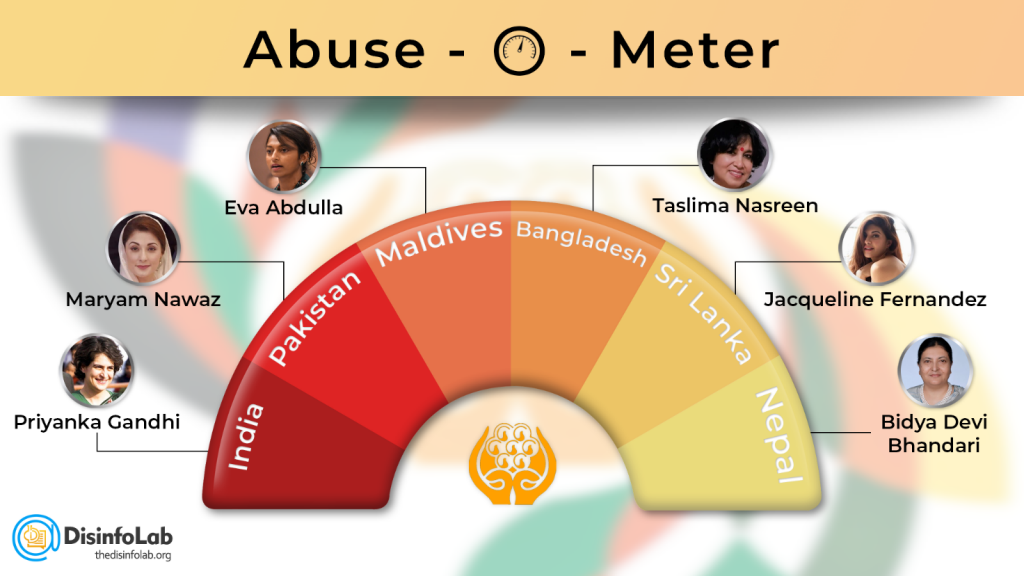 South Asia: How hostile?
South Asia in general is a hostile place for women- both online and in real life. Yet some countries have fared far worse than others. The cleanest example was Nepal, where the abuse has been the least. The number of abuses levied in Nepal is 80% less compared to other SAARC countries. Even amongst the individuals we have selected, the number of abusers as well as the intensity of abuse has been significantly lighter compared to say India and Pakistan. Sri Lanka and Bangladesh have also come fairly clean (with exception of Jacqueline – who seems to be getting abused by Indians as well) The worse culprits remain the Indian and Pakistani social media users. This stands true even for per capita abusers – in per capita abuse the Pakistani men have inglorious victory over Indian men. (India has 17.5 million Twitter users whereas Pakistan has 4.6 million). Though not really something to celebrate, but you can never tell with these abusers!
Part II: Toxic Masculinity of Indian Cyber-space-II
Coming over to the same categories and broadening our horizon we have delved deeper into the realms; choosing India as part of our case study. Despite being the largest country of South Asia, only 29% of users from India are women yet the abuses hurled are no less. The word cloud attached below depicts the most common abuses which have been continuously and constantly been in the terminology of abusers.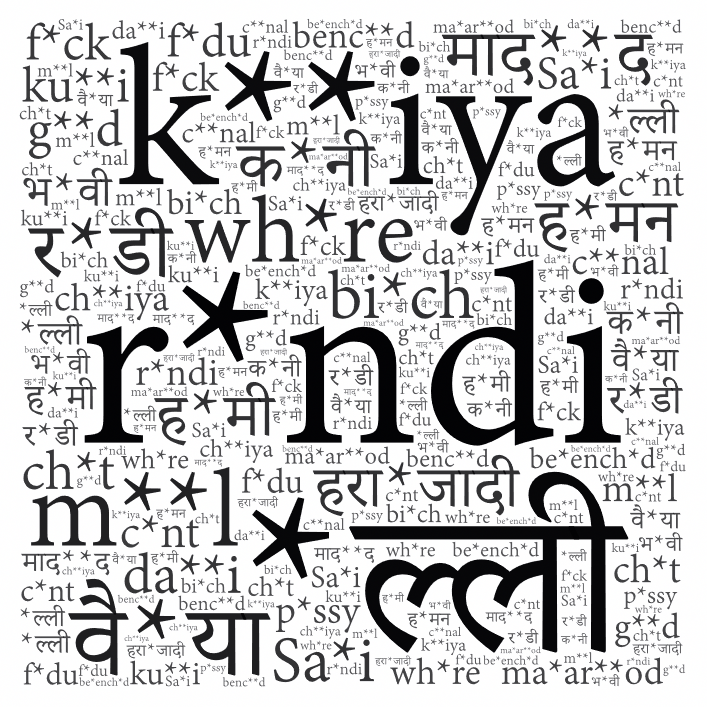 1. Political Leadership
With great power comes a bigger scope of social media abuse.The recently conducted General Elections of 2019 saw over 100 female politicians receive over a million violent tweets mentioning them in explicit terms. This has impacted on the reluctance of women in joining mainstream politics and this is a similar scenario across the world.
Social media abuse manifests itself in multiple, mutilated forms. The online harassment against women of power is mostly sexist, sexual, and misogynistic and is a manifestation of gender-based violence like rape and death threats. Priyanka Gandhi and Mamta Banerjee, two prominent female politicians from India have been majorly accused on the basis of their political party/ ideology. Ms. Gandhi has been abused for more than 2000 times in the last 2 months, and Mamta Banerjee has been abused for about stinging 1000 times. This would mean roughly 30 and 15 abuses per day on their posts. The story is similar on other social media platforms, though much less than on Twitter. Nirmala Sitharaman, the Finance Minister is the third most abused political leader, and despite both Mamta and Nirmala belonging to the political party in power, they are not able to escape the troll barrage.
The following Abuse-o-Meter shows the top most politicians of India who been abused the most.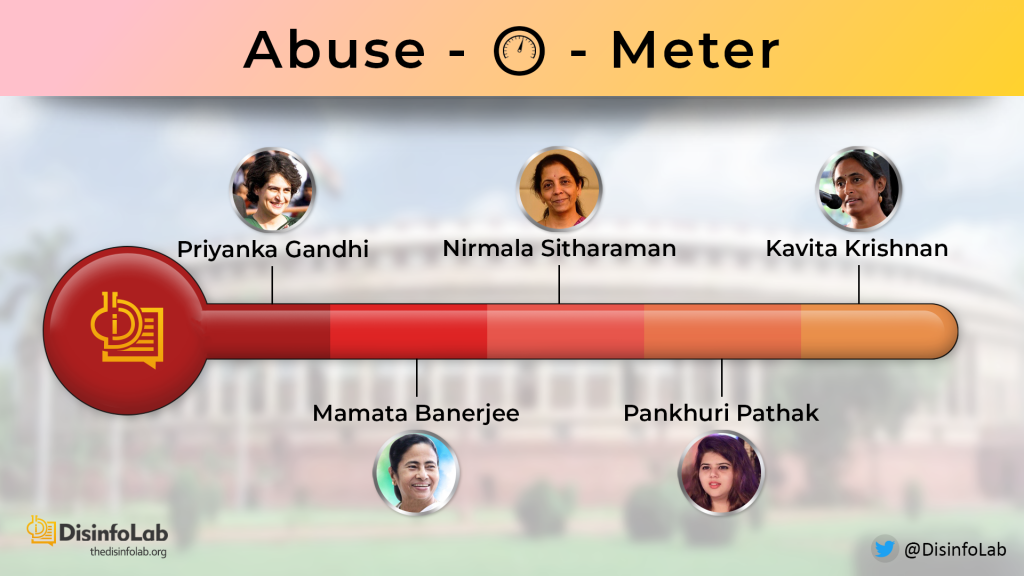 The other women politicians who have received abuses include Pankhuri Pathak (Congress) and Kavita (CPI-ML). What seems clear that the abuses are less along the party line (though they do exist) but more correlated with the assertiveness of the women politician. Those women politicians who are seen more active on social media and have been assertive in their expressions have been abused more often.
Not only the political ideology plays a part but religion and caste also come into foray as is the case with Mehbooba Mufti and Mayawati who have been severely abused because of their religion and caste respectively.
The collage of tweets attached below depicts the extremely derogatory language hurled towards the female politicians.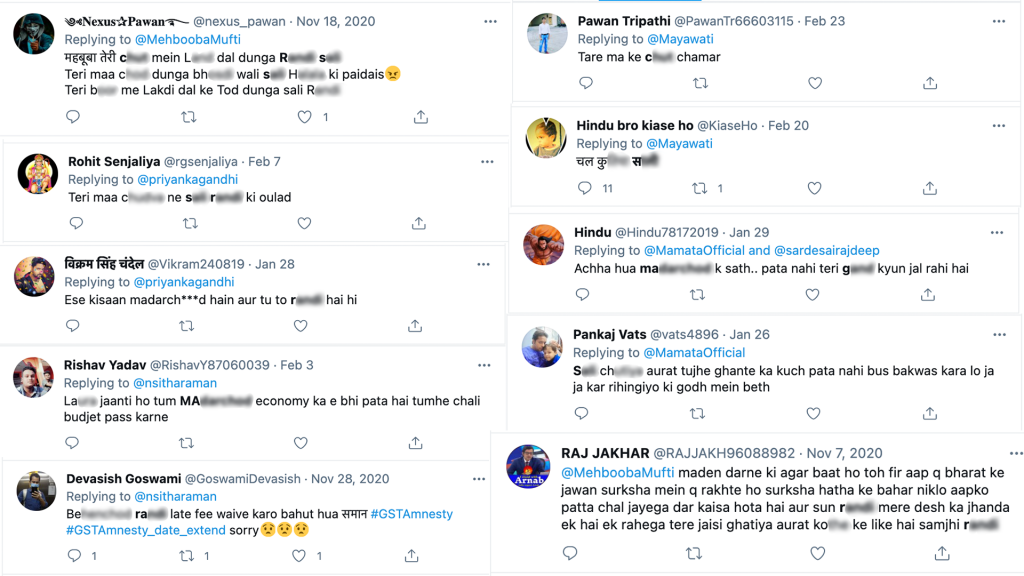 2. Women Activists – A double burden
Each time a woman takes the harder, more principled path, they add one more brick to the foundation of their character. Each time a woman stands up for herself, without knowing it possibly, without claiming it, she stands up for all women and the same occurred with the young environment activist, Disha Ravi who got abused in the toolkit case of Greta Thunberg. A detailed case study on abuses hurled upon Disha Ravi is attached along below the Report.
Likewise, Nodeep Kaur, a young Dalit activist was not only accused online but in the real world as well by male police officers for being vocal about the farmers' protest. Swati Maliwal, the chairperson of Delhi Commission for Women has been frequently accused for standing up for women; her very job role is being questioned as she was abused for whooping 334 times mostly what seem to be the right-wing trolls. Shehla Rashid, Kashmiri activist attracted massive abuse from the 'nationalist' guards for raising her voice for the Kashmiri girls.
Medha Patkar an activist for Narmada Bachao Movement has participated in and supported various mass struggles across India against inequality, non-sustainability, displacement and injustice and despite contributing enormously to the welfare of the society she has been targeted just for her single tweet questioning the ways and means of the ruling government.
The Abuse-o-Meter shows the top most female activists from India who have been abused the most.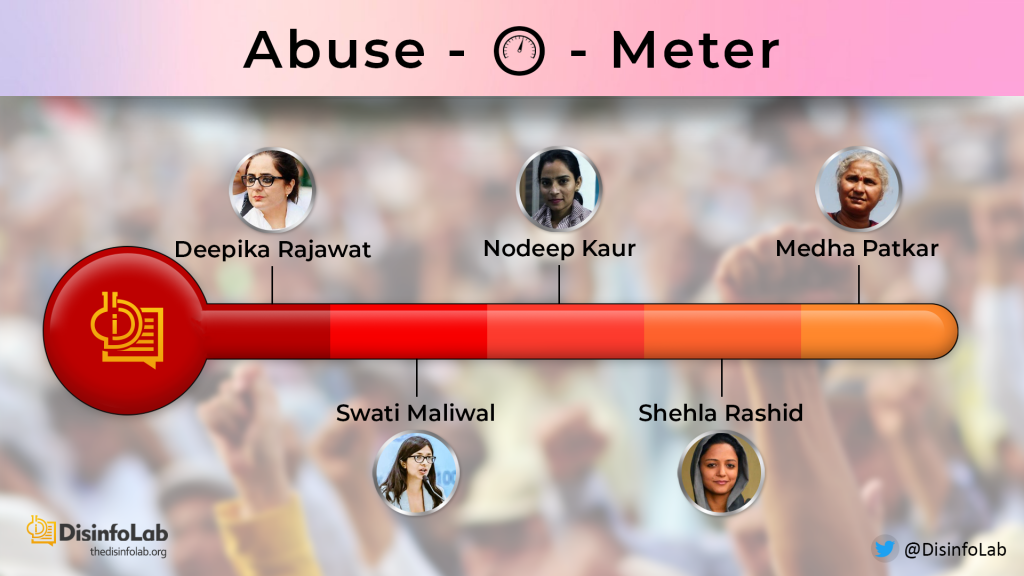 3. Journalists
Women in media is a symbol of two things that seem anathema to Indian male – an independent voice and having power to shape narratives. Therefore, not surprisingly, women in media are some of the most abused women on Indian social media space. The most abused woman journalist is Rubika Liyaqat and Rana Ayyub. Apart from being harassed along the political/ ideological line, they have also been abused along the religious lines – being from minority religion.
However, when dug deeper, we found the religious angle at rather an interesting tangent. Usually journalists belonging to religious minority community are abused not only along the axis of sex but also along their religious identity. Thus, Rana Ayyub and Afra Khanum are abused with various choice words hinting at their religious identity. But the case of RubikaLiyaqat (who was also one of the most abused women in our last report) is rather different and is a case study in contrast. Rana and Khanum are abused mostly by RW/Hindutva trolls whereas Rubika is mostly abused by her co-religionists – radical/ conservative Islamists trolls. Rohini Singh and Arfa Khanum, journalists of 'The Wire' have been massively termed as 'anti-nationals' as they have been loud and clear doing 'uncomfortable' to majority reports and voicing their opinion on social media.
The following Abuse-o-Meter shows the most abused journalists with the word cloud depicting the aggressively violent demeaning terminology which has put our heads to shame.
4. SPORTS- Neither Supporting Nor Sporting
As noted above, women in sports and entertainment sectors are 'tolerated' far more than in other fields – that is till they express their opinions, especially political opinions. Saina Nehwal and Jwala Gutta, the prominent badminton players have been abused because they have been vocal about the several socio-political issues, most recently being the farmer's protest against the anti-farm laws. The famous Phogat sisters, Geeta Phogat and Babita Phogat also have been on the hit list of the troll army for the same reasons. Likewise, Sania Mirza has been facing the backlash ever since her marriage. Her choice of life partner has been questioned upon by those whose entire identity has been put before a question mark. These women have brought laurels to the nation but despite the fact all that is visible about them is their political stance and vocal viewpoint.
The following Abuse-o-Meter depicts the 5 top-most abused women from the domain of Sports.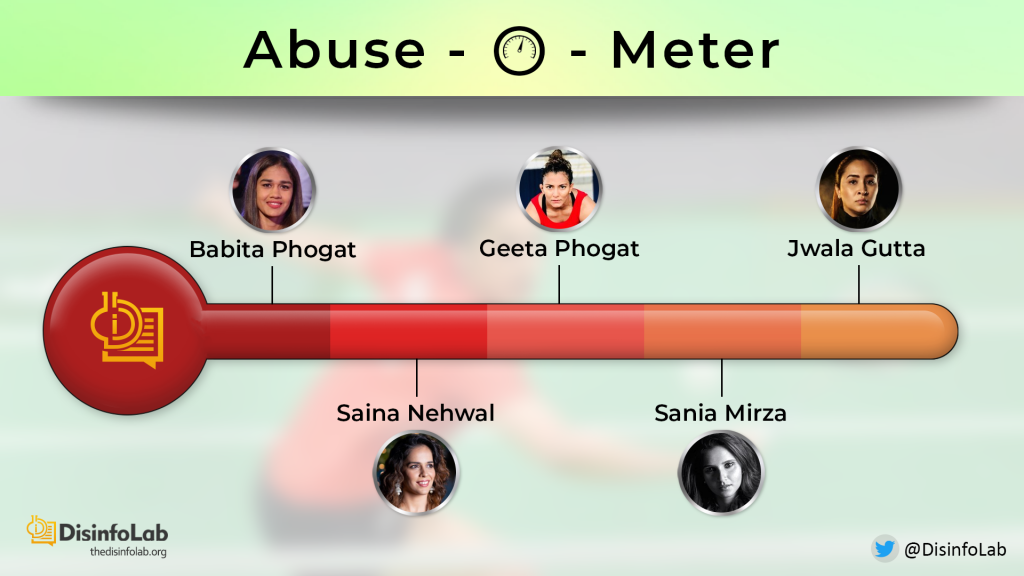 The list of tweets attached below shows the gravity of the abuses that are hurled upon Sports-women.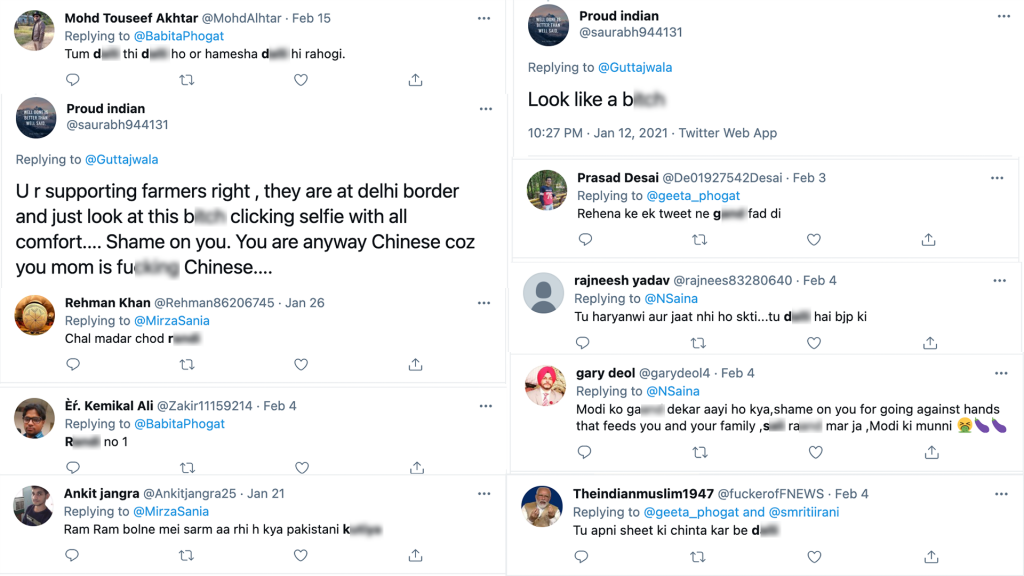 Indian Abusers' Profile
It is an established fact that sense of anonymity tends to elicit socially unacceptable behaviour, and online anonymity is the even bigger enabler. Therefore, as expected, a significant number of abuser accounts were found to be anonymous. Among these the majority of the handles were solely allocated for the task of abusing as nothing substantial could be found on their profiles. This also seems to indicate that these handles are being run by certain people only for the purpose of abusing. Most abusive accounts do not even have their profile pictures on their accounts. They deem devoted just for the task of online bullying, demeaning and defaming women who take their stance strongly.
The purple clusters in the abuser's network attached below depict the number of abusers of each woman wherein grey lines shows the connection between the abusers. Yellow dots tell us the enormity of the abuser account. In a nutshell, the darker denser the network graph is – the darker is the social media space – and the Indian social media is indeed dark for women.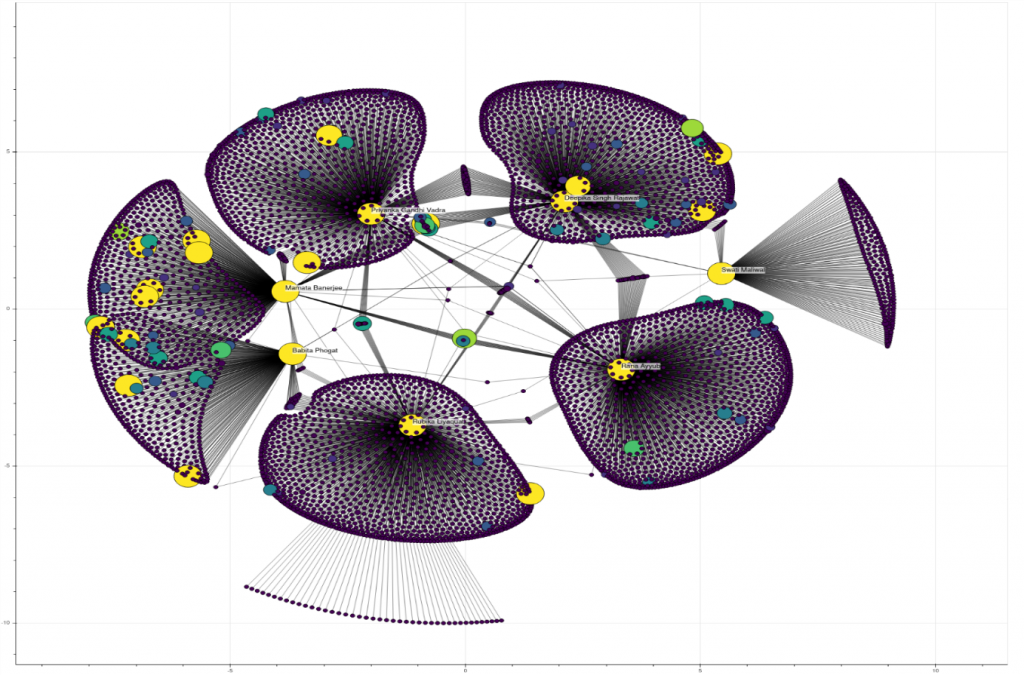 https://disinfolab.github.io/Indian_women_network.html
Summing up
Thus, on the basis of our research, the following 5 women have been the most abused ones from the entire South-Asian continent from each category. We must applaud Nepalese people, followed by Sri Lankan and Bangladeshi people for upholding the dignity of their women and being the torch bearers for their counterparts in other countries. That said, it still is a situation far from ideal.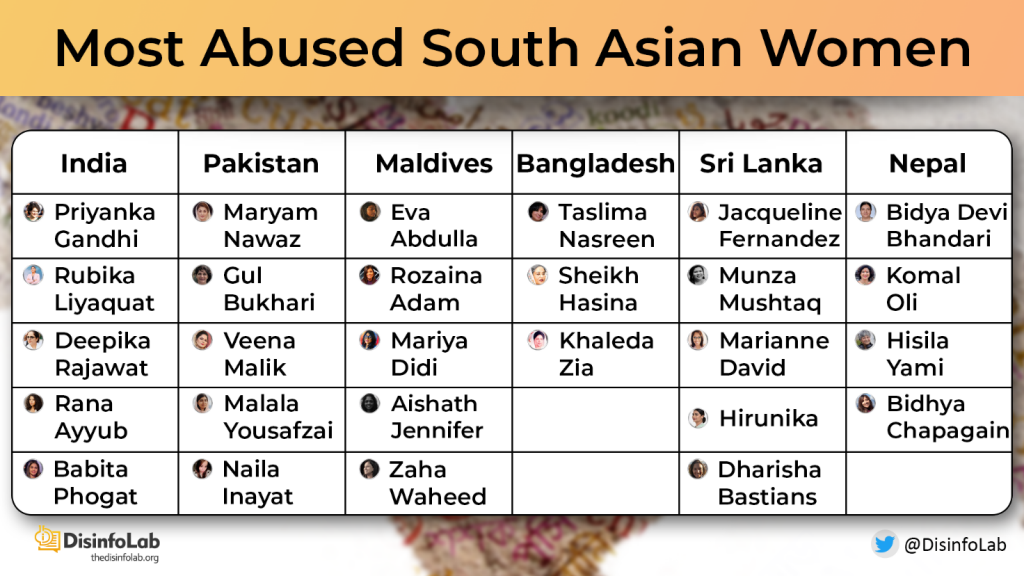 Lest we should forget
Thus, it is evident by scrutinizing each of the sectors thoroughly that women in general are unsafe and insecure in the hyper-real realms as well. The most dangerous woman of all is the one who refuses to rely on the sword of others to save her because she carries her own. Thus, online platforms must reaffirm its commitment in providing a "safe space' to women of all arenas. Until then, the silencing effect of abuse will continue to stand in the way of women's right to expression and equality. We have also provided the list of abusive handles which could be, and should be, reported to Twitter for appropriate action.
Case Studies
We have done separate case studies on "Aurat March" & "Disha Ravi.
PDF's for the same are attached below.
Annexure