Preface
The Covid Aid Scam 2021 & the Charity Industry has managed to create a sense of awareness amongst a significant section of social media users. While the activities of these organizations smelled of fraud to begin with, the sheer scale of operation and the audacity and impunity with which they manage to operate was an eye opener. It was a lesson, a lesson that one must ask questions and one must look deeper.
However, what these reports have failed to produce is an outcry in mainstream media. It appears that the mainstream media's capability to absorb any report that is not partisan or linear and reducible to a decibel war has gone down significantly. A story of significant human concern and a colossal loot of innocent people's money has not been able to stir the mega media houses with plenty of resources at their disposal to devote some of it to this aspect as well. We were hoping against it, but probably dreading it as well.
However, the biggest shocker came from these so called 'charity organizations'. One would have imagined that organizations, which claim presence in multiple countries and have big-ticket names associated would be concerned about their reputation, and would carry out corrective measures. Our hunch was that there were bad apples in these organizations who were probably exploiting the crisis to gobble up the funds.
Apparently, we were wrong.
Having seen several such groups, it is becoming increasingly clear that these organizations exist only for the sake of projection, are likely run/ coordinated from one place and by the same set of people.
The similarities amongst these charities are glaring – almost all were opened by or run by individuals of Pakistani origin. However, none of them have any ground presence in India nor any local partners associated with them. All of them follow identical patterns in terms of raising funds; their social media admins are also from Pakistan. The commonalities are so much that it is obvious that these different charities ostensibly collect funds from several countries but are run/coordinated from one place.
But most importantly, these 'charity' organizations were not particularly cruel to India. They do not carry out any charity anywhere. Moreover, all the money that they collect in the name of various activities from all around the world is divided among the 'families' that run these 'charities'. The masterminds operate from somewhere in Pakistan.
Introduction
Evolution has taught us that selfishness is inherent to existence and that survival reigns supreme in all our actions and intentions. And therefore, altruism is one of the highest manifestations of human existence that, in a way, liberates an individual in a true sense. An act of charity, an act of giving, transcends the natura's limitation imposed upon the mortal animal.
What would you then call the individuals and organizations who exist only to exploit the most pious of human emotions? And what would you call the individuals and organizations who exploit the religious sentiments of people, stealing the money that an innocent believer has saved to serve humanity as his moral and religious duty?!
This story is not just of one fraud organization, but of an eco-system that has been designed to exploit all that is good in human existence – the sense of belonging, the sense of religious duty, the sense of altruism. The eco-system, which pounces upon every crisis, every calamity to rob innocent do-gooders.
Following in the 'glorious' footsteps of Islamic Medical Council of North America (IMANA) and Muslim Aid, another charity 'Penny Appeal' also collected funds in the name of Covid Crisis in India! And just like the brethren, it also didn't consider it necessary to deliver something, anything, for the people in whose name they collected the funds.
However, where it was different from Muslim Aid and IMANA was that it had more elaborate efforts on deception. Penny Appeal went on to show actual 'ground workers' in their different 'help-shows' from Kashmir to Delhi to Lucknow, without having any ground presence whatsoever in India. Their theatre of 'charity' appeared more convincing than others, at least in the beginning.
Part I
PennyAppeal
Chapter 1
The Organization
Penny Appeal (PA), yet another 'international NGO' was founded in 2009 by Adeem Younis, a British national of Pakistani origin. The organization was initially set up in the United Kingdom with registered charity 1128341 and UK registered company 06578382. Over time, Penny Appeal started expanding in countries such as South Africa, USA, Canada, Australia, Middle East (Dubai) and Malaysia.
The list of various Penny Appeal branches with their registration details is as follows:
Penny Appeal – Israel office's claim is rather peculiar. Penny Appeal claims to have an office in Israel as per the below-mentioned official document (machine translation from Hebrew).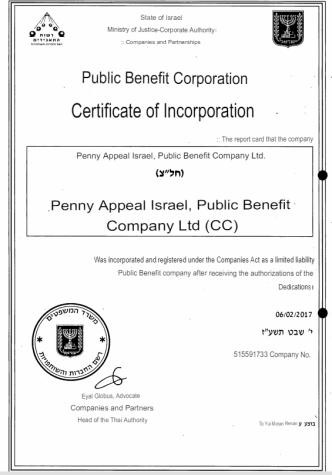 Penny Appeal Israel desk is located at 12 Ben Hill, Jerusalem, 9423114. The address belongs to Adv. Michael Decker, who, along with Joshua Fax are mentioned in the registration doc of Penny Appeal-Israel. Both Joshua and Decker work in Jerusalem based law firm – Cohen, Decker, Pex & Brosh

It gets a bit fishy:
We could not find Penny Appeal Israel in the list of Israel's NGOs. A search with 'Penny Appeal Israel' also didn't produce any details of their work. Penny Appeal-Israel seeks donation in the name of Palestine, and claims to work in Gaza and Palestine from its Israeli office. However, all the 'help' it has claimed to have provided to Gaza (if indeed) is through other chapters of Penny Appeal.
Besides, Penny Appeal also claims to have offices in Bangladesh and Pakistan [8] Address of the Pakistan office is House No. 334, Street No. 1, Block A, Sector O-9 Block A Police Foundation, Islamabad, Rawalpindi, Punjab 44000, Pakistan.
Although Bangladesh's desk address could not be confirmed, a job circular [9] was posted on May 10th, 2020, by Penny Appeal in chakrirkhobor.net (employment news). The application was prepared to be sent to [email protected] One of the job descriptions was to prepare reports for UK Headquarters.
Penny Appeal also claims to work with Sajida foundation in Bangladesh that seem to be their local partner [10]. Sajida Foundation was formed in 2013 in Bangladesh and its Facebook page is handled from Bangladesh and Canada.
The People
While all the branches are organically connected, they do not follow the same standards of transparency, and not all Penny Appeal chapters have provided details about their key persons. To get the picture, apart from gleaning from their branch details, we also corroborated through the open corporate's website from different countries where they operate.
As noted above, Penny Appeal was founded by a British Pakistani businessman Adeem Younis in 2009. Younis is the Director on the Board Members' list of all the major chapters of the NGO.

The corporate documents of other branches – Penny Appeal-South Africa and Penny Appeal – Middle East are not available, nor are any details of their Board Members' list is available. However, as with case of PA-Israel, the Penny Appeal – Australia [11] claims to provide poverty relief across Asia, the Middle East and Africa, despite having dedicated branches in South Africa and Middle East!
Penny Appeal Australia
Muhammad Khan (Director)
Saifuddin Ahmad (Director)
Soaad Mehana (Director)
Interesting to note that the Facebook page of Penny Appeal Australia was earlier operating as "Muslims without Borders" until 2016 and that "Muslims Without Borders" was also the former name of United Muslim Relief (UMR). [12] It is also related to IMANA as instanced in the previous report.
Fun Fact:
Penny Appeal ostensible runs different branches which are independent of each other, but only few of them have any evident existence. The remaining are only on paper, and in some cases fake document seems to have been used to show the organization. Moreover, despite flaunting several branches, they only claim to provide help through three of them – Australia, US, and UK – and Adeem Yunis is Director in all three Branches.
Chapter 2
Penny Appeal's Fund Collection for COVID-19 Help in India
While a charity/ NGO would have local branches in different countries for delivering help on the ground, these Pak-linked Islamist 'charity' organizations have various 'online' Chapters for fund collection. Despite working under the umbrella of Penny Appeal – various Penny Appeal Chapters set up COVID-19 help fundraisers from different fronts (UK, Australia, Canada & South Africa) for India.
Penny Appeal Canada
Penny Appeal Canada launched two COVID-19 fundraising campaigns for India on Launch Good and managed to raise 65,697 CAD [14] & 227CAD,[15]  respectively. 
Penny Appeal UK
For COVID-19 aid, Penny Appeal UK also ran a paid advertising campaign on its Facebook page. [16] The campaign began on April 27, 2021, and managed to raise Rs. 76,834 INR. (approx. $1000USD)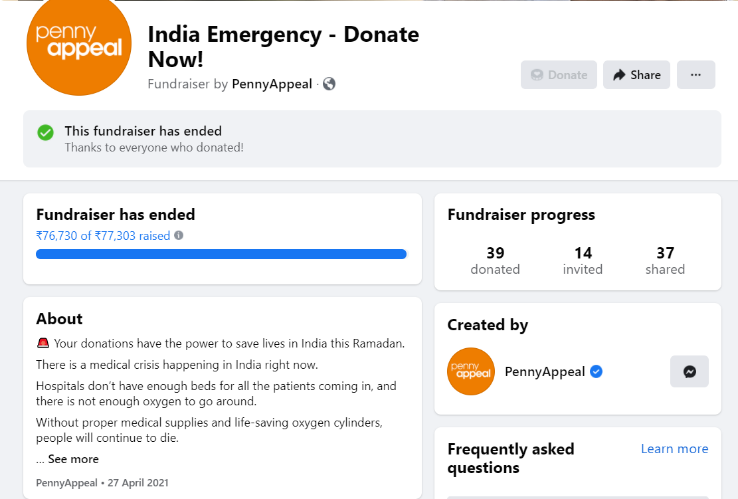 Penny Appeal Australia
Penny Appeal Australia also started a fundraising campaign for helping India and took the donation only on their website [17] (implying zero transparency). They also used Facebook fundraiser for collecting funds and managed $300 USD. [18] the starting details of which are not available.
Penny Appeal South Africa
Penny Appeal South Africa, which was formed in 2017, was also collecting funds in the name of the COVID-19 crisis in India. The South Africa chapter, which had barely done any work in India in the past, also jumped into the fundraising drive like its other chapters. Likewise, they did not provide details of the total amount collected.
Penny Appeal Middle East
Penny Appeal Middle East also ran social media posts with an appeal for fund collection to help India in Covid [19], with their global emergency fund link for donation. And their appeal used all possible emotive issues – from labour migration of last year to Covid crisis of this year to Ramadan – whatever one may feel obliged. Moreover, who would actually get any aid, is another story.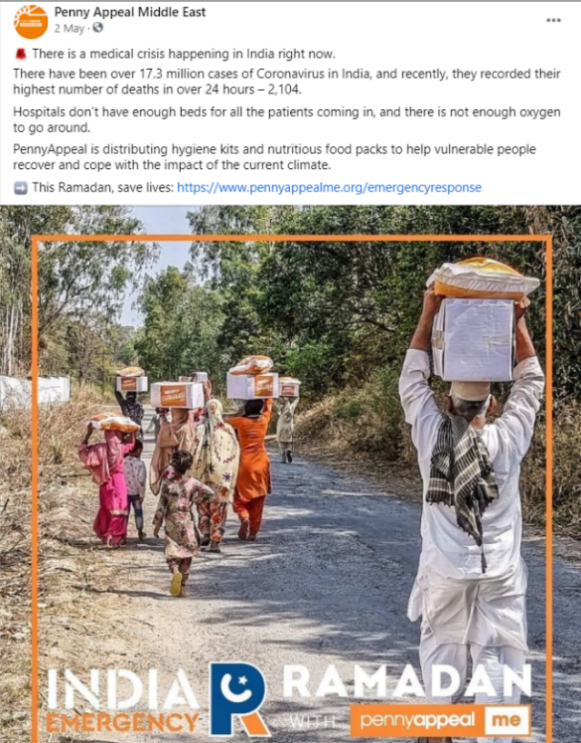 How Concerned Penny Appeal have been about India?
It appears that the Charity business in India started about 4-5 years ago. The first 'concerns' these organizations, including Penny Appeal, found about India was with Kerala Flood in 2019. And once again, all chapters got active to collect funds in the name of the crisis.
A tweet activity timeline plot of all the Penny Appeal chapters between 2018 to 2021 is provided below. There was a total of 84 tweets from these accounts, which included the tweets from Penny Appeal UK, Penny Appeal USA, Penny Appeal South Africa, and Penny Appeal Canada.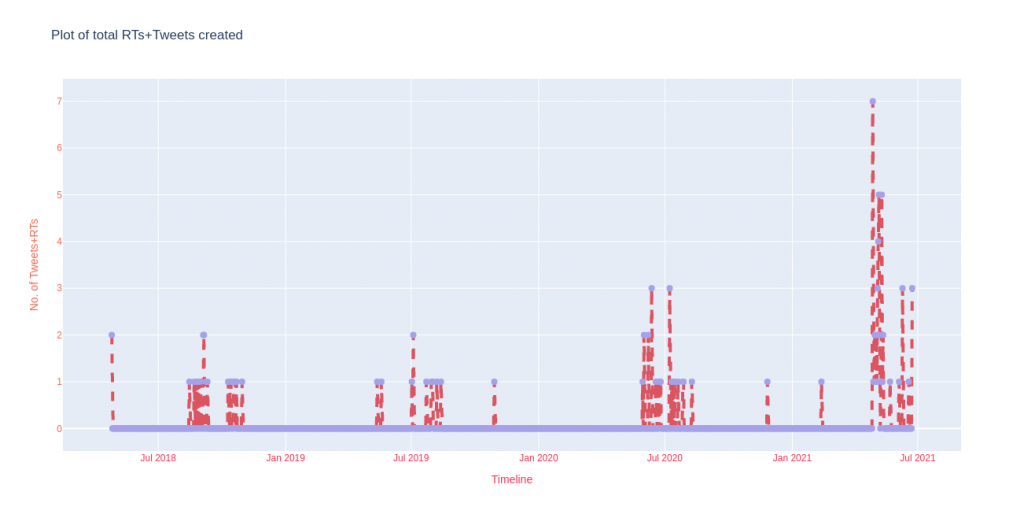 There is a bulk of tweets posted from these accounts in 2018 asking for donations for the Kerala floods that happened between August 2018 to October 2018. The rest of the tweets from 2019 up to 2021 were seeking donations on the lines of Qurbani and Eid.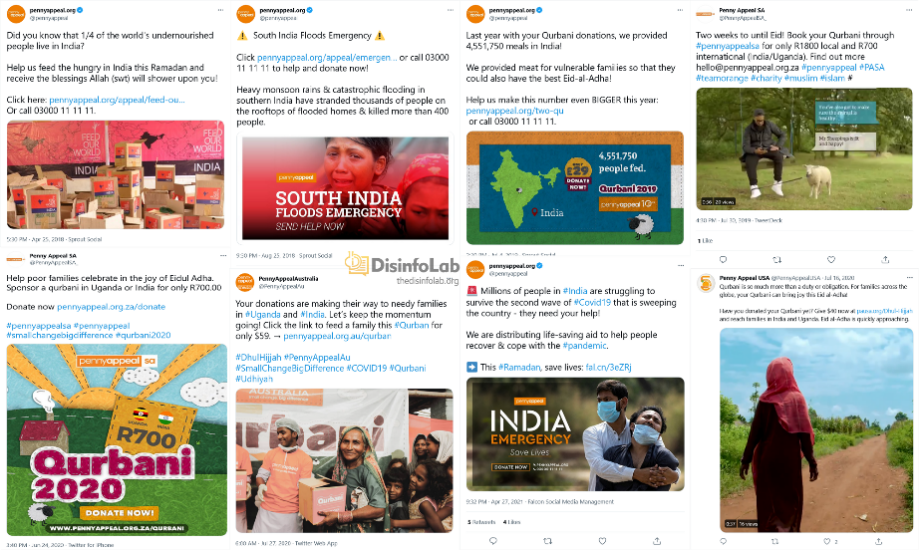 The first tweet asking for donations for India for Covid Emergency was on made on April 27th by Penny Appeal UK. The plot shows that these tweets didn't receive much traction on Twitter as the highest number of retweets is five for the post.
An interesting pattern was that while all the Penny Appeal chapters were asking for donations separately, they did not provide the updates of their donations collected and aid administered in India separately. The same aid was shown by these accounts, with one clever trick: if one chapter is showing images, then the other used a video of the same 'aid' given by them. To whom and if at all these claimed helps were delivered? We will see subsequently.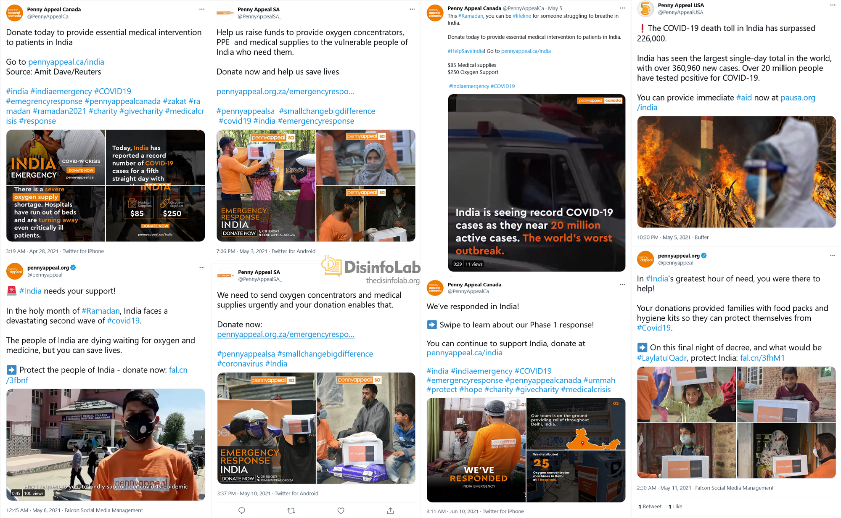 There are 31 tweets on Covid asking for donations to help India by these accounts between April 27th and June 9th, eight tweets from Penny Appeal Canada, nine tweets from Penny Appeal UK, nine tweets from Penny Appeal USA and five tweets from Penny Appeal SA. Out of these 31 tweets, only three tweets gave any updates about the help they provided to India.
However, two of those tweets are from Penny Appeal USA, which is the same update. First, on May 5th showing 420 food packages which 'benefitted' 1,680 people, and then they provided the same update on May 13th, 420 food packages benefitting 1,680 people. The third update is from Penny Appeal Canada on June 10th, claiming to provided oxygen concentrators in Delhi. (We dissect the fakery of this help later in the report). There were no updates whatsoever from Penny Appeal UK or Penny Appeal South Africa on Twitter.
The word cloud represents tweets on the "India" keyword by all the Penny Appeal accounts.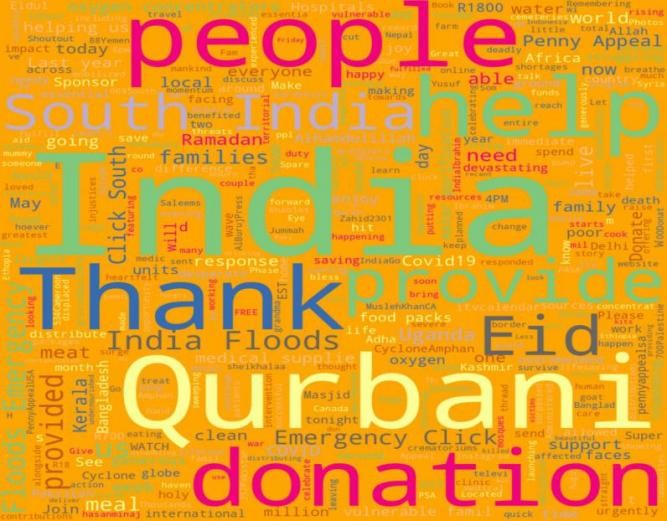 Chapter 3
Total Fund Collection
As noted above, while the different Penny Appeal branches portrayed themselves as separate and independent entities – they are either run in coordination or more likely run through a common centre.
Therefore, for the sake of simplicity, we have taken the overall collection. It is also important to contextualise the actual help, as different chapters might have used the resources and ground presence of other chapters to deliver the help to do it as efficiently and effectively as possible.
(You wish, again!)
Celebrity Endorsement
The Charity Industry has learned the value of branding, and like IMANA, Saiyed Foundation, and Muslim Aid, both Penny Appeal Canada and USA made full use of this. They projected American comedian, writer-producer & TV presenter Hasan Minhaj as their brand ambassador for promoting the charity appeal. Minhaj, through his influence, encouraged people to donate for helping India while the different chapters of Penny Appeal ran their respective campaigns on India.
Minhaj appeared in a live session with both Penny Appeal USA and Canada on May 6. And if one would surf through their websites and social media profiles, they would understand how good contacts Penny Appeal has with PR firms.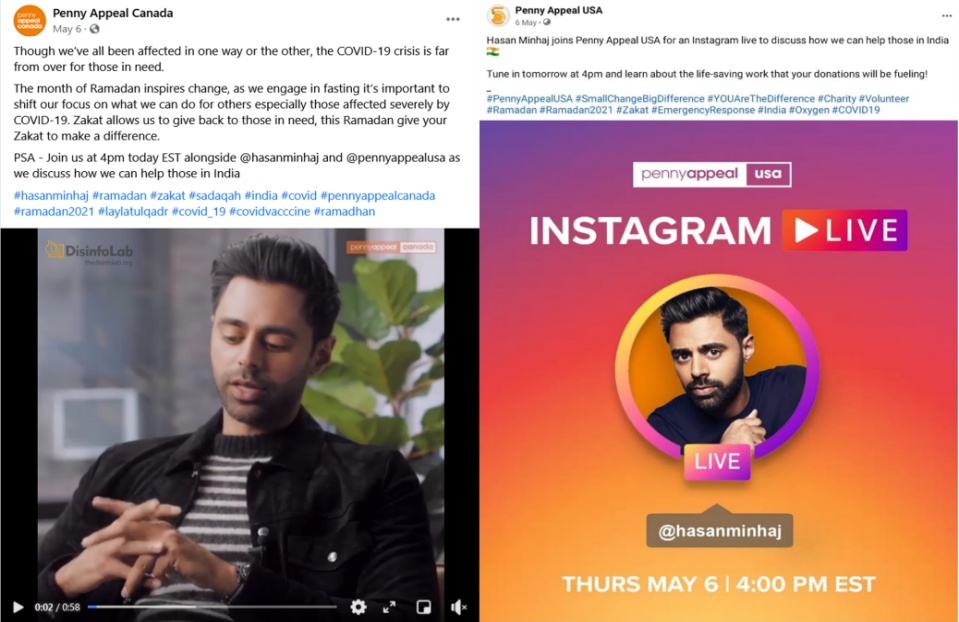 Details of collection in 2021 for covid in India
Penny Appeal Canada ran two campaigns on the COVID-19 crisis in India on the dubious fundraiser Launch Good platform. The business of this Launch Good campaign was so effective that it helped the first campaign (beginning April 28) achieve the target of CAD 65,000 within a couple of days. After witnessing a successful campaign, they launched another fundraiser on May 2 on the same platform. And collected another 227CAD out of 1000 CAD [20] target.

Tip of the Iceberg
Like other similar fund-raising stunts by IMANA [21] and Muslim Aid [22], Penny Appeal was also collecting funds through various channels simultaneously. These platforms varied a lot over the level of transparency they provided, though none of them presented any significant details.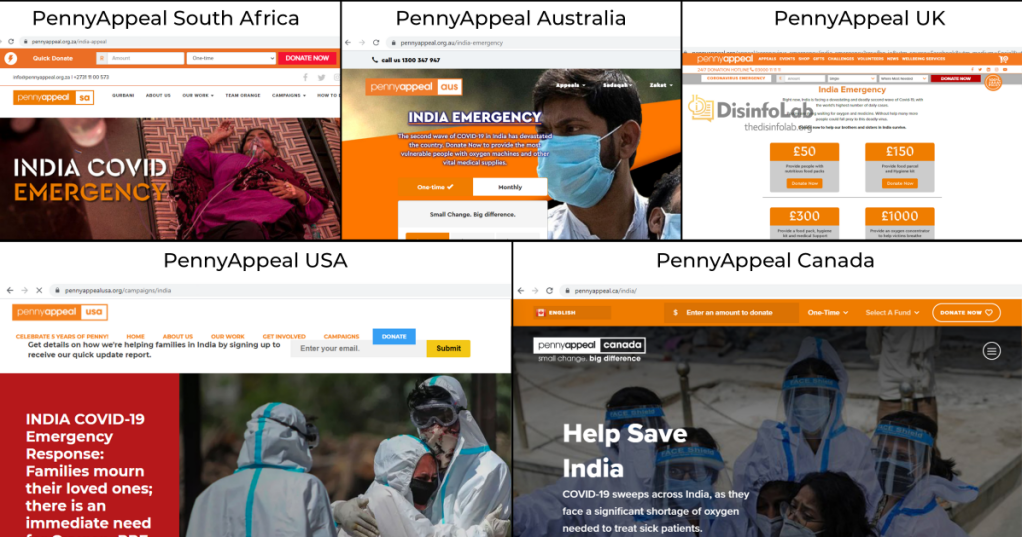 One of their preferred modes is to receive donations directly through their website – which is most opaque in terms of details of the amount received. It could also be why some of the fronts of Penny Appeal preferred to receive funds ONLY through the website, as is the case with the chapters of the Middle East, South Africa, USA, Canada, Australia & UK. All collected funds through the website, and for which they hired celebrities to campaign for their fund-raiser.
Chapter 4
Penny Help? Did even the small help arrive, which they claimed?
It seems that the plane that was carrying all the help for India, courtesy of these 'charity' organizations, went over Bermuda Triangle – just like the Muslim Aid plane!
Like their fund collections, these organizations were also opaque about the actual deliveries they made on the ground – and this opaqueness was deliberate, as there was nothing to deliver. The funniest part was the kind of excuses they employed to justify their lack of delivery – from security to Covid itself!
That said, like their American siblings IMANA and Muslim Aid, some of them did try to create a façade of 'delivery' laced with varying degrees of deception.
The Penny Appeal (UK) posted pictures of the help they provided in India – but did not bother to mention the quantum of the help, its recipients, the local partners and the ground support. With a single picture, they left it to your imagination – how much help, and to who was it provided, and where indeed?
From cleverly taken frames of pictures to well-hidden vehicle/beneficiary's address details, it would be a daunting task to find out the details, if at it.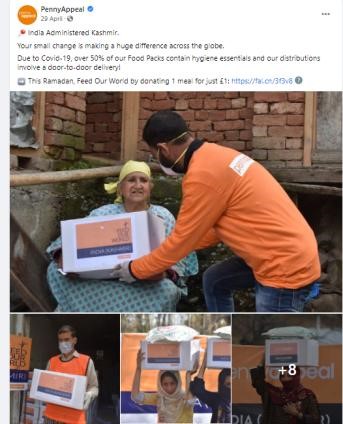 Likewise, Penny Appeal Canada, in their campaign objective, had mentioned providing Oxygen Concentrators and medical equipment sets to Delhi Hospitals. However, they did not name the local partners and the beneficiary hospitals. And while no actual delivery was being made, not one but multiple fronts of Penny Appeal kept claiming the same delivery.
Here is an interesting case- On May 22nd, Penny Appeal – Canada showed delivery of 35 concentrators to 'India' (wherever that may be), and the very same update was posted on Penny Appeal-Australia's social media on May 23rd. Yet, none of them provided any other detail of the beneficiary hospital & clinic. Also, the consignment post on the social media platforms of both Australia [23] and Canada [24] features the same person representing both of them.
Both the videos are well-edited to hide details like hospital name and location.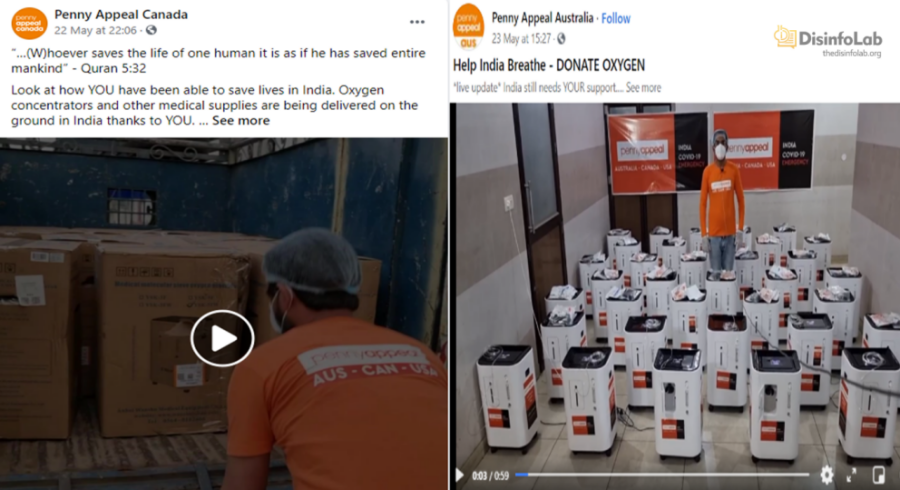 Again, on 10th June, Penny Appeal-Canada [25] claimed aid to India included 25 Oxygen Concentrators – sent jointly by Penny Appeal Canada, Australia, USA, to Delhi, India. But once again, the video was well edited to hide details of partners, location and beneficiaries. 
A video with a similar type of concentrators (blue ones) and in a similar pattern (no partners, location, and beneficiaries' details), was earlier shared by Penny Appeal Australia [26] chapter on 7th June.
It is important to remember that these fronts were collecting funds separately in the name of the Covid crisis, and have managed to collect thousands of dollars, and the actual amount could be in the multiple of this, collected through the website and through direct donations.
Spoiler Alert:
Even this claimed delivery to Delhi was not made, as claimed by Penny Appeal-Canada. (Details in Chapter-5 "Spotting the partners")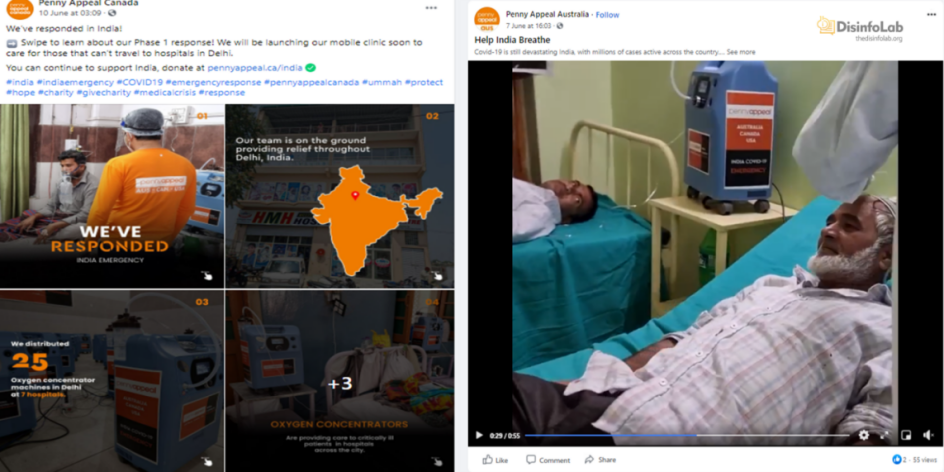 Helps Claimed other than oxygen concentrators during Covid in 2021
Another video of 20th April by Penny Appeal – Australia was posted, showing 'relief measures' in Haryana state. [27] But again, they didn't provide any details of partner organization, location, and the recipient. It also didn't provide details about the total fund allocated to the drive.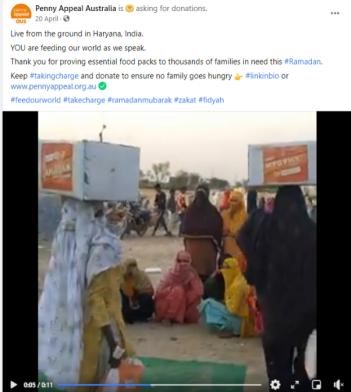 The Penny Appeal South Africa claimed to have provided help to Kathor General Hospital (Gujarat) as per the Facebook post on June 14th. [28] No further details such as funds spent, local partners etc., other than the quality pictures. 
Also, worth noting that the funds were being collected in early May when the Covid cases were at their peak and oxygen was scarce. There were several other organizations and individuals, who were collecting funds at the time, made it a point to deliver the oxygen at the earliest possible when it was needed the most. However, by June 10th, the situation had stabilised to a great extent.

In other words, Penny Appeal managed to block a critical amount at the peak of crisis, which if had gone to legitimate charity organizations, could have helped many more people. Having blocked the fund at the peak of crisis, and then sending token helps when need has virtually subsided, Penny Appeal fronts were doing more harm than good.
Worst of all, most of these claims of help were also fake!
Multiple Claims of the same help
Ek fool Do Mali
All the chapters were collecting funds separately on their platform and without any transparency. But when the time came to send the help, all these different chapters either claimed the 'help' together or used the same consignment to take individual credits on their social media accounts.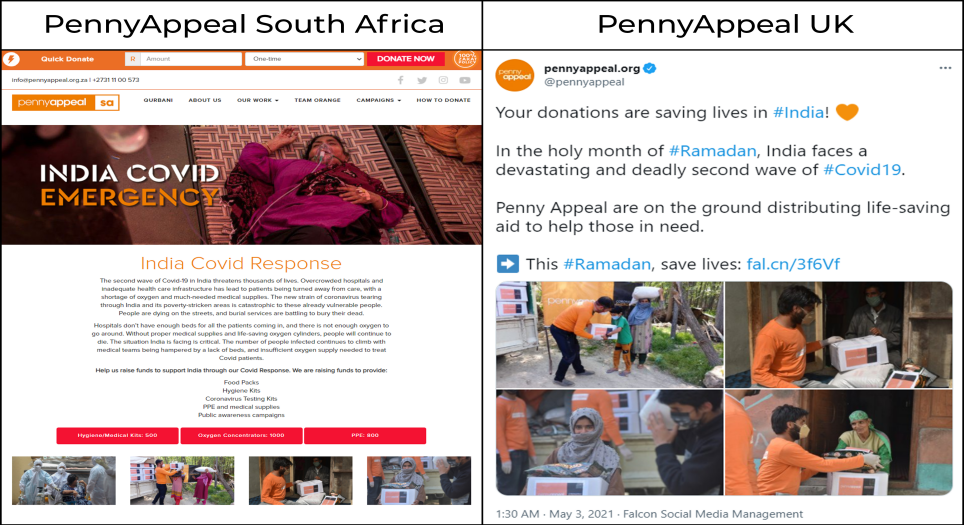 These organizations coordinate their activities, or more likely, are run from one place, is also evident from the cross-utilization of media. Penny Appeal South Africa's website [29] uses the pictures of the claims of Penny Appeal UK [30] for delivering help in India. The images were tweeted by Penny Appeal (UK) for their claimed help given to India in Ramadan during Covid time. 
Again!
Ek Fool Teen Mali
Penny Appeal Australia, Canada, and the USA were also encashing the same 'help'. The help of ONE oxygen concentrator delivered to ONE individual, somewhere in India by Penny Appeal Australia volunteer was also claimed by Penny Appeal USA and Penny Appeal Canada. Sorry to sound like a broken record, but they were separately raising funds, thousands of dollars, for the Covid help in India.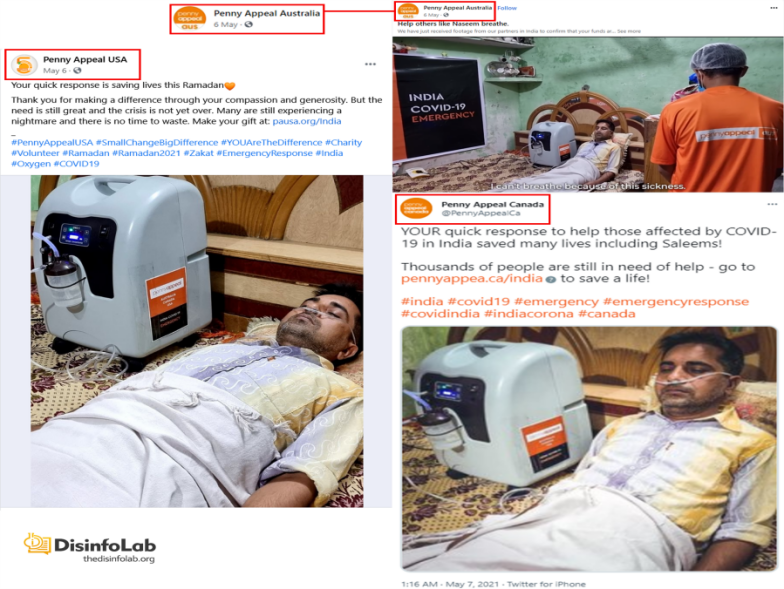 Poor Direction of the Theatrical Production
And by all means, even this one picture is staged!
As is clear from the bed, this picture is of someone's bedroom rather than a hospital, and while providing oxygen to an individual's bedroom may not be an issue, but provide a banner with each help!
Moreover, how was a volunteer allowed with a Covid patient's bedroom with just a surgical mask!
We leave it to the audience to judge the act as fakery or real help.
'Help' in Kashmir
Scrolling through Penny Appeal's timeline of 'charity' in South Asia, we came across their works in Kashmir. Penny Appeal has also claimed charity in Kashmir on its website and in financial reports. Their help, as per their claims, has been delivered to some specific areas – such as Panama, Pulwama, and Srinagar – all in India administered Kashmir.
The 'history' of Penny Appeal help in Kashmir seems long – at least the claim-list is long: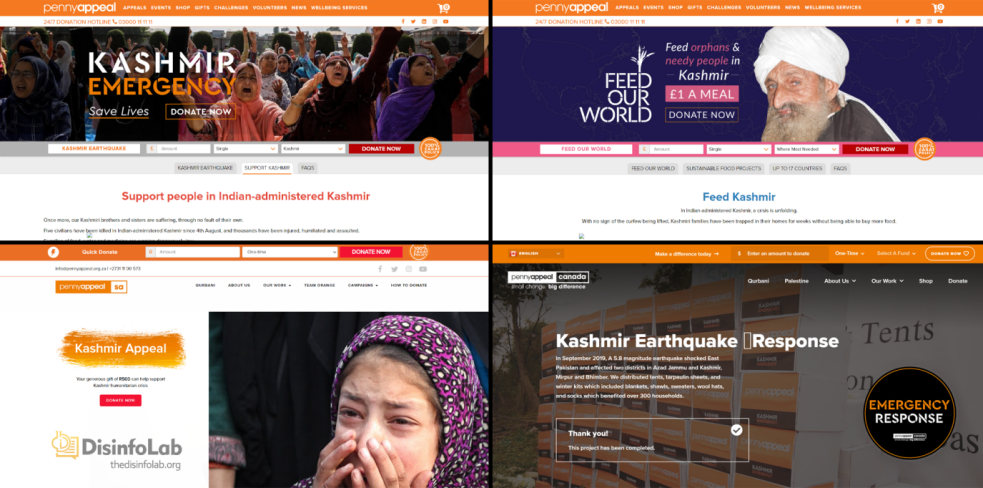 Likewise, Penny Appeal launched a fund-raiser on JustGiving [31] in the name Kashmir, marked as "Winter Emergency 2020". 
However, as has been the wont of this set of charities, they were as opaque about the charity details as in their Covid help.
That said, Penny Appeal has an intriguing excuse in their FAQ section about why they don't provide details of their local partners and beneficiaries – "security concerns." [32]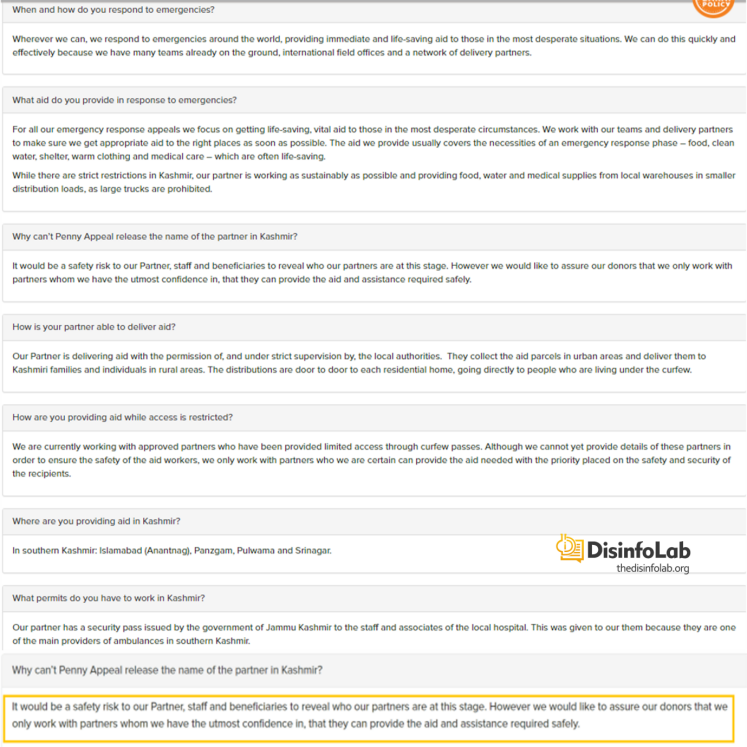 That's a clever trick, but apparently, Penny Appeal members or their handlers do not know that to provide help in India, a foreign NGO would need FCRA approved partner organization. And if the local Kashmiri partner is FCRA approved, what security concerns could it have?
But they would have known this if they provided any help on the ground in real terms other than asking their local contacts in India to stage-manage pics for them to be used to collect more funds. This indeed raises the questions about their potential collaborators, who are helping in this corruption racket, that too in the name of charity and Zakat.
What if we believe them for a while?
This farce of 'security concerns' in Kashmir could have been taken at face value if Penny Appeal was forthcoming with details in other parts of India. Kashmir is a convenient excuse for many dubious organizations and individuals to take shelter to hide their criminal activity and financial irregularity, and this deserves a deeper investigation.
From Charity to Money Laundering – with Love
(And some Security concerns)
The way Penny Appeal, and similar other organizations have claimed to send help in India, and have managed to create staged pics, indicates that these organizations do have some local contacts who provide them with required 'evidences' for their fake claims. However, as we know, these local contacts would not be doing this as a 'charity' to Penny Appeal, and must be getting some money in return. Since there is no FCRA approved organization involved, it begs the question about the possible illegal means through which the money is being sent to Kashmir, and other parts of India.
The Double Standards for India
Penny Appeal has provided the information of the location of their help, the beneficiaries, and their partners/volunteers in other countries. The volunteers even post regarding the 'help' being provided. But in India, they keep the names of partners and the location of help they provided concealed through their well-edited videos.

Note: As mentioned earlier, one of the main reasons these organizations appeared suspicious was because they had absolutely no ground presence in India – no branches, no representatives, nor even groups/ individuals. In this case, any foreign NGO could send help only through FCRA approved NGOs or with specific exemption from government. Not having a partner organization in India, leaving their Kashmir excuse aside, means they could provide no help in India.
In a Nutshell
In short, all the chapters of Penny Appeal seek funds on various platforms separately as to pretend to work individually. Then they manage to create a theatre of donation with the help of some local contacts. These shreds of 'evidences' (pictures and videos) are then used by each one of them on their respective social media platforms to project the help delivered in 'India' without revealing any details of partner organizations in the country. They do not even provide the data of quantity and place of help administered.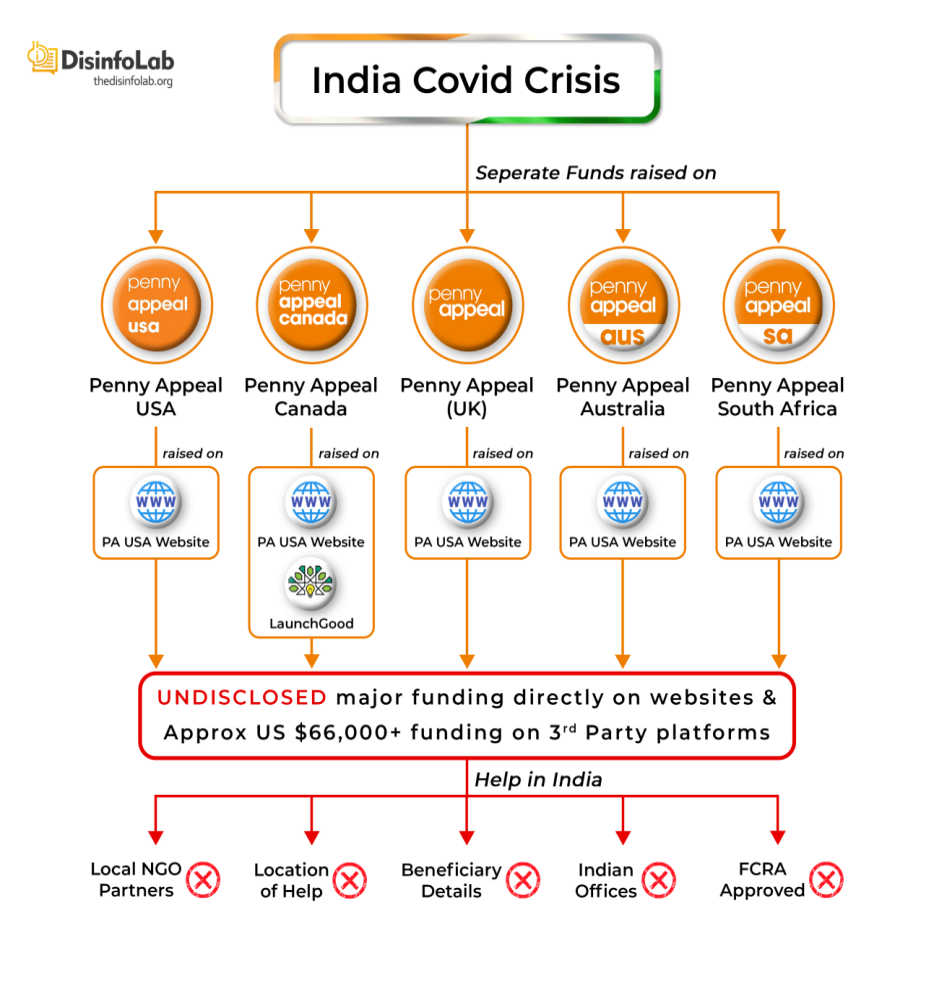 Chapter 5
The Indian 'Beneficiaries' and 'Partners'
As noted above, Penny Appeal manages to get well orchestrated pics and videos with the help of some local contacts, and while we could not ascertain any specific individual, we did manage to find the potential organizations/individuals who must be helping with the pictures and videos of 'help theatre'.
The 'Beneficiaries'-I: HMH Hospital
One of the claims that Penny Appeal-Canada has made through a post on June 10th was delivery of Oxygen cylinders to Delhi hospitals.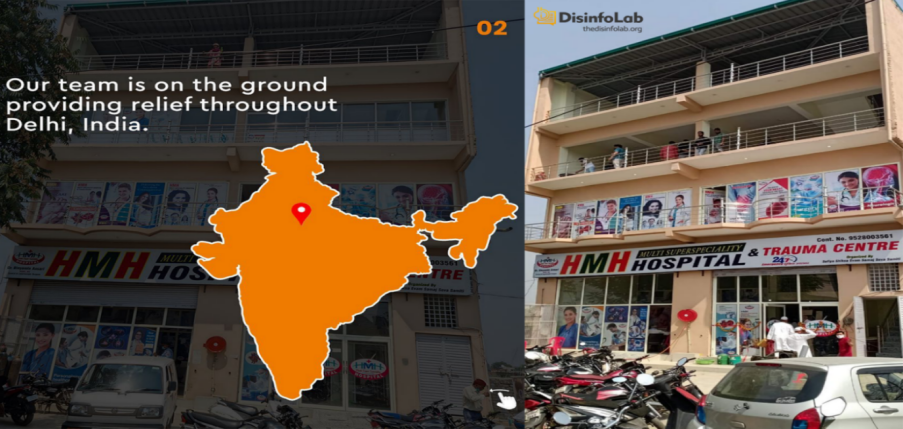 The efficient digital media professionals at Penny Appeal take lots of care to remove any trace of location identifier from their images by editing or blurring the images, including the vehicle numbers or nameplates. However, they seem to have overlooked this one picture, [33] which helped us identify the place.
What Penny Appeal claimed to be a Delhi hospital was actually HMH hospital in Najibabad (Bijnor, UP), that is 184 km away from Delhi.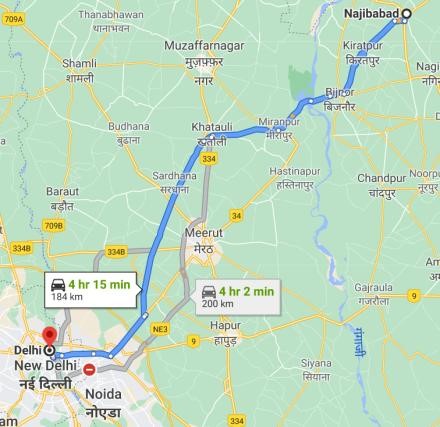 The help they sent was on 10th June 2021, according to a post by Penny Appeal Canada, but HMH hospital owners, who are rather very active on social media, never mentioned about the delivery, neither did they thank Penny Appeal.
So, either the people at Penny Appeal picked up a random hospital picture from Google's 5th page and claimed it to be of Delhi, or they asked their local contacts to send pictures of a Delhi hospital, and they fooled them with this picture.
Off chance presuming that there was actually something they delivered to HMH, it needs to be ascertained whether they have FCRA approval. In that case, HMH (Haji Mangta Hasan) multi-speciality hospital, is under HMH welfare trust, which was inaugurated in September 2020 [34]; and in June 2021, it was able to receive help from a foreign organization, despite not having any FCRA. [35]
Technicalities besides, it is essential to note that by June, the Covid situation in India had started improving. Moreover, Bijnor is 16th most populated district of UP, [36] and hence Najibabad, a small township under Bijnor, is likely has comparatively a fewer covid patients as of June 10, not enough to over-burden the health system.
The 'Beneficiaries'-II: – ILM Foundation, Lucknow
Guess Penny appeal would have to fire their digital media guy. He made not one, but two mistakes.
One of the posts by Penny Appeal UK on July 8, 2020, exposed one of their local collaborators in India.
A claim of 'Qurbani' help on the occasion of Eid was posted by Penny Appeal, without providing any other details about the location, partner organization, number of beneficiaries, and so forth. The details of the volunteers and their organizations were carefully edited in a manner that it was difficult to identify and ascertain whether the partner organization is registered or not, or whether they have FCRA etc.
However, the picture posted contained a hint – a volunteer wearing an ID card of a local NGO. [37] 
The partnering organization turned out to be a Lucknow based NGO – International Learning Movement (ILM). The NGO also operates in the other parts of India and the UK. [38] 
We found another Facebook post [39] of ILM India sharing a post about a project, Thirst Relief, run by Penny Appeal, but ILM made no mention of Penny Appeal anywhere in the post.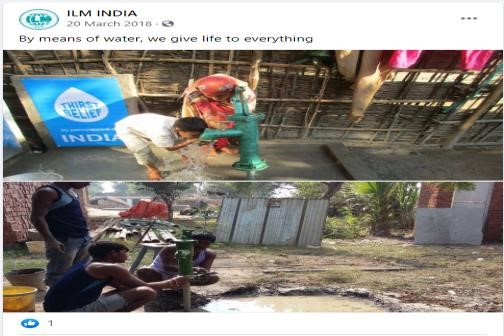 Hide and Seek: Penny Appeal and Ilm Foundation
The bigger question is: If ILM is helping Penny Appeal or vice a versa, why are they hiding it, never mentioning each other on their social media posts or their websites. Also, Penny Appeal never gave credit to ILM for their volunteer work in India. These are rather unusual behaviour for Charity organizations.
Ilm Foundation India
ILM Website (current): http://iwtindia.org/About.aspx
Facebook: https://www.facebook.com/ILM-INDIA-181408265967643/ 
Twitter: https://twitter.com/ilmindia1 
Address: According to their website two addresses in the same city Lucknow. [40] 
Address 1: D 20/21 Harihar Nagar, Indira Nagar
Near Lord Meher school, Lucknow-226028 (U.P) India
Address 2: 7/554 A Vikas Nagar,
Lucknow-226022 (U.P) India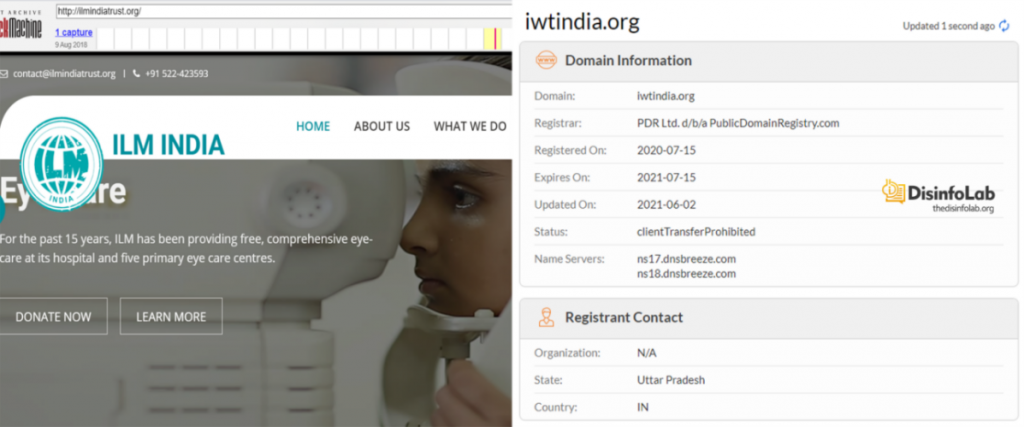 ILM earlier had a website in the name of "Ilm India Trust" but that seems to be not working at present. We managed to find its archive version [41] from the Wayback machine. Instead, they bought a new domain in July 2020 and created a new website. Interestingly, in the new website every tab/section is functioning except the partners section (which is not clickable).

Thankfully, the UK website did lead to Penny Appeal as its partner organization – and there we do find Penny Appeal as one of its partner organizations.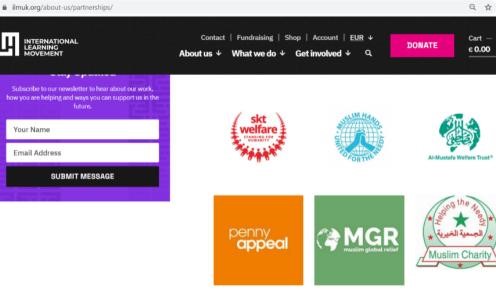 ILM Foundation – UK
The UK front of ILM had become a pickup point for us. More digging into their annual report led us to their flagship school in India i.e., Shams National School. The ex-chairman of ILM – UK is the President of Committee in Shams National School. ILM UK mentions on its website that it has an office in India also but they didn't mention ILM India's name or website on their platform.

And lo and behold!
ILM- UK was also running a fund raiser to help India during the Covid crisis, but did not provide details of the ultimate beneficiary or target regional area of aid. [42]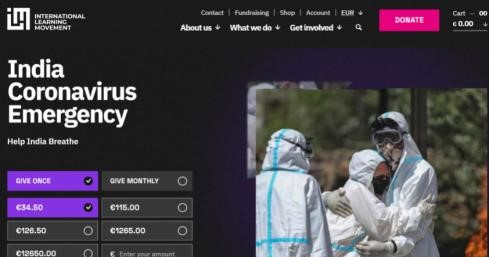 Let's Try To Understand:
Penny Appeal uses an Indian NGO – Ilm Foundation for its 'ground help'. However, neither ILM nor Penny Appeal Shows this connection. Ilm Foundation has also a UK connection – ILM-UK, which is also collecting funds in name of helping India in Covid – and claims to have an organization in India – but doesn't reveal Ilm-Lucknow!
This was just one partner; one can now imagine what security issues of partners Penny Appeal was talking about.
Chapter 6
Making of an Epic Farce
The Logistics Question
In the case of Haryana, and also in Kashmir and some other places, Penny Appeal had claimed to have provided food packets and similar consumables. Unlike Oxygen Concentrators, the food packets must have been procured locally – and distributed. It means the fund would have been sent to some Indian entity for purchasing and making logistics arrangements for distribution.
It raises several questions –
How the money was sent, and to whom?
Whether the receiving entity was FCRA approved?
How much money was sent, and how much was utilised?
Given their strong links, not only with radical Islamist groups but also with a designated terrorist (details in subsequent paragraphs), it would be vital to investigate these angles.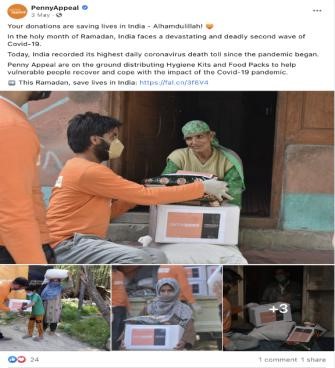 The History of Charade
All these 'charity' organizations are so consistent in their behaviour that it is impossible not to presume that they are being run by the same set of people. Just like IMANA and Muslim Aid, Penny Appeal also used images purchased for its projections. Penny Appeal Australia used pictures of Shutterstock [43]in one of their Facebook posts [44], dated May 17, where they portrayed the poor condition in India and the help they provided. The same was also used for seeking further donations in the same Facebook post.
Digging the Covid Aid Scam 2021, we came to understand that it was not the first time they have pulled such a scam off. In fact, these organizations seem to be working for a while and have mastered the methods. However, since neither their fund collection and distribution are transparent nor the platforms through which they collect money, it was difficult to gauge the actual amount they were able to extract in the name of helping India (and elsewhere) in the past and how much has been diverted towards criminal terror activities.
In August 2018, Kerala witnessed one of the most devastating floods in nearly a century. Over 484 people died, while 140 people went missing due to the flood. Regions of Idukki and Wayanad also witnessed landslides due to heavy rainfall. Penny Appeal, 'rising to the occasion', collected funds in the name of the calamity. [45] As is the pattern, they also provided few pictures in the name of help delivered – but as expected, they did not mention the local partners or the amount of help they administered on the ground.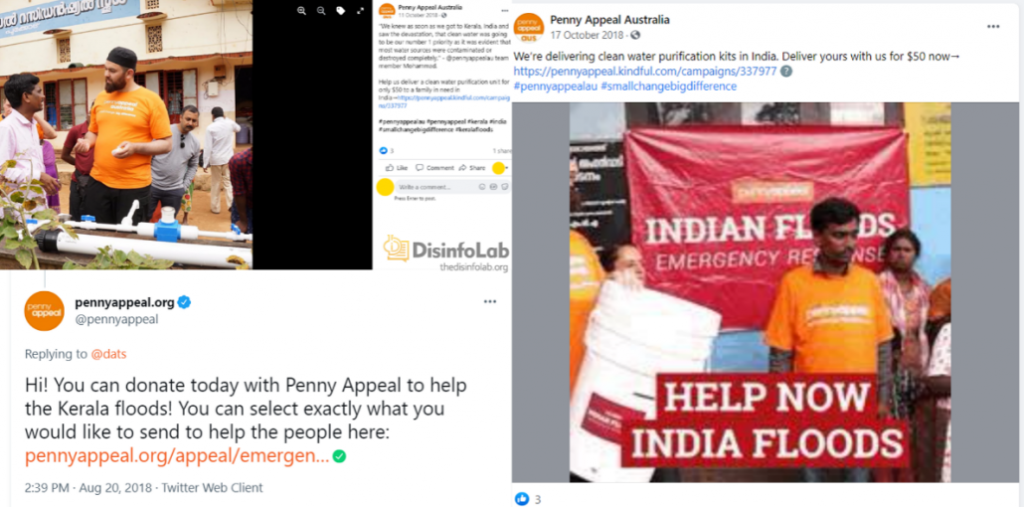 And the help?
In one of the images posted by Penny Appeal, the location is seen of the Eklavya Model Residential School, Pookode, Kerala. The images were posted by Penny Appeal Australia, whereas the fund was being collected by both Penny Appeal UK and Australia since August 2018.
Coincidence?
The school, which Penny Appeal has shown in its 'help' claim in October 2018, is the same school which was being used as Camp by the government, and was already receiving help from govt. and other local NGOs since August 2018. [46]
Earlier this year, in February 2021 [47], Penny Appeal Australia also claimed to provide medical help in Rishikesh, India. But again, there is no mention of the local partners and information of volunteers.
Kashmir Again: Across the Border
Penny Appeal claims to have conducted two projects in Kashmir, i.e., "Orphan Kind" & "Kashmir Thirst Relief". And while the "Orphan kind" ostensibly was being run in India, the shreds of evidence it has provided mentioned distributing food packages [48] in "Azad Kashmir" (PoK). So, unless Penny Appeal has decided to hand over PoK to India, the claims don't make sense.   
Likewise, no details regarding "Kashmir Thirst Relief" is provided except some photos where they tag random people![49] Sorry, we have lost some brain cells writing this report.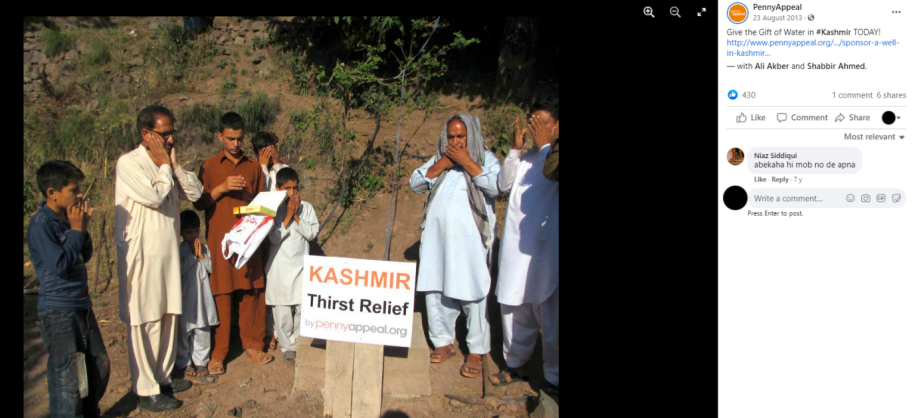 Water Charity
In yet another project of Penny Appeal – 'Build Well India', which started in 2018, no updates have been provided. For this project, they have given the case study of Somalia under 'India Case Study'. [50]
Chapter 7
The Unholy Alliance – ISNA-ICNA-MSA
Just like it's American sibling IMANA, that fooled millions in the name of helping India, (In Covid Aid Heist Part 1) and similar other organizations covered earlier (IAMC, Justice for All, Sound Vision), Penny Appeal also turned out to be the part of the same ISNA-ICNA-Jamaat nexus.
In March, 2020, Penny Appeal, along with ISNA (refer to COVID heist report Part 1 & Part 2) and other organizations signed a joint statement of IMANA and National Muslim COVID-19 Task force.
National Muslim COVID-19 Taskforce was formed by American Muslim Health Professionals (AMHP) in collaboration with the Islamic Medical Association of North American (IMANA) [51], the Islamic Society of North America (ISNA) and the Fiqh Council of North America (FCNA) in response to the Coronavirus pandemic. [52]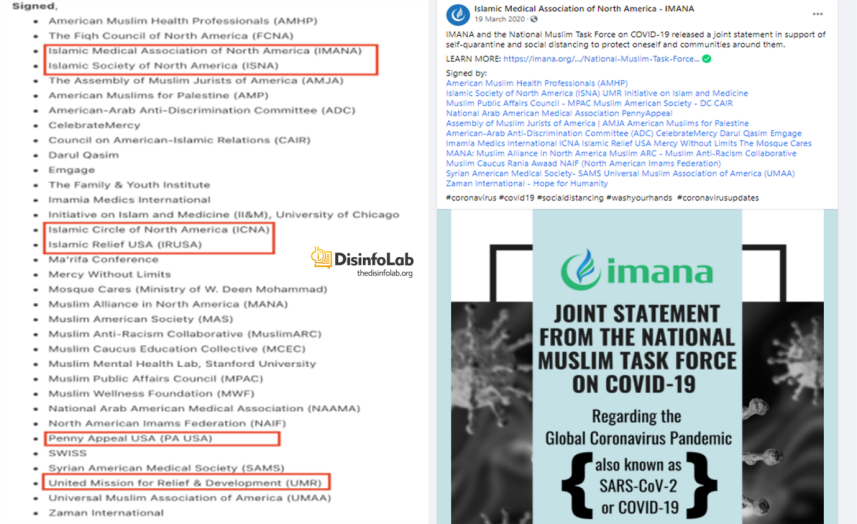 Though they provided security measures to combat COVID-19 in their joint statement, they did not reveal that many of these organizations would jump to collect funds through various fronts and by all possible means – including IMANA and Penny Appeal. None of them has provided any details about their fund collections and their utilization in the name of COVID.
While Penny Appeal projects a rather sophisticated image, it is closely seen with MSA (eventually ISNA) & ICNA – both are Pakistani Jamaat linked organizations. MAS & ICNA hosts Islamic conventions every year [56], which is endorsed by Penny Appeal. In 2019, Penny Appeal with other shady organizations like Sound Vision, UMR, Islamic Relief USA was one of the vendors at ICNA Convention. [57] 
Just a reminder, it is the same ICNA whose sister organization HHRD works with the charity wings of Jamaat-e-Islami (JeI)- Lashkar-e-Taiba and Hizbul Mujahideen.
Penny Appeal has been one of the sponsors [58] of ISNA Canada – one of the banned organizations due to its terrorist link (Page No. 48 of COVID-19 Aid Heist-1). Moreover, they were also the attendants [59] of the ISNA convention and other events in the USA.
Besides, Penny Appeal and MSA together launched two campaigns on Launch Good for their projects in Pakistan. (As mentioned in the "Details of collection" section)
Penny Appeal Canada, with various branches of MSA, raised around $21k, again with no details for what particular cause they have collected the money for (tagging all their programme in one post) & most importantly, no details on where the money was spent.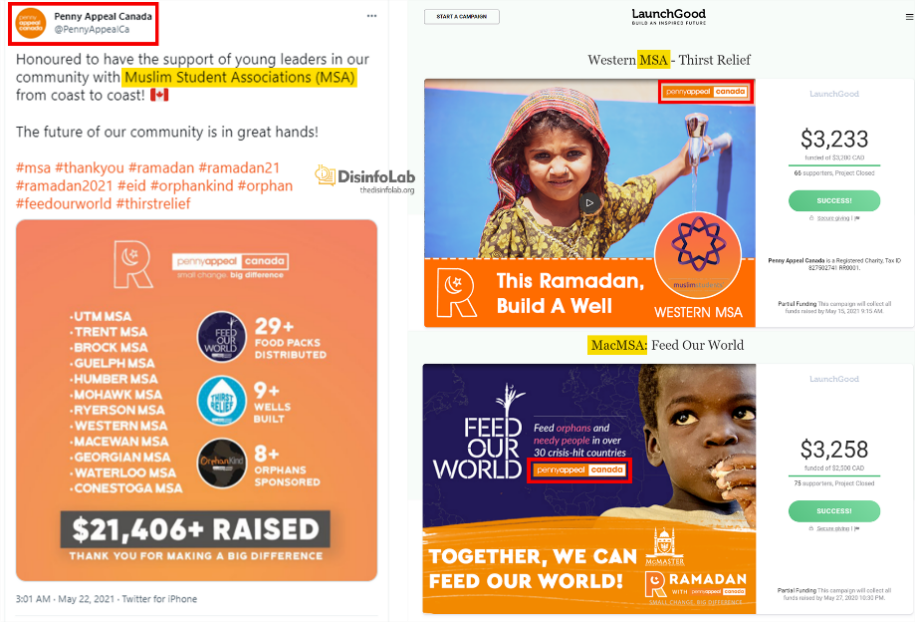 A chapter of MSA – MSA-UBC (The University of British Columbia)- collected money during Jummah, claiming that it will go to Palestine through Islamic Relief Canada & Penny Appeal. [

60

] Again, no other details provided about the money flow and this time the donation was in cash.
Penny Appeal Canada has given gave space to an ISNA Canada member Shaykh Alaa Elsayed on their website for their endorsement. [

61

]
The Social Media Network
To understand the network behind this ecosystem, we also analysed their social media platforms. The graph below shows the follower's network of all Penny Appeal's chapters on Twitter. The blue nodes represent verified handles. The size of the node is scaled by its follower count. These verified and big twitter accounts provide legitimacy to such social media handles. For example, from the above graph, one can see that Penny Appeal is a small account compared to a large number of bigger names and verified accounts of its followers.
As shown, several of Penny Appeal fronts do not have much organic traction, including Penny Appeal- Australia, USA, Canada & South Africa. Some of the noteworthy handles in the network included Mehwish Hayat, who was part of the fraud charity network Muslim Aid and IMANA Care itself, both of which were exposed for collecting funds in the name of Covid crisis in India. As explained earlier and also detailed in subsequent chapters, this network mirrors the nexus of these three organizations. The other interesting names include Islamic Relief, a banned organization in several countries (see next chapter).
Chapter 8
Terror-links
As uncovered in the previous part of IMANA and Muslim Aid, Penny Appeal too is found to be working with organizations that have links with terror outfits. It works with Islamic Relief which itself is a banned organization in several countries like Germany, [62] Israel, [63] Bangladesh, [64] and UAE [65] for its ties with Hamas and Muslim Brotherhood. Penny Appeal USA also worked with Islamic Relief & IMANA to provide N-95 masks to hospitals in the USA. [66]
Penny Appeal Worked with Muslim Aid and terror-linked organizations
In Pakistan, Penny Appeal works with Muslim Aid Pakistan, Islamic Relief Pakistan, and Al-Khidmat. [67]  Penny Appeal Pakistan has also worked with Helping Hand for Relief & Development (HHRD) apart from Muslim Aid and Al-Khidmat Foundation as evident from the Facebook post of Muslim Aid Pakistan on 14th January 2020. [68] Both HHRD and Al Khidmat have worked with Lashkar-e-Taiba and Hizbul Mujahideen as instanced in our previous reports. In 2018, Penny Appeal funded a solar powered water well in Pakistan and the organization that was conducting the project was Fast Rural Development Program (FRDP), Pakistan.
Al Khidmat Foundation is a Pakistan based NGO and is known to be the charity wing of Jamaat-e-Islami. Terror outfit Hizbul Mujahideen is aided by Al-Khidmat. They also work closely with Ghazali Trust, another charity wing of JeI and even aid Hizbul chief Syed Salahuddin. (For more details, refer to Disinfo lab report on USCIRF) [69]
Muslim Aid's various linkages with terror groups and outfits have been detailed in the Part-II of Covid Aid Scam 2021 Report. It should be added that Spanish government had accused Muslim Aid for funneling funds to Mujahideen fighters in Bosnia. [70] Muslim Aid Bangladesh was banned for funding militant activities; [71] and Israel banned Muslim Aid for its alleged links with Hamas and terror-funding. [72]
Moreover, the CEO of Penny Appeal Australia, Mohamed Mayat, had stints with Islamic Relief Australia (as Country Director) and Muslim Aid Australia (as Programs Director). [73]
(The CEO was removed recently by Penny Appeal – Australia, while the report was under preparation.)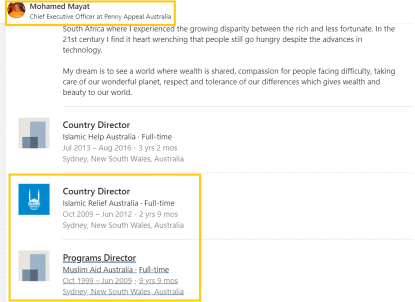 Muslim Council of Britain to Bangladesh War Criminals
Penny Appeal has been one of the partners [74] of Muslim Council of Britain (MCB) in several projects and has also been part of events organized by MCB. In our last report, we have mentioned Chowdhury Mueen-Uddin, the Bangladeshi War criminal who was part of Muslim Aid. He reappeared in Muslim Council of Britain (MCB). Chowdhury Mueen-Uddin is one of its founders [75] and Farooq Murad, director of Muslim Aid International (defunct) is also the former Secretary General. Muslim Aid UK's chapter Treasurer till 2016, Dr. Muhammad Abdul Bari MBE, was also the former Secretary General of MCB. 
This seems to be vicious cycle, where a set of individuals with war crime to terror links, have created a maze of fronts through which they keep shuffling seamlessly, while efficiently carrying out their activities. The weave of fronts not only helps to give them an alibi, but also helps to mask their linkages and true character. It is to their credit that these fronts are able to operate with impunity right under the nose of international organizations and law enforcement agencies.
Network in a Nutshell: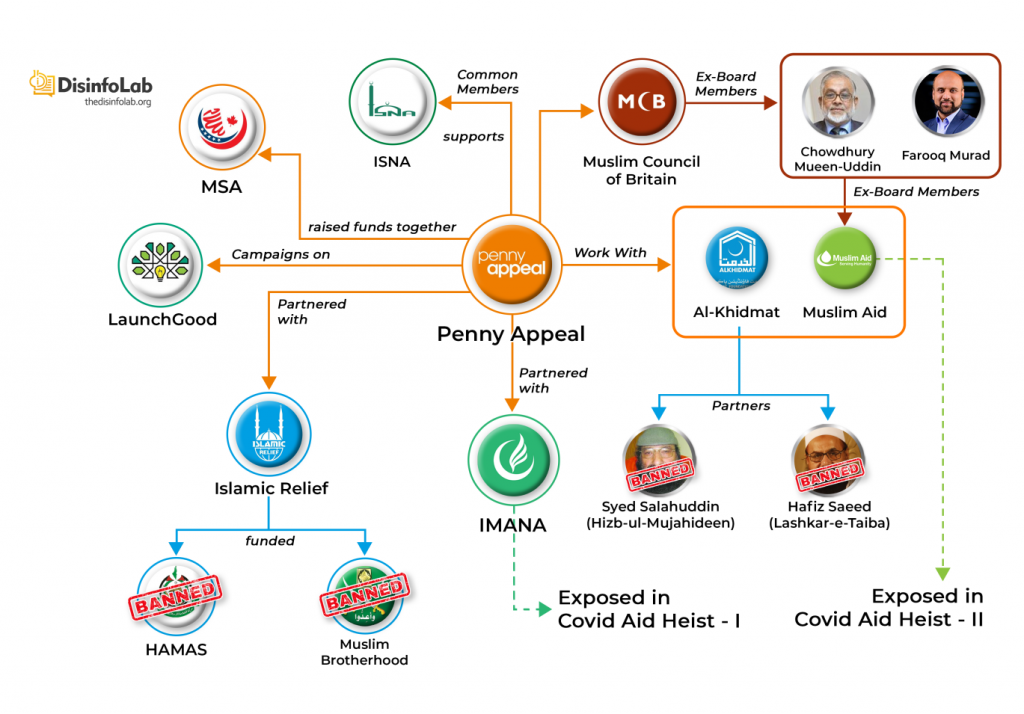 Chapter 9
An organization with a history
Guess we are not the first or the only one to have uncovered Penny Appeal's shady activities. It has an inglorious past. Unfortunately, whenever it gets exposed, it simply moves to other places – other than China.
As we saw in the case of Muslim Aid UK's financial fraud in the Gambia, Penny Appeal also seemed to have gone the same way of using the country as an exploitation ground. Penny Appeal went a step ahead and had to close down its activities not only on the grounds of financial irregularities or possible fraud but on criminal charges & human exploitation. In 2020, the Gambia office of Penny Appeal was shut down for operating without the required license for operation and on charges of sexual & physical abuse of children. [76]
Suspension of the Founder
In 2019, Penny Appeal's founder Adeem Younis was briefly suspended from the organization. [77] During that time, he was in Pakistan for a 'Fund-raiser' project promotion and was accompanied by actor James Caan and Pakistani actress-model Mehwish Hayat. Evidently, Mehwish was reported to be girlfriend of underworld criminal Dawood Ibrahim. [78]
Misappropriation of Funds
A UK based Islamic media outlet alleged that Penny Appeal gobbles up a significant part of donations it collects and has no accountability. It accused that Penny Appeal spent only 27% of its donations in charities. The income of Penny Appeal in 2014 was over $2.5mn, but it spent only $670K. [79]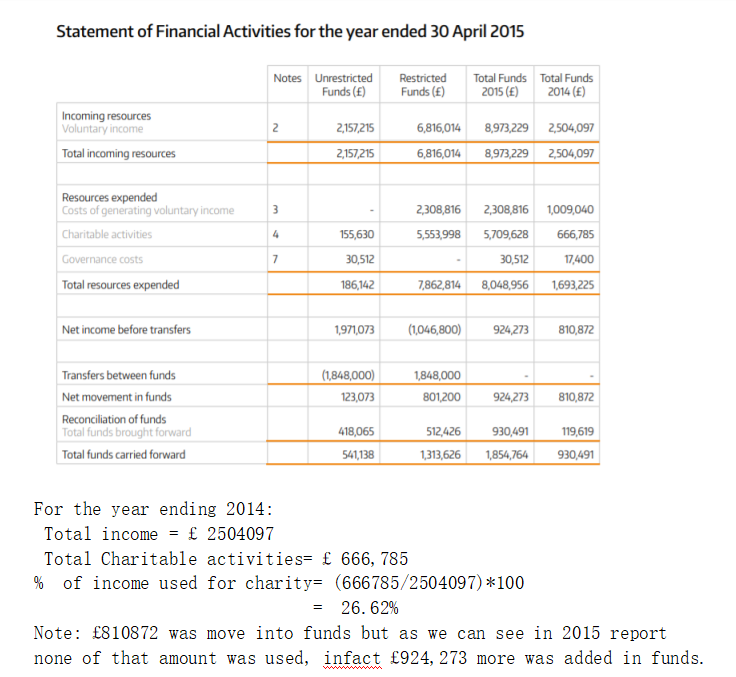 Nepal as Victim
Penny Appeal raised funds during the Nepal earthquake in 2015. However, as per its financial records, it managed to save ~924K euros in 2015, while not even using the 930K euros saved from 2014, making the total carry forward amount to ~1.8mn euro!
Celebrated Boxer Amir Khan Severed Links with Penny Appeal
British Pakistani boxer Amir Khan was associated with Penny Appeal in the past, but he severed his ties with them in 2018 [80], accusing the NGO for lack of transparency. [81]
Use of Amir Khan's Image to promote Penny Appeal Middle East:
 In 2018, Amir Khan disassociated himself from Penny Appeal, even then Penny Appeal Middle East is still using his image from 2018 [82] on their website to gain some goodwill.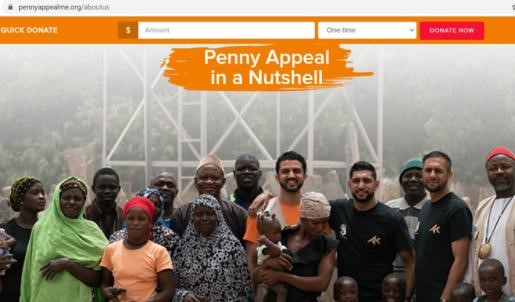 Penny Appeal fundraiser for Palestine, Et Tu Brutus!
This newly established Charity Industry seems so profitable that it doesn't cease its operations. No sooner had it collected funds in the name of India's covid crisis, but also started another fund-collection in the name of Palestine. It was not unusual to see them doing so as almost all such shady organizations we came across are busy doing the same. The whole act of fundraiser and charity has been flourishing well for these shady NGOs, who seem to be building a new industry around such places. And this time, they picked India thinking of getting away from providing any transparency. It's all too obvious by now as the pattern looks all the same.
Chapters asking for help separately on their websites and without any transparency.
The similarities of posters and tagline "Palestine Emergency" are also similar to the fund-raising attempts of India.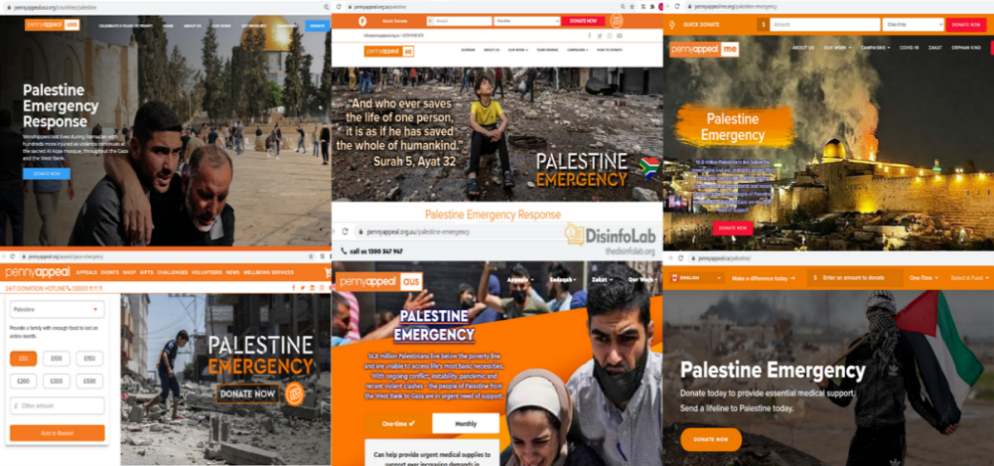 It was again the same pattern that IMANA and Muslim Aid followed, and likely several other similar organizations follow. Even before the Covid fund-raiser in India concluded, they all shifted to seeking funds in the name of the Palestine crisis. And as with the charity case in India and elsewhere, there has been no record of their charity work in Palestine/ Gaza. It only goes to show that these conflicts have become a huge revenue source, and hence it would be in their interests that these and other such opportunities keep arising in forms of conflicts and natural calamities.
Conclusion
These charity scams, the charity industry and the charity theatres go on to show that it is not only extensively profitable but a piece of well-oiled machinery. It also shows how every natural calamity and every conflict zone would be a gold mine to such organizations.
And while they are doing what they are doing, the bigger surprise for us has been that no international media, no investigative journalist, or no global watchdog has managed to put a finger at them. That too, when there is such an obvious pattern in their operations.
The tools, the techniques, the purchased photographs from Shutterstock, the fake, unrelated images, and the staged 'help' – all emanate from the same guidebook. The 'in-your-face' linkages with radical Islamists and terror groups and the operations with impunity still has not shaken enough the concerned agencies to act. It only means that such 'charities' would continue to operate.
What is more worrisome is that given the benefits these organizations draw from natural calamities and conflicts, they would have a vested interest that these conflicts zones continue to remain under fire, even if people suffer.
It was, therefore, no surprise to find the traces of these vulture organizations in all conflict areas, including Gaza/Palestine. The nexus is so compact, and the penetration is so deep that it needs a full investigation.