Prologue
One would have expected at least an attempt to answer some of the questions raised in our last report. But it seems that these organizations – IMANA, Launch Good, Saiyed Foundation, and so forth – have decided to go ostrich. Instead, we observe some half-baked efforts at random updates on their 'charities'.
Instead of clarification and coming clean on the amount of money collected and its utilization, following reactions were noted post the expose':
IMANA's Logo color was changed from a shade of Green to a shade of Blue.
IMANA came up with a long list of 'charities' it had done – with absolutely no details
IMANA President, after having made millions of dollars disappear, went to update his knowledge on Islamophobia
Saiyed foundation thanked Ahmedabad Airport authorities, for a consignment that it claimed via Mumbai Port!
Saiyed Foundation and others locked their profiles on various social media platforms.
Expect this circus to continue for a while.
The plan seems to be that, if they ignore the report and questions asked, and resort to deflection, it will fade away from people's memory and they would continue to do as they please. They probably have been advised so by their brethren, who have been exposed earlier.
It is therefore important that the Reports and the questions raised in them remain in public consciousness till a satisfactory answer is not achieved. While virtually no help was received by India, given their linkages with terror groups and radical Islamists, it would be a very happy outcome if the money collected in the name of India was spent anywhere for social good.
Other alternatives are much worse. IMANA's thread led us to Launch Good, which led us to several such scams being run in the name of Covid in India. We found that several of these scammers have made it an industry, which is being run with impunity from the First World, despite having open associations with convicted war Criminals, designated Global Terrorists and Pak establishment. An entire eco-system of charity-fund collection has been created for terror finance and promoting radical ideologies – both as tools of state policy.
This second part of Covid Aid Scam 2021 deals with a similar 'charity' organization – which has even worse track record than IMANA, if it is possible.
Irony Alert:
These organizations have been collecting funds in name of helping India during Covid crisis from all over the world. The only country they have not attempted to collect funds from is China!
('All-weather friends' understand each other well.)
Introduction
When we had started looking into IMANA's activities – the single major point of interest was how an organization with absolutely no presence on ground and without the help of local partners in India was planning to help during the crisis.
Once we came across IMANA's cover-up, it guided us to similar organizations – 'International' NGOs collecting funds for India but has no base in India. One of their most favored platforms was Launch Good. It led us to not one but scores of similar scams being carried out simultaneously.
It was revealing how the same set of people and organizations have created a well-oiled industry to exploit every crisis for fund collection.
It is important to note that these are not 'Muslim Organizations' they claim to be – rather they are fraud organizations who exploit the Muslim community in particular, and the larger global population in general. Apart from the major natural calamities, most of their campaigns for fund collections revolve around Zakat donations (Islamic religious donations).
This fund however is utilized by an unholy nexus of terror groups – Pak army establishment – and a set of families who have been running these organizations for generations. The same set of people keep circulating from one organization to another. Feeding on the donation of common people, including large section of Muslim population, these families enjoy lavish lifestyles in the developed world – US, UK, Canada and Australia. These organizations exemplify a unique combination of feudalism and nepotism – all in the name of charity!
One such group detailed in this part is – Muslim Aid.
Part I
The War Criminal
Chapter 1
Death of Intellectuals and Birth of a Charity
The Bangladesh war of independence in 1971 is also a story of one of the largest genocides perpetrated on a civilian population. This genocide was also notorious for a particular cruelty that Pakistan Army and its collaborators inflicted on their own population – that is eliminating the entire intellectual leadership of soon to be Bangladesh.
Also known as Bengali intellectuals killing of 1971, the Pakistan Army and their local collaborators, most notably the extreme right wing Islamist militia group Al-Badr, engaged in the systematic execution of Bengali pro-liberation intellectuals, which was declared a war crime. Intellectuals were killed throughout the entire duration of the war. The largest number of executions took place on March 25 and December 14, 1971, as it became apparent that Bangladesh would become independent. December 14 is commemorated in Bangladesh as Martyred Intellectuals Day.
As Hensher, Philip (February 19, 2013) wrote in "The war Bangladesh can never forget" for The Independent, as the war neared its end, a final effort was made to kill as many intellectuals as possible, to eliminate the future leaders of the new nation of Bangladesh.
As per Banglapedia, over 1000 of Bangladesh's intellectuals including professors, journalists, doctors, artists, engineers, and writers were killed. Many of them were abducted from their homes in Dhaka by the Al-Badr militia and the Pakistan Army. They were taken blindfolded to torture cells in Mirpur, Mohammadpur, Nakhalpara, Rajarbagh and other locations in different parts of the city. Later they were executed en-masse, most notably at Rayerbazar and Mirpur.
Subsequently, a special Court in Dhaka in 2013 sentenced the former leaders of the 'Al-Badr killing squad' to death in absentia for this war crimes – Ashrafuz Zaman Khan (US) and Chowdhury Mueen-Uddin (UK).
Fast Forward to UK: one of the war criminals, having links with Jamaat-e-Islami (JeI) in Pakistan and Bangladesh, escapes to London and joins a Charity organization – Muslim Aid. He becomes the chairman of Muslim Aid, and has remained trustee/ Board Member in various fronts of Muslim Aid, His name is Mueen-Uddin Chowdhury, former Al Badr leader.
Over the years, Muslim Aid has expanded its branches in several countries such as USA, Australia, Pakistan, Sri Lanka, Malaysia, Bosnia, and Sweden. However, not all were oblivious to their past and Muslim Aid has been banned in Bangladesh and Israel for its terror links, whereas Spain accused Muslim Aid for funding Mujahideen fighters in Bosnia.
It is therefore no surprise that Muslim Aid was also one of the 'Charities' that were collecting funds in the name COVID-19 crisis in India. The fund was being collected through not one but at least three of its fronts – Muslim Aid (UK), Muslim Aid Australia, and Muslim Aid USA.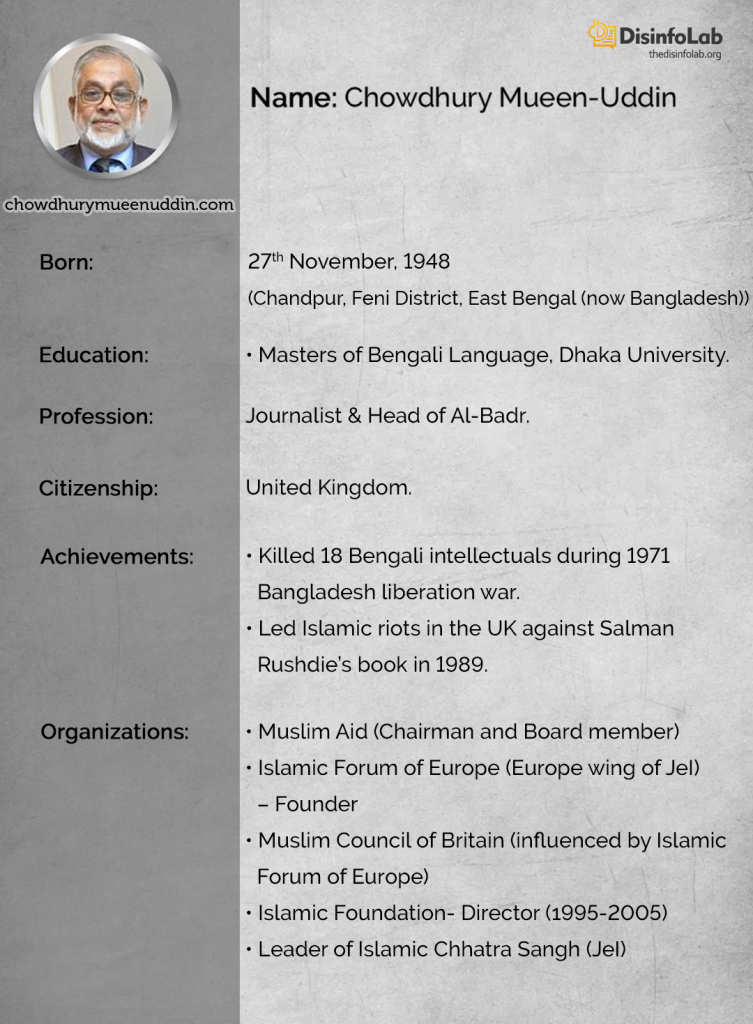 Chapter 2
The Muslim Aid Saga
2.1. Muslim Aid USA
2.1.a: Introduction
As noted above, over the years Muslim Aid diversified to several other countries, most notably to the USA. It was useful to have different branding, should the past association come to haunt them. Accordingly, the Muslim Aid USA was incorporated in April, 2013 as a 501(c)3 organization (EIN:46-2504422 & Company no. 0002880530), along with creating its social media pages (Facebook).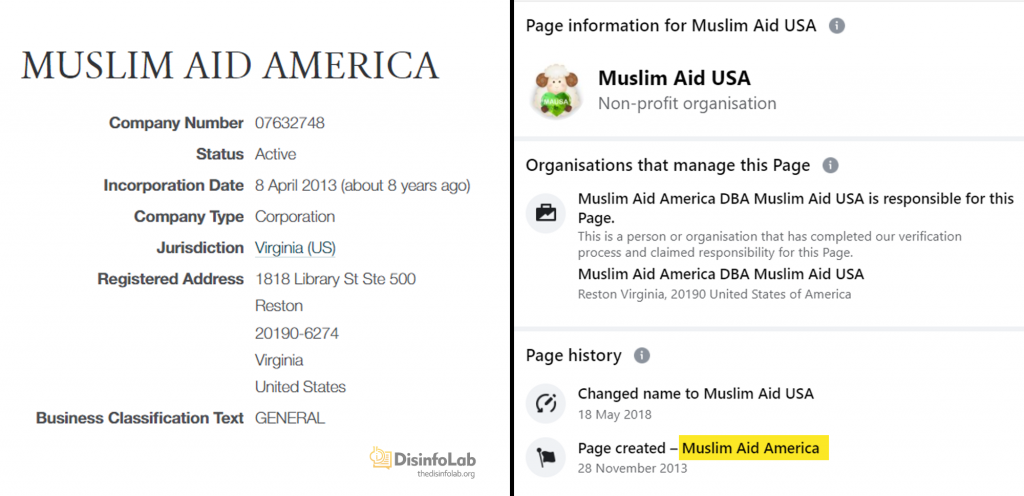 The Double Face Charity
Muslim Aid, like its cousin IMANA and other siblings, follows a pattern with respect to depicting India – using Pakistan approved map of India on their website and other publications, but switching to the Indian govt approved map when seeking donations from India and on behalf of India. Most international organizations use global standard maps, and not Pakistan approved ones..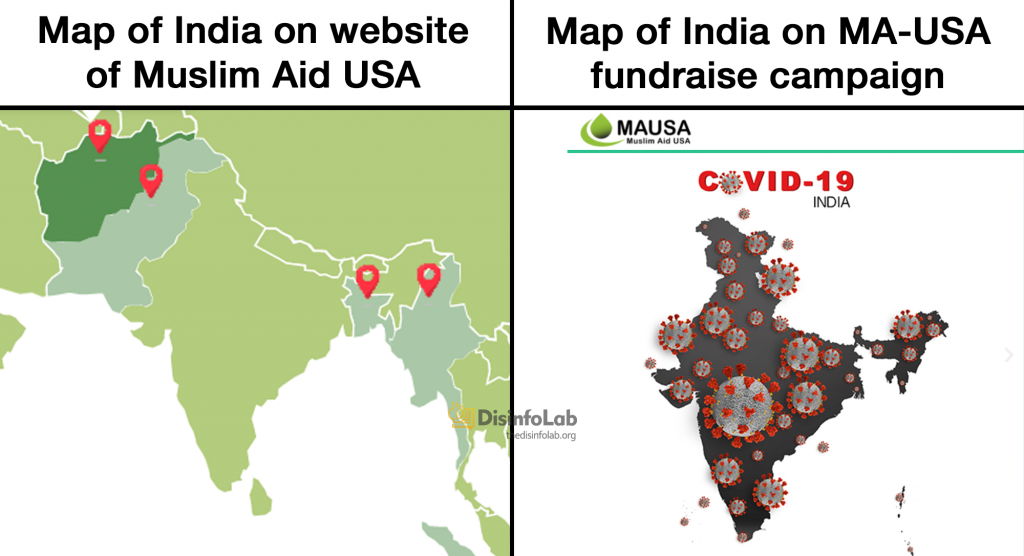 The pattern is not limited to only appearances. There is a pattern in the way their aid-campaigns are run as well as their platforms designd which gives a sense that these 'organizations' might be run from one place.
As with IMANA, Muslim Aid – USA neither had any ground presence nor was really active in India (although Muslim Aid, through various branches, seems to have been collecting funds in past as well in the name of various calamities in India).
Muslim Aid-USA has mentioned India only on three occasions before 2021 i.e., in 2018 & 2019 & 2020 – all of which was about Qurbani Cow Shares & Kerala Floods (2018).
For example, in 2018, Muslim Aid-USA ran an ad campaign on Facebook between August 13-14 seeking help for 'Cow share'. There was, as expected, no details provided about the actual work on ground.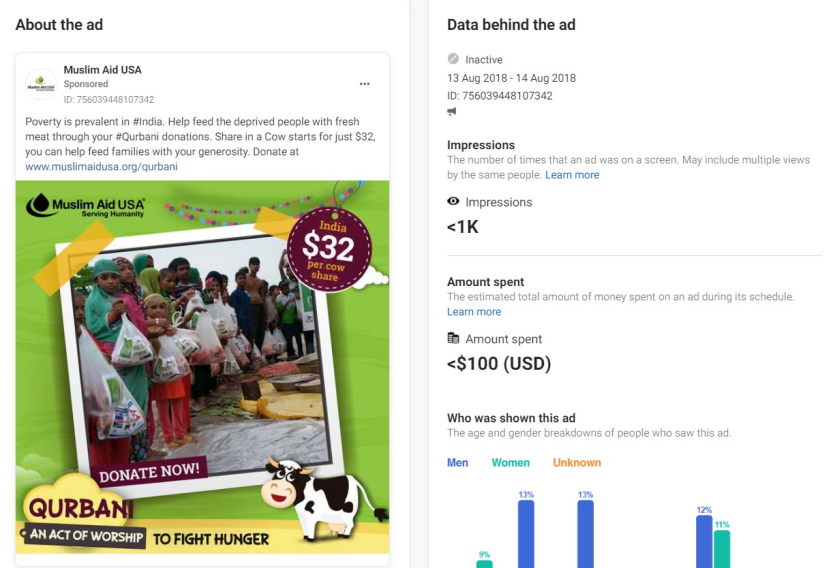 Likewise, another fundraiser in the name of India in 2018 was for requesting for donations during the Kerala floods. And like elsewhere, the organization didn't provide any details of the total fund collection and utilization. It is important to keep in mind that every fund that these fronts gobble-up during a crisis means a genuine organization was deprived of it, which further exacerbates the crisis.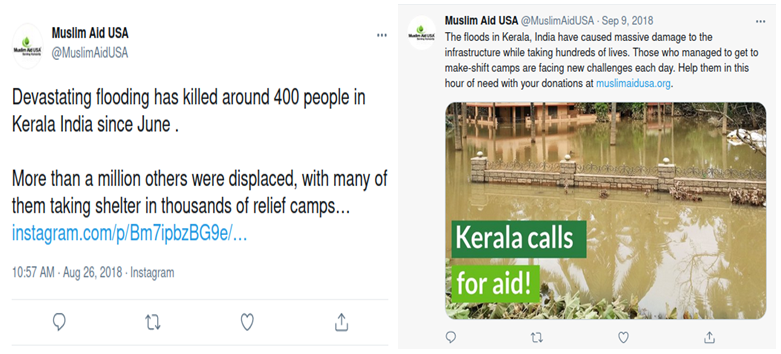 In 2019 again Muslim Aid-USA ran another fund-raising campaign in the name of 'Cow Qurbani Share', on August 8. The Cow Share fund-raiser has been one of the frequent ones, and without an iota of details whether any such help was delivered, not to mention that cow slaughter is banned in several Indian states, and the poster indeed is meant to whip up the communal sentiment.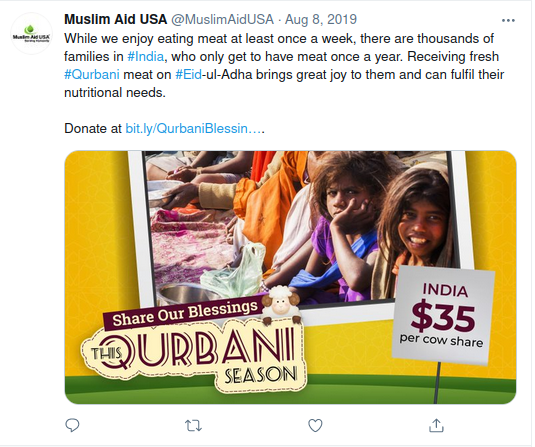 A Tweet timeline plot of Muslim aid USA using 'India' keyword shows that the tweets on India had zero traction on twitter except one post of July 2, 2020, where all the traction it received was from Pakistani users. It is rather peculiar that a social media post of a US based Chairty about India gets traction only from Pakistani users, unless may be they are being run from Pakistan? (The Pak links of these organizations are elaborated subsequently in the report).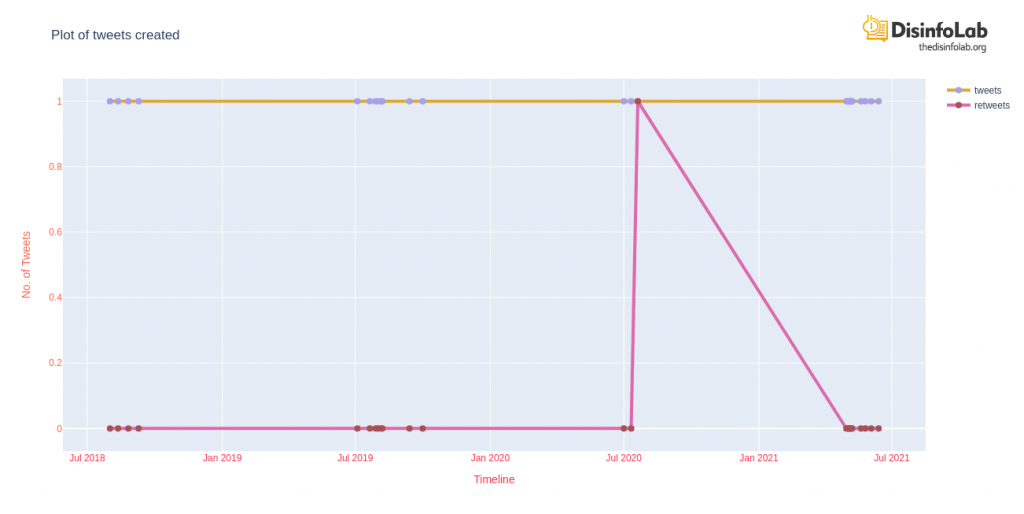 The below plot is a timeline representation of tweets from all Muslim Aid chapters on "India" keyword between January 8th, 2018 to June 26th, 2021. There were only total 40 tweets from these accounts out of which 13 were from Muslim Aid UK and rest 27 from Muslim Aid USA. And no other Muslim Aid chapter had tweeted using "India" keyword. The first tweet in 2021 on India was on May 1, 2021, which is regarding the COVID-19 emergency in India. However, this time Muslim Aid tweeted 12 times on COVID-19 emergency between May 1-June 13.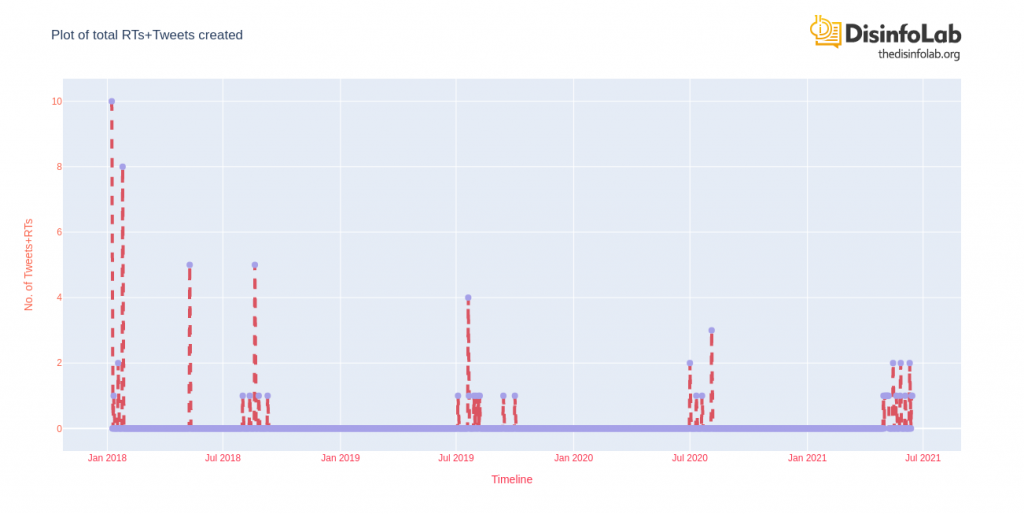 It is interesting to note that even though India was going through the COVID-19 crisis in 2020, there were no tweets from any of the Muslim Aid chapters on helping India.
The last tweet from Muslim Aid USA in 2020 was on July 20th asking for donations on similar lines of Qurbani and Eid. Only when they started their fund-raising to exploit the crisis then tweets about Covid surfaced.
The first tweet from Muslim Aid USA in this context comes only on May 1st, 2021 citing the plight of India due to COVID-19 wave and asking for donations to "Help India Breathe".
They tweeted 12 times between May 1-June 13 for "Helping India Breathe" and to provide Oxygen concentrators. However, their last tweet on June 14th is once again asking for donations for Qurbani.
This word cloud is the representation of tweets on "India" by all the Muslim Aid Accounts.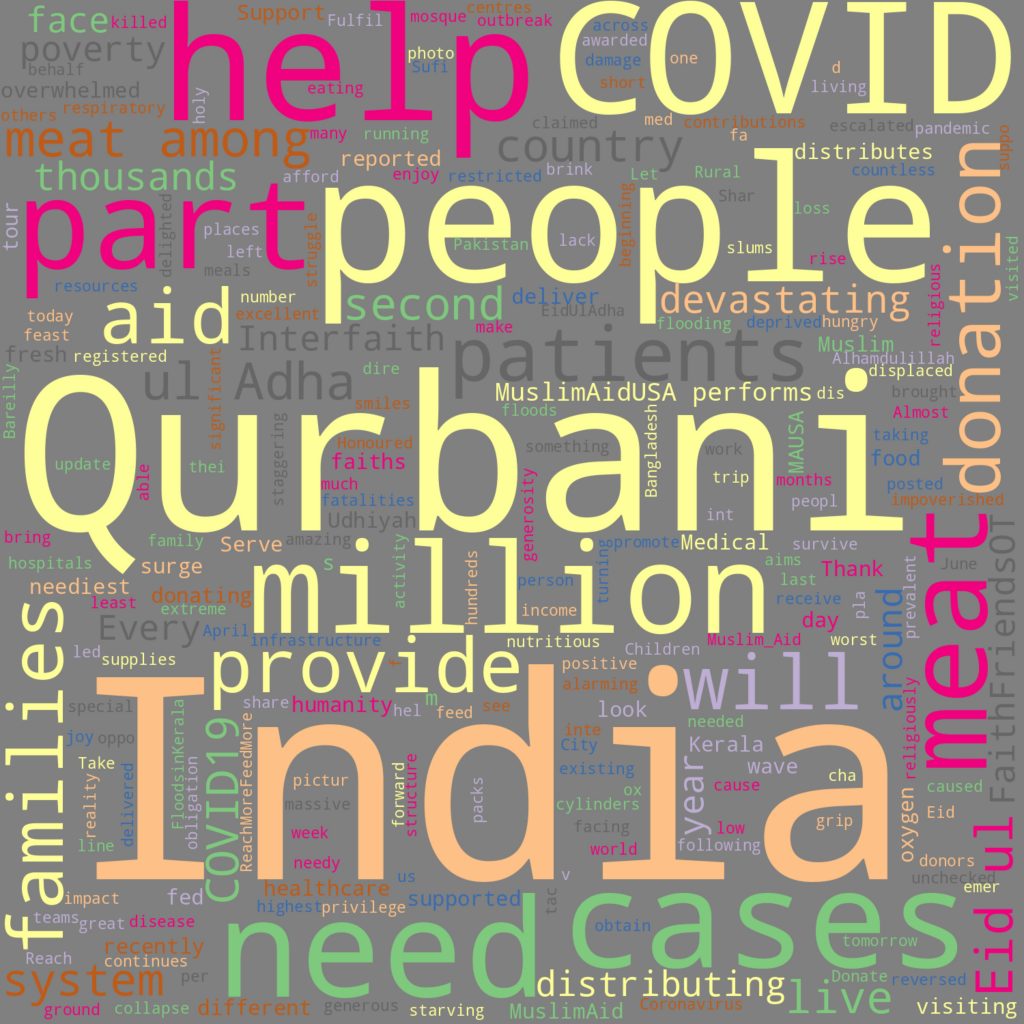 A look at the various paid advertisements by Muslim Aid chapters on various occasions will give a sense of how lucrative the Charity business has become.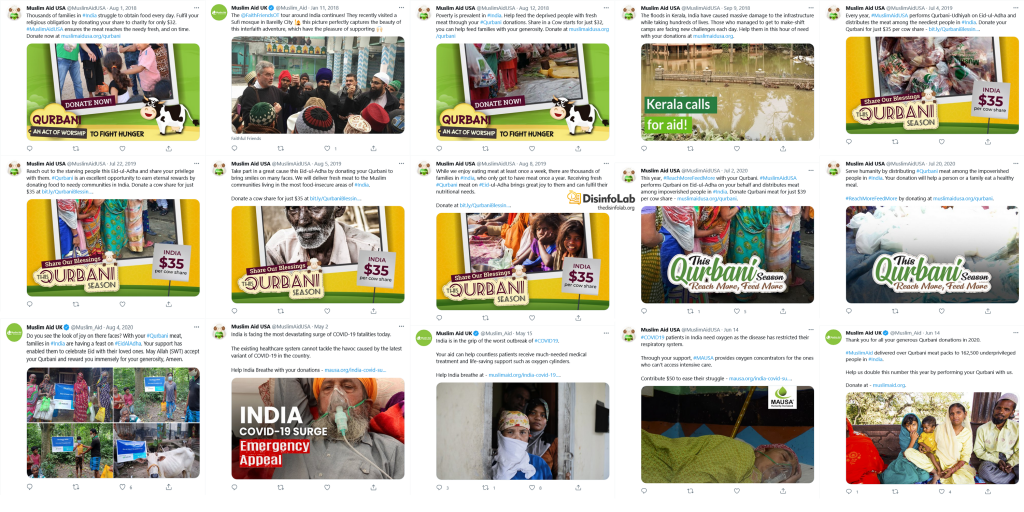 The following collage depicts the series of Tweets by Muslim Aid USA on COVID-19 crisis in India between May 1 to June 13 in 2021.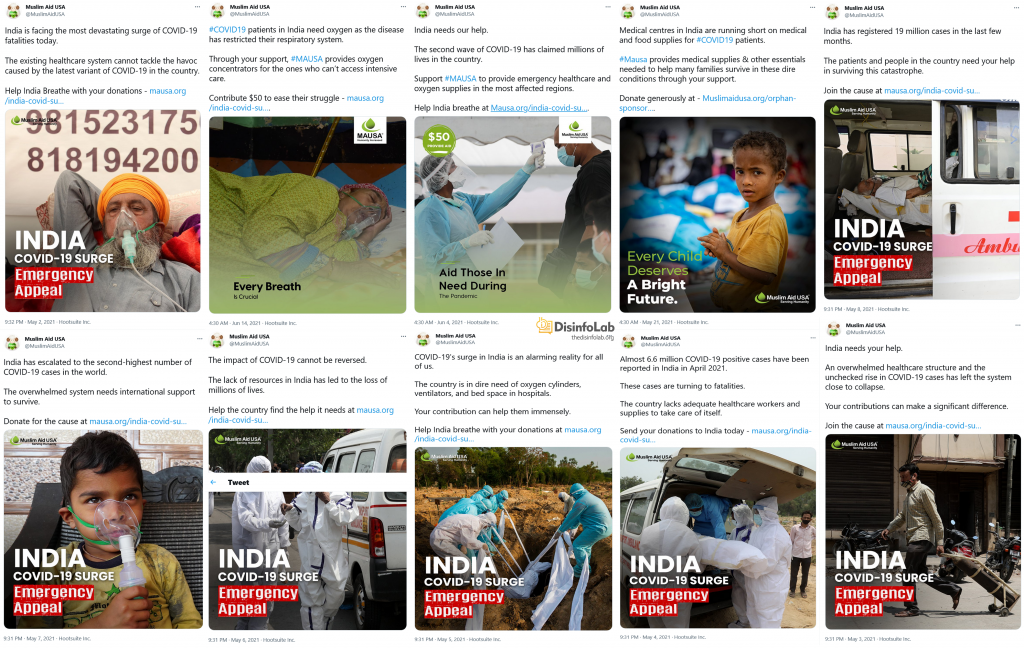 It would not be far-fetched to presume that having seen the success of IMANA in collecting funds in name of India's Covid Crisis, others fronts decided to take a dip. By this time, IMANA was already having its fill, and hence a new organization coming for help would mop up some more loose change – about $100k at least.
2.1.b. Muslim Aid USA and the good old 'Launch Good' fundraising platform
Muslim Aid-USA also started a Launch Good campaign on April 30, for COVID-19 relief in India, which was also posted on their Facebook page. Simultaneously, they also run paid advertisement on Facebook seeking fund for 'Covid help' in India in addition the donation options directly through their website. Through the Launch Good front alone the charity managed to collect USD76,886, more than their projected target of USD75,000.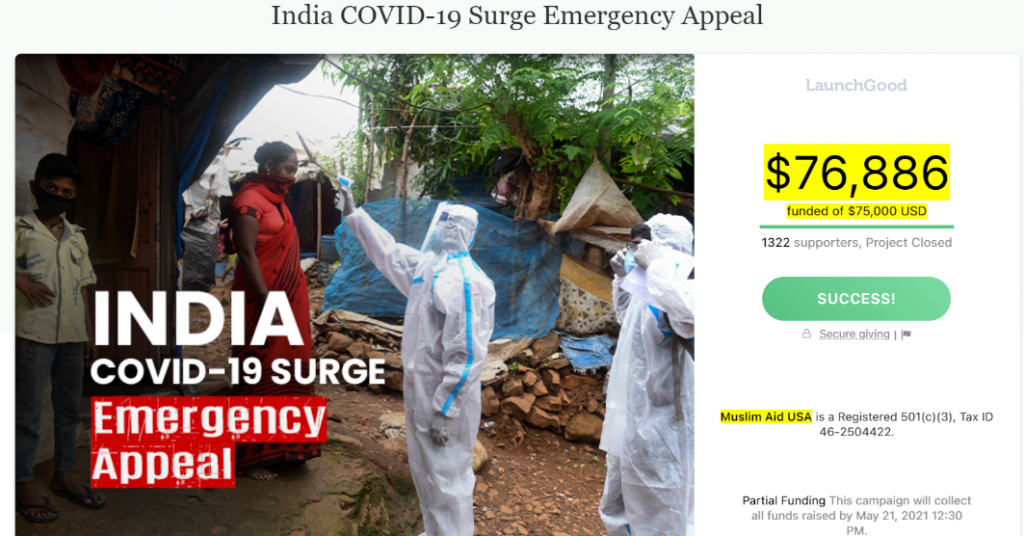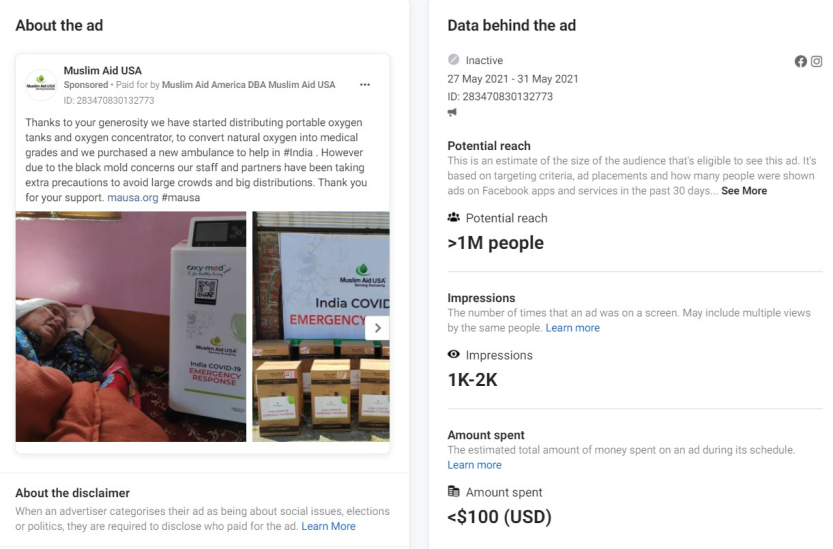 These funds are in addition to what they would have received through other platforms, including direct donations through their website and other donations received in cash or kind. Worth noting that Launch Good is not only opaque about the fund collection and delivery details, it is also part of the same nexus connected to JeI. (Pls refer Part-I of Covid Aid Scam 2021 for details)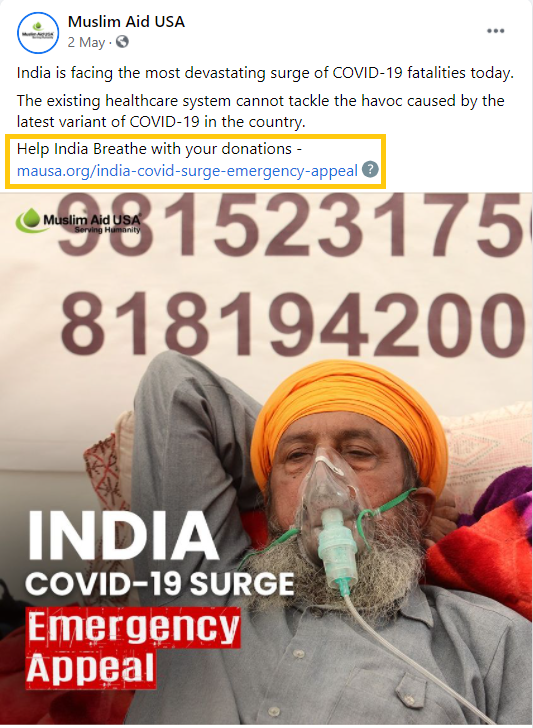 Reinforcing the narrative:
Like IMANA, Muslim Aid USA also used "Help India Breathe" to raise funds for the cause. It was a copy-paste scheme to exploit India's goodwill. This was a clever campaign, which was not only reinforcing the crisis in India, but was to feast on earlier campaign of IMANA.
Help Delivered?
The way these fund-raisers were launched, without doing even the basic homework about the target destinations and local partners, it was obvious that their objective was limited to only the first part of charity – collecting funds. Hence, as expected there were hardly any updates on the 'delivery' front, other than sketchy generalized claims. For example, the only update Muslim Aid USA managed to provide was on May 27th 2021– A total of nine oxygen concentrators (out of around 76.8k dollars) collected. There is no clarity if even this help arrived.
Like cousin IMANA, Muslim Aid provided no detail of the ultimate beneficiary, hospital, local partners etc.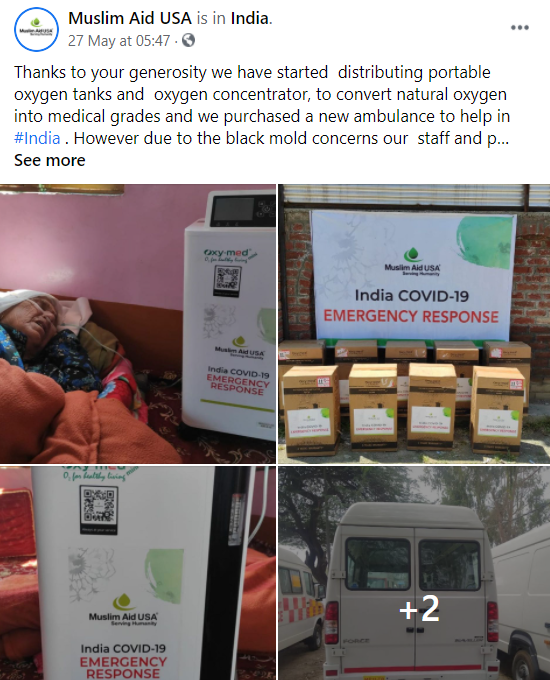 The Ultimate Fake Show:
In the update provided by Muslim Aid USA on May 27th, they claimed to have donated an ambulance to India – and two images of the ambulance were attached one of its exterior and another of its interior. However, observing closely these images are of two totally different ambulances.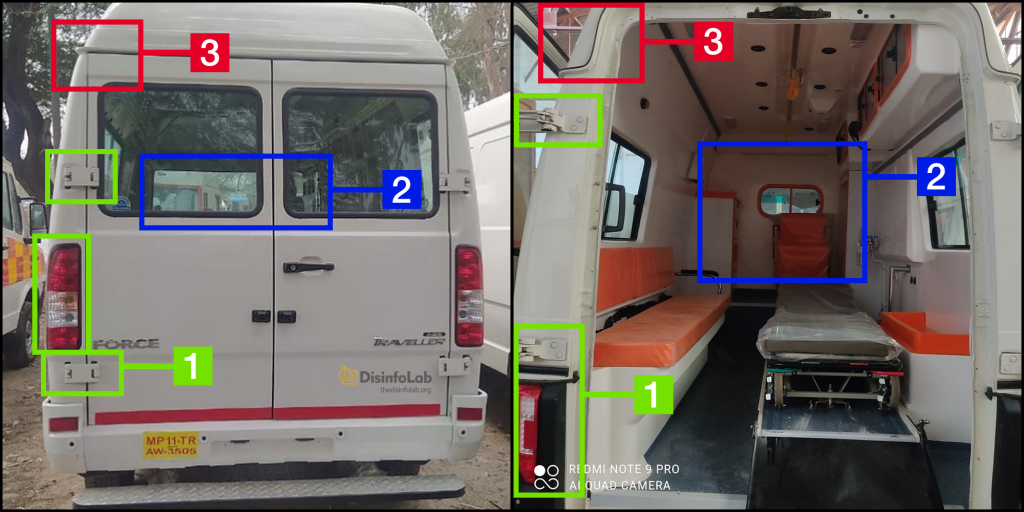 The hinge in image 1 is below the light, while in the image 2 hinge is above the light. Also, the light different in both images.
The interior of image 1 is small and has one compartment, while interior of image 2 is bigger and has two compartments
The body design of the upper left corner of the ambulance in two images is totally different.
Upon searching for the numberplate of the ambulance, we found that this was a temporary number series ("MP 11-TR") that was provided to ambulances donated by the PRO Jansampark Dhar (Madhya Pradesh Government) from April 30 till May to different hospitals and covid centres in Dhar district of MP. (It also means that they had obtained these pics from a ground operative in that area.)
2.1.c. It's all in the name
Muslim Aid-USA posted a picture of the 'help' provided in India on their Instagram Page on May 26, which also had a donation option. However, when clicking on the "donate to fundraiser" option, user gets redirected to Muslim Aid- USA fundraiser for Gaza.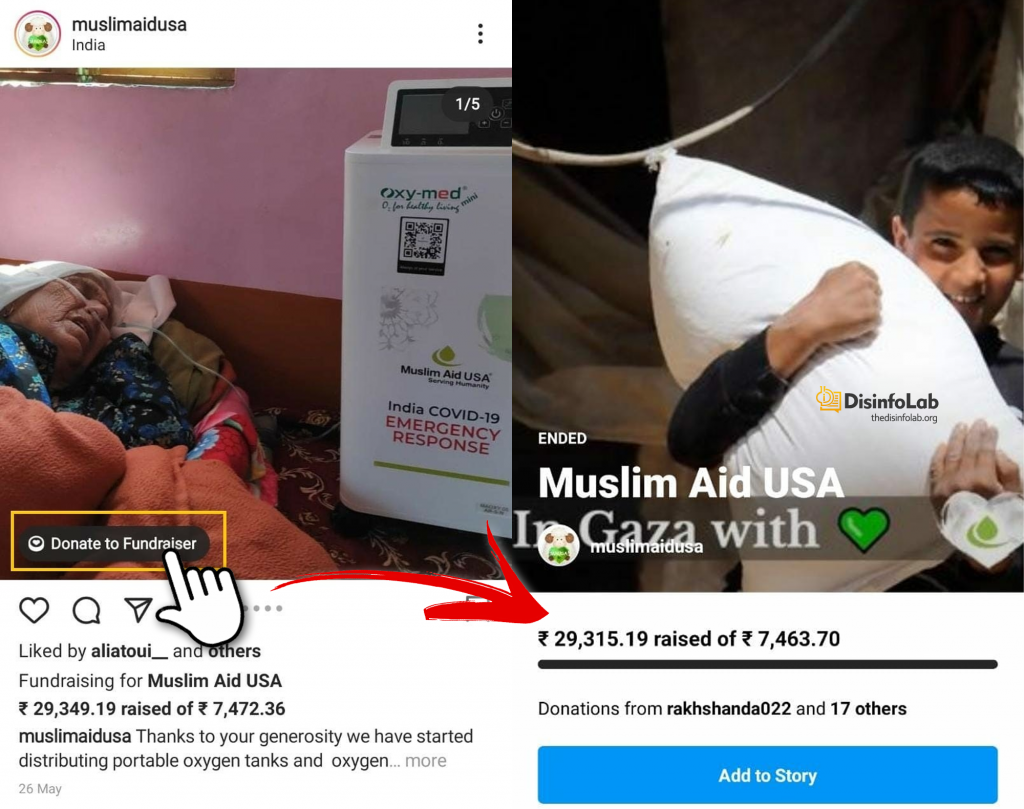 Deja Vu:
As explained in Vol-I of the report, IMANA also had switched to seeking donations in the name of Gaza victims once the fund-raising in the name of Covid in India was completed. IMANA did not provide any details about the actual delivery, though claimed to provide USD 5.6 million dollars in just two days.
Likewise, MA-USAA also seems to have diverted its fund collection drive in the name of Gaza.
2.1.d. Kashmir – the Wish Well of Fund Collection
While there are no details about the actual help on ground for Covid, Muslim Aid USA has started a new campaign on COVID-19 for Jammu & Kashmir on 17th June 2021. They ave launched a fundraiser for "Jammu & Azad Kashmir" at Launch Good. As usual, the local partners and the beneficiaries of the proposed fundraiser is not mentioned in the campaign. However, despite zero transparency and having no track-record of delivery, they have also inched their fundraise target of 10k USD.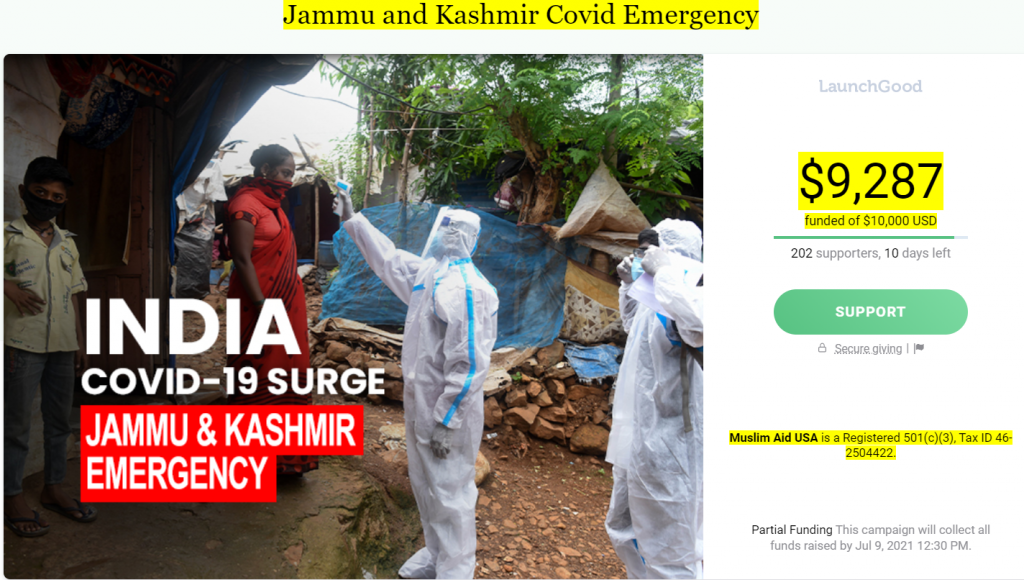 2.1.e. Sweeping it under the Carpet
Started in 2013, Muslim Aid USA was active until 2016. However, it went dormant between 2016-19, and was revived in 2019 with brand new faces on the board, before changing the status again as "inactive" until early January 2021.
It is not clear what prompted this change of guard, but surprisingly, while the organization was dormant, the Board Members kept changing every year between 2016-2019 with at least one key player receiving handsome sums in 'compensation' for their contribution while the charity, was defunct!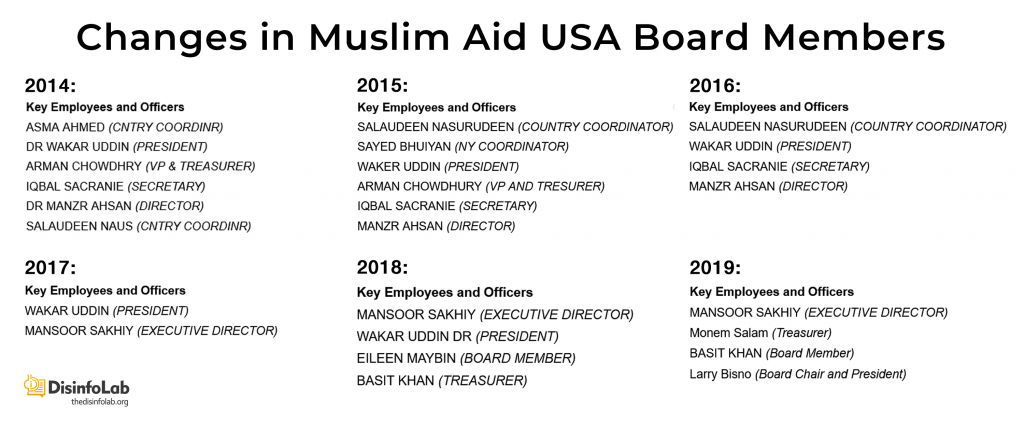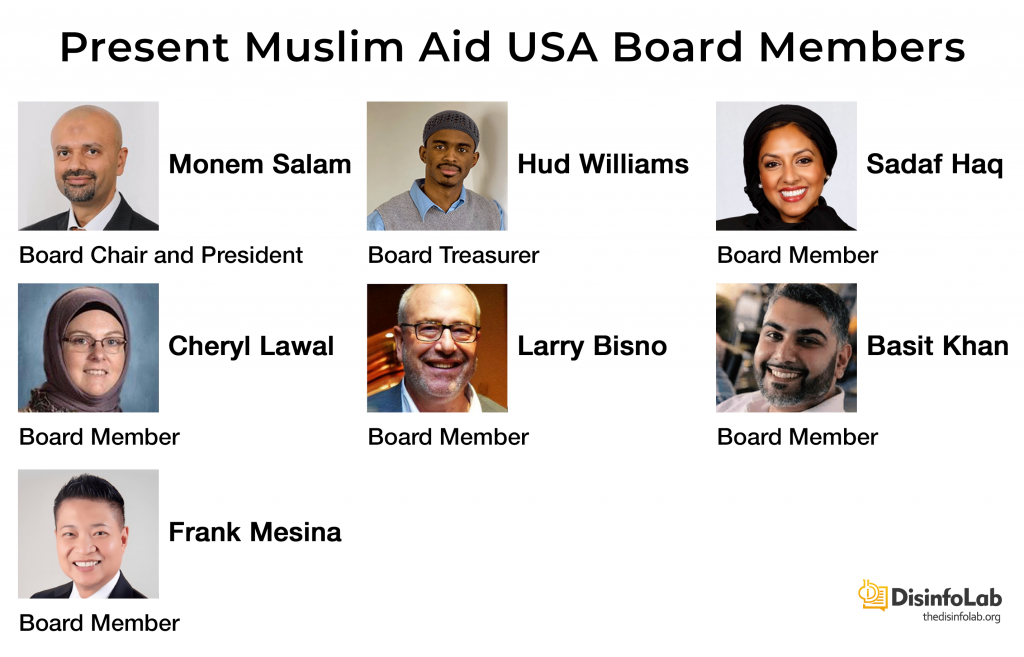 2.1.f. The Constant and the Variables
While the internal turmoil was ongoing (and it must be big, given the sum at stake), a few members did remain common including Wakar Uddin, who served for three years between 2015-18. Likewise, Sir Iqbal Sacranie and Salaudeen Naseerudeen served between 2015-16 and Mansoor Sakhiy remained at the Front between 2017-19. A key member Basit Khan served as treasurer and board member in 2018 & 2019 who is also currently serving as a Board Member of Muslim Aid USA in 2021. His USP – financial services, tax planning and fund raising.

In a Nutshell:
A charity organization with a convicted war criminal as trustee pops-up to collect fund in name of helping India. Its USA front, formed in 2013, has remained dormant for several years while still shuffling its board members, some of which continue to draw hefty sum as compensation for their contributions from a charity that is defunct. It collects thousands of dollars if not hundreds of thousands in the name of Covid crisis in India but delivers nothing on the ground. To cover-up its fraud, it posts fake images with scanty details of its work.
Part II
The Terrorist
2.2. Muslim Aid Australia
2.2.a. Introduction
Yet another branch of Charity came up as Muslim Aid Australia, also joins in the loot. MA-Australia, which was first established in 1991 and officially incorporated on December 3, 2012 (ABN number- 23056512958). Like sister concerns, Muslim Aid Australia (MAA) started a fundraiser on the good old Launch Good platform for helping India during COVID-19 crisis.
However, they went one step ahead, and as their star campaigner for this fund-raising, signed-up Dr. Bilal Philips, alleged to have links with Hamas and Taliban.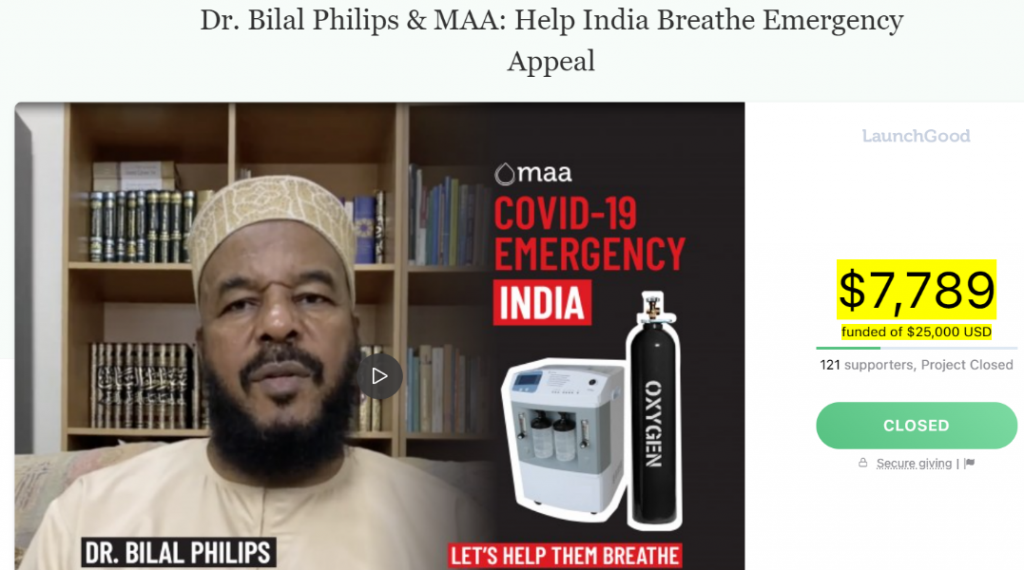 The Muslim Aid Australia launched its fundraising campaign on May 3, 2021 with a target of raising $25,000USD. Its star attraction, Dr. Bilal Philips also posted about the fund-raiser on his personal Facebook page on the same day, asking for funds on COVID-19 crisis in India.
Charity doesn't get better than this.
For the 'impact' of fund-raising, Muslim Aid Australia used a picture on Launch Good which is available on Getty Images for 499 USD. The picture is of a Tuberculosis patient from 2018, which Muslim Aid Australia used for Covid campaign.

What did Muslim Aid Australia Deliver?
As per the Facebook post of Muslim Aid Australia dated May 27, their consignment showed a total of 40 oxygen concentrators, but again – there was no mention of the ultimate beneficiary hospital/clinic, ground volunteers', local partners and even district or state they are providing help in.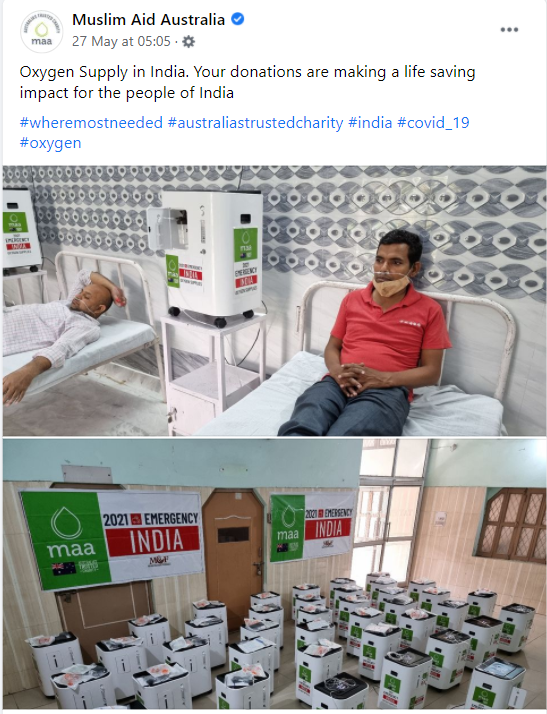 Fun Fact: The Silent Donors
In one of the most curious things to have come across, the MA-Australia has changed the setting of its FB page in such a manner that one can't access it from India!
A Charity fund-raiser, which is collected in India and in the name of India, but the Charity provider doesn't want to show to people of India what help it has delivered?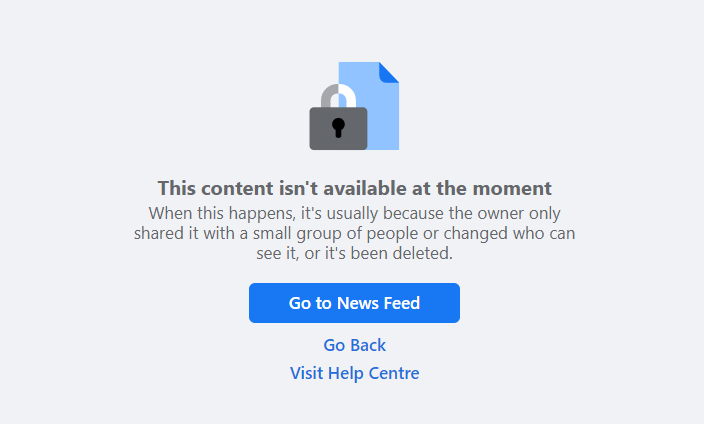 2.2.b – The Philanthropist with Terror Links?
Muslim Aid- Australia's celebrity campaigner Dr. Bilal Philips (Abu Ameenah Bilal Philips) is a Canadian Muslim Teacher who currently lives in Qatar. He is a former Board Member of Islamic Education Research Academy (iERA) which is known to have members of most hardline radical Islamists in the world. He has also been known for his support to Taliban and Hamas. And while Muslim Aid Australia engaged Bilal Philips for promoting its fund-raiser on Launch Good, Bilal himself stands banned/deported from several countries including in Australia!
The countries which have banned/deported him for having either terror connections or possessing extremist views are: US, UK, Kenya, Australia, Denmark, Bangladesh and the Philippines.
He is also the unindicted co-conspirator of the 1993 World Trade Centre bomb blasts in the United States.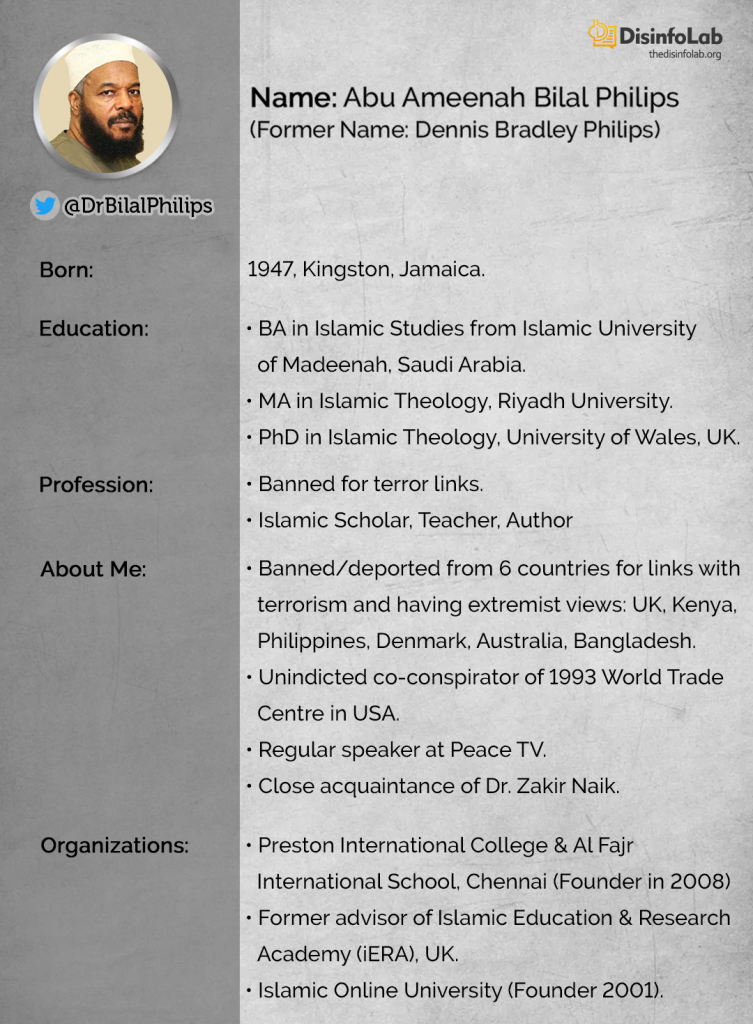 2.2.c. The Educationist with Terror Links
Bilal Philips worked in India during 2009-10 and founded two education institutions i.e., Preston International College and Al-Fajr International School both in Chennai, India.
The managing team of both Preston International College and Al-Fajr International School comprises of the same members i.e., Ahmed Meeran S (Chairman), Jiffy Kasim MH (Correspondent) & Abdus Samad (Treasurer).

The core team of both institutions comprises of two common members – Mohammad Umar Sulaiman (Director of Operations), Azeezrur Rahman (Manager operations)

Note: Bilal Philips was the founder of both the institutions, but at present his name does not appear among the board members' list. It is not clear what relations these institutes hold with him at present, if any.
2.3 Muslim Aid UK
Muslim Aid UK was the very first front to be formed in 1985 with company No. CE012794 & Charity No. 1176462.

Change in board members between 2016-18
Just like Muslim Aid USA, the UK branch also saw a change in its regime between 2016-18. The reasons were possible financial fraud in the branches in Gambia and Sudan between 2010-12. Due to that, the UK Charity Commission ordered a complete revamp of the board in 2015. As a result, there were new faces on the board between 2016-18 as explained through the below graphic: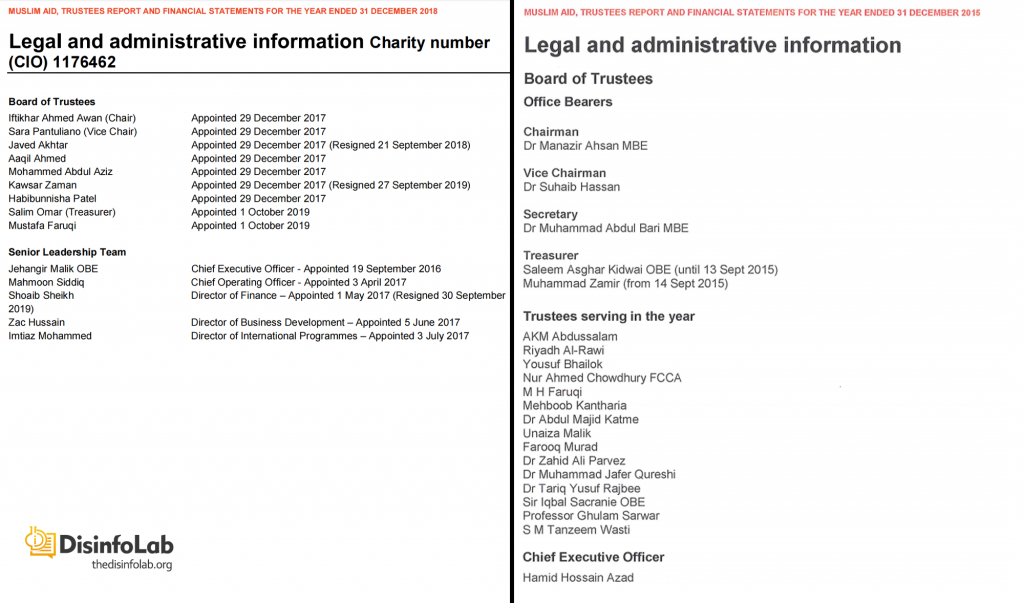 The current board members of Muslim Aid UK:
Iftikhar Awan, Chair
Sara Pantuliano, Deputy Chair
Mohammad Abdul Aziz
Aaqil Ahmed, Trustee
Mustafa Faruqi, Trustee
Salim Omar, (Trustee)
Fund Collection
With the other fronts of Muslim Aid were collecting funds for COVID-19 relief in India, the UK branch started a parallel fundraiser for the same. They promoted their fund-raisers on three different dates on Facebook i.e., on May 23, 27 & June 10.
All the pictures used in their social media posts have been taken from Shutterstock or similar other sources costing around $500 USD. Many of these pictures are not only not related to India's Covid crisis for which the help was sought, but were not even from the country.
A picture of Rohingya Muslim girls from Malaysia was used as India's worsening Covid Crisis!
Interestingly, unlike their US and Australia brethren, the only option of fund collection deployed by Muslim Aid-UK was directly through their website, implying: No Transparency and accountability.
Delivery?
(That's nice of you to ask.)
There have been no updates on any of their platform about any fund collection and subsequent deliveries.
Part III
The General
2.4 Muslim Aid Pakistan
Muslim Aid Pakistan got registered on September 14, 2005 (Company No. 24340). And while this branch is the newest one, Muslim Aid USA & Muslim Aid UK have been already working with the Pakistan branch, as recent as in February 2020.
The relationship of Muslim Aid Pakistan with other branches is rather peculiar. In other cases, despite sharing senior functionaries, different branches show their groundwork (whatever worth it is) independently, except in case of Pakistan.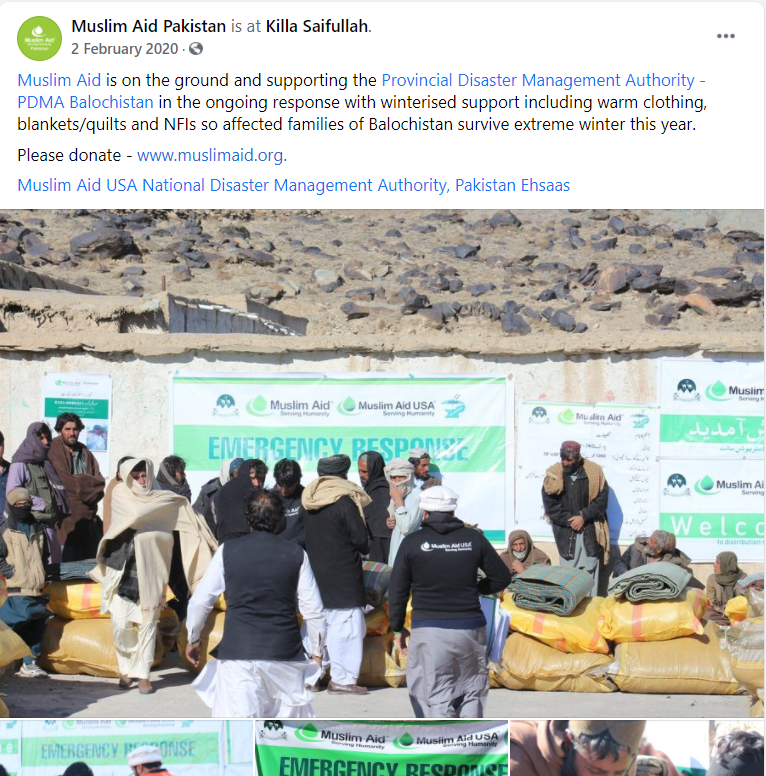 ISI's Charity or Charity for ISI
The official newsletter of Muslim Aid in 2009 had noted that they had appointed retired Lt. General Khalid Latif Mughal as Chairman. Lt. Gen Khalid has served in the Pakistan army for 36 years. He was also the In-charge of the Analysis wing of ISI along with many other accolades under his belt.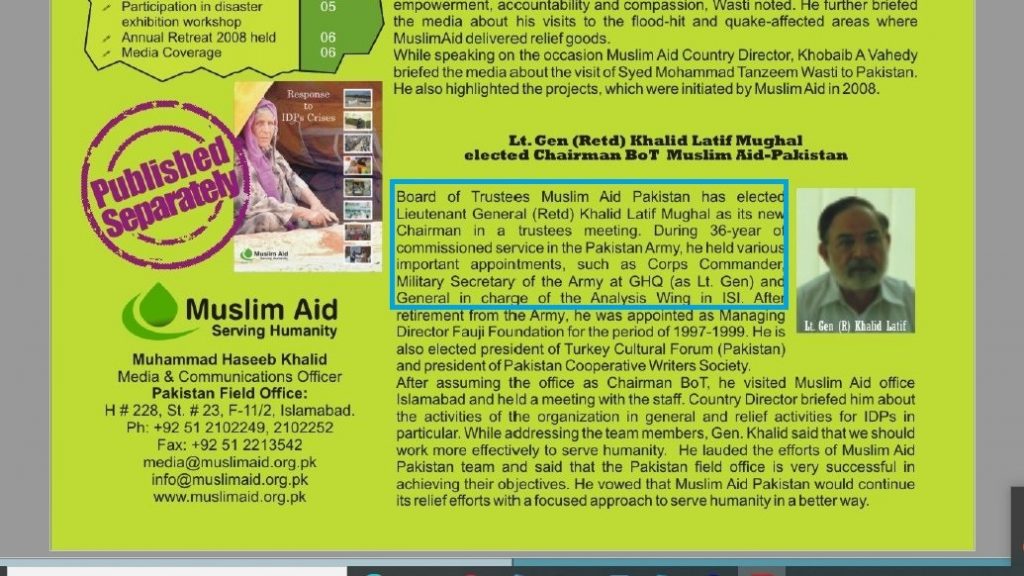 Board of Trustees of Muslim Aid Pakistan (includes Khalid Latif Mughal) as of 2017.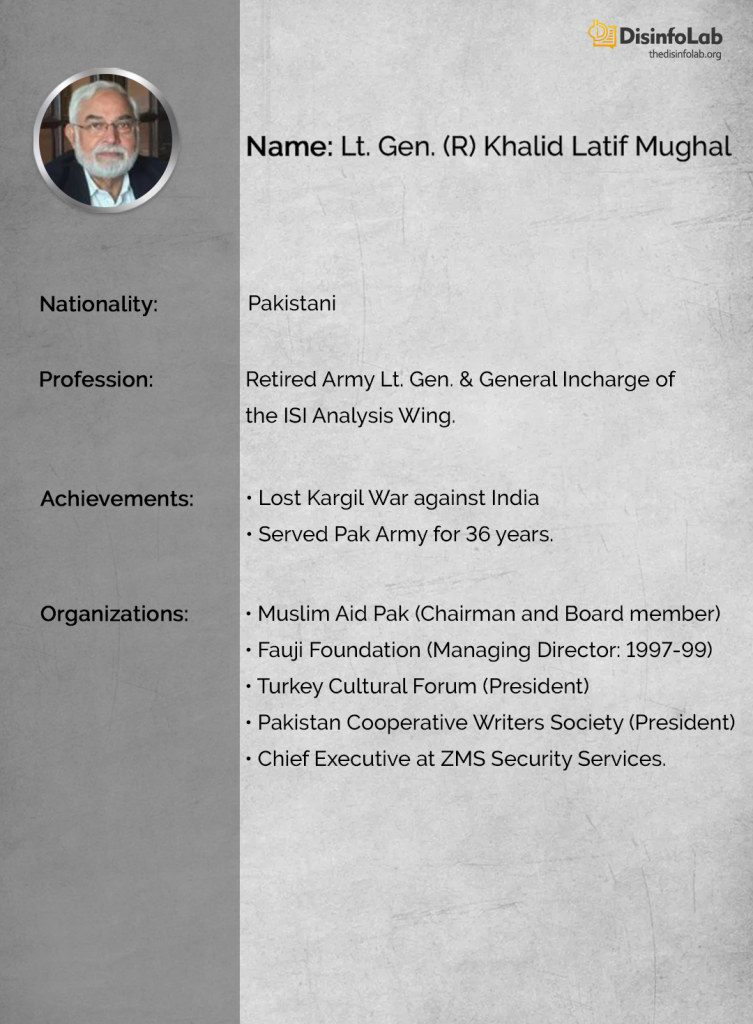 2.4.a- If ISI is there, how far behind JeI Would be?
As noted earlier, apart from the fact that some of their members were serving on their respective boards also had links with the Pak branch of Muslim Aid, the various branches of Muslim Aid also work with the 'charity' wings of Jamaat-e-Islami (JeI)- Al Khidmat. (For details about these organizations, pls refer to DisInfo Lab Reports)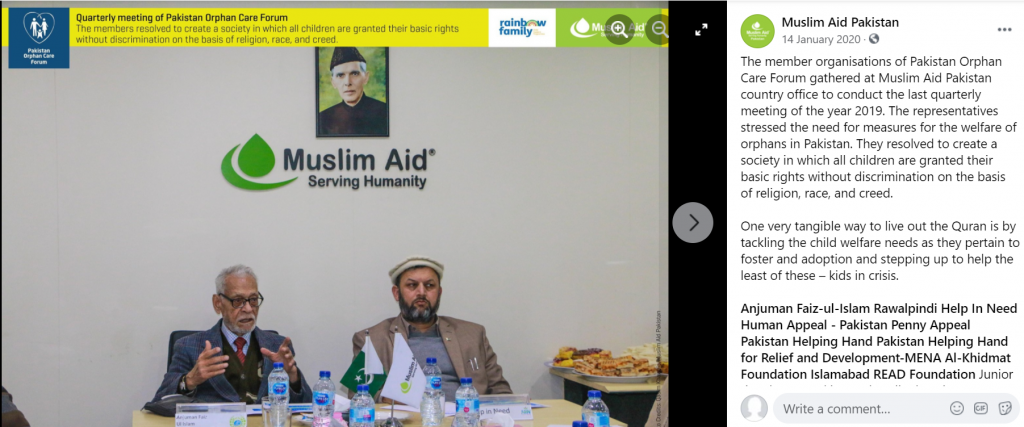 Muslim Aid Australia has also worked with Al-Khidmat Pakistan previously in 2015.
Note: Al Khidmat Foundation is a Pakistan based NGO and is known to be the charity wing of Jamaat-e-Islami. Terror outfit Hizbul Mujahideen is aided by Al-Khidmat. They also work closely with Ghazali Trust, another charity wing of JeI and even aid Hizbul chief Syed Salahuddin.
Part IV
The Web
Chapter 3
Total Collection & Help in a Nutshell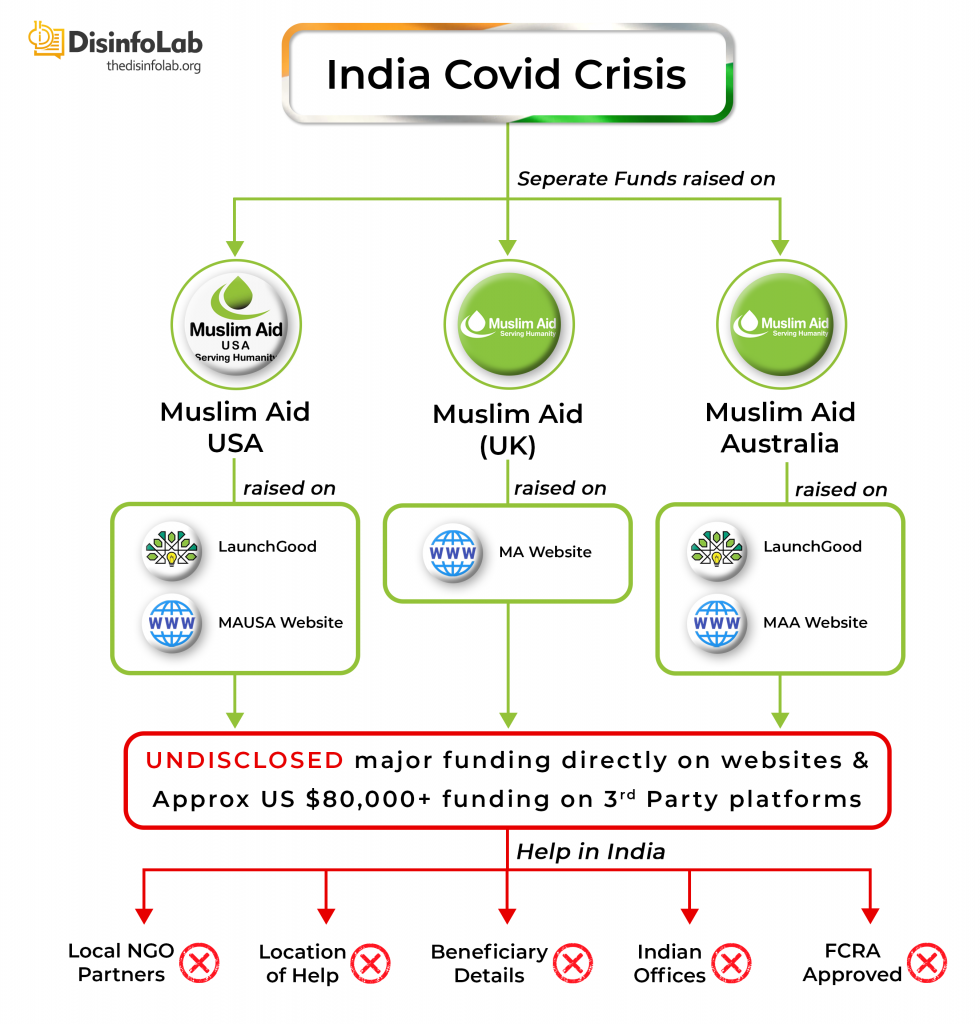 3.1- The Web: USA-UK-PAK
That these fronts have symbiotic relationship is also evident from the common 'Board Members' across various branches. In fact, these various fronts have revolving door, where the key operatives keep moving from one to another. A total of four members of Muslim Aid USA, UK and Pakistan are common across the 'Boards' of these organizations: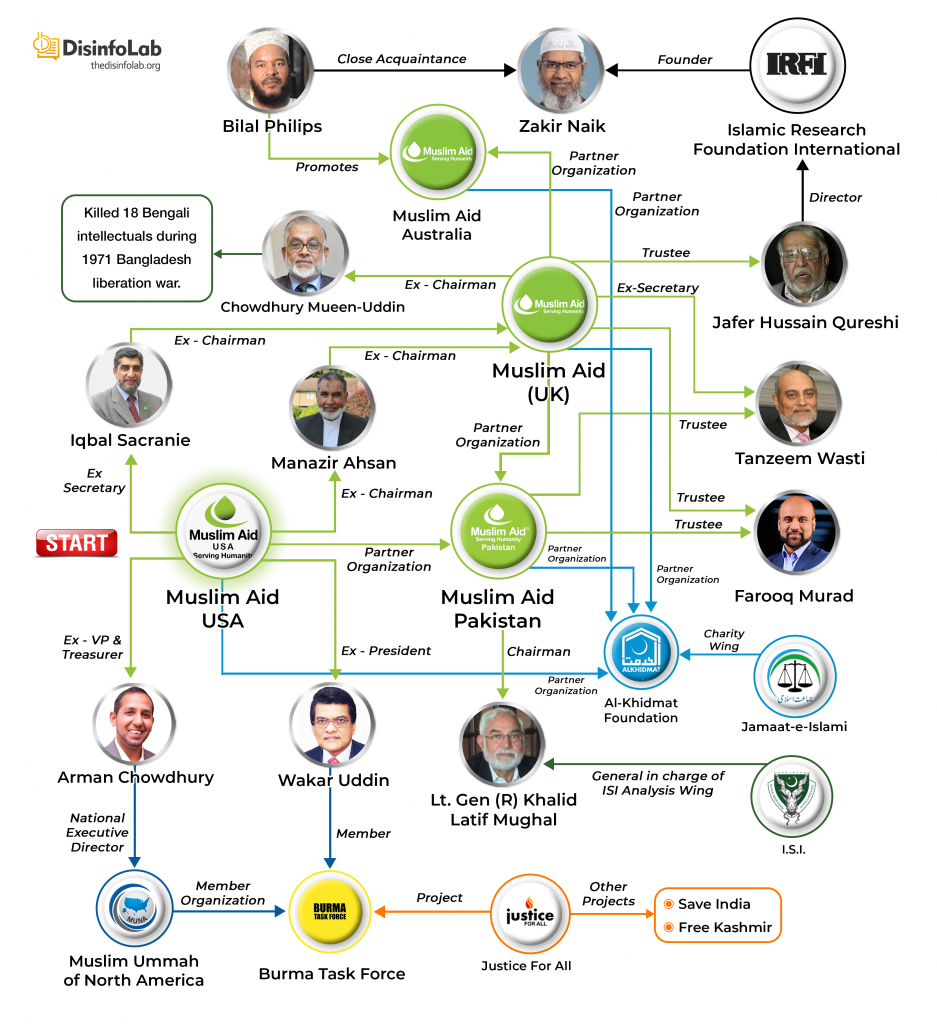 1. Muhammad Manazir Ahsan- (USA, UK & PAK)
Manazir Ahsan served as the director of Muslim Aid USA in 2015 & 2016. In 2017, he was serving as one of the board of trustees of Muslim Aid Pakistan. Earlier, he was also the chairman of Muslim Aid UK in 2014. To his credit, Manazir Ahsan is also reported to be the chief coordinator of the riots against author Salman Rushdie over his book "The Satanic Verses" in 1989.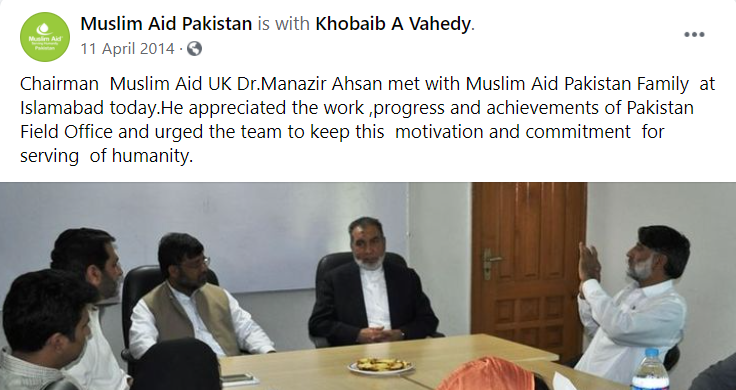 Ahsan also runs Islamic Foundation (managed by Kube Publishing Limited) as its chairman in the UK. It has been reported that two trustees of Islamic Foundation had been put under US sanction list for their links with terror outfits Taliban and Al-Qaeda.
Lest We Forget:
It is also increasingly clear that the information warfare is a preferred option instead of old school rioting and terrorism. Earlier, we had noted how the Pak-linked Khalistan axis being run through Bhajan Singh Bhinder @Iqbal Chowdhary had set up a publishing house in the US (Sovereign Star Publishing Inc.) through which they published all the books written by their 'expert' Pieter Friedrich. (Pls refer DisInfo Lab Report: Unending War-I)
2. Farooq Salman Murad (UK & PAK)
Farooq Salman Murad is a resident of Britain and one of the trustees of Muslim Aid Pakistan. He was the director of Muslim Aid International (chapter of Muslim Aid – UK, which is now dormant). Farooq is the son of Khurram Murad, the Vice President of Jamaat-e-Islami Pakistan and President of JeI Bangladesh, now seems to be carrying the Jamaat legacy.
Trivia:
In an interview of 2013, Jamaat-e-Islami founder's son Syed Haider Farooq Maudoodi revealed that Murad was a superior of Al-Badr leader Motiur Rahman Nizami and actually went by the name Khurrad "Jha" Murad. And as per one of the commission reports, he killed 15 Bengali Hindus just to check whether his three-not-three rifle was working or not.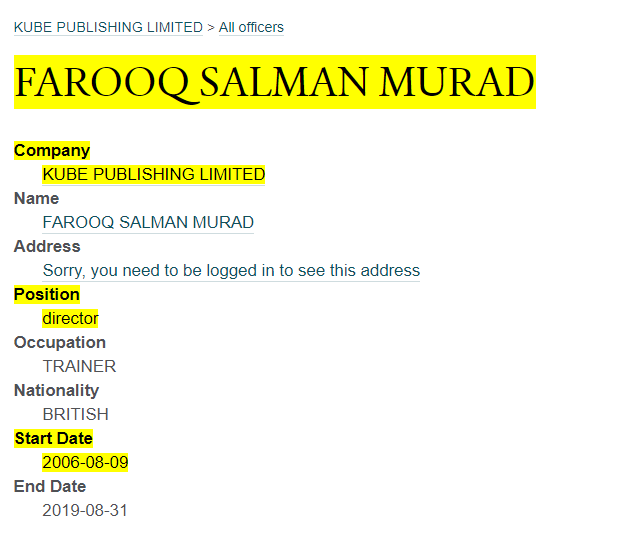 In addition to Muslim Aid, Farooq Murad is also connected with Kube Publishing Limited whose chairman is Manazir Ahsan. In fact, Farooq Murad was the director of Kube Publishing Limited when it was formed back in 2006.
3. Syed Mohammad Tanzeem Wasti (UK & PAK)
Currently, Syed Mohammad Tanzeem Wasti is one of the trustees of Muslim Aid Pakistan. Earlier, he was the Secretary of Muslim Aid UK (2009) and director of Muslim Aid International (2008-12) which stands dissolved at present. Other than Muslim Aid International, Wasti was also associated with three other companies in UK, one of which has terminated its operation.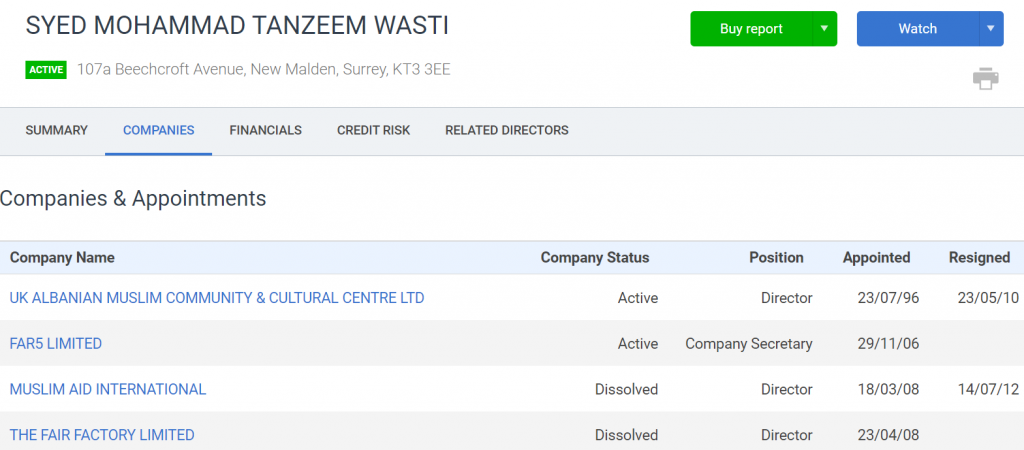 4. Sir Iqbal Sacranie (USA-UK)
Sir Iqbal Abdul Karim Mussa Sacranie was the secretary of Muslim Aid UK in 2015 & 2016 as already instanced in the Muslim Aid USA part. He was also elected in the Executive Committee of Muslim Aid UK in 2012. He is also one of the "British Islamist" who had backed fatwa against Salman Rushdie during his book release (The Satanic Verses) in 1989, His Muslim Aid UK colleague in the had coordinated the riots against Rushdie.
3.1.a. The Network: Organic or by Design
The common linkages were not only evident from their members who keep switcing the organization, but also from the social media platforms of these fronts:
The above graph shows the follower's network of all Muslim aid chapters on twitter. The blue nodes represent verified handles. The size of the node is scaled by their follower count.
Important to note that the verified and big twitter accounts provide legitimacy to such handles. For example, from the above graph one can see that Muslim aid UK is a small account compared to the large number of big and verified accounts of its followers.
The common handles among these various Muslim aid chapters especially Muslim aid Pakistan and Muslim aid UK – which indicate that some of these platforms might have been promoted by same set of handles.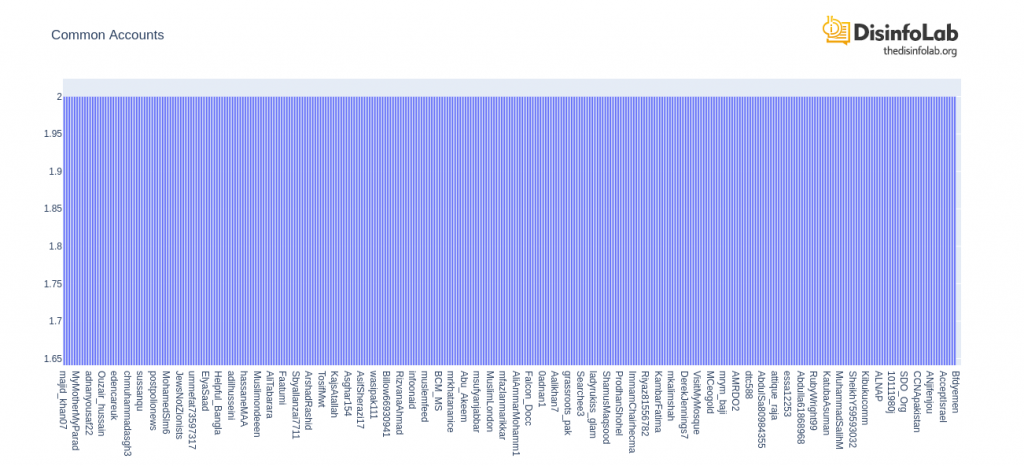 There was a total of 344 common followers between Muslim Aid UK & Muslim Pakistan.
The Epicenter of Charity Industry
While all these fronts of Muslim Aid are linked to each other, Pakistan is the central control/ coordinator point. Some members served one stint with US & UK branch were later promoted to Pakistan front as much evident in the cases of Manazir Ahsan, Farooq Murad and Mohammed Tanzeem Wasti. It wont be an exaggeration to say that the entire network has been under the one common center in Pakistan, also seen in the social media fronts of UK & USA which are managed from Pakistan as well.

However, the most glaring example is the manner in which different organizations ostensibly being run from different continent by entirely different set of people running exact replica of fund-raising campaigns. They not only share the fund-raising platforms (Launch Good and Just Giving) but also adopt similar fakery to project the never delivered aid procuring random images from Getty or Shutterstock or sourcing fake pics through their ground operative. They also do not have any local partner and do not provide details of their benificiaries.
Part V
The Victim
Chapter 4
India Connection: Zakir Naik, Zakat Foundation & Al Fouz
4.1.a Zakir Naik Connection:
The key players in the Muslim Aid Foundation are also the key players in some of the controversial organizations in India – such as the Zakat Foundation India (ZFI), Islamic Research Foundation (IRF), Al Fouz Trust and Peace TV.
One of the key members of Muslim Aid UK circuit Mohammed Jafer Hussain Qureshi is also the trustee of Peace TV. Besides, he was also the director of Islamic Research Foundation between 2007-16, another organization owned by Dr. Zakir Naik, a wanted man in association with bomb blasts in several cities in India.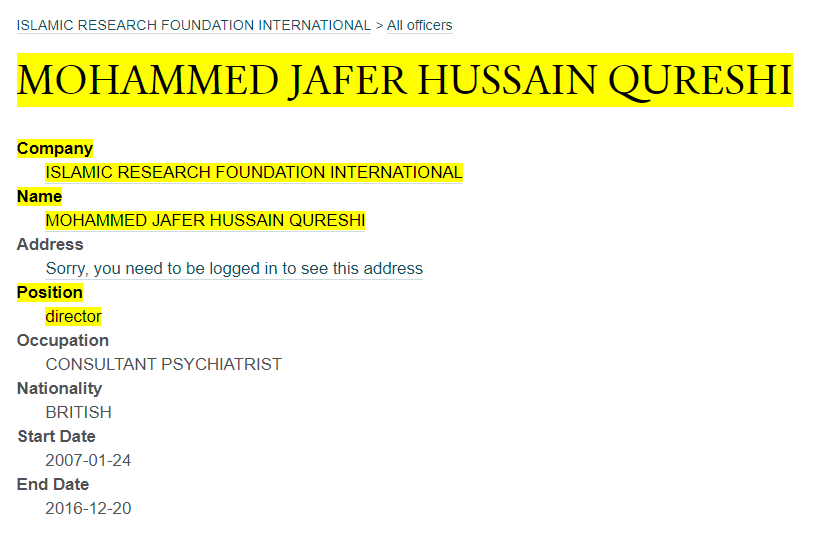 Likewise, the Muslim Aid Australia start campaigner Dr. Bilal Philips is a close associate of Dr. Zakir Naik. He regularly appears as a speaker on "Peace TV". Philips and Naik were also the advisors of Islamic Education and Research Academy (iERA) (charity no. 1134566).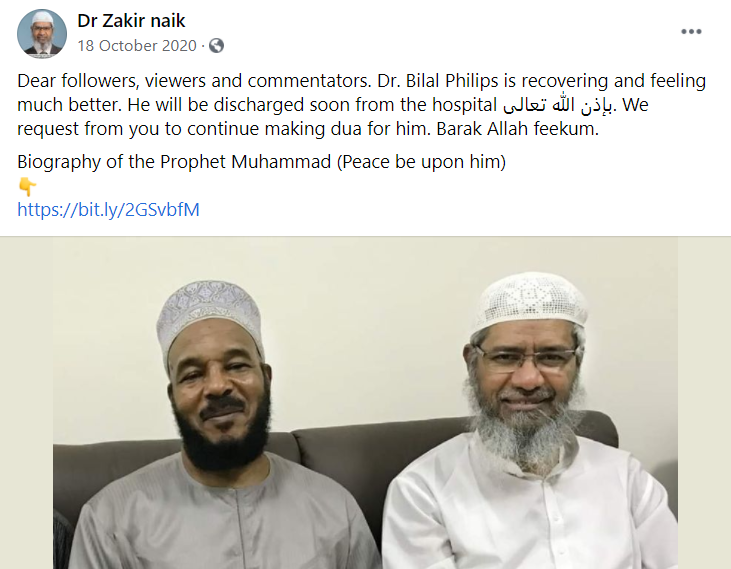 Trivia:
iERA was banned by the London University in 2013 for enforcing segregation of audience at an event, implying, men and couples were allowed to sit at front, while women were seated at the back. In March 2014, the Charity Commission of England and Wales also launched investigation on iERA over concerns on their administrative functionaries.
4.1.b- Al Fouz Trust
Mohammad Jaffer Hussain Qureshi is the Chairman of the al-Fouz Trust, whose founding trustees Mustassam Abbasi is also the director of Peace TV.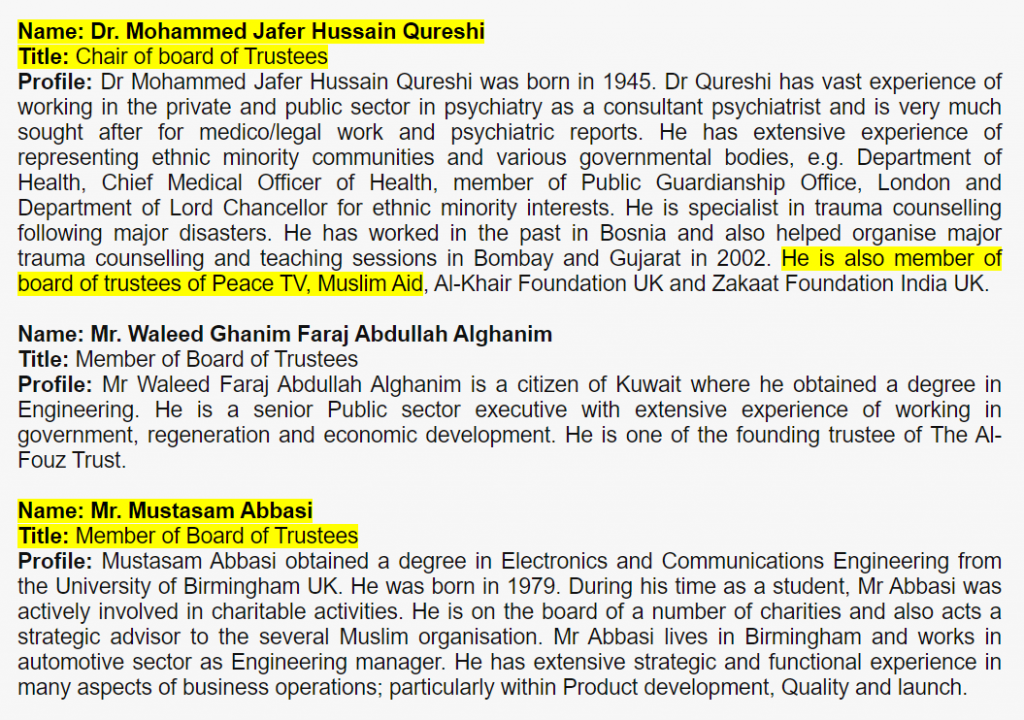 4.1.c Zakaat Foundation, India
Muslim Aid UK member Jafer Hassain Qureshi is a close associate of Syed Zafar Mehmood, founder of Zakaat Foundation India, and both of them are currently serving as the director of Zakaat Foundation of India (International) at UK.
The Zakat Foundation was also one of the recipients of funds from Madina Trust UK. A case was going on in the Supreme Court of India against Zakat Foundation of India for receiving foreign funds from Madina Trust and Muslim Aid UK.

Chapter 5
The Circle of Hell
The president of Muslim Aid USA between 2015-18 Wakar Uddin is an active participant of conferences organized jointly by Justice for All (JFA) and Burma Task Force – both of which are fronts of Islamic Circle of North America (ICNA) – which in turn is associated with Jamaat-e-Islami Pakistan.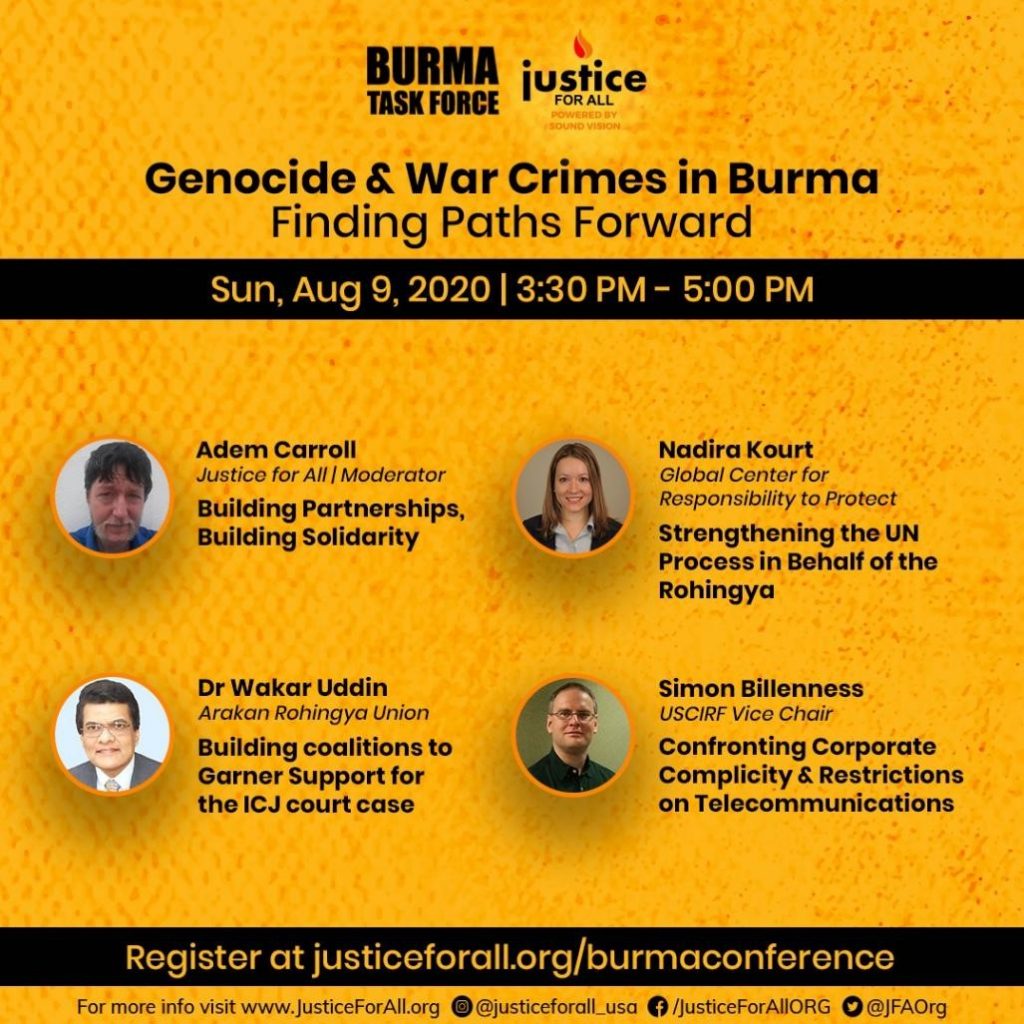 He is also the chairman and founder of Burmese Rohingya Association of North America (BRANA). It is also worth-noting that BRANA works in coalition with Burma Task Force.
(For details about ICNA and its relations with Islamist and terrorist groups pls refer DisInfo Lab Report "USCIRF: an Organization of Particular Concern")
5.1. Muslim Ummah of North America (MUNA)
Armaan Chowdhury, the Vice President and treasurer of Muslim Aid USA in 2015, is currently the National Executive Director and Director of Social Service at MUNA (Muslim Ummah of North America)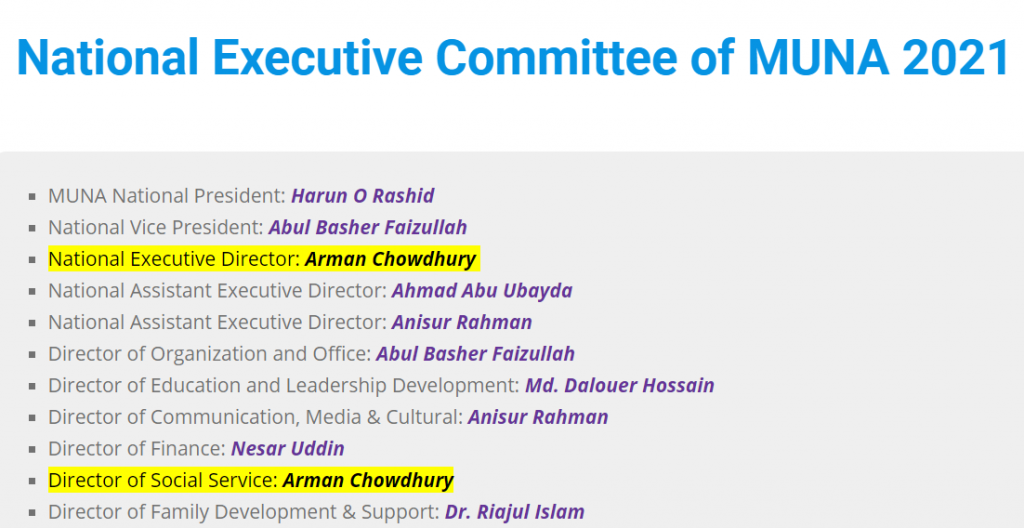 MUNA was established in 1990 as a non-profit 501 (c) (3) organization with company no. 1690591. At present, MUNA is a part of Burma Task Force which in turn comes under Justice for All (For elaborated detail on JFA, refer Disinfo Lab report of USCIRF).

MUNA doesn't shy away about its associations with Jamaat-e-Islami, not just once but on numerous occasions. In 2010, MUNA invited one of the Bangladesh war criminals and Jamaat's General Secretary Muhammad Kamaruzzaman in its event. Their connection with war criminals was not limited to just one person. Likewise, Nakibur Rahman, the son of another 1971 War Criminal Motiur Rahman Nizami, was the speaker of 2019 convention held by MUNA.
Conclusion
Covid crisis is a tragedy of the century.
That being so, the moral and financial fraud committed by these fronts in the name of helping India is also a scam of the century. In a well-conceived and orchestrated manner, plethora of shady fronts pop up to collect fund in name of helping India – all with similar set of people and run in almost identical manner.
However, the Covid crisis is only the most recent scam, albite most successful one, pulled off by these organizations in the name of charity. They have turned charity into a full-fledged industry, where with help of a website, social media handles, fake images and fund-raising platforms, they are able to generate millions of dollars with zero accountability.
The tragedy is glaring in the face not only in its scale and its inhuman character, but more so about the impunity with which they are able to operate in various countries – from US, to UK to Australia and so forth – right beneath the nose of law enforcement agencies. These organizations do not have one but several smoking guns. And should there be some doubt, they openly deploy convicted war criminals and designated terrorists.
Hence it remains a puzzle as to how the robust law and order machinery of the developed world has failed to bring them to justice. If they are considered 'necessary evils' who are being allowed to run in return of some 'quid pro quo', then this would be another matter.
It is also a matter of grave concern that these fronts are able to operate with same impunity in India as well, and despite their crimes being in open in public domain, they continue to run the business as usual.
We can only hope that the law takes its course one day, and till then the best defense against these scams is awareness.
The more they get exposed, and the more people know about their fraud, is the only way we would be able to save millions of innocent people, including a large section of unsuspecting Muslim population from falling prey to these vulture charities. Its imperative that they realize the true face of these organizations, which have become fiefdom of a set of families settled in developed world and running agenda of a State.