Introduction
Considering India has over the years been one of the emerging developing nations, it has become imperative for some global entities and nexuses that intend to keep India a hotspot of tensions. Now, these groups have their interests and causes which are comprised of three key segments- Islamist nexus (backed by Pakistan), NGO cabal and human rights advocacy groups, and Philanthropist George Soros.
Through this report, we aim to stimulate how this plethora of fronts are connected, and in turn, constitute a larger network expanding beyond India, and to other countries including Israel, while operating from the US.
The first installment of the "Crocodile Series" titled "Funding The Fangs: Soros Funding To the Democratic Republic Of Muslim Brotherhood" documented how the global Muslim Brotherhood has found a philanthropic ally who likes to think of himself as God and wishes to change the world order as in the name of promoting democracy. The first installment of the series also documented the global intercontinental joint operations of Soros and the MB, including in Europe, the US, and the Middle East. A key takeaway of the report was how Soros-funded-and-MB-linked Islamist groups have been waging a campaign – Boycott Divestment and Sanction – BDS against Israel.
In this part of the report, we document how the same model is being replicated against India – with the help of a similar set of people – funded by Soros and promoted by Islamist groups. They also deploy similar fronts, and similar tools – down to each organization. Down to the logos they have used!
One of the most important fronts, copied from Jewish Voice for Peace, is Hindus for Human Rights. The tradecraft, the narrative, and the toolkit are all the same. Incidentally, the HfHR is founded by Sunita Vishwanath, who happened to be the spouse of Stephan Shaw from Jewish Voice for Peace (JVP)!
Part I: a Match Made in Heaven
Chapter 1: Hindus for Human Rights
Founded in October 2019, Hindus for Human Rights (HfHR) touts itself as a leading "political advocacy group of progressive Hindu voices to advocate for civil & human rights in South Asia & North America."
Earlier, in our report, "The Longest War- Operation Tupac", it was noted how fronts like HfHR popped up to create a secular façade. And notably, even before its inception, HfHR seems to have a high-flying journey. HfHR's journey began even before it was officially found. It had been working with a number of questionable groups such as Organizations for Minorities of India (OFMI) and Indian American Muslim Council (IAMC) since its initial days. Both these organizations have been in question for their campaigns against India as exposed in Disinfolab reports.
HfHR's image-building was a collective task upheld by the Islamist nexus (in the garb of human rights advocacy), in the US. In its initial days, HfHR had started working with Organization for Minorities of India (OFMI), as well as IAMC, and constitutes an alliance with them namely- Alliance for Justice and Accountability (AJA). Through that alliance, IAMC, OFMI, and HfHR jointly held protests including the most prominent one in Houston in September 2019. AJA was one of the leading groups leading the protests in Houston.
HfHR has been one of the most active groups abetting the US nexus of the Islamist circle comprising Jamaat-e-Islami & anti-India lobbying groups. HfHR often engages with the JeI-linked organizations including the Islamic Circle of North America (ICNA), Justice For All (JFA), IAMC, and Muslim Brotherhood front, Council on American Islamic Relations (CAIR).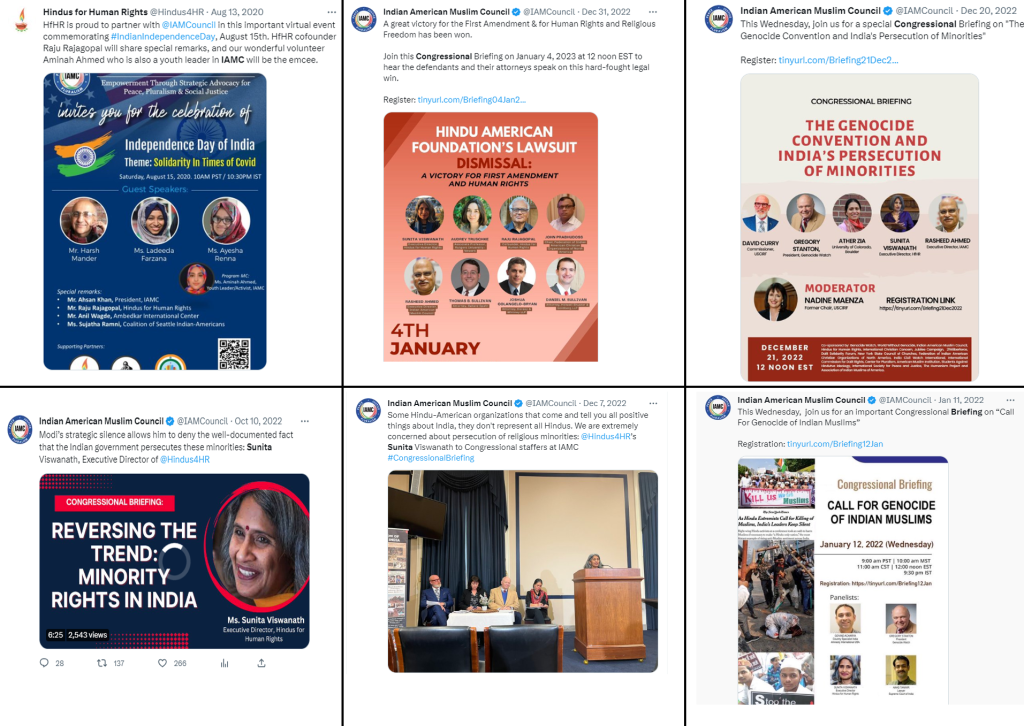 Founders and Members
HfHR was co-founded by Indian-origin individuals based in the US – viz Sunita Vishwanath, Raju Rajagopal, Punya Upadhyaya, Deepak Gupta, and Sunil Sakhalkar. Recently, they have also roped-in Nikhil Mandalaparthy and Swara Bhaskar on Advisory Board. Other HfHR's advisory board members include Dr. Syeda Hameed, Martin Macwan, Dr. Linda Hess, Dr. Khalid Anis Ansari, Father Anand Matthew, and Rev. Abhi Janamanchi among others.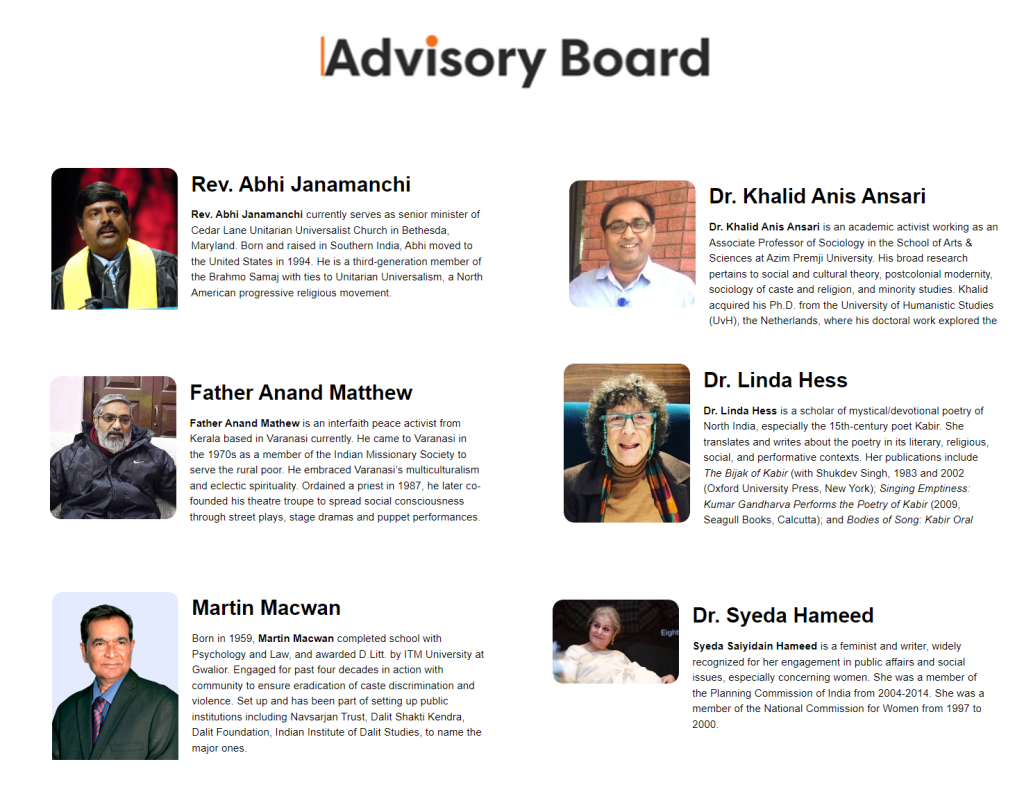 A. Raju Rajagopal
Raju Rajagopal is a 1968 engineering graduate of IIT-M, who worked in the corporate sector in the US & retired as a COO of a healthcare consulting company. He later joined the Unique Identification Authority of India (UIDAI) as a volunteer in 2009 and subsequently became its head of Civil Society Outreach upon then-Unique Identification Authority of India (UIDAI) Chairman, Nandan Nilelakni's request. Rajagopal worked for UIDAI for one year and helped in forming partnerships with NGOs around the country.
In the US, Rajagopal is based in Berkeley, USA  , and has been associated with several organizations including Coalition Against Communalism (CAC) and EKTA which were partners of a larger umbrella group Coalition Against Genocide (CAG). CAG was co-founded by IAMC mastermind, Shaik Ubaid and Professor Angana Chatterji (also a close aide of convicted ISI mole Ghulam Nabi Fa).
Besides, he was also a speaker at the 2003 IAMC event and is listed as the president of CAC in the press release. The press release has now been removed from IAMC's official website.
Additionally, he has also been associated with a California-based Palayam Foundation. Rajagopal's son, Sudhanva Rajagopal is the Executive Director of the organization. And as of 2020, HfHR had received USD 17,436 from Palayam Foundation.
B. Martin Macwan & Navsarjan Trust
Martin Macwan is a Dalit Human Rights activist associated with HfHR as an advisory board member. He hails from Gujarat and is a lawyer by profession. Macwan founded Navsarjan Trust in 1988-89 to promote Dalit and women's rights. Macwan also served as the national convener of the National Campaign on Dalit Human Rights (NCDHR) from 1999-2001. He has also been behind setting up a number of organizations including the National Centre for Advocacy Studies, the Indian Institute of Dalit Studies, and the Dalit Foundation. In 2000, he was named one of the five 'outstanding human rights defenders' by the Human Rights Watch (HRW).
The Corruption Allegations
In December 2016, the Foreign Contribution Regulation Act (FCRA) of Navsarjan Trust was revoked by the Ministry of Home Affairs (MHA) because the organization was receiving funds from abroad, and was engaged in activities that aimed to "affect prejudicially harmony between religious groups, racial, social, linguistic, regional groups, caste or communities." and that the "Navsarjan Trust was engaged in activities that were "detrimental to national interests."
Interestingly, while the NGO was sitting on funds worth INR 22 Crores, it decided to lay off 80 staff without paying their salaries following the cancellation of its FCRA license. The NGOs national convener, Suresh Jadav also accused the trust of communalism and financial irregularities. Earlier, in September (2016), two months before its FCRA cancellation, seven former employees of Navsarjan Trust accused its trustees of siphoning off Rs. 30 crores which the NGO had received from a Switzerland Development Corporation.
Chapter 2: the Protagonist – Sunita Vishwanath
Sunita Vishwanath (formerly Sunita Mehta) is the key element of the whole HfHR project. She is the co-founder of Hindus for Human Rights (HfHR) and has been an active public representative of the group and is now an essential part of the 15-17 organizations sponsored congressional briefings organized by the US-based Jamaat and anti-India lobbying fronts. Furthermore, she has a lot of strings connected to a number of organizations that have questionable links & affiliations including George Soros' Open Society Foundations (OSF).
Early Years
Born to an Andhra family in Chennai, Sunita's family shifted to the UK before coming back to India in Chennai. Sunita moved to the US at the age of 19 where she pursued her BA in mathematics from Douglass College (Rutgers University) and further completed her master's in sociology from SNDT Women's University. She got married to Suketu Mehta, the award-winning Author of "Maximum City: Bombay Lost and Found".
Start of Activism with Soros Funding
Sunita's activism journey also began in the late 1990s to early 2000s when she was associated with several organizations which had philanthropic backing from Open Society Foundations (OSF). In 2002, Sunita co-founded Women for Afghan Women (WAW) which describes itself as "a grassroots civil society organization dedicated to protecting and promoting the rights of disenfranchised Afghan women and girls in Afghanistan and New York" The organization was funded by several groups including The Ford Foundation and Open Society Institute.
Sunita had also been associated with a number of organizations including SAKHI (a South Asian Women's Center for Anti-Violence Education), and The Sister Fund (as Director of grants). SAKHI for South Asian Women, founded in 1989 by activist Mallika Parvati Dutt.
Mallika Dutt is a human rights activist, social entrepreneur, and feminist, with a carrier in activism and has been associated with several 'philanthropic organizations' including the Ford Foundation (New Delhi 1996-2000), The Norman Foundation (New York, 1992-94), and the Open Society Foundation (US Programs 2010-12). Besides, she was also associated with The Sister Fund (1995-98) where Sunita was employed as Director of grants.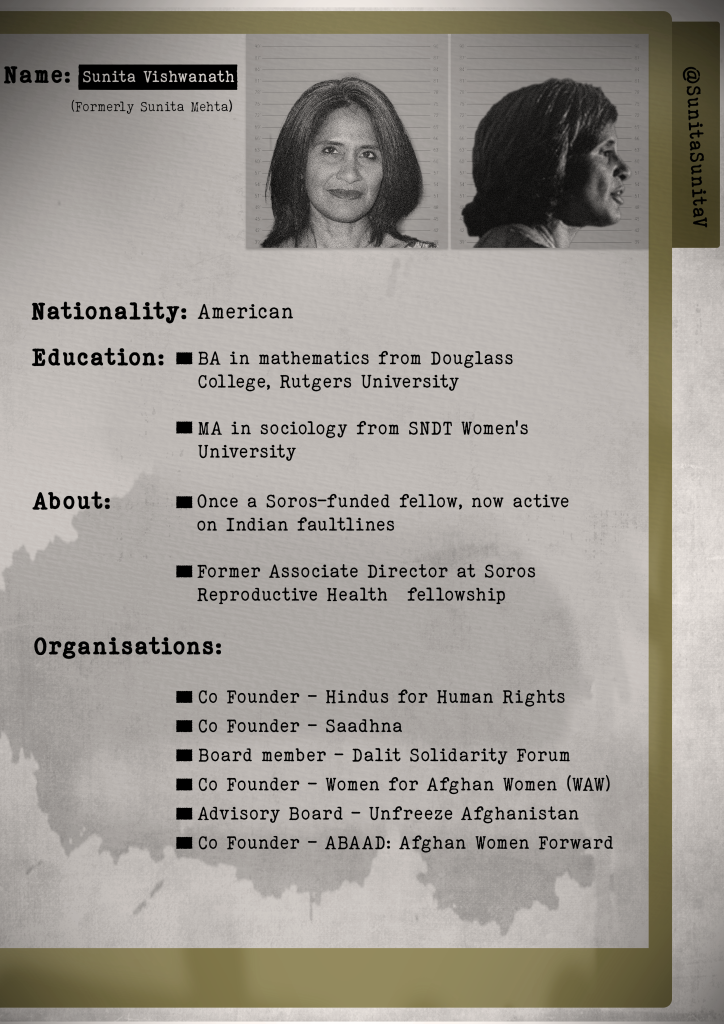 Within three years of founding WAW, in 2005 after divorcing her first husband (Suketu Mehta), Sunita tied the knot with a US-based Jew citizen Stephan Shaw, and started living with him along with her sons- Gautama, Akash, and Satya. A year later, in 2006, Sunita was appointed as the Associate Director of Soros Reproductive Health housed at Columbia University.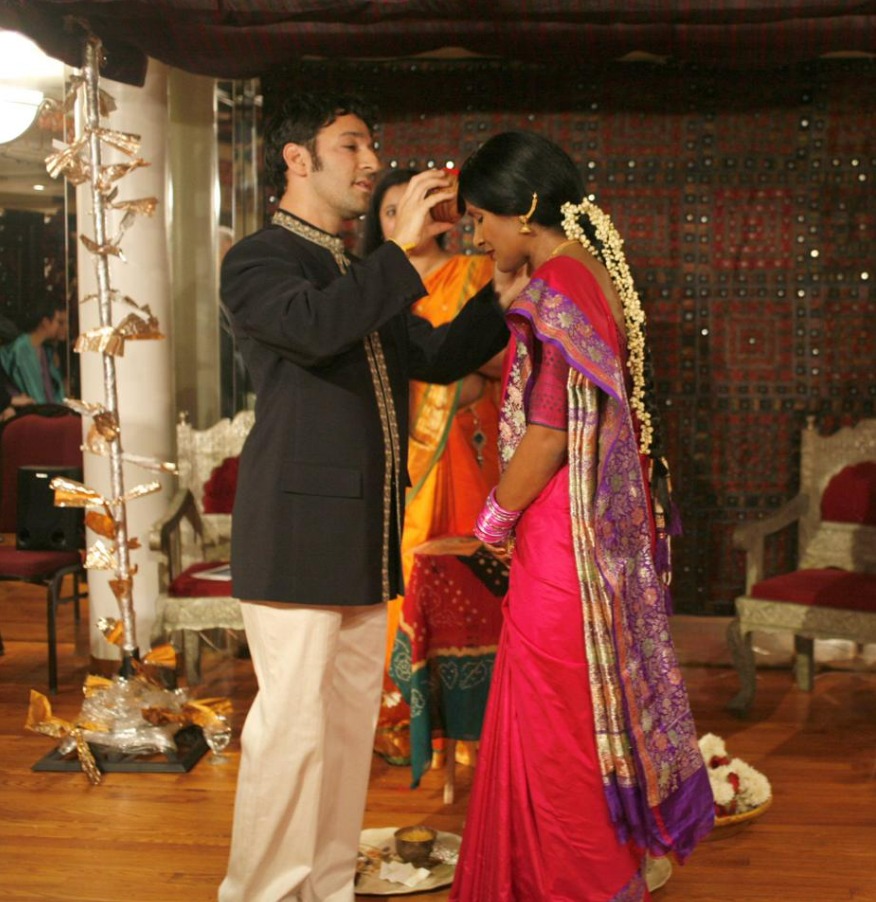 Stephan Shaw and Jewish Voice for Peace
Surprisingly, for an activist, there is precious little information available about Stephan Shaw – he also does not have any social media presence. However, he is known to be an engaged member of an advocacy group in the United States- Jewish Voice for Peace (JVP). Stephan was also on the advisory board of Women for Afghan Women (WAW), co-founded by Sunita with whom she was associated until January 2022.
Jewish Voice for Peace
Formed in September 1996 in San Francisco Bay Area by a group of students Joel Beinin, Rebecca Vilkomerson, and Sydney Levy, Jewish Voice for Peace (JVP) is a national organization dedicated to a U.S. foreign policy based on peace, human rights, and respect for international law. Through its works, JVP seeks to challenge and change the US policy towards Israel and Palestine and put an end to the Israeli occupation of the Palestinian territories.
JVP is known to be the first such Jewish-sounding organization that began organizing protests and organizing events against Israel. It co-organized and co-sponsored protests in front of the Israel consulate and even engage with local congressional representatives to discuss the Israel-Palestine conflict.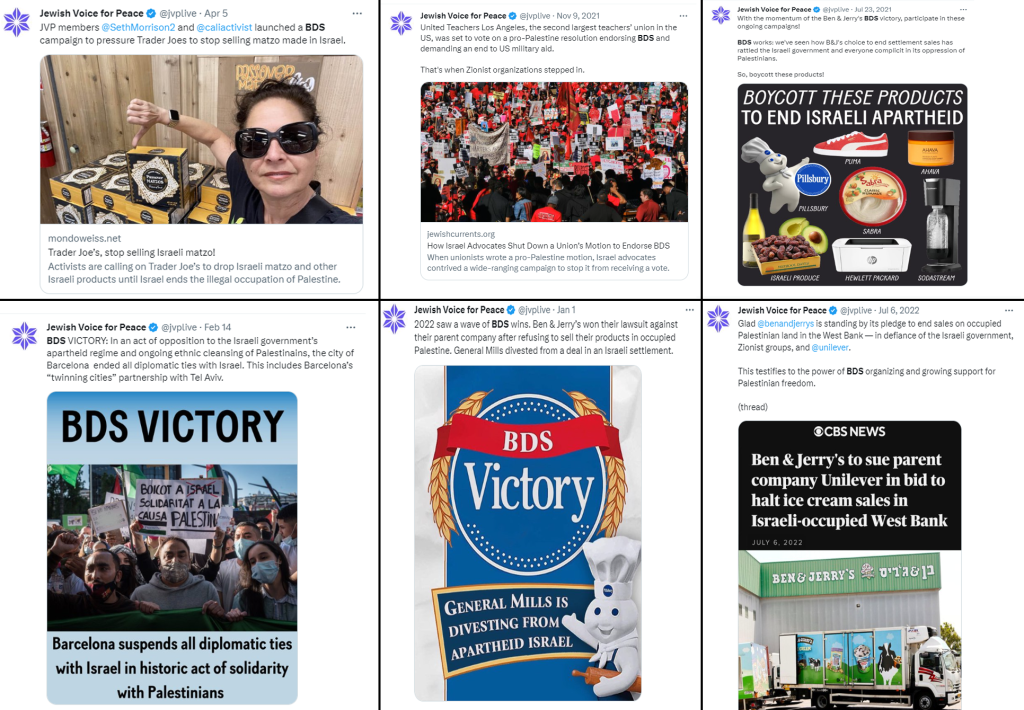 Jewish Voice for Peace (JVP) in simple words is a front 'ostensibly led by Jews' towards the cause of Palestine. It is one of the key organizations that has been successful in pursuing the Boycott, Divestment, & Sanctions Movement against Israel. Through years of its existence, and when the BDS movement was first launched in 2005, JVP has become one of the leading organizations for BDS against Israel. To its achievement, it has been able to mobilize efforts including through lobbying activities that have led to diplomatic, economic, and cultural setbacks to Israel.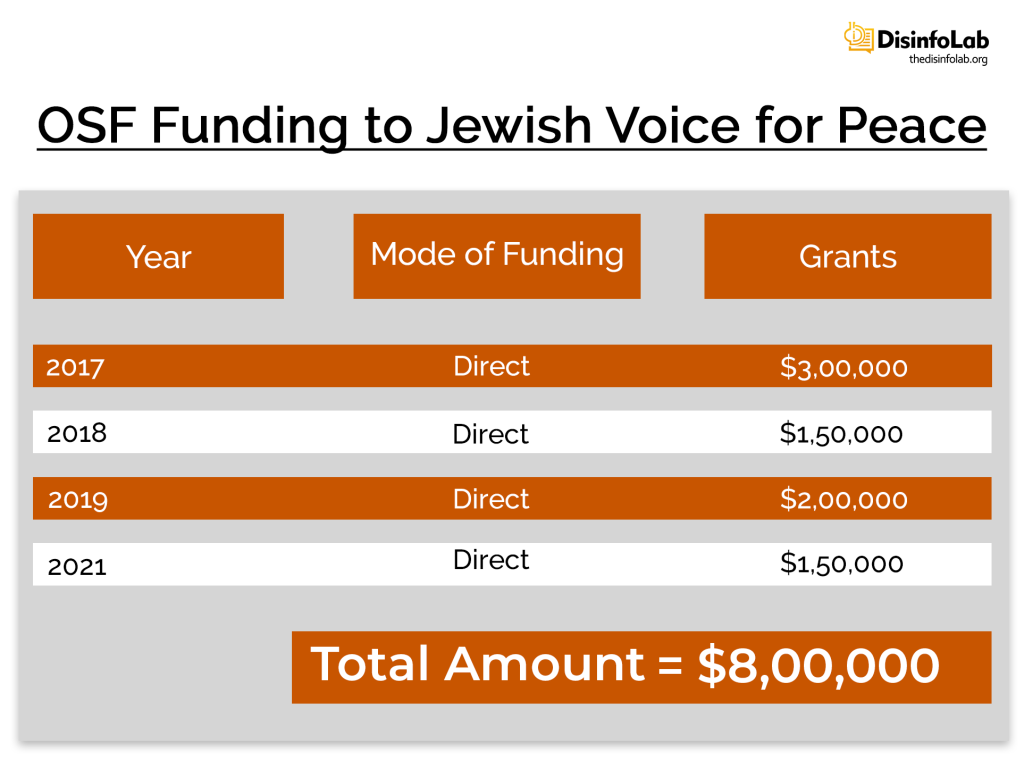 And notably, JVP has a range of donors that help sustain its cause and one key donor of JVP has been OSF. Between 2017-21 JVP received USD 800,000 from OSF "to support advocacy on U.S. policy on Israel/Palestine" ultimately fueling the BDS against Israel. It is to be noted that JVP has received this amount from OSF in just four years, while it continues to be one of the key entities behind BDS against Israel and as well as its own 'Deadly Exchange campaign' that has a similar objective focusing on ending exchange programs between U.S. law enforcement agencies and Israeli security forces. It is also noteworthy that, JVP as funded by OSF has been successful in its efforts in boycotting campaigns against Israel. And considering the implications BDS has had, Israel was forced to put forth an NGO of its own named Stand With Us to combat the global boycott campaigns by investing billions of dollars.
To sum up:
Sunita co-founded WAW in 2002 (funded by Soros)
Stephan joined WAW as an advisory board member.
Stephan also associated wStephan has been associated with the Jewish Voice of Peace (JVP) – which is funded by Soros.
Sunita gets separated from Suketu Mehta.
Sunita – Stephan get married in 2005
Sunita formed Alliance for Justice & Accountability (AJA) in 2019 with IAMC and OFMI (now defunct).
Sunita launches HfHR in 2019 – a replica of JVP towards BDSM against India
What is BDS Movement?
The worldwide BDS Movement against Israel has been considered one of the most successful efforts to target a country's economy and in this case, trying to put Israel down on its knees. A large chunk of the role was played by a number of renowned philanthropic and government institutions that were found to be injecting millions of dollars into these organizations pursuing BDS against Israel.
Disinfolab in its "Crocodile Series Part 1" has shed light on how this MB-linked NGO network was being injected with millions of dollars by prominent philanthropic organizations/ institutions including the Open Society Foundations (OSF). George Soros' OSF had been funding these NGOs that were in pursuing the BDS against Israel.
Among those were European Commission, and US philanthropic institutions such as National Endowment for Democracy (NED), Rockefeller Brothers Fund, and the Open Society Foundation (OSF). Billionaire, George Soros through his OSF had been funding the terror-linked NGOs for the BDS movement. In fact, in 2014, as part of the BDS against Israel, George Soros's family fund bought USD 24.3 million worth of shares of Israel's beverage company SodaStream International Ltd.. only to dump the entire holdings of the company's shares after its investors joined the BDS movement against Israel.
Chapter 3: Replicating an Experiment – from Israel to India
In the last few years, there has been an effort at the narrative setting of aligning India with Israel on the pretext of human rights violations in Kashmir and religious minorities by the Indian establishment. Global news portals such as Qatari -funded Al Jazeera has had a key role in seeding this narrative.  strengthen the agenda, there was a need of creating a similar project like JVP for India. And who could have been a better face than Sunita Vishwanath, spouse of Stephan Shaw, who has been successfully coordinating the JVP – from behind the scene.    
Hindus for Human Rights is thus born.
If there is any doubt that HfHR was replicated on JVP, Stephan himself clarified that in a Webinar co-hosted by HfHR, along with IAMC (!) and JVP (!) on July 28, 2020, titled, "Opposing Ethno-Nationalism, from India to Palestine". During the webinar, Stephan outlined several parallels between JVP and HfHR, while drawing a parallel between India and Israel among other key claims.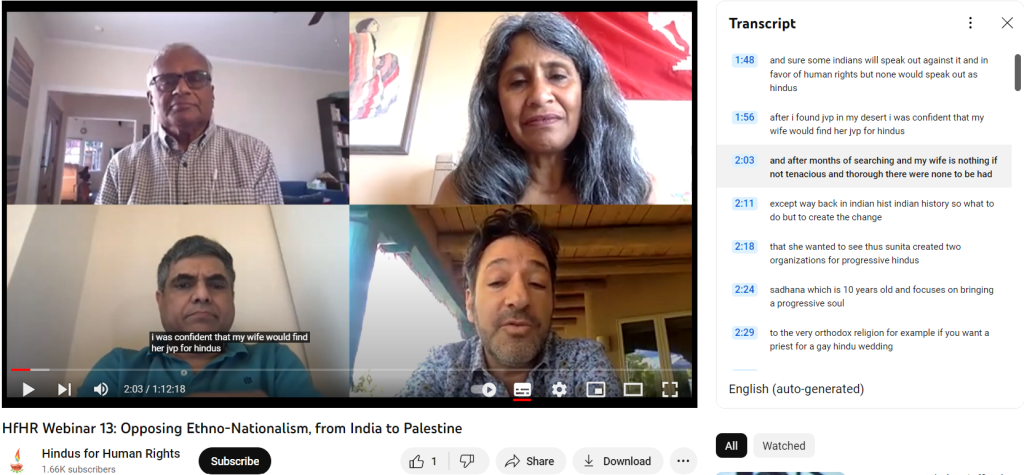 In the first seven minutes of the webinar, Stephan drew so many parallels between JVP and HfHR which are as follows:
Stephan Shaw is a member of JVP and, he was confident that his wife (Sunita Vishwanath) would find her JVP for Hindus. And after months of research, Sunita created two organizations- SADHNA and HfHR.
He brushed Israel and India with the same paint as he outlined that "India is gearing up right now to institute the Israeli playbook for over 200 million Muslims."
That he wanted JVP and HfHR to meet for such a long time because they are brothers and sisters having the same genes, but meeting for the first time in 2020, i.e., when IAMC, JVP, and HfHR co-organized the webinar together to discuss 'Ethno-Nationalism, from India to Palestine'.
Stephan seems to have some confusion here, as it is not clear why he met for the first time in 2020 if they were married for 15 years and Sunita had already founded HfHR in 2019. Sunita was also in alliance with IAMC for many years already.
JVP is a Soros-funded project and Sunita was once a key part of the Soros-funded projects.
Stephan Shaw and Sunita Vishwanath were part of the Soros-funded Women for Afghan Women (WAW).
And that, HfHR would follow JVP's path and call for a BDS movement against India with the help of the US-based Islamist & Jamaat nexus.
And as one would expect, the HfHR, since its inception in 2019, has been quite active on various trajectories all in context to India. The next chapter discusses how at present, HfHR has been seemingly active on all Indian fault lines formulated, explored and further exploited by the Pakistan and Jamaat-e-Islami fronts in the US. Currently, HfHR is one key sister concern of the Jamaat nexus in the US which is – from Kashmir to the Caste line; to campaigning against India on the pretext of religious freedom.
Part II: HfHR and Indian Fault Lines
Chapter 4: the journey of HfHR
Before getting into this section, it bears to repeat these two important highlights from the previous section:
In the early 2000s, Sunita had been the recipient of Soros and his Open Society's funds & grants.
And, her HfHR has been mirrored by the Open Society funded-Jewish Voice for Peace (JVP) which her husband, Stephan Shaw has been associated with as an active member. And JVP further pursues the BDS movement against Israel.
As highlighted in the previous section (chapter 1), HfHR co-founders such as Sunita and Raju had been active even before its official existence in October 2019 in association with various Jamaat-affiliated fronts. And once it was officially registered, HfHR tended to pick pace as an organization, all with the help from the US-based Islamist circle that targets India all year long. With time, HfHR began establishing itself as a leading voice, while its protagonist, Sunita Vishwanath became a key face among the Islamist circle.
Following the playbook evolved my Muslim Brotherhood fronts, they have been creating a façade of multiple fronts – but with the same set of people. In 2020, Sunita also joined the Netherlands-based organization Foundation, The London Story as an advisory board member. The organization was registered as Stitching The London Story on March 26, 2020. As per its website, The Foundation London Story focuses on "misinformation, disinformation, hate speech, and online propaganda that leads to violation of core human rights to life, liberty and health around the world".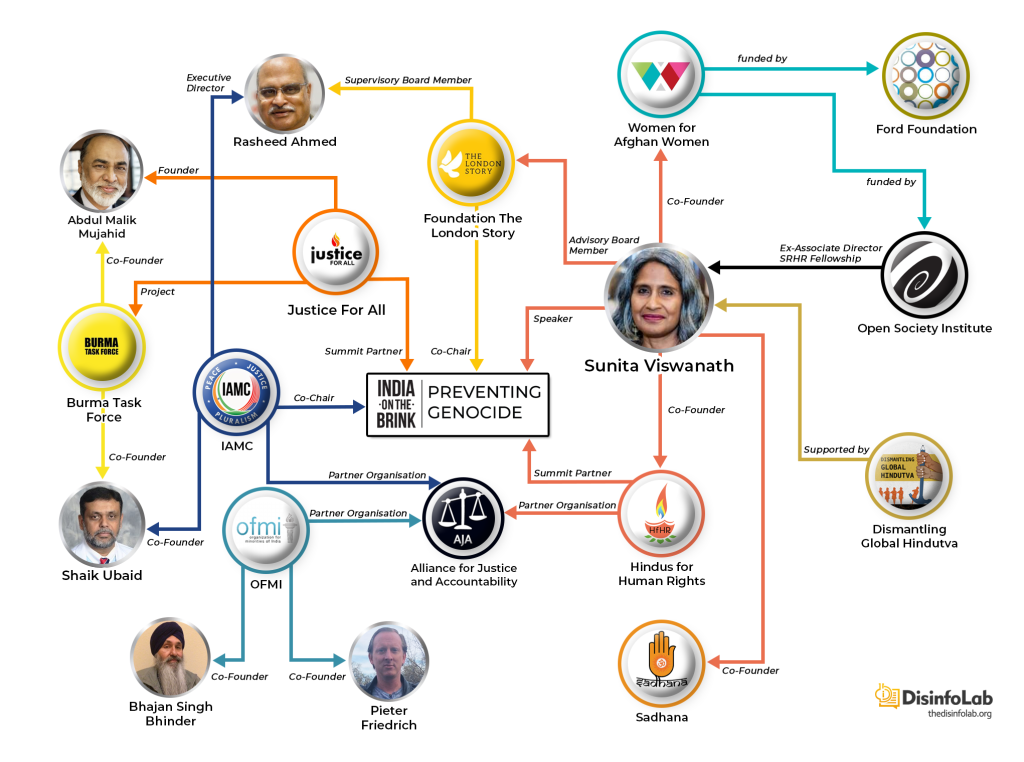 Sunita has been likely been justifying all the 'philanthropist' funding, targeting India consistently from the comforts of the US: from working closely with the IAMC and Jamaat front, Justice For All (JFA), and organizing the "India on Brink" event, to being part of the three-organization coalition – Alliance for Justice and Accountability (AJA). HfHR also began carving a place for itself in this network, with the help of this Islamist circle to have its share of talking about the Indian fault lines. With time, it picked various narratives on India starting with Kashmir and had been active on all sensitive trajectories of India's fault lines. We analyzed its social media and found that HfHR's activities were diverse and classified into four important fault lines of India i.e., Caste/ Dalit discourse, Islamophobia narrative, Kashmir, and engaging with USCIRF over religious freedom in India.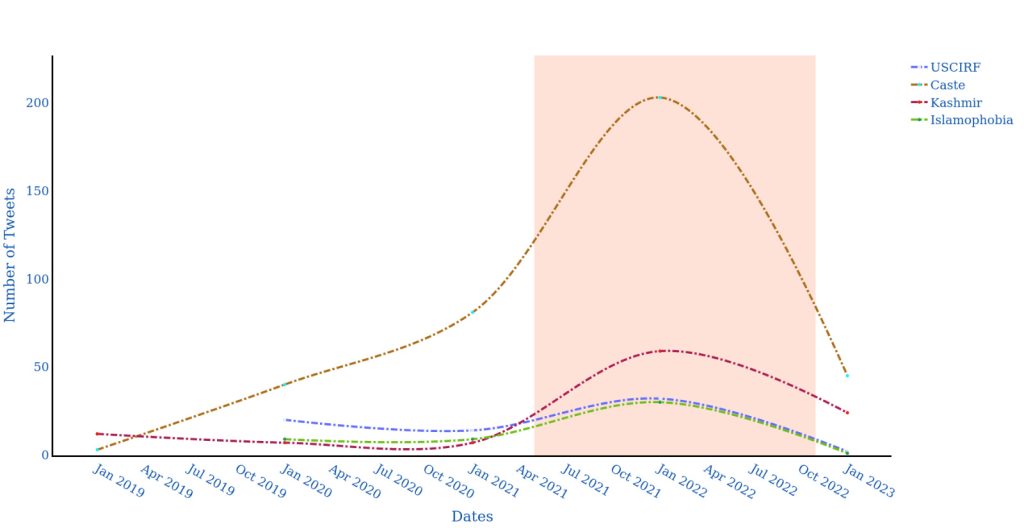 Upon deep diving into their social media analysis, we made the following observations:
That HfHR's activities on all these fault lines have spiked multiple times in 2022.
Multiple peaks in their analysis graphs correspond to either when they organized or participated in events on these fault lines.
The peaks in 2022 also signify its journey from how it only began to talk about these narratives to getting hold of these fault lines and adding to the narrative-building.
And incidentally, from 2022, we could see that there has been exponential growth in HfHR's activities in Caste and Kashmir line.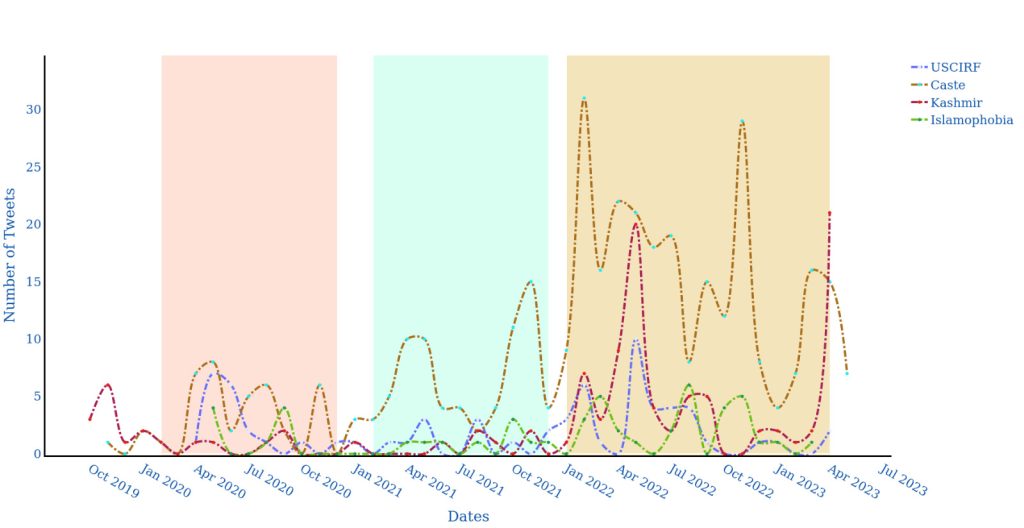 Chapter 5: Kashmir Narrative as Jamaat Would Wish it
As the data shows, HfHR's first-ever activity was in Kashmir. It also corresponds to the most talked about Houston Protest in 2019. During the 74th UN General Assembly event, several rallies were held in parts of the US including in Houston against India primarily organized over India's decision to revoke Article 370 in Kashmir (August 5, 2019).
The Houston protest in 2019 was one such colossal event highlighting the collaboration of the Alliance for Justice & Accountability (AJA), Pakistan and Jamaat fronts in the US. Some participants also wore merchandised t-shirts of #FreeKashmir which is actively promoted by the Jamaat-linked organizations and Pakistan at the same time.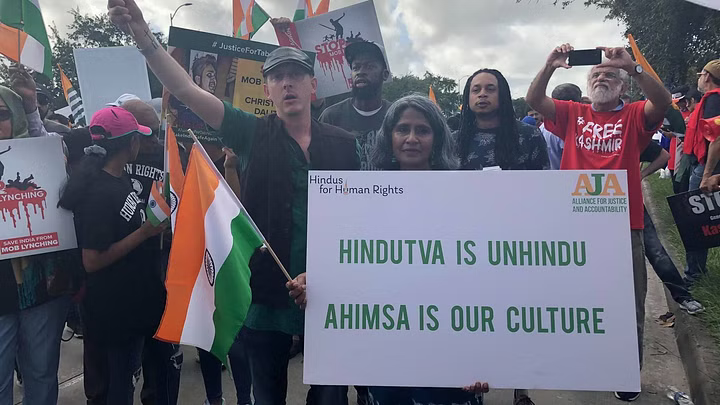 Several organizations came together to stage rallies and protests against India in and around Houston comprised a range of organizations including Pakistan-backed fronts- Friends of Kashmir, Stand With Kashmir, and Jamaat-e-Islami fronts such as Islamic Circle of North America- Council for Social Justice (ICNA-CSJ), Muslim Brotherhood front Council for American Islamic Relations (CAIR) and a coalition of US-based anti-India lobbying groups- Alliance for Justice & Accountability (AJA) protest in the name of denouncing revocation of article 370 in J&K. It was HfHR first public outing with the organization's tag and incidentally, JVP along with other Palestinian groups were also part of the protests.
Two months later, in December 2019, IAMC, HfHR, and Emgage Action co-organized a Congressional Briefing event criticizing the Indian government for revocation of Article 370 in Kashmir.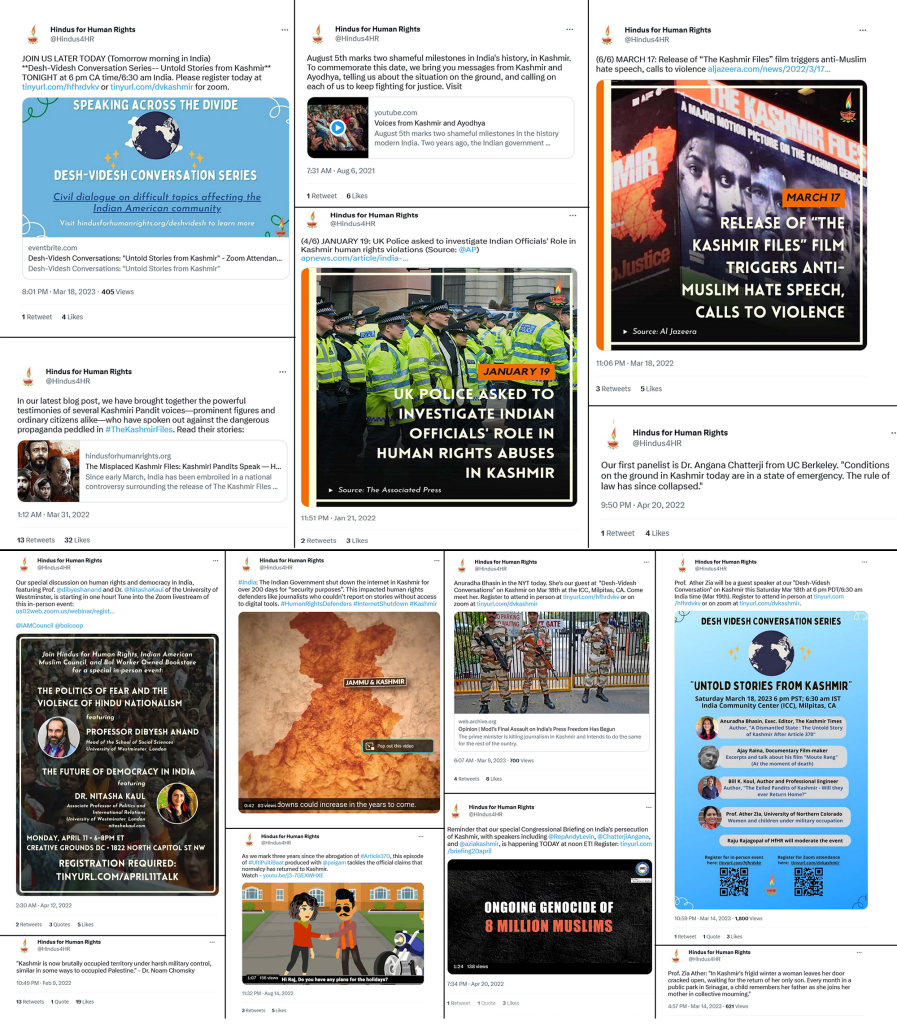 From 2022, as duly noted, HfHR picked pace and began talking about Kashmir more times than it had been doing in 2020-2021 combined. And cut to 2023, HfHR has been engaging individuals such as Ather Zia, Mona Bhan, and Nitasha Kaul, who have been active players in the Pakistan-sponsored conflict industry in Kashmir. The account of their role and involvement in the Kashmir conflict can be referred from the Disinfolab report "Kashmir Inc: A Conflict Industry."
Chapter 6: The Caste Discourse
The Dalit discourse in the last few months has become one of the most talked about topics both in and outside India. However, the discussion on Dalit/ Caste discourse outside India and from the US has been taken up by a set of organizations that have a significant backing of the Jamaat nexus. And while we know that the Dalit discourse in the US has been picked up based on a single report published by Equality Labs, several entities are now making that very report as the base to capitalize on the trend and cut out their shares.
Although HfHR had been active in the Dalit/ Caste discourse from the time it was formed, as we observed in other cases, HfHR had only begun to pick Caste/ Dalit discourse as its agenda. Our analysis of HfHR's activities on the Dalit/ Caste topic showed that it had multiplied from 2022 as depicted in the following graph.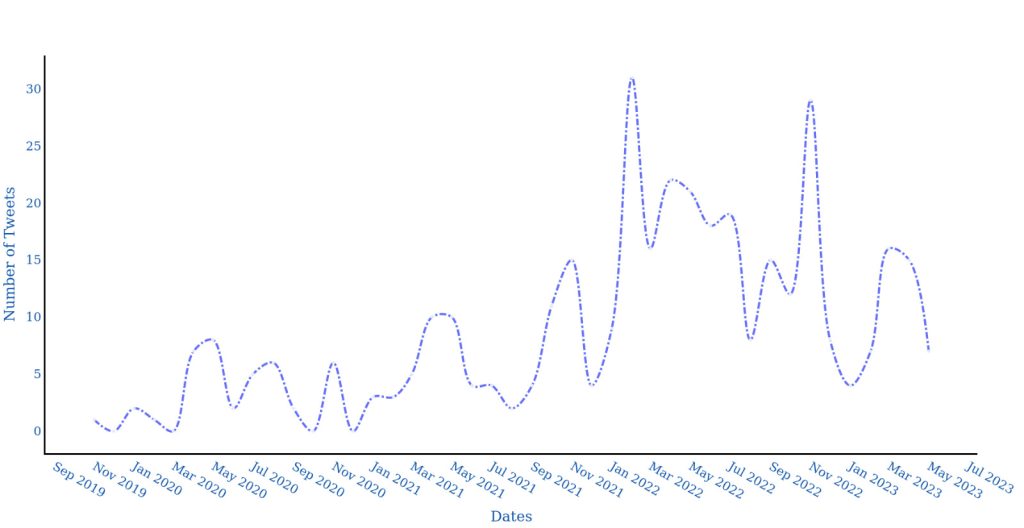 One can also understand that Sunita Vishwanath joined the advisory board of the Dalit Solidarity Forum (DSF) in early 2022. Further corroborating the number of events that took place on the Caste/ Dalit discourse in the US, HfHR had been active in all those events including creating noise on events that were tailored by the Equality Labs and its founder, Thenmozhi Soundararajan based on their 'only' Caste survey report. From targeting the CISCO to even targeting the Silicon Valley giant Google on the pretext of Caste discrimination in the companies.  Besides, HfHR had been creating its own set of events on the Caste discourse.   
In our report "Institutionalisation of a Faultline" we remarked how once the Dalit/ Caste movement of India was being hijacked by the missionary nexus, and now taken up by the organizations like Equality Labs with the funding and blessing of the Jamaat nexus. We can also see that Caste/ Dalit discourse is being kept hot by this nexus comprising Equality Labs, and HfHR in order to create more façade and keep the fault line afloat ad boiling.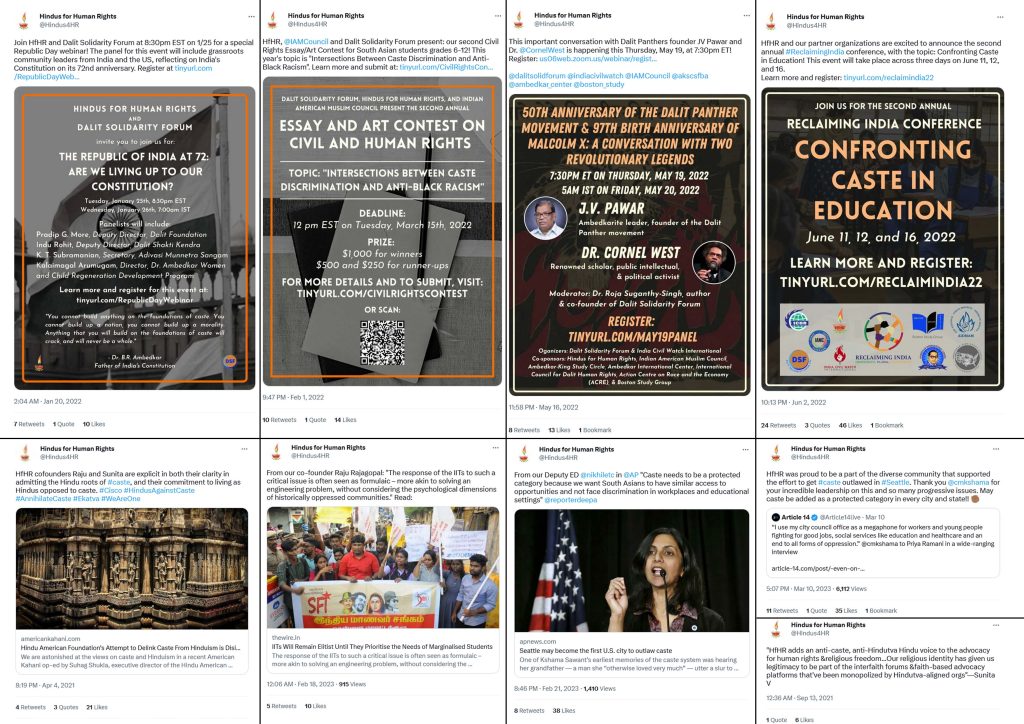 Chapter 7: Influencing USCIRF along with IAMC
Following the path of its Jamaat allies, HfHR also started engaging with United States Commission on International Religious Freedom (USCIRF) to target India on the grounds of stringent religious freedom. USCIRF is a federal government commission created by the International Religious Freedom Act of 1998 that monitors religious freedom across the world. And it has become the target of the US-based Islamist circle via lobbying to target specific countries through their annual reports. USCIRF has been critical of India in its annual reports since 2020 and has been enlisting the country as 'Country of Particular concnern' (CPC).
The idea to engage with the USCIRF officials and influence the USCIRF to list India as a Country of Particular Concern (CPC) was first conceived by the IAMC co-founder and mastermind Shaik Ubaid.
Worth reminding that the IAMC and the Jamaat-e-Islami fronts in the US- Burma Task Force (BTF) in the US had been targeting India via the USCIRF since 2013-14 through lobbying activities.
In 2013-14, IAMC hired the lobbying firm- Fidelis Government Relations for USD 55,000.
And, in 2018, Shaik Ubaid founded Burma Task Force (BTF), a project of the Pakistan-backed Jamaat umbrella group Justice For All (JFA) had hired the same lobbying firm to lobby the USCIRF against India for USD 267K between 2018-20.
The outcome of this lobbying effort was India getting blacklisted in the USCIRF reports in 2020.
With years, IAMC and Jamaat's objectives remained the same, although they had not been engaged via professional lobbying firms after 2020. Hence, from 2020, the newly-formed HfHR would start following their path and started engaging with the USCIRF officials as early as March 2020, which was one month ahead of the USCIRF'S 2020 annual report release (on April 28, 2020).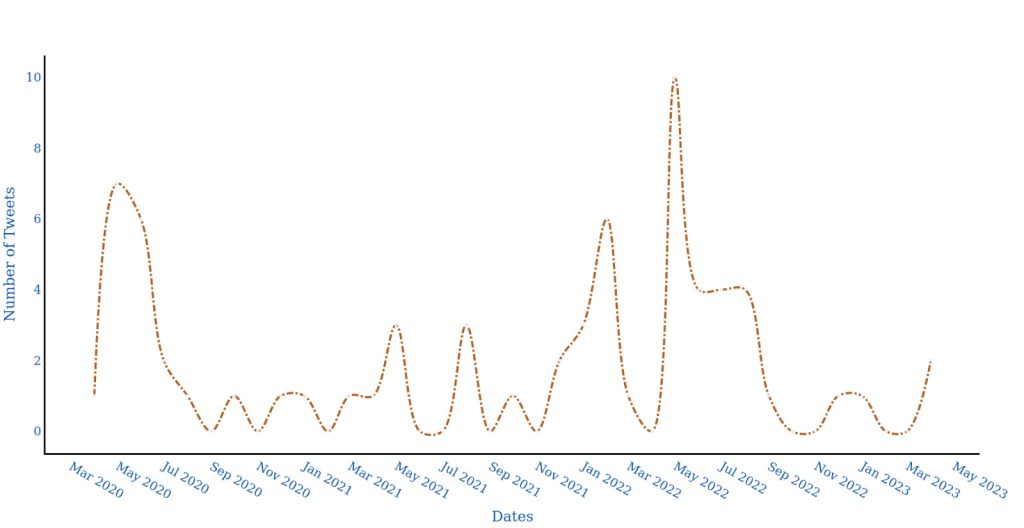 There were several instances in 2020 itself when HfHR engaged with the USCIRF to condemn India on the grounds of religious freedom:
On March 4, 2020, USCIRF conducted a hearing on the Citizenship Laws and Religious Freedom in India and Myanmar. The panelists included Naomi Kikoler (Director, of Simon Skjodt Center for the Prevention of Genocide, U.S. Holocaust Memorial Museum), Dr. Azeem Ibrahim (Center for Global Policy), Aman Wadud (Human Rights Lawyer), and Dr. Ashutosh Varshney (Professor of Political Science at Brown University). Sunita Vishwanath for HfHR, along with Jamaat front – Justice for All (JFA) targeted India over the CAA and NRC. (comment: Aman Wadud recently received Fullbright Nehru Master's Fellowship for 2021-22 to pursue Masters of Law in an Ivy League Law college in the U.S. Following his testimony at the USCIRF congressional hearing, Wadud had become a frequent face at the events of IAMC and HfHR on topics about NRC and Assam.)
On April 18, 2020, IAMC, HfHR and International Christian Concern (ICC) jointly hosted a webinar and invited Dr. Harrison Akins, then USCIRF Policy Analyst on South Asia and the key person behind the 2020 annual report. As explained in our earlier report, his social media profiles show his various interactions with several Pakistani officials/ Diplomats. The webinar focussed on "Religious Freedom in South Asia" (mainly India) and USCIRF's position in India.
On May 21, 2020, almost a month after USCIRF's 2020 annual report wherein it designated India as a CPC country. HfHR, IAMC, and International Christian Concern (ICC) co-hosted a Congressional hearing and invited former USCIRF Chair & commissioner, Nadine Maenza, Harrison Akins, Francisco Bencosme (Amnesty International USA), and Aman Wadud as the speakers. The hearing focussed on USCIRF recommendations on India after getting designated as CPC on the grounds of religious freedom.
On Nov 16-17, 2020, IAMC organized a webinar in association with HfHR, ICC, Students Against Hindutva Ideology (SAHI), Dalit Solidarity Forum, and India Civil Watch. They invited former USCIRF Commissioner and Open Society Fellow (2016) Anurima Bhargava, Joanne Lin, Matias Pertulla (ICC Advocacy Director), Salam Al Marayati (President, Muslim Public Affairs School), 2022 OSF fellow & lawyer Arjun Singh Sethi (Lawyer), and Roja Singh (President, Dalit Solidarity Forum) on discussing to get India designated as Country of Particular Concern (CPC).
On September 22, 2021, former USCIRF Chair and Commissioner, Nadine Maenza was the keynote speaker at the congressional briefing "Biden-Modi meeting must focus on human rights violations in India". The notable panelists of the event included Harsh Mander, former chair of the advisory board of the Human Rights Initiative of OSF (2020-22), Angana Chatterji, Govind Acharya (Amnesty International USA), and John Sifton (Human Rights Watch). It was hosted by 16 organizations including HfHR, IAMC, and Amnesty International USA among others.
On April 26, 2022, in another instance, former USCIRF commissioner Anurima Bhargava shared the platform with HfHR Policy Director Ria Chakrabarty and IAMC's Advocacy Director Ajit Sahi. The title of the event was "USCIRF recommends sanctions against India".
Comment: All these names – fronts and individuals have one thing in common – either they are associated with Islamist fronts (Jamaat & Muslim Brotherhood) or they are funded by Soros – and in many cases – both! To read about them, refer to DisInfo Labs' past reports. From 2021 till the present, HfHR has become one of the key fronts alongside IAMC to keep engaging with the USCIRF officials throughout the year, especially around the release date of the USCIRF's annual reports. In 2022, from January onwards, we could also see a steep rise in the activities of HfHR on the USCIRF. In its efforts, HfHR had been engaging with then-USCIRF officials Anurima Bhargava and Nadine Maenza via congressional briefings and webinars.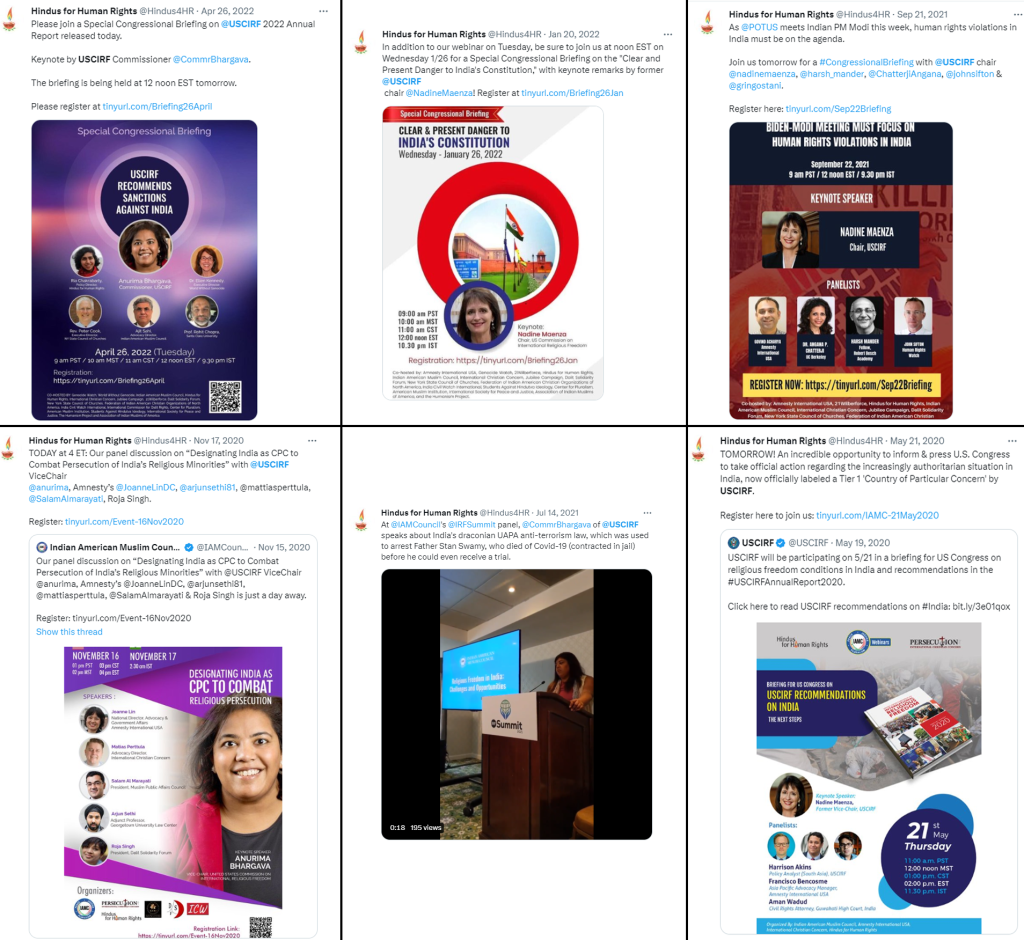 Part III: The End Game
It seems like déjà vu because we have observed how the BDS movement developed against Israel, and by a number of organizations that are connected to the Muslim Brotherhood and some also received funds from OSF. Some of these organizations are venturing onto new ground, i.e., India, in addition to operating in the Israel-Palestine arena.
Working for the cause of Kashmir has become a common interest for all. And as indicated in our one such report "Muslim Brotherhood's New Startup: Kashmir", which unmasked the growing community of vulture activists who once worked around the Palestine conflict industry are now interested in Kashmir.
Additionally, we also unmasked how the network of Muslim Brotherhood NGOs with funding from the OSF and other philanthropic bodies/ institutions have been successful in carrying out the BDS movement against Israel. In the report, we outlined the design that had been in motion. Some of the organizations with links to the Muslim Brotherhood and supported the BDS movement were calling for similar action against India.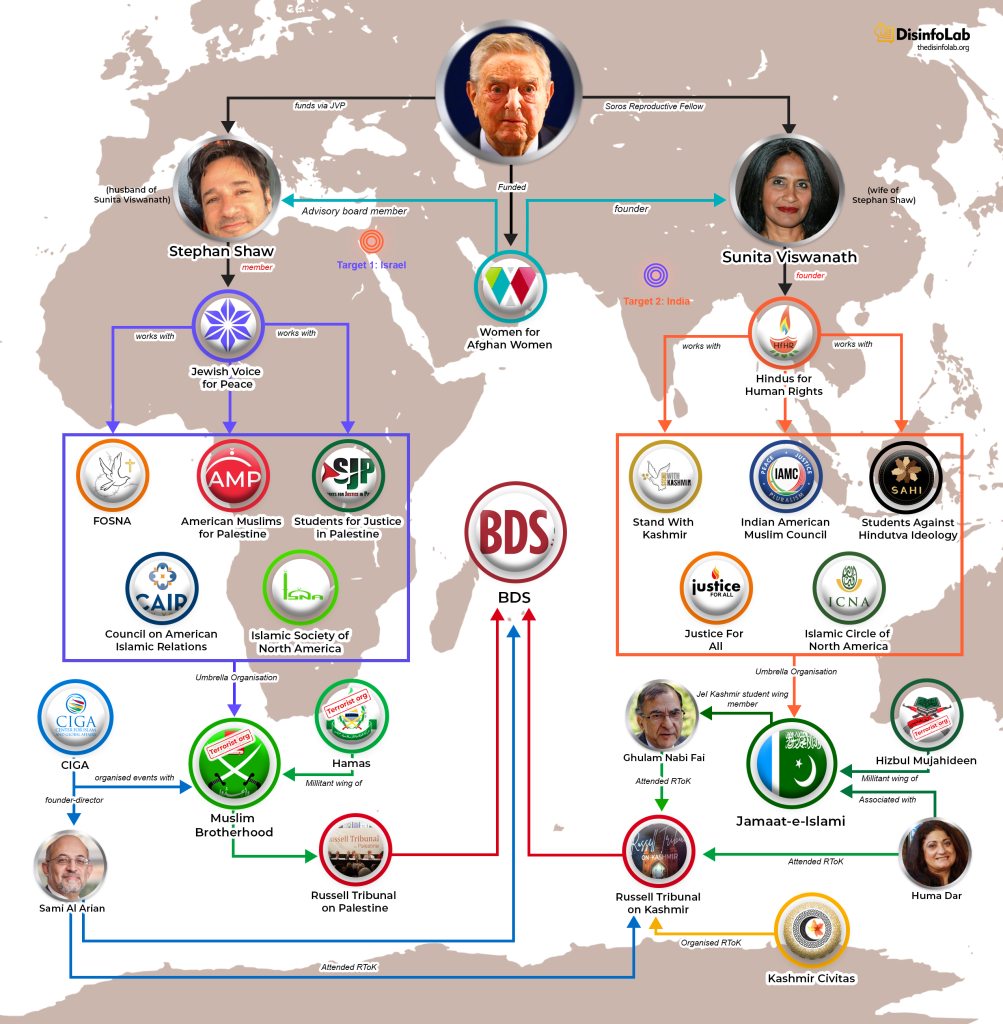 Chapter 8: The Russell Tribunal & BDS Against Israel
To understand better, those organizations who had been part of the BDS movement seem to have become seasoned players and have now embarked on another theatre i.e., India and Kashmir. Organizations like American Muslims for Palestine (AMP), Center for Islam and Global Affairs (CIGA), Jewish Voice for Peace (JVP), and Friends of Sabeel of North America (FOSNA) are one of the leading voices of the BDS movement against Israel. These groups have significance because they are interlinked with each other or have worked together for BDS.
The movement against Israel began in 2005 with the launch of the BDS movement against Israel by 170 Palestinian organizations, including political parties, trade unions, refugee networks, and women's associations. The BDS movement was co-founded by Qatar-born Palestinian activist Omar Barghouti who grew up in Egypt before moving to the US. Barghouti is also the founder of the Boycott National Committee (BNC) which he established in 2007 to provide a unified framework for Palestinian civil society organizations working on the BDS movement.
In 2019, Barghouti was denied entry to the US while he was traveling to the country for his advocacy work. BDS movement was further made a global movement when it was endorsed by an international tribunal- The Russell Tribunal on Palestine (RToP) launched in 2009.
Russell Tribunal on Palestine (RToP)
Russell Tribunal on Palestine (RToP) was launched on March 4, 2009, during a press conference in Brussels. The press conference by chaired by Stéphane Hessel, retired French Ambassador. Other members at the launch event included Ken Coates (Chairman, of Russell Peace Foundation), Leila Shahid (General Delegate of Palestine to the EU, Belgium, and Luxembourg), and Nurit Peled (Winner of, the Sakharov Prize for Freedom of Thought).
BDS and RToP have overlapped goals of the Russell Tribunal on Palestine and the BDS movement, and are supported by the organizations that have a common goal to dent Israel in the name of human rights.
On the other hand, Russell Tribunal on Palestine (RToP) which began in 2009 held a told of five sessions in London, Barcelona, Cape Town, and New York, and concluded in Brussels on March 16-17, 2013. However, the final session of the RToP concluded that the tribunal supported the BDS movement among others that targeted Israel's global boycott.
It is to be noted that organizations like JVP haven't had a formal position on the RToP, the group has been a key proponent for executing the BDS movement against Israel ever since its idea was conceived and launched in 2005. BDS continues to be a key weapon to hit Israel via boycott and is pursued by organizations well-linked / affiliated to the MB and while some of them are backed by philanthropic institutions including OSF.
(For more detail, refer to Disinfolab reports: 'Muslim Brotherhood's New Startup: Kashmir', and 'Funding the Fangs: Soros Funding to the Democratic Republic of Muslim Brotherhood.')
The Washington Lobby is well-known for pro-democratic lobbying around the world. The eco-system supports and nurtures individuals and organizations that seek political gratification from US Senators and Congressmen. A host of organizations related to Palestine came in the 1990s and early 2000s. A similar model was replicated with organizations pretending to promote the cause of Kashmir mushrooming all over the US to justify the hyperbole.
Notable among these organizations reflecting this astounding similarity is:
A. Americans Muslims for Palestine (AMP)
American Muslims for Palestine (AMP) is the leading organization in the national grassroots organization based in the United States that advocates for Palestinian human rights and self-determination. According to its website, AMP was founded in 2005 but was incorporated on August 2, 2006. The organization was suspended in 2011 under Franchise Tax Board (FTB) by the California State Department. Its founder Hatem A Bazian is still on the managing boards of the organization. Hatem Bazian is also the co-founder and Professor of Zaytuna College in California (US) and previously worked at UC Berkeley and the University of California. AMP is a staunch supporter of the BDS movement against Israel and holds campaigns to call for the boycott of the Jewish state. AMP's founder, Hatem Bazian is a scholar of religion, politics, and globalization and cofounder of Zaytuna College, & Lecturer, at UC Berkeley.
Bazian has been an active operative of the BDS movement. He has been associated with several organizations which are affiliated with the Muslim Brotherhood and has led the BDS movement against Israel.
He is the former executive board member of the United States Student Association.132
He was the head of UC Berkeley's campus Muslim Students Association (MAS).133
Co-founder of Students for Justice in Palestine. [134]
Founder Director (2009) at the Center for the Study and Documentation of Islamophobia.
B. Students for Justice in Palestine (SJP)
Hatem Bazian also established Students for Justice in Palestine (SJP) in 1992, but not until 2010 it got active and emerged as the by–product of AMP and set up by the U.S. Palestinian Community Network (USPCN) at the 2010 World Social Forum which was sponsored by the Boycott National Committee
It is worth noting that AMP was founded in 2005-06 after three organizations, Holy Land Foundation for Relief and Development, Islamic Association for Palestine (IAP), and Kindhearts were implicated in funding Hamas.
Muslim Brotherhood fronts in the US- Islamic Society of North America (ISNA) and Council on American Islamic Relations (CAIR) were two other prominent groups named as unindicted co-conspirators in providing funds and material support to Hamas worth USD 12.4 million.
More details about the Holy Land Foundation can be accessed here.
SJP has been one of the leading voices in the BDSM movement against Israel by carrying out campaigns across colleges and universities to divest from Israel. Their primary role is to put pressure on universities and colleges to divest from companies that profit from operations in Israel. In 2018, SJP launched a campaign calling on Swarthmore College to divest from companies including Caterpillar, Hyundai, and Hewlett-Packard (HP).
C. Friends of Sabeel North America (FOSNA)
Friends of Sabeel of North America (FOSNA) is a non-profit organization incorporated on March 24, 1998. FOSNA is an independent organization trans-denominational Christian organization seeking justice and peace in the Holy Land through education, advocacy, and nonviolent action.
It is the U.S.-based affiliate of the Sabeel Ecumenical Liberation Theology Center, a Palestinian Christian organization based in Jerusalem. It is also one of the leading organizations behind several BDS campaigns against Israel.
FOSNA and Al Haq
FOSNA Executive Director Jonathan Kuttab is the co-founder of the Palestinian human rights group linked to the militant wing of the Muslim Brotherhood. Al Haq's General Director, Shawan Rateb Abdallah Jabarin is a 'human rights' activist from Palestine who moonlighted as an activist for PFLP. In 1985, Jabarin was arrested on the charges of recruiting and training the candidates for PFLP. He has been banned from traveling to Israel and Jordan due to his linkages with PFLP.
Al Haq has been one of the leading organizations spearheading the BDS movement against Israel facilitated by funding from OSF. In 2009, Al Haq received USD 200K from OSF, while it received over USD 2 million from OSF between 2016-20.
FOSNA has a number of organizations listed as its partners including AMP, JVP, Adalah Justice Project, and Code Pink among others.
B. Center for Islamic and Global Affairs (CIGA)
Sami Al-Arian is the Founder-Director of the Center for Islamic and Global Affairs (CIGA) of Turkey. Sami Al-Arian pled guilty to providing services and assistance to the U.S-designated terror group Palestinian Islamic Jihad (PIJ). He was later sentenced to prison and deported from the US to Turkey. Thereafter, he formed CIGA (Center for Islam and Global Affairs) in 2017.
CIGA is based in Istanbul, Turkey, and aims to contribute to the academic and public debates on the role of Islam in international relations, global governance, and conflict resolution. The organisation is currently run from Turkey, as well as from Pakistan, as it helps tow Pakistan's stance on the Kashmir conflict against India.
CIGA has been a key voice of the BDS movement against Israel, as well as against India. On May 21, 2020, CIGA along with Pakistan-backed and Qatar-based Kashmir Civitas co-organized a conference outlining the similarity between Palestine and Kashmir. CIGA director, Sami Al Arian alluded to the implementation of the BDS movement beyond Israel and against India as he said: "The Kashmir dispute and Palestinian issue are so similar that both the nations have been promised the right to self-determination, which have not been fulfilled."
Note: Kashmir Civitas (KC) was one of the key organizers of the inaugural Russell Tribunal on Kashmir (RToK) which was held in December 2021. They also signify the collaboration of the proponents of two theatres aiming at implementing the BDS movement against India, which seems to have achieved success against Israel.

These organizations including JVP, and CAIR have been active voices in leading the BDS campaigns against Israel. And while these organizations share a common goal, they have also worked together on numerous occasions.
Among them, some of these fronts began showing interest in seeding the idea of BDS against India. Some of these fronts were present at a hush-hush tribunal inspired by the RToP and replicating in India. The hush-hush tribunal was an identical experiment co-organized by the Muslim Brotherhood, Qatar-Turkey-Pakistan (QTPi) nexus in December 2021 in Bosnia.
To check full details of the list of organizers, attendees, judges, and speakers of the RToK event refer to the Disinfolab report, "Muslim Brotherhood's New Startup: Kashmir".
In addition, there are identical groups that have been established with a similar strategy for India, which have been effective and successful in the Israel-Palestine conflict. The following chapter also sheds light on several organizations that have been established similarly to those in the Israel-Palestine conflict and bear resemblance to them in India.
Chapter 9: The Arsenal – BDS against India
Things almost became crystal clear when a tribunal similar to the Russel Tribunal on Palestine (RtoP) took place in Kashmir in December 2021. The efforts taken in doing that tribunal were not much, starting with the name. The tribunal was named "Russel Tribunal on Kashmir" (RToK).
Russel Tribunal on Kashmir (RToK)
The Russel Tribunal on Kashmir (RToK) was held on December 17-19, 2021 in Sarajevo, Bosnia, and Herzegovina. The event/ Tribunal was organized by Kashmir Civitas (KC) along with the World Kashmir Awareness Forum (WKAF), the Permanent People's Tribunal of Bologna (PPTB) Italy, Nahla (Center for Education and Research), the Center for Advanced Studies in Sarajevo, International University of Sarajevo (IUS) and Al-Jazeera Balkans.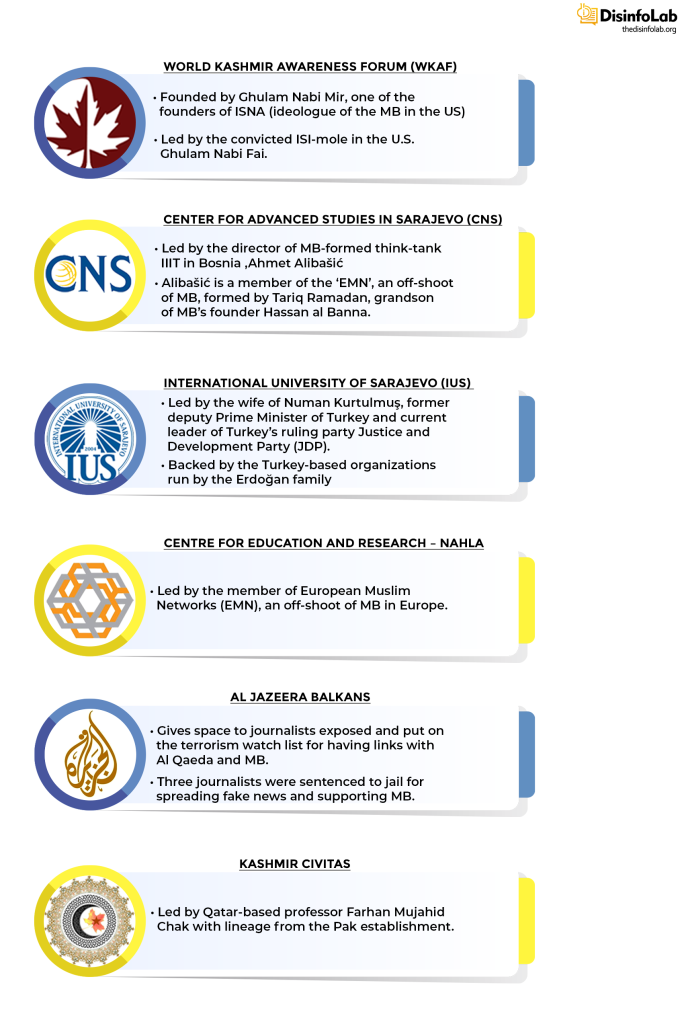 The key organizer, Kashmir Civitas (KC) is a Qatar-based and Pakistan-backed civil society and strategic advocacy organization with branches in five countries i.e., London, Beijing, Rome, Istanbul, and Toronto. Previously taken note by Disinfolab, Kashmir Civitas' website had a section dedicated to BDS and the domain 'bds4kashmir.net'.

KC's chairman Farhan Mujahid Chak is an Associate Professor at Qatar University. He has been a recipient of the IIIT Research Award (2005) which is affiliated with the Muslim Brotherhood. Chak has been associated with Pakistan-based think tanks including Institute for Policy Studies (IPS), Islamabad. Roughly three weeks ahead of the RToK event, Chak participated in the 17th meeting of the IPS meeting group working on Kashmir. The event discussed Qatar's potential role in facilitating Pak-India dialogue on Kashmir.

Three months later after the inaugural RToK event, on March 16, 2022, Kashmir Civitas (KC) released a 32-page activist toolkit that called for the BDS Movement against India as follows:
Boycotting Indian sporting, cultural, and academic institutions and all Indian as well as international companies making profits from India.
Pressuring companies to withdraw their investments from India as part of Divestment campaigns.
Pressure governments to put sanctions on India, ban trade with Indian businesses, severing and ultimately ending India's military ties and contracts globally. And even campaigning for the revocation of India's memberships in international forums.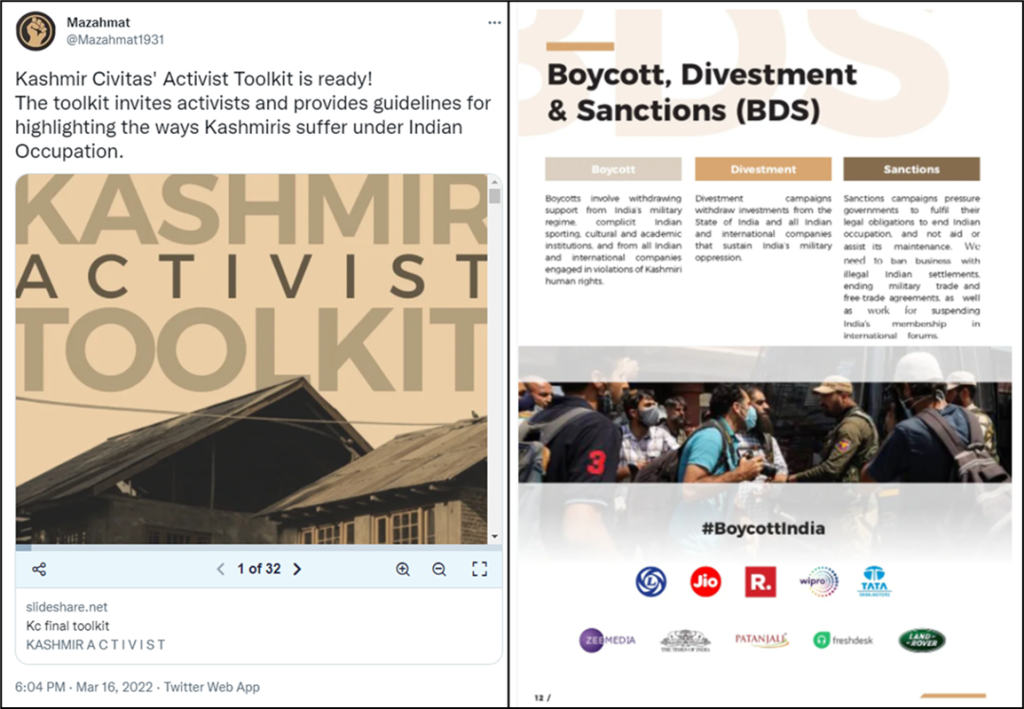 They all come together
In the previous chapter, it was discussed that US-based organizations have played a prominent role in the BDS movement against Israel. In recent years, these groups have expanded their scope to express their concerns for issues in India, including Kashmir. There have been instances where organizations involved in the Israel-Palestine conflict have collaborated with Jamaat Islamist groups based in the US to advocate for Kashmir against India.
Upon closer inspection, it becomes apparent that the groups that have led the BDS against Israel have become active in India. There has also been a simultaneous emergence of organizations in the United States with similar names and objectives to those present in the Israel-Palestine conflict.
On that note, we look into various activities that reflect the collaboration of the groups belonging to different theatres now aiming to launch BDS against India and also, how these groups are identical to each other.
A. Protest on Kashmir
On August 7, 2019, AMP issued a statement in reaction to the abolition of Article 370 in Kashmir by the Indian government. Again, AMP aligned India with Israel in the name of its concerns about Kashmir. And to reaffirm its support for the Kashmir cause, AMP shared as well as promoted Pakistan-backed Stand with Kashmir (SWK) and key Jamaat front in the US, 'Sound Vision' & its page on Kashmir for joining social media campaigns against the Indian state. AMP founder, Hatem Bazian was also one of the judges and amplifiers of the Russell Tribunal on Kashmir event in Bosnia, Sarajevo, and Herzegovina.
A month later, on September 28, 2019, Pakistan-backed Stand With Kashmir (SWK) hosted the #FreeKashmir event at the San Francisco Ferry Building along with Alliance of South Asians Taking Action (ASATA), Dr. Hatem Bazian (AMP), and Jewish Voice for Peace Bay Area (JVPBA).
It is worthwhile to note that HfHR co-founder, Raju Rajagopal also marked his presence for HfHR. Later, on September 30, 2019, HfHR published a blog by Raju Rajagopal confirming the organization's participation in the protest by JVP, AMP, and ASATA.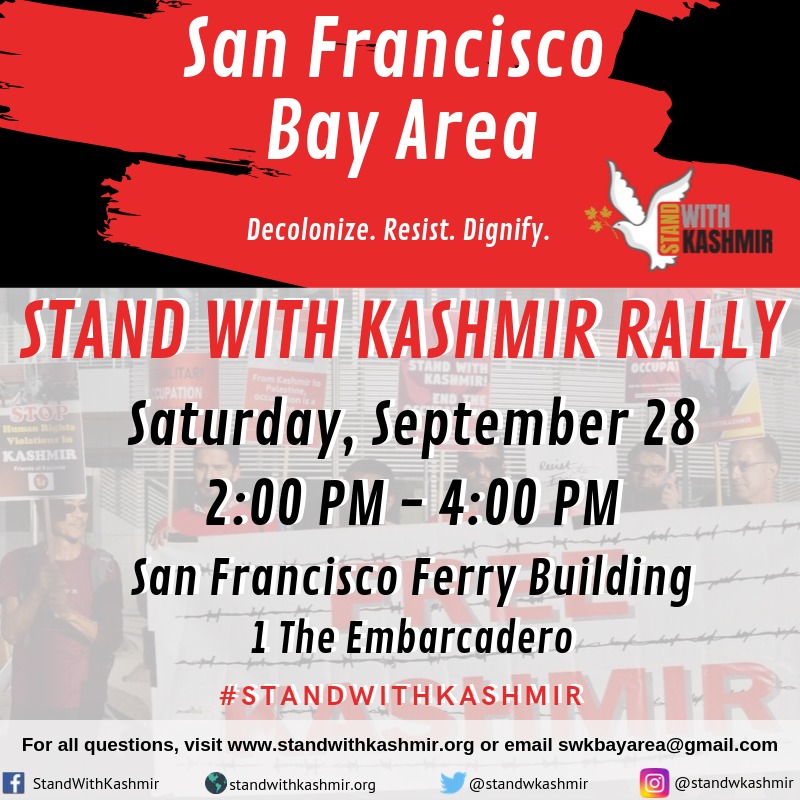 Furthermore, HfHR along with several organizations was one of the signatories in support of Stand with Kashmir (SWK) for towing Pakistan's line on Kashmir. The signatories included several organizations affiliated/ linked to the Muslim Brotherhood and Jamaat fronts such as CAIR, JFA, The Justice Foundation, ICNA, World Kashmir Freedom Movement (WKFM), and OFMI.
Additionally, the signatories included many Palestinian organizations, including SJP, Palestine Youth Movement, JVP, AMP, and Palestinian BDS National Committee, among others.
In another instance, on May 13, 2020, the Center for Islam and Global Affairs (CIGA) organized a webinar on Kashmir inviting SWK representative and co-founder, Dr. Hafsa Kanjwal (wife of Azad Essa), who was groomed by Pakistan Embassy in Washington and convicted ISI-agent, Ghulam Nabi Fai. As noted in the previous chapter, CIGA founder Sami Al Arian had seeded the call for taking BDS beyond Israel and into India by highlighting the relationship between India and Israel.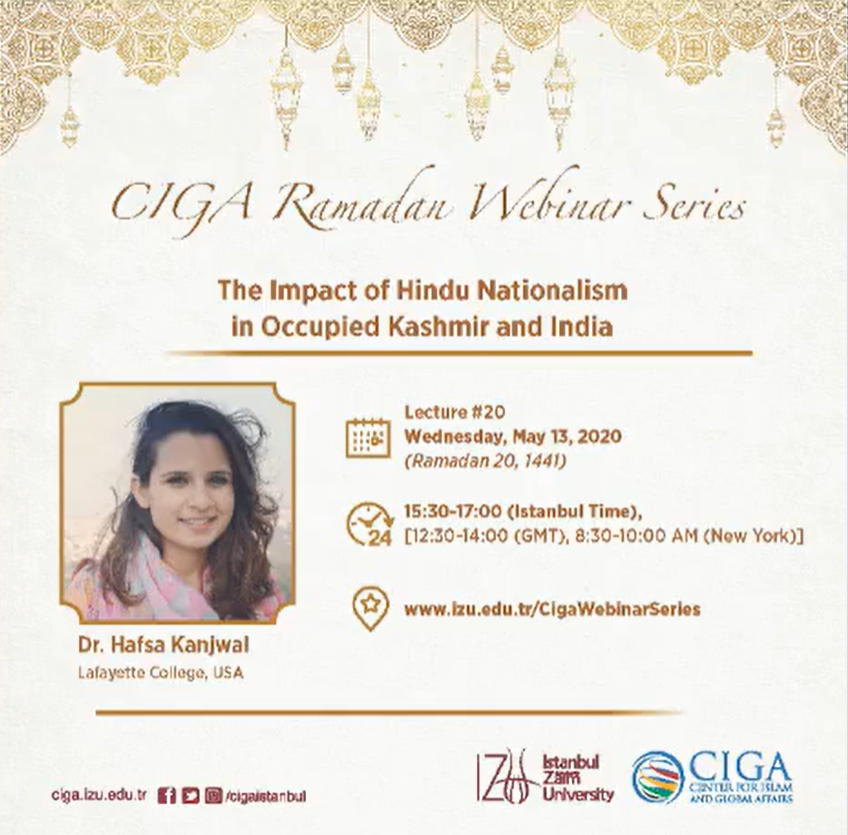 Sami Al Arian was also among the 'prominent' guests who attended the inaugural RToK event in Bosnia which alluded to a similar indication of the BDS movement against India.
B. College level unions
A similar student-level organization has already been formed for India. Students Against Hindutva Ideology (SAHI) is an "inter-faith, inter-University, progressive student coalition" founded in December 2019 by students from Ivy League universities including Yale, Harvard, Princeton, Northeastern University, Brown, Columbia, Cornell, University of Maryland, Dartmouth, Rutgers, Purdue, and UCLA are some of the few who are part of SAHI.
Audrey Truschke, Ajit Sahi, and Aman Wadud are advisory board members.
C. Boycott calls in motion
A group of organizations namely IAMC, HfHR, JFA, The Humanism Project (Australia), and India Civil Watch initiated a letter addressing the participants of the World Economic Forum (WEF) seeking divestment from the Uttar Pradesh state of India. WEF took place from January 16-20, 2023. Incidentally, George Soros who attended the WEF at Davos in January 2023 opined that he had been expecting a democratic revival in India.
The 'inspiration' is obvious:
The Logos of FOSNA – the front working on Israel front and Pakistan-backed front for Kashmir cause- Stand With Kashmir (SWK) – against India have somehow similar inspirations!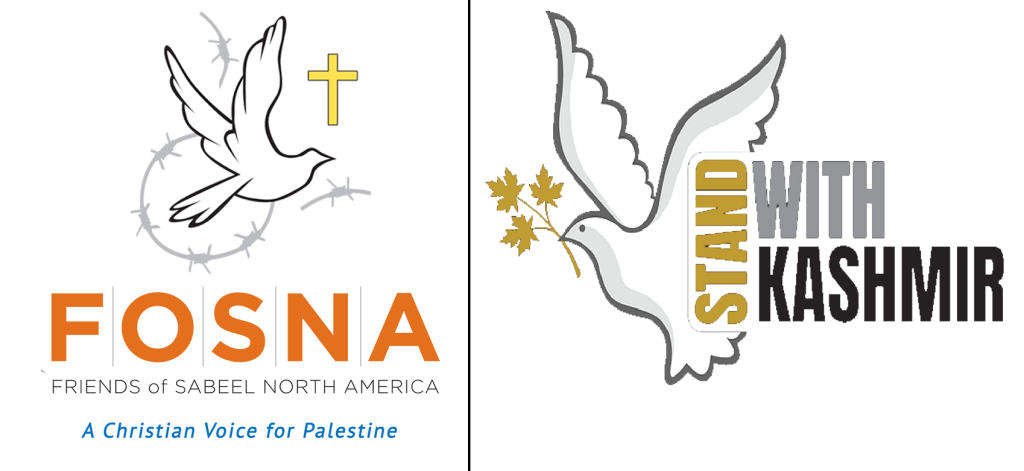 Conclusion
There is no conclusion to this story. Not yet. The BDSM has just begun. There will be several players., both domestic and foreigner. There will be more experiments – from Punjab to west Bengal to Tamil Nadu. There will be more reports on Dalit Atrocity. There will be more of the minority persecution.
One thing would be common – they all will be connected to the same set of people – Islamists funded by Soros.
We will also not conclude, till we have mapped every single one of them.